While this year's January auctions normally held collectively in Scottsdale, Arizona are now a mix of online-only, live/streaming with limited attendance, or physically distanced elsewhere, one thing is clear. The high-end auction industry has responded quickly to the challenges posed by 2020. Yet, collectors still want to buy and sell top-notch vehicles, including supercars. While offerings are fewer and venues are markedly different, this year's January auctions will likely serve collectively as an even more important barometer of the collector-car market's health and endurance than ever before.
Among the many developing segments in the diverse collector-car space, the sale performance of the relatively few exotic Supercars on the auction block everyone will certainly watch closely. More than ever before, quality and careful selection possible supercar purchases before sale day is of paramount importance. This especially true for buyers who would like to drive and enjoy their supercars. As always, our team of leasing experts are closely watching the market. They are ready to help you get ready to purchase your dream car. To help you prepare, we have gathered a selection of the awesome supercars coming to market this month. We hope you will enjoy coverage of them before they cross the auction stage.
.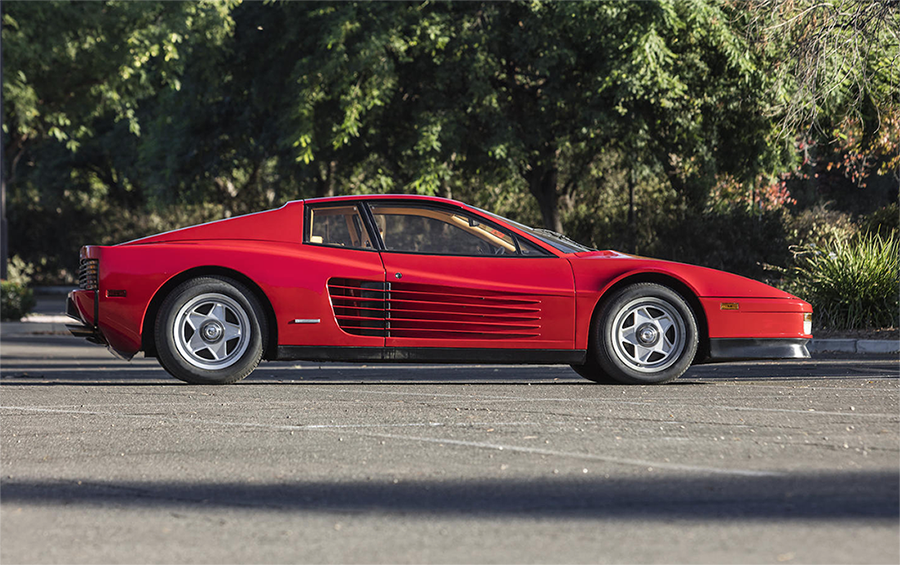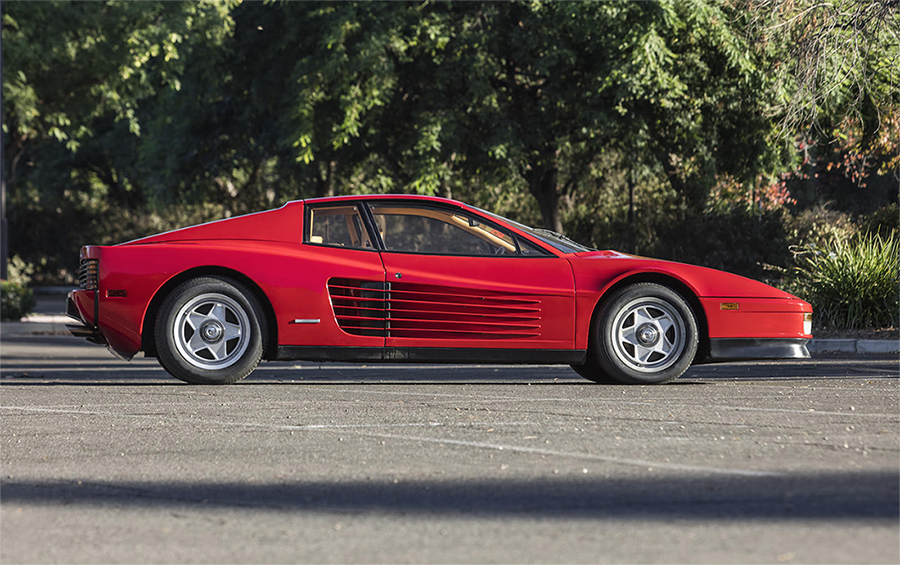 Crossing the Scottsdale auction stage with Bonhams as Lot 113, this 1986 Ferrari Testarossa is a desirable, early-model "Monospecchio" (single rear-view mirror) example. It features proper Rosso Corsa (Racing Red) over tan leather livery. Offered with 82,500 stated miles, it serves as proof positive of the exceptional drivability of these cars, while the vast majority of 'Supercars' silently stand in collections and await their next drive. The Testarossa shocked the world at launch with its muscular Pininfarina-designed body and aero-efficient side strakes feeding radiators at each of the car's aggressive haunches. However, the Testarossa is great to drive. In fact, it broke the 'Supercar' mold, with a design of excellent comfort, usability, and visibility paramount. All this while dishing out amazing all-around performance expected of a modern Ferrari model including a 180-mph top end.
.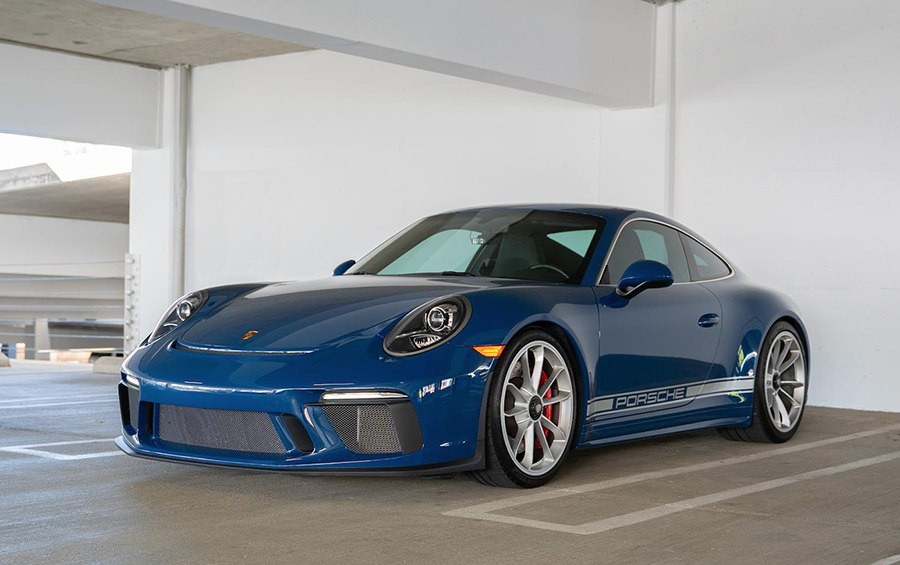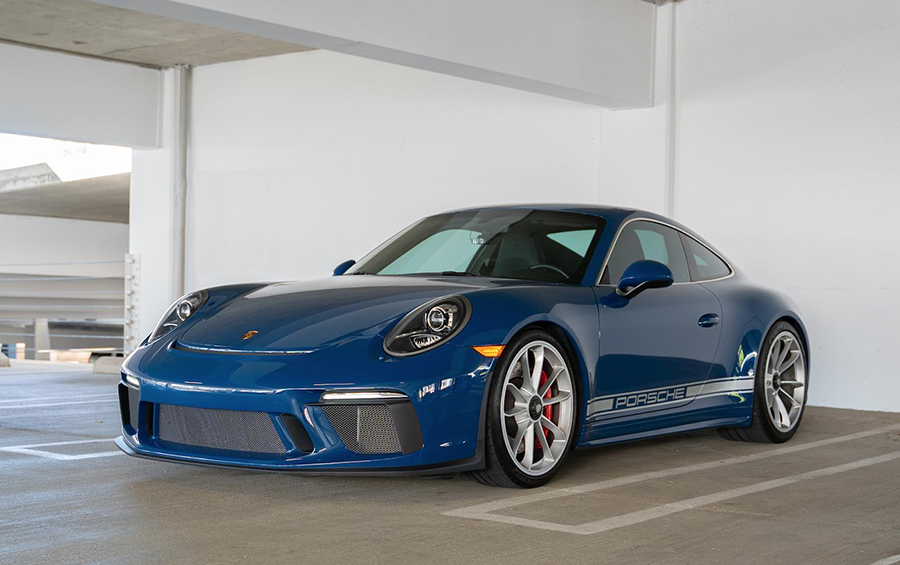 Based on the '991.2' generation of Porsche's 911 series, this GT3 Touring marks the embodiment of Porsche's road-and-track GT3 ethos. It is capable of ferocious performance and handling. Consequently, it features an amazing suite of comfort and convenience options and amenities. Colors are excellent, including a high-dollar 'Paint to Sample' exterior finish in Pantone Blue. Moreover, this GT3 Touring is believed to be the sole example so finished anywhere in the United States. Equipped with the most desired 6-speed manual gearbox, this stunning "modern classic" Porsche is offered from the sole ownership of a California-based enthusiast. In addition, it's less than 14,000 miles from new and includes the original window sticker.
.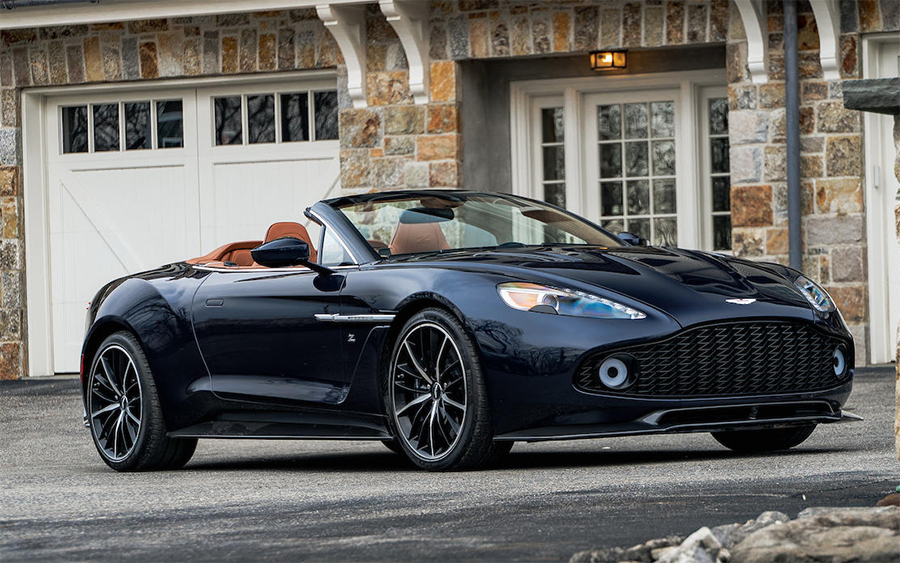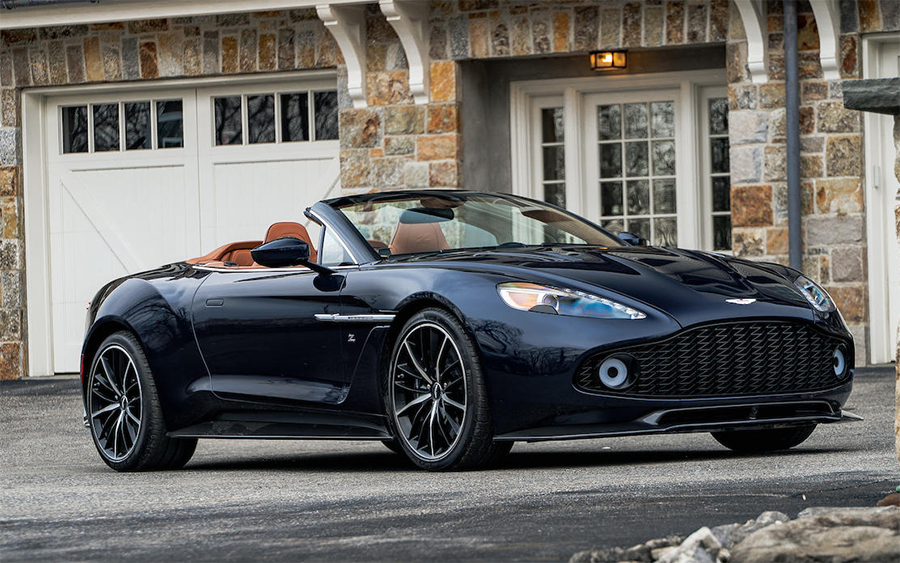 Continuing to rank among the world's most revered marques, Aston Martin's modern models continue its grand traditions for excellence, quality, and above all, their stunning performance. Celebrating its association with revered Italian coachbuilder Zagato that began with the 19-car run of the racing DB4 GT Zagato, the modern Aston Martin Vanquish Zagato production was limited. In all, only 99 Coupes, 99 open-air Volantes, 28 Speedsters, and 99 Shooting Brakes – 325 in all went through production. Offered from single ownership from new, this "1 of 99" Volante is a true "iron fist in a velvet glove". Further, it comes equipped with its 5.9-liter DOHC 48-valve V-12 engine developing 580bhp in concert with an 8-speed automatic gearbox. Sold new with an eye-watering MSRP of nearly $900k, this special Aston Martin has undergone only 1,400 miles of use. As a result, it surely ranks as a true "instant collectible."
.
.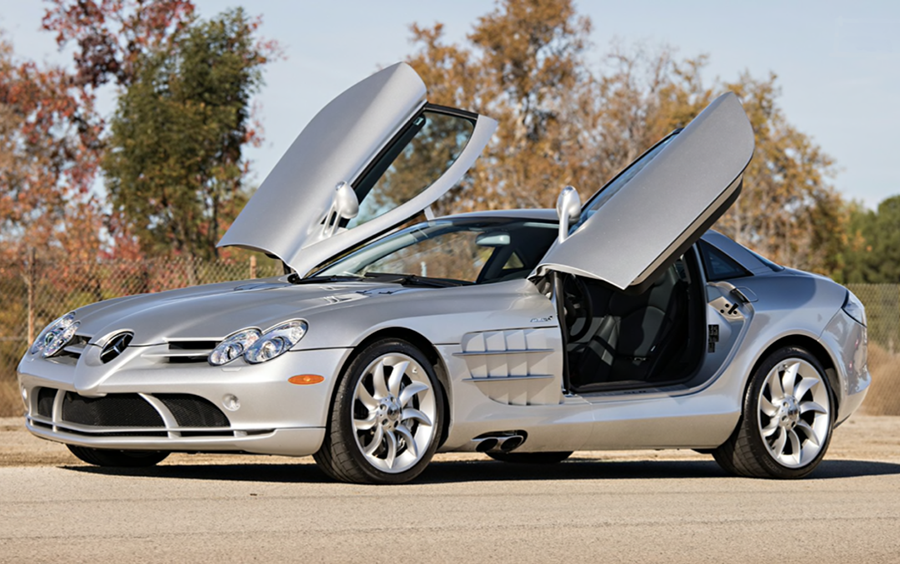 Introduced in 2003, the Mercedes-Benz SLR McLaren represents a stunning modern homage to the immortal 300 SL and the 300 SLR racecars of 1955. It was developed jointly with England's McLaren Technology Centre, partially owned by Mercedes-Benz at the time. The SLR McLaren utilized carbon-fiber construction and cutting-edge technology throughout. Moreover, the Mercedes' has 5,439 cc supercharged SOHC V-8 engine, an all-aluminum unit. It featured three valves per cylinder and race-derived dry-sump lubrication. In addition, it delivered 617bhp with a Lysholm-type twin-screw supercharger and twin intercoolers. This was mated to an AMG Speedshift R transmission with three manual modes available. This example is 1 of just 141 US-specification examples produced for 2006. It remains highly original with only an approximate 7k miles of use. In short, featuring iconic Mercedes-Benz colors, it is truly a legendary sports coupe for the true driving enthusiast.
.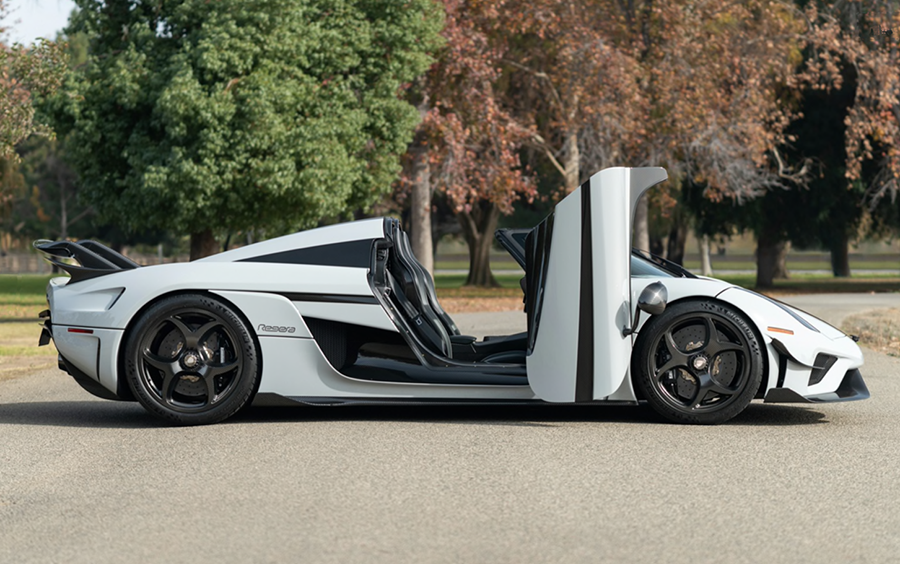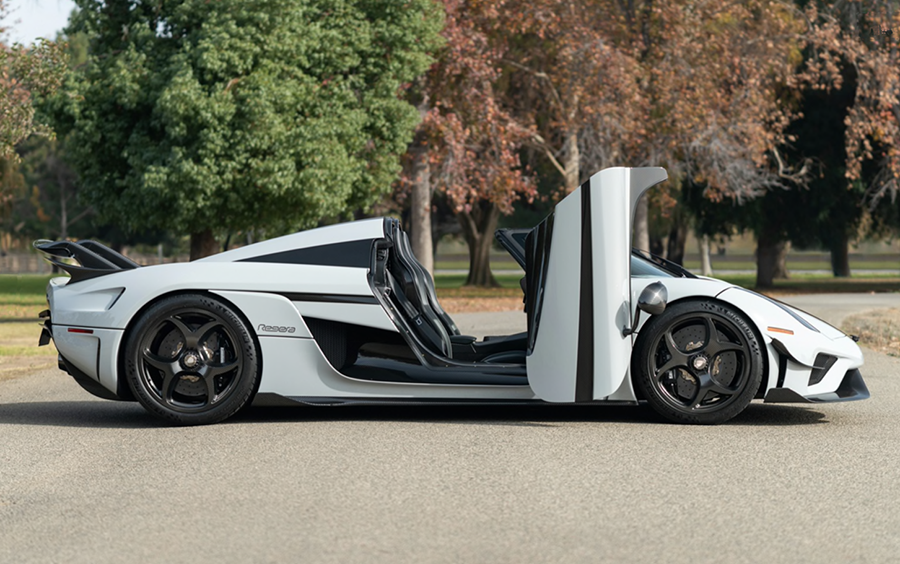 If ever a car was worthy of the 'Supercar' appellation, this 2020 Koenigsegg Regera has to be it. As the ultimate Hybrid-powertrain 'Hypercar' from Christian Koenigsegg's automobile company, the Regera is a stunning tour de force on every count. From its styling to its cutting-edge powertrain including a twin-turbocharged V-8 engine it is breathtaking. Additionally, there are three electric motors delivering 1,500 total horsepower through Koenigsegg's direct-drive, single-speed propulsion system. A s one of just 80 examples produced, this Regera comes from single ownership from new with just 369 miles of use. As if all that wasn't enough, this Regera comes with the rare $285k Ghost Package and $250k Environmental Power Upgrade. Buy this Regera and you will join an extremely exclusive club, indeed!
.
While Porsche has produced some of the world's fastest sports cars throughout its rich history, the marque's engineers went all out with the 997-series 911 GT2 introduced for 2007. Descended from the 993-series GT2, the new uber-performance 911 model was the first to break the magical 200-mph barrier. The 'RS' stands as the ultimate performer. Just 500 were produced. Further, this example offered by Gooding and Company at its Online auction is one of 142 built for North America. Extensive factory options include strong and lightweight carbon fiber front fenders. The auctioneer advises this 997 GT2 RS has only undergone an approximate 2,600 miles of use from new. Moreover, it benefits from recent detailing and service by professionals. It looks simply amazing in Black livery with a purposeful stance announcing its performance potential that is a match for few competitors.
.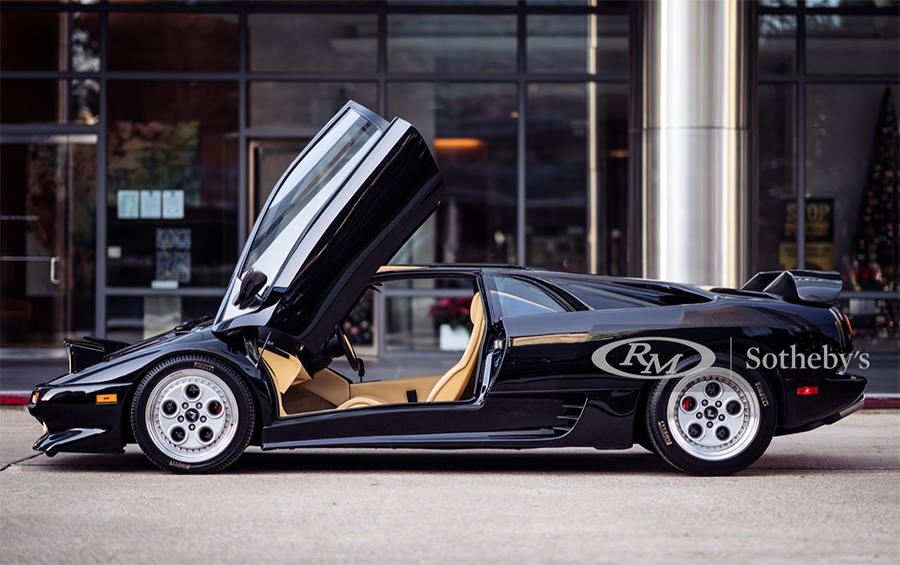 Offered by RM Sotheby's at its new Scottsdale location is Lot 121, an early Lamborghini Diablo. This masterpiece is described by the auctioneer as the 362nd of 401 produced for 1991. Casting a sinister presence with its otherworldly body design, this example was a one-owner vehicle from new until 2017. It benefits from extensive servicing in 2019. As the long-awaited successor to the venerable Countach, the Diablo was the sensation of the 1990-1991 auto-show season. Further, it is the first new Lamborghini under Chrysler ownership. Plus, it had direct influence by none other than famed auto executive, Lee Iacocca. Lastly, the Diablo is a true must-have for any proper Lamborghini collection.
.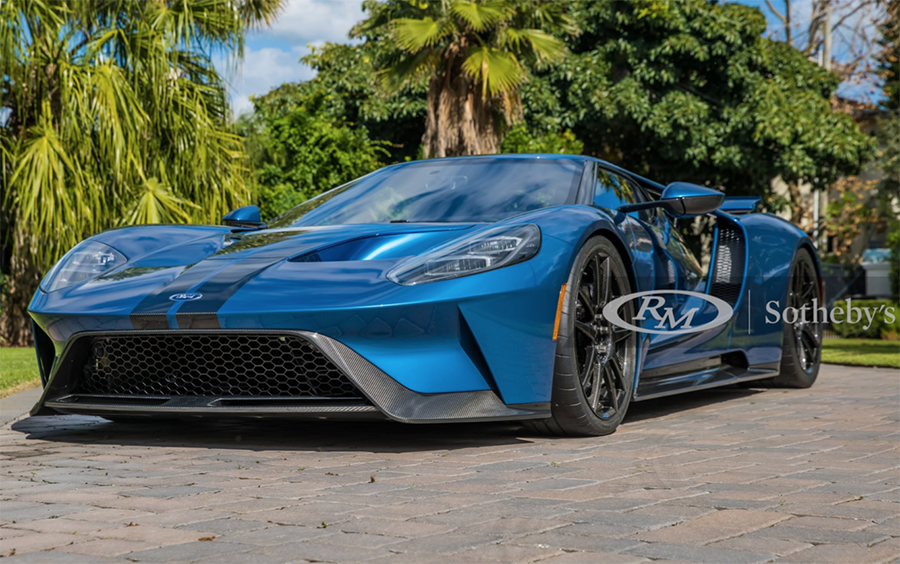 Lot 132 from RM Sotheby's is this electrifying 2019 Ford GT with the Code 600A 'Lightweight' specification that was available only to select applicants hoping to purchase one. Colors are fabulous, comprising Liquid Blue Tri-Coat with carbon fiber stripes. Just 8.2 delivery miles are on the speedometer at the time of cataloguing by RM, making it essentially as-new as offered for auction. The current Ford GT is simply a tour de force of engineering, design, and performance and with its Le Mans-winning heritage from the start in 2016, the new GT is far more than a worthy spiritual successor to the original GT that ultimately won the 24 Hours of Le Mans 4 times straight during the late 1960s.
.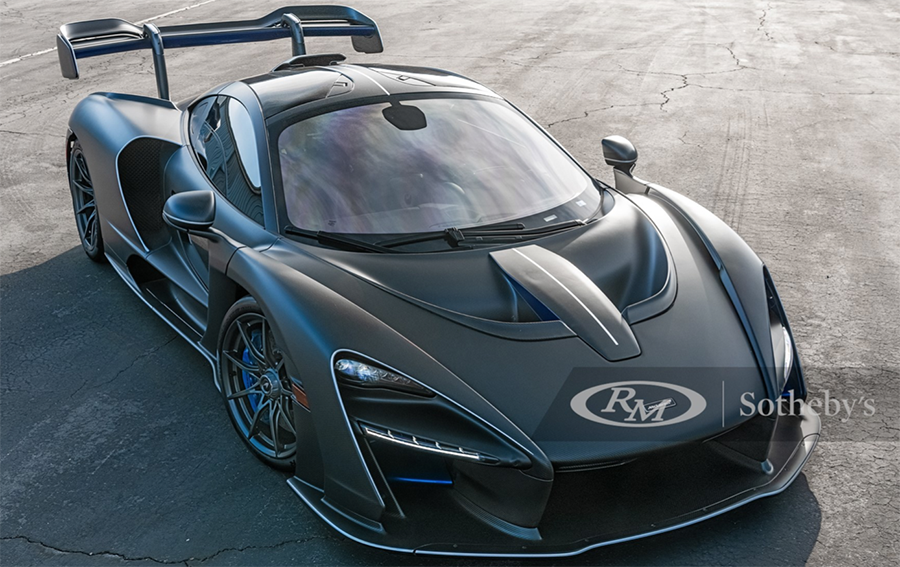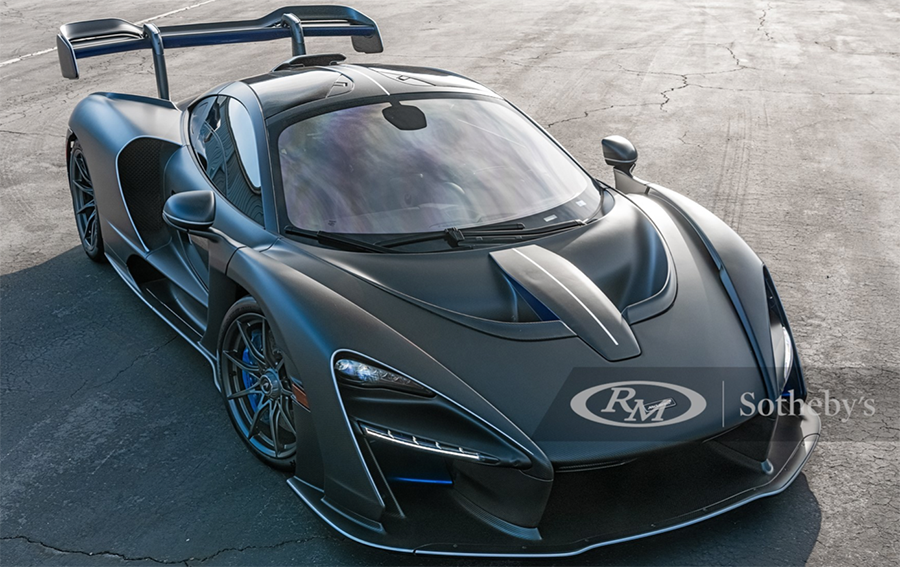 Catalogued as Lot 145, this 2019 McLaren Senna represents the most radical, track-focused 'Ultimate Series' model from McLaren. Honoring McLaren's legendary three-time F1 World Champion driver Ayrton Senna, the Senna is a track-focused, yet street-legal "hypercar" delivering race-derived specifications and monstrous performance with an almost otherworldly visual presence. Moreover, there are 500 version of this model in all. This example is reported by RM Sotheby's to have been the 95th of the series produced. According to RM Sotheby's, it features over $360k (USD) worth of optional equipment including Visual Carbon Fiber bodywork. This car is powered by McLaren's mid-mounted, twin-turbocharged and intercooled M840TR DOHC 4.0-liter V-8 engine. Meanwhile, it delivers 789 factory-rated horsepower to the rear wheels via a lightning-quick 7-speed. Further, it features dual-clutch automatic transmission, it will certainly deliver an amazing experience in every possible discipline.
While this year's Scottsdale auctions will be conducted in new formats with the precautions we have become accustomed to, a tantalizing selection of modern Supercars will continue to captivate all participants and enthusiasts. Their appeal is broad, ranging from those who lusted after the poster cars of their youth, to young, tech-savvy enthusiasts who are now ready to start their own collections. The Premier Financial Services team of leasing specialists will continue watching the performance of this important market segment very closely. They will be at the ready to guide existing and new clients with expert advice and personal service.
.
.
Leasing from Auction with Premier
The Simple Lease from Premier Financial Services makes bidding at auction a stress-free experience. Premier is your best path to owing any high-end automobile, from leasing a desirable modern Supercar from auction or purchasing at a dealer. Preparation is essential to getting the car of your dreams, so be sure to review the many resources we have provided on the Premier Financial Services website for you and contact us today to make it all happen with ease and our renowned service and advice.
.