Nothing Succeeds Like Excess
The Mercedes-Benz G-Class is rolling proof that a military background can lead to success in civilian endeavors. The same, of course, could be said for the Jeep Wrangler, Land Rover Defender, classic Toyota Land Cruiser FJ-40 and even that oh-so 1970s Volkswagen Thing. All had military origins, but only the big, blocky Mercedes remained true to its roots as an army brat in civvies.
You might not see it at one glance, but for 2019, the G-Class was redesigned for the first time in its 40-year history. Mercedes closed out production of the first-generation model with the wickedly fun AMG G65 Final Edition, the V12-powered monster you see here.
Mercedes made only 65 for global consumption, with 30 coming to the US. Gooding & Company sold this one at its Scottsdale auction for $240k. The pre-sale estimate was $250k-$300k for an essentially new vehicle with just 150 miles.
Mudslinger
The "G" in G-Class comes from Geländewagen, German for "cross country vehicle". It was so-named during development in the 1970s as a military vehicle to go where roads didn't. The early G-Wagons were fairly utilitarian machines. However, AMG, then an independent Mercedes tuner, offered a more luxurious 354-horsepower V8 model.
The 2018 AMG G65 Final Edition was the last version available with the howling 6.0-liter V12. With twin turbos and AMG's massaging, the mill also made 621 horsepower. The V12 could move the G's three-ton bulk from 0-60 mph in five seconds, despite the vehicle having the aerodynamics of a barn.
Mercedes called it the world's most powerful production off-roader, but how many were really leaving the pavement? You could, if you really wanted to. High ground clearance and locking front, center and rear differentials could enable some serious trail driving.
Dressed for Departure
For its final curtain, the V12-powered Mercedes G65 Final Edition came dressed in forged 21-inch bronze color alloy wheels, matched by matte bronze body accents. The V12 wears a carbon fiber and aluminum engine cover.
The G65 sold by Gooding had optional scratch-resistant paint in Obsidian Black Metallic over black Nappa carbon fiber patterned leather interior. Carbon fiber trim pieces throughout the cabin featured a light bronze weave.
Farewell, you crazy brute.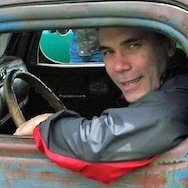 Written by Jim Koscs, Audamotive Communications