Millionth 911
For a car that Porsche nearly gave up on a few decades ago, the 911 is looking mighty healthy. The 911 model line currently includes 23 variations, ranging from the $91,100 "base" 911 Carrera coupe to the $293,200 911 GT2 RS. Last year, to mark the one-millionth 911 built since 1964, Porsche built a one-of-a-kind 911 Carrera S, and toured it around auto shows and lent to media for road tests.
There Will Be No Replicas
There will be no "Millionth 911" replicas, but, by using Porsche's smorgasbord of options and the Exclusive program, you could come reasonably close, and then perhaps pay a custom shop to complete the job.
Inspiration for the millionth 911's non-metallic Irish Green paint and houndstooth seat inserts came from the third 911 made in 1964, which Ferry Porsche chose as his personal car. The paint can be ordered through the Porsche Exclusive program for $6,960, but the seat inserts are not available. The special gold-colored accents, vintage-style Porsche crests and green gauge font, also inspired by the early 911s, are likewise not on the factory menu.
The millionth 911 features the standard 7-speed manual transmission. From the regular option list comes 1960s-inspired mahogany interior trim ($3,425), aluminum side-window trim ($400) and 20-inch five-spoke wheels ($1,370). The $12,350 3.0 S Powerkit jacks horsepower from 420 to 450.
What will become of this one-of-a-kind 911? Well, Jerry Seinfeld, who owns the first 911 imported to the U.S., won't be getting this one. Porsche North America spokesman Frank Wiesmann confirmed, "The car will remain in Porsche's hands and will go into the Porsche Museum."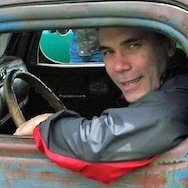 Written by Jim Koscs, Audamotive Communications
For Premier Financial Services