Mercedes' First Supercar
Scissor-style doors on a roadster make about as much sense as … well, they make no sense at all. That's the beauty of the Mercedes-Benz SLR McLaren roadster. It makes sense as a "because we can" statement you just can't ignore. It also happens to be blindingly fast.
A collaboration between Mercedes and its Formula One partner at the time, McLaren, the SLR McLaren was positioned as a kind of descendant of the Mercedes 300 SLR sports racer of the 1950s. The coupe arrived in 2003, the roadster in 2007. It was not the success Mercedes had hoped, though, with less than 2,200 built versus an original projection of 3,500.
Not surprisingly, some SLR McLaren buyers put cars away, presumably in hopes of making a tidy profit later. That would have been a bust. Gooding & Company will offer a triple-black roadster with a mere 350 miles from new for a pre-sale estimate of $300k-$350k, which is substantially below the car's original $500k price tag. Coupes go for even less.
Checkered Past
The Mercedes-Benz 300 SLR is regarded as one of the greatest racecars ever, winning the World Sports Car Championship in 1955. The 300 SLR was not based on the 300 SL Gullwing production sports car, but on the Mercedes W196 grand prix racecar. "SLR" stood for Sport Leicht-Rennen (Sport Light-Racing).
It was also burdened by the curse of the world's worst motorsports disaster. At that year's 24 Hours of Le Mans, Pierre Levegh, trying to avoid Lance Macklin's Austin Healey, swerved, and exploded upon hitting a berm. Levegh was thrown clear and killed. The burning pieces of his magnesium-bodied Mercedes flew into the crowd, killing 83 spectators and injuring 180. Following that horrific incident, Mercedes left racing for three decades.
If Paul McCartney was able to once again play "Helter Skelter" in his concerts, enough time had passed for Mercedes to exorcise its Le Mans demons and celebrate the 300 SLR with a production model.
Formula 1 Technology
The SLR McLaren was not based on any Mercedes-Benz vehicle but rather used a bespoke carbon fiber monocoque chassis made at McLaren's F1 factory in Woking, England. Even with that lightweight material, the 3,850-pound mass for the coupe, and 100 more for the roadster, was hardly "leicht" in anyone's book.
The easy fix for the poundage was power, and AMG provided the ideal hammer. Its handbuilt 5.4-liter supercharged V8, which was based on the Mercedes SOHC 3-valve engine architecture, produced 617 horsepower and 575 lb-ft of torque, numbers that stunned at the time.
The engine was teamed to a 5-speed automatic transmission, reflecting the move away from manuals. Performance was stunning, as well. Car & Driver recorded 0-60 in 3.6 seconds and the quarter-mile in 11.6 seconds at 125 mph. Other outlets returned similar results.
Mercedes claimed – and who would doubt? – a 208-mph top speed. Said Car & Driver: "A big dig at the throttle produces the kind of thrust that had everyone in our group shaking their heads in awe."
Over the Top and Loving It
The SLR McLaren's potent V8 was placed a whopping 20 inches behind the front wheel centerline for optimal weight distribution. That made this speedster a front/mid-engine car and required a rather long wheelbase for a two-seater (106.3 inches).
The layout gave the SLR McLaren somewhat exaggerated proportions, with an almost comically long hood. The over-the-top design, though, can make onlookers go giddy.
The coupe had scissor doors, a treatment that seemed a tad unusual for the roadster. The side exhausts were a necessity, since the flat underbody was optimized for aerodynamics and had no accommodation for pipes to the rear. Plus, they looked cool and sounded wild.
Air Brake and Bose in the Same Car
Speaking of aerodynamics, the SLR McLaren employed an airbrake, a rear flap that lifted when the brake was applied. It was an idea lifted right from the original 300 SLR racecar. The SLR McLaren's ceramic discs brakes, though, were light-years ahead of the old racecar's four-weel drums.
A 617-hp engine, carbon fiber body, air-brake flap and and ceramic brakes might seem to add up to an ultimate track car, but the SLR McLaren, especially in roadster guise, was more of a super-speed GT. Impeccable luxury included Bose audio, which had to compete with an engine roar that could wake sleeping neighbors.
You can't not have fun in a Mercedes SLR McLaren, and a roadster with just 350 miles on it is like a new car with a 40-percent discount.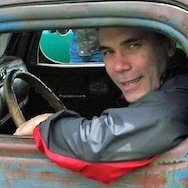 Written by Jim Koscs, Audamotive Communications
For Premier Financial Services