Million-Dollar Bonuses for Early Owners
Here come the flippers, and boy are they in for a haul. Original buyers of the 2017 Ford GT signed an agreement stipulating they could not sell their supercars for at least two years. The ban started expiring for the earliest buyers last year, and 2017 GTs have been turning up at auctions since the fall.
The going rate seems to be about $1.2M-$1.5M, or nearly three times the GT's original $447,000 MSRP (before options). Barrett-Jackson's top sale in Scottsdale was $1.485M for a 2017 GT with just 141 miles. A '17 Ford GT in '66 Heritage livery was the top sale at Barrett-Jackson's Las Vegas auction in October 2019. It sold for $1.54M.
RM Sotheby's sold a Beryllium Orange 2017 Ford GT at its Monterey auction last August for $1.24M.
Million-Dollar Payday
Ford's intent with the two-year sales ban for the new GT was similar to what Ferrari has done with its elite models as an effort to head off flippers. Whether early buyers intended to flip or not, the temptation of pocketing a million-dollar profit after two years, and with a very low supply of secondary-market cars currently available, is probably difficult to resist.
What's stunning about this rapid appreciation is that the Ford GT is still in production. Ford had intended to build 500, but demand doubled that number and then pushed it again to 1,350. The last cars are expected to be built in 2022. Multimatic Niche Vehicles North America builds the GT for Ford in Ontario.
Second Revival
The 2017 GT was the second modern revival inspired by the Ford GT40 racers that won the 24 Hours of Le Mans four times in 1966-1969. The 2005-2006 GT was a visual doppelganger for the original. Ford made just over 4,000 of those. The $150k-$160k MSRP was considered a bargain, and most offered today sell for about double that or more. A 2006 Heritage Edition brought $385k at the Gooding & Company Scottsdale auction.
The Racer's Edge
The 2005-2006 Ford GT was not raced. However, the race version of the more advanced 2017 GT filled a trophy case. Ford GTs took first, third and fourth places in the GTLM class at the 2016 24 Hours of Le Mans. It was certainly a fitting way to celebrate the original Ford GT's 1-2-3 overall sweep of the French Classic 50 years earlier.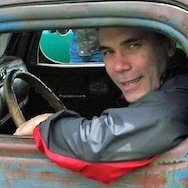 Written by Jim Koscs, Audamotive Communications