A trip into racing history
A 2016 New York Times article marked the 50thanniversary of Ford's historic, rain-soaked 1-2-3 victory at the 1966 24 Hours of Le Mans. It suggests the effort was "…a considerable achievement by the manufacturer, teams and drivers, involving a multilayered web of drama. Even a Hollywood scenarist might not be able to concoct."
More than half a century after that racing feat, Hollywood finally took a shot. To borrow a metaphor from a different sport, it hit one out of the park. "Ford v Ferrari", which opened nationwide on Friday November 15, ranked No. 1 at the box office for the weekend, taking in $31.5M and $53.9M worldwide. (It cost $97.6M to make.)
Critics, too, have voiced their approval of "Ford v Ferrari." Writing in The New York Times, A.O. Scott said, "You may not think you care who won at Le Mans in 1966. But for two and a half hours, you will."
Field Trip
Premier Financial Services, the nation's leading lessor in vintage and exotic vehicles, took its entire team to an opening night viewing, and all would agree with that sentiment. Like the Times reviewer said, whether they were familiar with the story or not, the movie made them care.
"The movie was fantastic. Even though I am very familiar with the story and many details, I was transfixed," said Ross Dressel, Sales Manager, Midwest Region. "The action and race scenes were very moving. They kept me truly engaged almost as if I was racing along with them."
"I couldn't have been happier to see a film that directly relates to the history of the industry that we work in," said Funding Manager Amy C. Petrucci. "'Ford v Ferrari' is funny, suspenseful, and heartbreaking. The cinematographer caught the most exciting up-close shots of racing that I have ever seen."
Client Services Associate Amy Mauro, who sat with Jessie Nezvesky from Sales Support, nearly left fingernail prints in her coworker's arm."I was just gripping Jessie's arm and praying Ken Miles wasn't going to crash. I also enjoyed seeing the process of the Ford GT40 being built and test driven," she said.
"Go Like Hell"
A possible film about Ford's 1966 Le Mans victory had been rumored after A.J. Baime's 2009 book, "Go Like Hell: Ford, Ferrari, and Their Battle for Speed and Glory at Le Mans" became a bestseller. With few exceptions, including 1966's "Grand Prix" and Ron Howard's "Rush" in 2013, Hollywood has had a poor record with racing-oriented films. Many car and racing enthusiasts were just hoping a movie about Ford at Le Mans would not turn out as disappointing as "Days of Thunder" with Tom Cruise.
Baime was not the first to tackle the subject of Ford beating the doors off Ferrari (and Porsche, and everybody else) in the 24 Hours of Le Mans, but most historical articles and books on the event were written by auto enthusiasts for auto enthusiasts, and so were not interesting to a general audience.
In contrast, Baime's "Go Like Hell" conveyed the Ford's historic effort and victory by spotlighting the human struggles and emotions. You didn't need more than a passing interest in cars or racing to enjoy the heck out of the book while learning about one of motorsport's most historically significant events.
That's also where the new film, "Ford v Ferrari," succeeds.
A Buddy Film
Some critics have likened "Ford v Ferrari" to a kind of buddy movie or even a western. Carroll Shelby and Ken Miles are the buddies. Racing is the setting, and the film captures its inherent excitement without falling into clichés.
Shelby, the former racer who won Le Mans for Aston Martin in 1959 with co-driver Roy Salvadori, of course became legendary for turning the British AC Ace roadster into the Cobra via Ford V8 engine transplant. The tall Texan became a critical part of Ford's "Total Performance" program, which was designed to rev up the company's image by going all-in on racing in nearly every form. Miles is the builder/driver who helped Shelby turn the Cobra into the launching point for a kind of racing subdivision within Ford, including building the GT350 Mustang.
"You Better Win"
As dramatized in "Ford v Ferrari," Ford's pending deal to purchase Ferrari fell through. Then, the company added endurance racing to its Total Performance roster. With that decision, came a plan to take on Ferrari at Sebring, Daytona and Le Mans. The effort began in 1964 with an American-designed body on an British-designed chassis. However, it resulted in a series of embarrassing crashes and DNFs.
Ford brought in Shelby to whip the project into shape. Miles was right alongside him. The resulting GT40 Mk. II used Ford's big-block 427 cu. in. NASCAR V8 for a power boost over Ford's small-block V8. In 1966, Miles won at the 12-hour Sebring and 24-hour Daytona enduros with the revised car.
Then came Le Mans. Ferrari had won the French classic nine times, including six consecutively from 1960-1965 (the last by a private entry). It was the car and team to beat, but Ford was the goliath in this story. Ford backed its effort with an inordinate amount of money and staffing. Henry Ford II expected nothing less than a win for the investment and distributed cards to staff scrawled with, "You better win". Shelby would find himself as much a car developer as a navigator of thorny corporate politics.
Translating that story to the big screen and making it interesting to a general audience was a heroic undertaking. By all accounts, director James Mangold ("Logan," "Cop Land," "Girl, Interrupted," "Kate and Leopold," "Walk the Line") and screenwriters Jez Butterworth, John-Henry Butterworth and Jason Keller pulled it off. Actors Matt Damon as Shelby and Christian Bale as Miles make this 53-year old piece of history relevant to modern audiences.
Not a Documentary
Like any movie based on a true story, "Ford v Ferrari" is not meant to be a documentary. This is a point lost on some. Nitpickers will complain that this person got too much attention, that person was hardly mentioned, and certain conversations never happened, etc. Memo to all the nitpickers: it's called moviemaking.
In this case, it's good moviemaking. Compressing several years into two and a half hours and keeping people glued to their seats (and, these days, off their phones) is an art.
"Premier's premier of 'Ford v Ferrari' was a really special night for the team to be with one another to share in the passion of motorsports and cars," said Chris Warren, Sales Manager, Southeast Region. "Once exposed to the raw emotion and unbridled passion for the cars, the racing, and the commitment people have for this lifestyle, our team members can have an even stronger grasp on how our clients feel about the purchases we assist them with daily."
Do yourself a favor: Go see "Ford v Ferrari."
Aftermath
Ford's winning at Le Mans continued, with the new, much different and fully American-designed-and-built Mk. IV racer taking Le Mans in 1967. (Miles was killed in August 1966 while testing a Mk. IV development car.) Ford then turned the operation over to J.W. Automotive, which won with the older GT40 Mk. I models in 1968 and 1969.
Ferrari never won Le Mans outright again. Porsche, whose 906 racers took 4th through 7th places at the 1966 Le Mans, would become the race's next dynasty.
Your first stop after seeing "Ford v Ferrari" or reading "Go Like Hell" should be to read Preston Lerner's excellent recent article on Hagerty. Lerner did an outstanding job of condensing his own book, "Ford GT: How Ford Silenced the Critics, Humbled Ferrari and Conquered Le Mans."You may be surprised by some of the facts.
Also, for more viewing, check out "The 24-Hour War" documentary produced by Adam Carolla in 2016. Stream it on Netflix or Amazon.
If you're really into Ford's history at Le Mans, read Lerner's book. Also, dig up a copy of "Ford: The Dust and the Glory" by Leo Levine, written in 1968 when Ford's Le Mans triumphs were still current events. Levine, a highly regarded journalist, went on to lead the Mercedes-Benz North America public relations department for many years.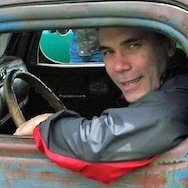 Written by Jim Koscs, Audamotive Communications
For Premier Financial Services