A holiday wish list for all ages
The old adage that "classics never go out of style" appears to be true for modern classics among exotic cars. A review of Premier Financial Services' leasing activity during 2021, shows most of the same marques and models repeating their appearances in our annual Top-10 Leased Exotics list, although with different positions. Once again, Lamborghini scores the most places in our Top-10 Leased Exotics, with the same three models as last year. There were four ties, so there are six positions accounting for 10 cars.
We're going to award an honorable mention to the Rolls-Royce Dawn, which narrowly missed joining the list in a tie with the Audi R8 and Ferrari 488. Another honorable mention goes to the Ferrari 458 series, which came up right behind the Dawn and remains highly revered as the last naturally aspirated V-8 Ferrari.
What was your favorite this year?
Tied for 6th Place: Audi R8
The first thing to know about the Audi R8 is that the car is still in production and available with a starting price of $148,700 for 2022. That makes it the best bang-for-the-buck entry on this list by just a little bit, as the Porsche 911 GT3, which took second place at a starting price of $161,100. (Of course, who actually gets a 911 GT3 for that?)
The R8's V-8 engine is no longer offered, but that's nothing to get misty-eyed over, as most customers were choosing the V-10. And why not? The R8 shares its mechanical makeup, including the V-10, with its cousin, the Lamborghini Huracán, which took the #1 spot this year. The R8 Performance coupe (it's actual name) is the purist's delight, combining a 562-horsepower V-10 with a dual-clutch transmission and rear-wheel drive.
The R8 Performance quattro® adds all-wheel drive and ups the V-10's output to 602 hp. Audi claims 0-60 in 3.2 seconds and a 205 maximum track speed. Topping it off, or rather, offing the top, the R8 Spyder uses the quattro® model's all-wheel drive powertrain and, naturally, lets the top down.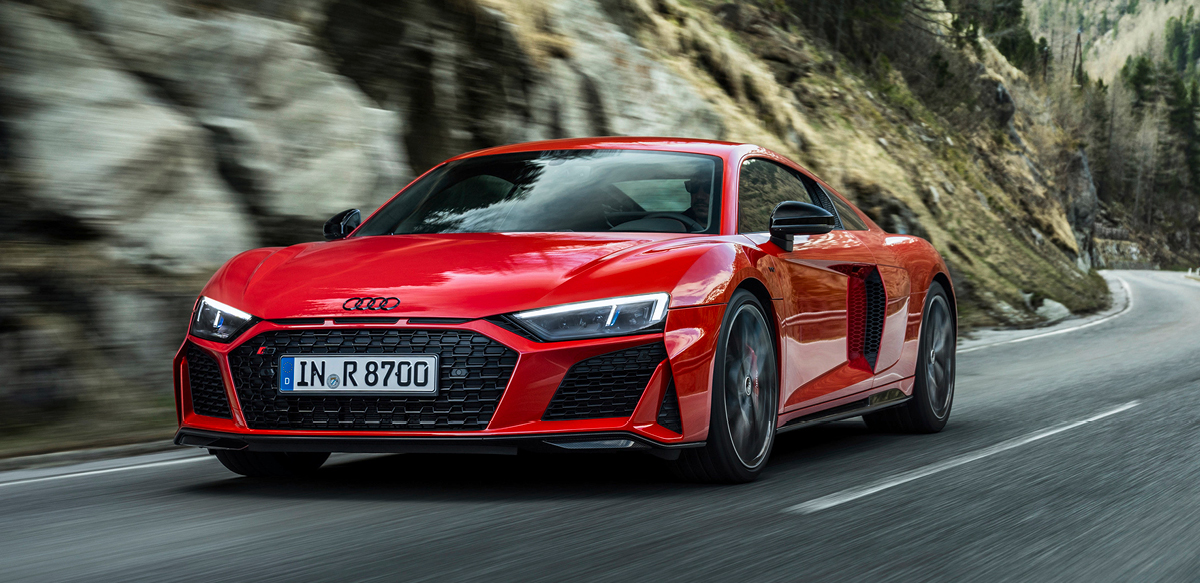 Tied for 6th Place: Ferrari 488
The Ferrari 488, makes the 2021 list one spot behind last year's position. The 488 succeeded the 458 Italia and was offered in both GTB coupe and open Spider models. The design theme was similar to the 458 but more muscular, with wider haunches embracing a twin-turbo 3.9-liter V8 that howled to the tune of 661 horsepower at 8,000 RPM. This was Ferrari's first production turbo engine since the F40. Turbos have become mainstream for the marque's V-8s and the 296 GTB's V-6.
Some purists may have lamented the slightly muffled sound of the turbocharged engine compared to the naturally aspirated 458, but nobody complained about the huge jump in torque (561 lb-ft at a low 3,000 RPM). With 0-125 mph happening in just 8.3 seconds, it made the car feel like there was a rocket booster stuffed into its rear diffuser. The electronic chassis helpers were finely tuned to help turn very good drivers into great drivers on the track.
If that's not enough to strain your neck muscles, seek out the rarer and more track-tuned 488 Pista or 488 Pista Spider, both with 50 more horses and 200 fewer pounds.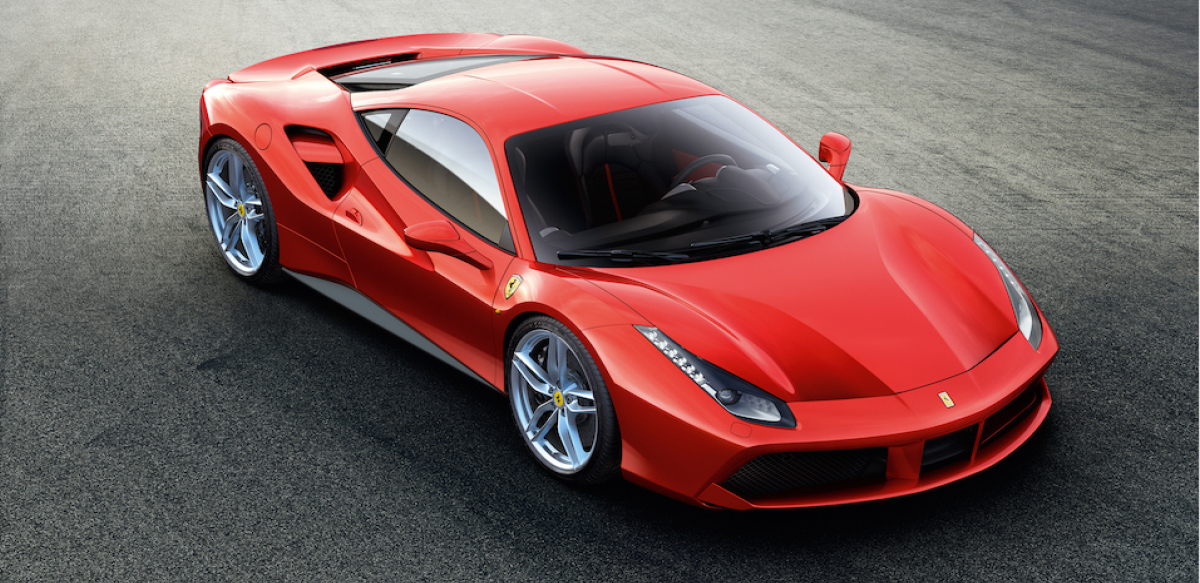 Tied for 5th Place: Lamborghini Aventador
The evergreen Lamborghini Aventador repeats its #5 spot for 2021 and could also be called the top super-supercar on the list. We call the Aventador "evergreen," because it's been around for 10 years. But try finding someone who's tired of it. How could they be, with a naturally aspirated V-12 sitting right behind the driver's head and stealth fighter design that still looks fresh after a decade? In that time, there have been more special editions and offshoots (including the new Aventador-based Countach revival) than we have room to mention here. The recent Aventador SVJ set a production car lap record at on Germany's Nürburgring at 6:44.97.
The Aventador has entered its final stretch, and Lamborghini is sending it out with the 780-4 Ultimae edition. That translates to 780 ps (770 horsepower), all-wheel drive, and a name that drops the "t" from "ultimate." Lamborghini will build just 350 cars for global sales. The Aventador's successor model will likely have some kind of hybrid powertrain. Meanwhile, a decade's worth of pure V-12 Aventadors are readily available in the secondary market, and ready for leasing through Premier Financial Services.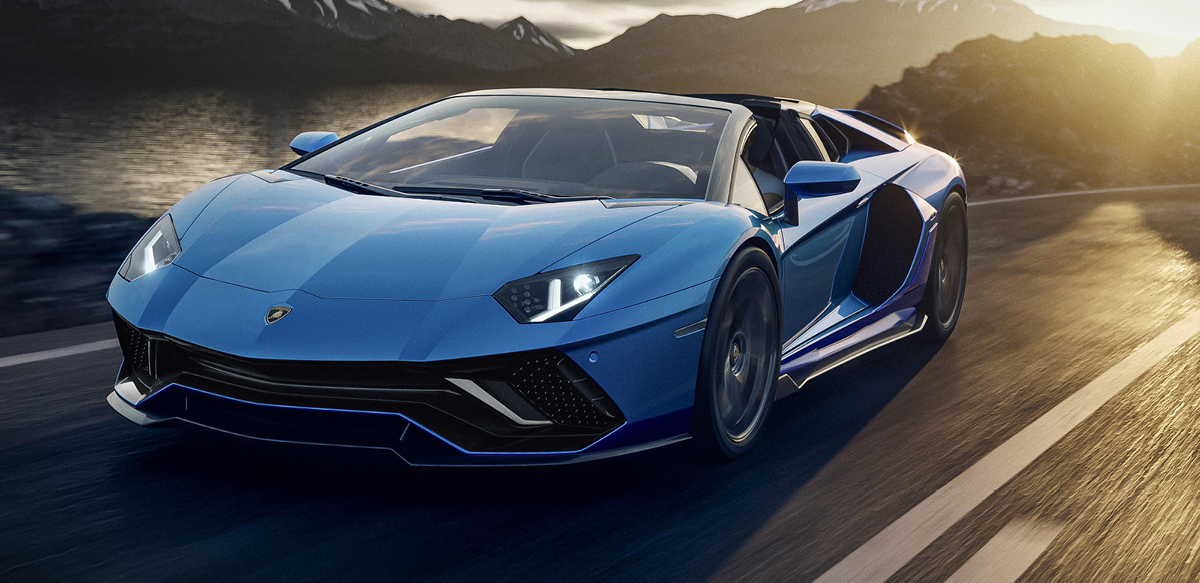 Tied for 5th Place: Mercedes-Benz G-Class
This year, a second high-end SUV joins Premier's Top-10 leased exotics, the inimitable Mercedes-Benz G-Class. Most were G63 AMG models, though Premier has also leased a handful of the uber-rare V-12 powered G65 AMG versions. Audacity was that model's middle name, thanks to the monster 6.0-liter, twin-turbo V-12 producing 621 hp and 738 lb.- ft. of torque.
For many years, Americans clamoring for this genuine go-anywhere 4×4 had to rely on the gray market until Mercedes began official imports in 2002. The G-Wagen became known as the G-Class, an all-business luxury off-roader that customers could not get enough of. A more modern second-generation model arrived for 2019. Still using body-on-frame construction, the new G features independent front suspension and a lower center of gravity to improve road manners. For hardcore off-roaders, the G still has three locking differentials and a low-range gear. The interior is as luxurious as in any premium Mercedes, and the exterior design, while updated over the original, looks unmistakably related to it. The AMG G63 remains the top dog for 2022, with a 577-horsepower twin-turbo 4.0-liter V-8. For personalization, you can choose from a palette of 35 color choices. Have at it.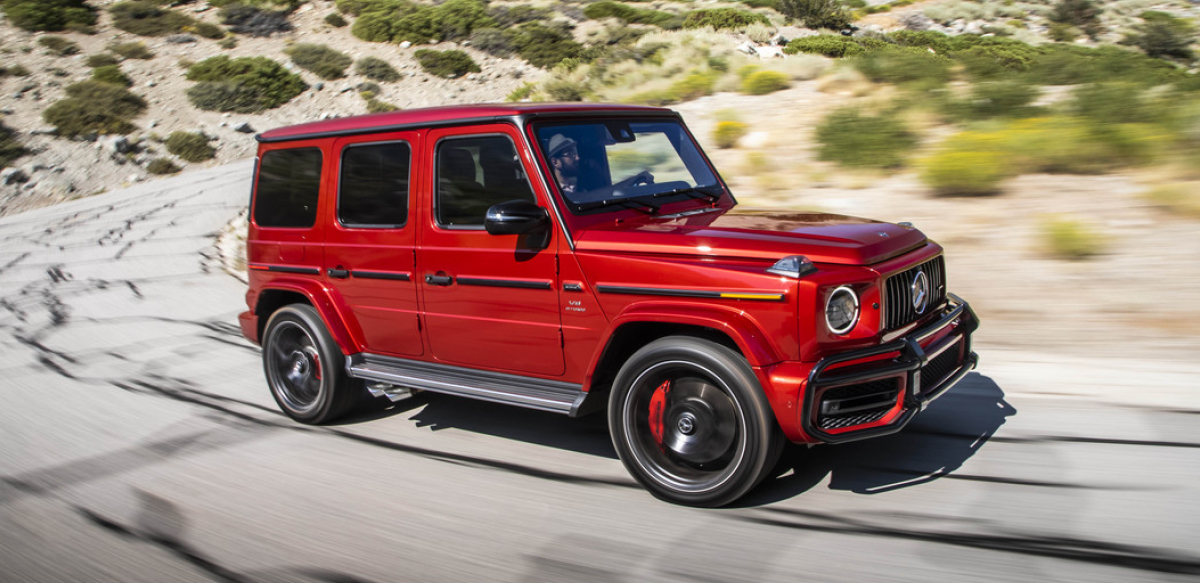 Tied for 4th Place: Bentley Continental GT
Bentley joins the 2021 list with its gorgeously muscular Continental GT, including a handful of the rare 2017 Supersports model with an exclusive 700-horsepower version of the brand's weirdly wonderful W-12 engine. Like the first Continental GT that arrived for 2003, the second-gen model introduced for 2019 shares much of its engineering with Bentley's Flying Spur sedan. The new Continental's design is similar to the original, but seems trimmer and more refined.
For 2022, the W-12 engine comes in two versions, standard 626-hp or 650 hp in the new Speed model, which has a top speed of 208 mph. The V-8 is an Audi-derived 4.0-liter twin-turbo unit that delivers a rousing 542 hp in a car that's more than 200 pounds lighter than the W-12 model. Both engines are paired with an 8-speed dual-clutch automatic transmission and all-wheel drive, and both are available in the coupe or convertible.
The Bentley Continental GT's cabin luxury must be seen, felt, heard and even smelled in person to be believed. Fun fact: Car and Driver got 28 MPG in highway driving with a V-8 model. So leave the Ferrari in the garage and use a Continental GT as your daily driver to save on gas.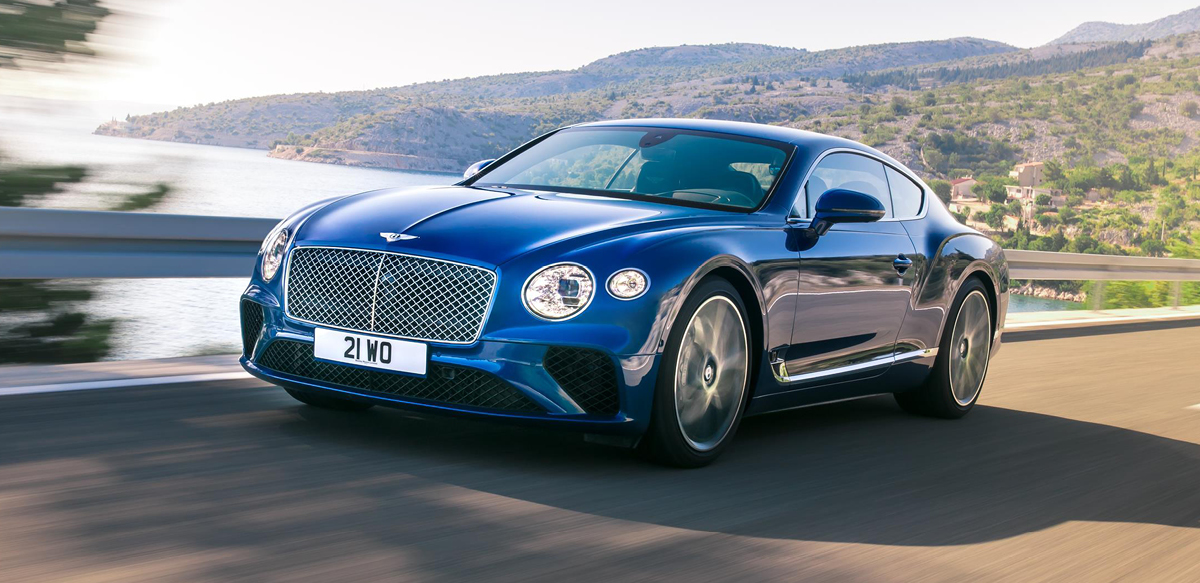 Tied for 4th Place: Lamborghini Urus
Porsche purists clutched their pearls when the company introduced its first SUV, the Cayenne, two decades ago. Today, nobody bats an eye when a sports car maker brings out an SUV. Lamborghini owners welcomed the Urus with open checkbooks, and now, as originally projected, it is the company's best seller.
The Urus looks like a close sibling to Lamborghini's cars and, appropriately, it offers some wild color options, including Giallo Inti (yellow), Arancio Borealis (orange), and Verde Mantis (green) – because, why not?
As a high ranking member of the VW Group, the Urus shares its basic vehicle engineering with the Porsche Cayenne, the Audi Q8 and Bentley Bentayga. The Lambo SUV's 4.0-liter twin-turbo V-8 makes 641 horsepower. It is a speed demon, clocking 0-60 in 3 seconds and blazing down the quarter mile in 11.3 seconds at 121 mph. Car and Driver says the Urus was the quickest SUV it has ever lapped at Virginia International Raceway and sums up the family Lambo this way: "The Urus is a wildly styled super SUV that transcends the boundaries of this outrageous supercar brand."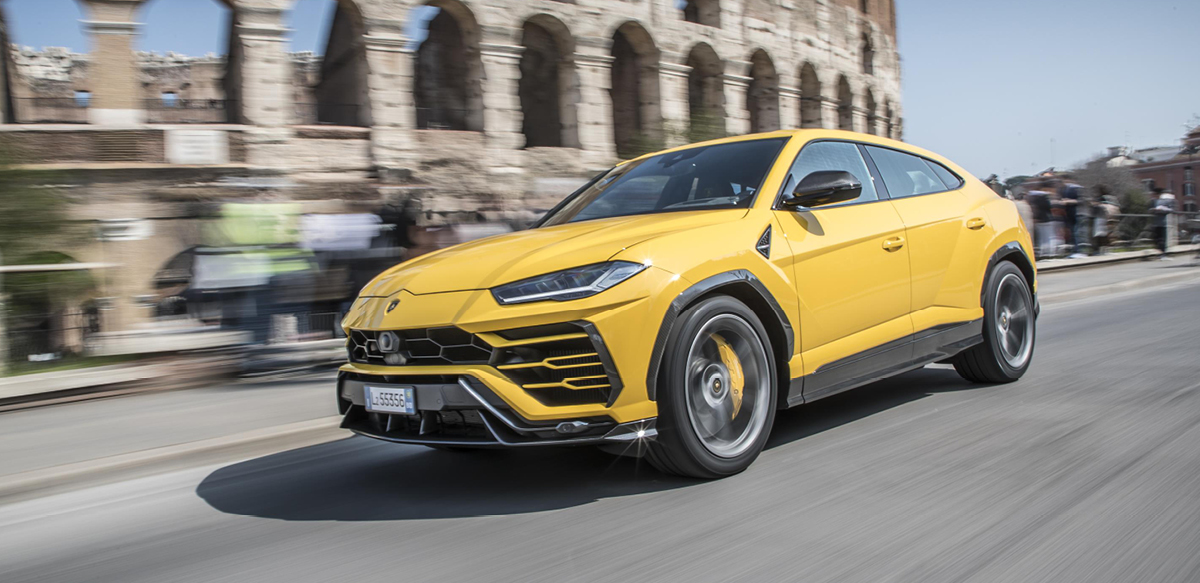 Tied for 3rd Place: Porsche 911 GT3 / GT3 RS
Porsche's most track-focused 911, the GT3, is now also available as the GT3 Touring for a somewhat more civilized road experience. Throughout 2021, our clients were scooping up GT3s and its more race-tuned sibling, the GT3 RS, which is not currently offered as a new model. The most recent GT3 RS was offered for 2019 with 520 horsepower from its 4.0-liter flat six. Rest assured, the new GT3, with 502 hp, is a scorcher on road or track, and 911 GT3 models from a few years back were road and track rippers, too.
The 2019 GT3 RS conveyed its track seriousness with a magnesium roof, carbon fiber seats, lightweight glass, pull straps instead of door handles and deletion of most of the 911's sound insulation. The optional ($18,000) Weissach Package, named for the marque's famous test track, trimmed another 13 pounds by using carbon fiber for the front and rear stabilizer bars, the roof, steering wheel trim and even the shift paddles. Another $13,000 got you forged magnesium wheels, dropping 25 pounds of unsprung weight to further sharpen agility. With those options and the carbon ceramic brakes, the GT3 RS weighed in at a feathery 3,153 pounds.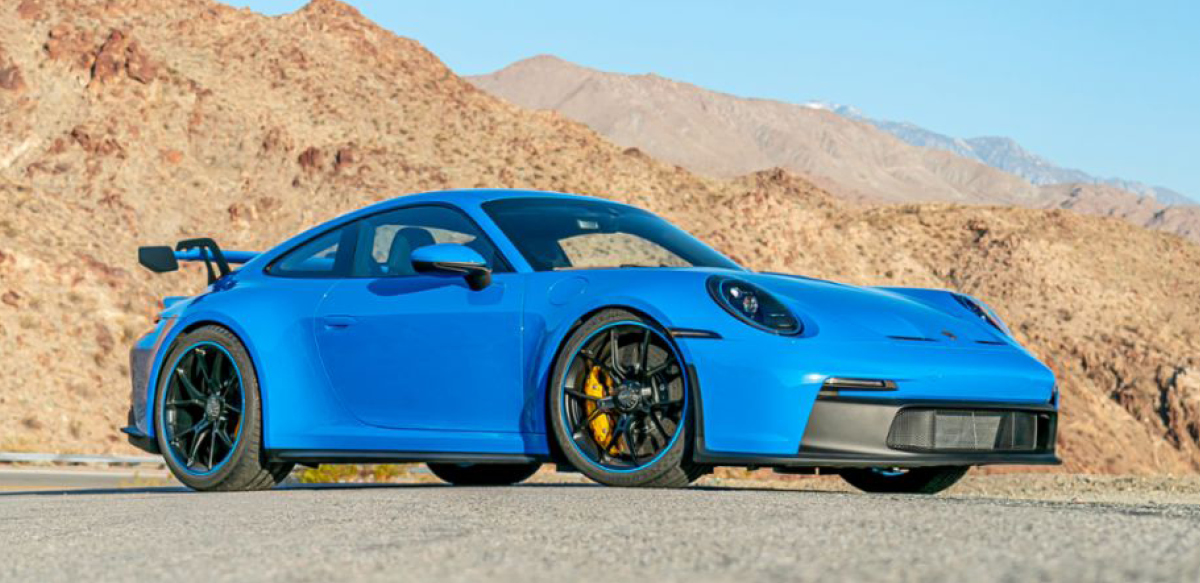 Tied for 3rd Place: McLaren 720S
Not only is it difficult to keep up with a McLaren on the track, but keeping track of all the marque's models and their various permutations could make a fine part-time hobby. The 720S is grouped in the marque's "Supercar" series, along with the more powerful 765LT and the Artura hybrid. We love that the model badge on the 720S is also its engine output in metric horsepower. (In U.S. terms, it works out to 710 hp.) The folks at McLaren really know how to stroke an ego.
The look is purely McLaren, which means dihedral ("butterfly") doors and a slippery-smooth body devoid of air scoops and aerodynamic add-ons. Instead, the aero trickery is baked into the shape. Get in and hold on, because this McLaren can clobber the quarter-mile in 10.1-seconds at 141.5 mph, according to Motor Trend. A 720S driver is more likely to test the car's mettle on a road course, where this speedy McLaren puts a death grip on the road surface. Choose from coupe and Spider versions.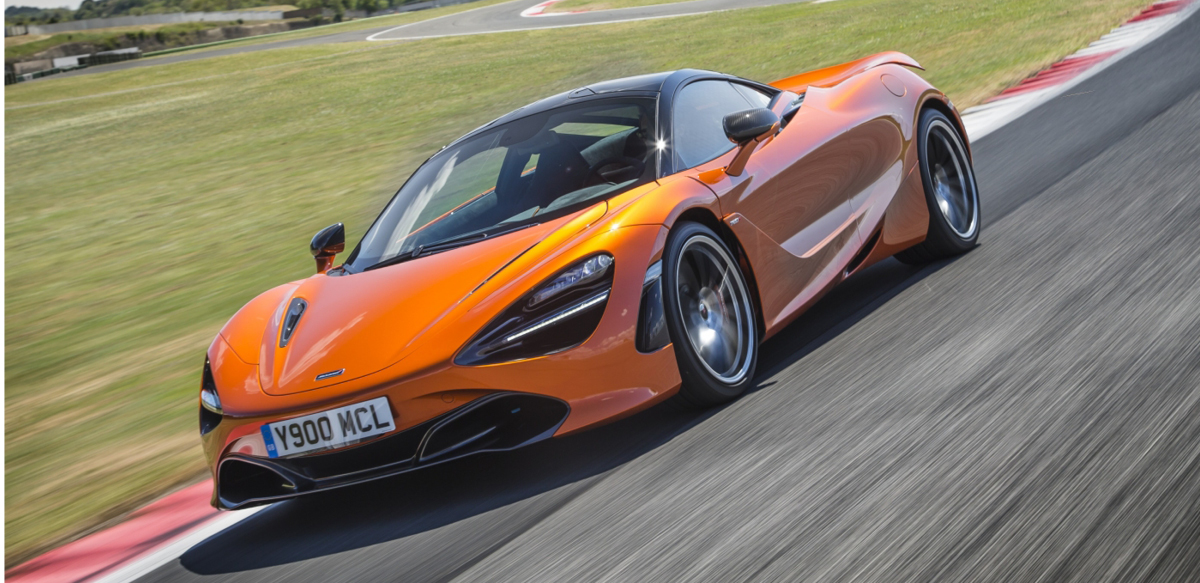 Second Place – Porsche 911 Turbo
While most new Porsche vehicles use turbocharged engines, including nearly every 911 variant, the badge "911 Turbo" still denotes the top dog in the line, as far as raw acceleration goes. It's been that way pretty much since 1976, when the first 911 Turbo, a.k.a. 930, a.k.a. Turbo Carrera, arrived in the U.S. Zero-to-60 in five seconds in the mid-1970s was simply mind-warping; there was nothing even close at the time.
Times have changed, but a Turbo S still sits atop the 911 range. Zero-to-60 takes half the time of the '76 model thanks to 640 horsepower, 8-speed dual clutch transmission and all-wheel drive. And, the new Turbo will keep going until it hits 205 mph, according to Porsche.
Collectors love the last of the air-cooled 911 Turbos from the 993 series, offered for 1995-1997. The Turbo S version was extra special. Where the standard Turbo made do with 400 horsepower, the S had 424 hp. The 0-60 sprint took 3.5 seconds, and top speed was pegged at 184 mph. For perspective, 25 years later, the 2022 911 Carrera S offers similar stats, so a '97 Turbo S was pretty hot stuff. It was also super rare: Porsche made just 345, sending 176 to the U.S.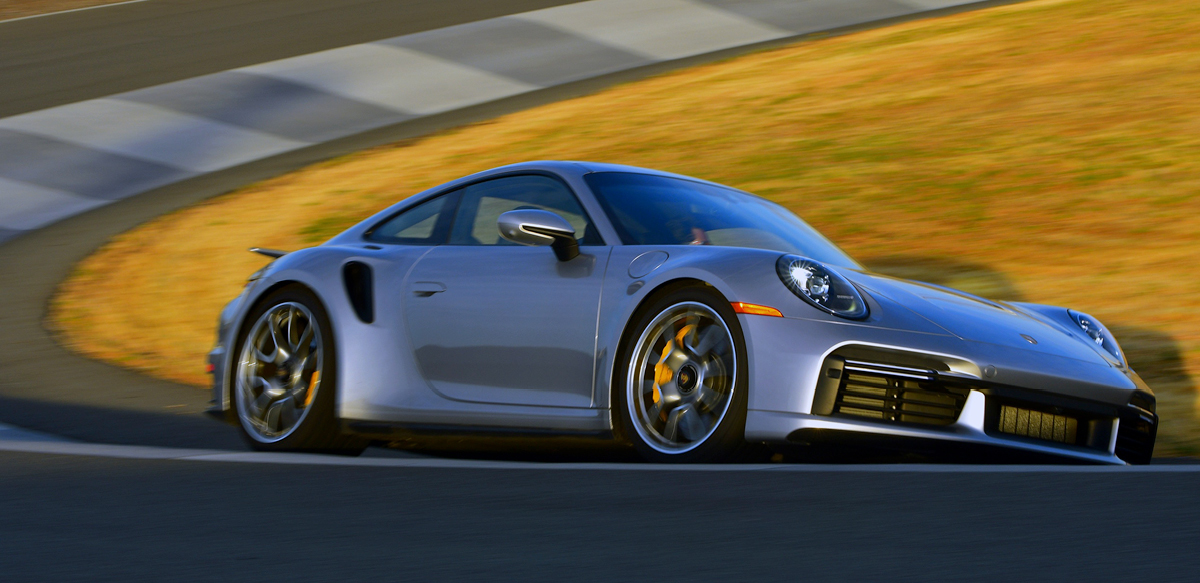 First Place : Lamborghini Huracan
The Lamborghini Huracán traded places on our list with the Porsche GT3/GT3RS duo for 2021. The "entry" Lambo sports car may share engineering elements with the Audi R8, but these two cars have vastly different personalities. The Huracán looks the part of the family wild child, wearing Lamborghini design language in a way that seems sinister in an oddly elegant way.
Nothing raises the hairs on your neck like the unearthly wail of the Huracán's naturally aspirated 5.2-liter V-10. The engine is teamed exclusively with a 7-speed dual-clutch automatic transmission that cracks off lightning-quick shifts. The car's sound and the design combine to make you think it is alive.
The current Huracán model is the Evo, with rear-wheel drive and all-wheel drive models available as coupe or convertible Spider styles. The AWD versions have 631 hp, while the RWD version is tune for a still stunning 602 hp. And yes, it's mighty quick, Car and Driver coaxed an all-wheel drive Huracán Evo from 0-60 in just 2.5 seconds and through the quarter-mile in 10.4 seconds at 135 mph.
The Huracán Super Trofeo Omologata (STO) is the road-going version of the ST Evo used in Lamborghini's very own Super Trofeo race series.
Congratulations and thank you to all of our clients.
Have a happy, safe and prosperous

New Year.