Believe Most of the Hype
Behold, "the ultimate expression of the internal combustion age." Well, maybe don't believe that bit of hype. That's how Bentley describes its new-generation Flying Spur, the marque's "entry" sedan below the mighty Mulsanne. Immodesty is certainly not lacking with Crewe's marketing crew.
Others might have reserved such a colorful description for, say, an 11,000-horsepower NHRA Top Fuel dragster. The dragster reaches 330 mph in about the same 3.7 seconds that the new, third-generation Flying Spur takes to reach 60 mph. But then, you can't get three-dimensional quilted leather door panels or a 2,200-watt, 18-speaker audio system by Naim on a dragster, can you?
Kidding aside, you really might want to make room for this Bentley in your garage.
"Prestige Mass"
A word that comes to mind with the new Bentley Flying Spur is "presence". It's not that the previous versions lacked it; the new one just has more.
Bentley stretched the Flying Spur's wheelbase by five inches. However, don't look for the added length in the back seat, where it wasn't needed anyway. Most of it went in front of the A-pillar. Bentley calls the added hood length "prestige mass." Chrysler's late-'60s and early '70s Imperial used the same trick.
The new Spur shows off a sleeker profile and more muscular haunches. That big-headlight Bentley face wears a bigger version of the familiar grille ("radiator matrix" in Bentley-speak). For the first time on a modern Flying Spur, Bentley has bedecked the nose with a "Flying B" hood ornament. The redesigned bauble rises from its lair and illuminates as part of the car's welcome lighting sequence when the driver approaches the car.
It's First Cousin is a Porsche
The new Flying Spur is the third generation of the sedan Bentley introduced in 2005, and like that first one, it shares its platform with the Bentley Continental GT. Back then, the platform came from the Volkswagen Phaeton, a $100,000 peoples' car you can now pick up for about six grand.
The second-gen Spur continued on that foundation in 2013, but that was just after VW Group had added Porsche to its quiver. Hence, the new, third-gen Continental GT and Flying Spur are now platform mates with the Porsche Panamera.
Though larger and much heavier than their Porsche cousin, the Bentleys benefit from its formidable performance and handling technologies. These include an 8-speed dual-clutch automatic transmission, a new all-wheel drive system, rear-wheel steering and a Dynamic Ride system. The latter, which debuted on Bentley's Bentayga SUV, constantly adjusts the AWD torque distribution, air spring stiffness, adaptive dampers and electrically actuated active anti-roll bars.
Flying B, Meet Flying W
Moving 5,500 pounds of prestige mass from 0-60 in less than 4 seconds takes serious thrust. The Flying Spur's twin-turbo W-12 engine makes 626 horsepower and 664 lb-ft of torque, the latter at just 1,350 rpm. (A twin-turbo V-8 version with about 550 horsepower will come later.) All of that sauce now flows through an 8-speed dual-clutch transmission, a rather curious choice for a huge luxury sedan. Car & Driver describes its operation as "silky smooth and consistent, which isn't always the case with dual-clutch units."
Thanks to the new transmission and a cylinder-cutout feature that shuts down half the cylinders in highway cruising, the Flying Spur can fly 15 percent farther on a gallon of petrol. (Jeeves, cancel that Honda Fit, then. I'll take the Bentley!) Keep your foot in it, and the Flying Spur can reach a terminal velocity of 207 mph, which is just plain surreal.
Like Porsche's AWD Panamera models, the Bentley Flying Spur runs in rear-wheel drive mode most of the time. If those huge 21- or 22-inch wheels should slip, the system can instantly shift up to 38 percent of available torque to the front wheels. All the electronic wizardry makes the Flying Spur feel "surprisingly maneuverable at low speeds and nimble and stable at higher velocities," reports Car & Driver.
Flying First-Class
It could go without saying that the new Flying Spur is the most luxurious yet. The seats offer 14-way adjustment and five massaging modes, plus ventilation and heating and power headrests – and that's just the back seats. The Flying Spur also includes the latest in multimedia and driver-assist tech. Plus, getting into the 21st century, Night Vision is an option.
The optional Bentley Rotating Display is a must. Touch a button, and the big infotainment and navigation screen flips around to reveal another panel with an analog compass, a timer, and an outside-air-temperature gauge. Hit the switch again, and it hides everything behind a wood veneer panel matching the dash trim.
That little bit of fun is an additional $6,365 over a base price of about $215,000 — not including destination charge, gas guzzler tax and the additional customizations most customers will add. After all, what's a Bentley without a special interior color, champagne fridge and full-length double sunroof?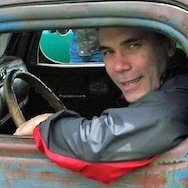 Written by Jim Koscs, Audamotive Communications
For Premier Financial Services