"No Car for a Novice"
Carmakers today use an alphabet soup for model names and trim lines that allegedly convey … well, do you know what they mean? Does anybody know? But when Porsche put the "S" on the 911 when the model was still in its infancy, sports car enthusiasts knew exactly what it meant.
The "S" in 911S stood for "Super" according to the 1967 Car and Driver road test. It took no time to prove that Porsche didn't fool around when choosing such language. Along with a juiced version of the 2.0-liter air/oil-cooled flat six came a raft of chassis upgrades, making the 911S a formidable force on road or track. Its performance could match some exotics, while its comfort made it a good weekday driver/weekend racer.
At its Amelia Island auction in March, RM Sotheby's is offering a peach of a 1968 Porsche 911S, or, make that a tangerine, for the bright so-Sixties color. It's offered without reserve, and there is no pre-sale estimate. Hagerty shows a range up to $308K in concours condition.
Let's go for a spin … er, wrong thing to say about a 911. Let's take a closer look.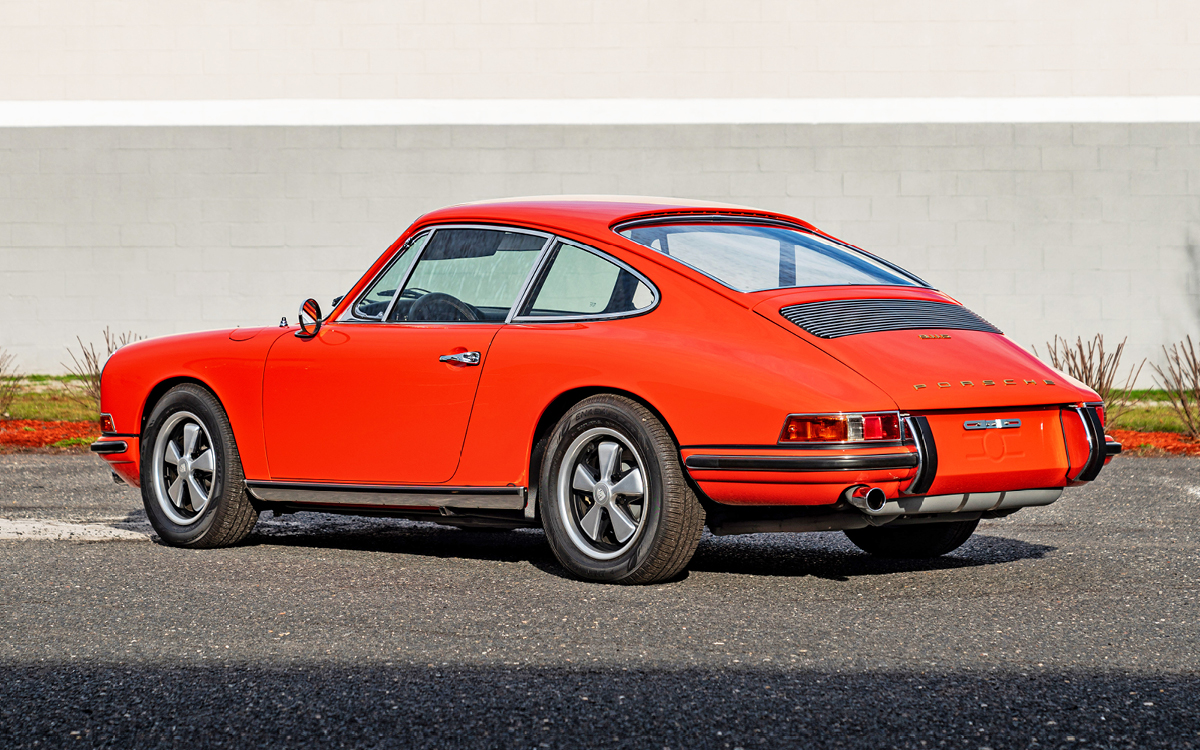 A Full Performance Makeover
The Porsche 911 had been in the U.S. market just a year when the hotter 911S arrived to offer ardent driving enthusiasts a step up in performance and luxury. Porsche tweaked the 2.0-liter flat six with higher compression, a pair of 40-millimeter Weber triple-throat carburetors, larger valves, forged light-alloy pistons on forged connecting rods, and a revised exhaust system.
This was serous hardware meant for sustained "sporty" driving, not just short blasts. The S engine was rated at 160 net horsepower, up from 130 in the standard model. (The 180 horsepower number you may also see was the SAE gross figure.)
Naturally, Porsche lavished attention on the handling, equipping the 911S with stronger struts, Koni adjustable shocks, a stiffer front stabilizer bar, and a newly added rear stabilizer bar. The original 911S wore the iconic Fuchs lightweight forged alloy wheels, though these were the same skinny 15 x 4.5-inch wheel size as the standard 911 wheels.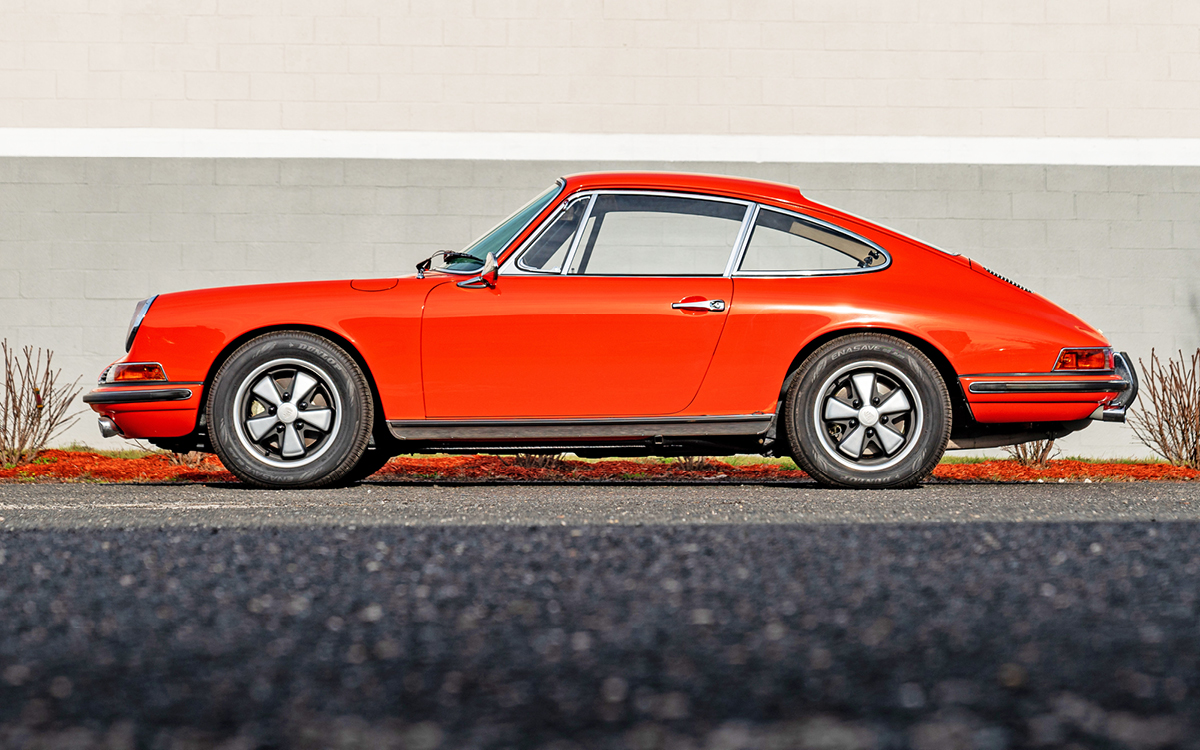 Quickest 911 of the Day
Priced at around $7,000 new, the 1967 911 S came equipped with bolstered bucket seats, leather-covered steering wheel, added instrumentation, fog lights, thick-pile carpeting, and distinctive dash padding. Even with the added comforts, the original 911S remained a lightweight sports/GT at just 2,300 pounds and was laser-focused on driving excitement. The S could do 0-60 in six seconds and reach about 140 mph, which was very quick and fast for the day.
As a comparison, a 1967 Jaguar E-Type, rated at 265 horsepower (gross) and weighing about 2,600 pounds, offered similar performance, though with a bit more speed in the quarter mile and at the top end. There was a big difference in price, though, with the Jag starting at about $5,600 and the Porsche 911S about $1,500 more. Classic car enthusiasts could vouch for the generally higher precision and build quality for the Porsche.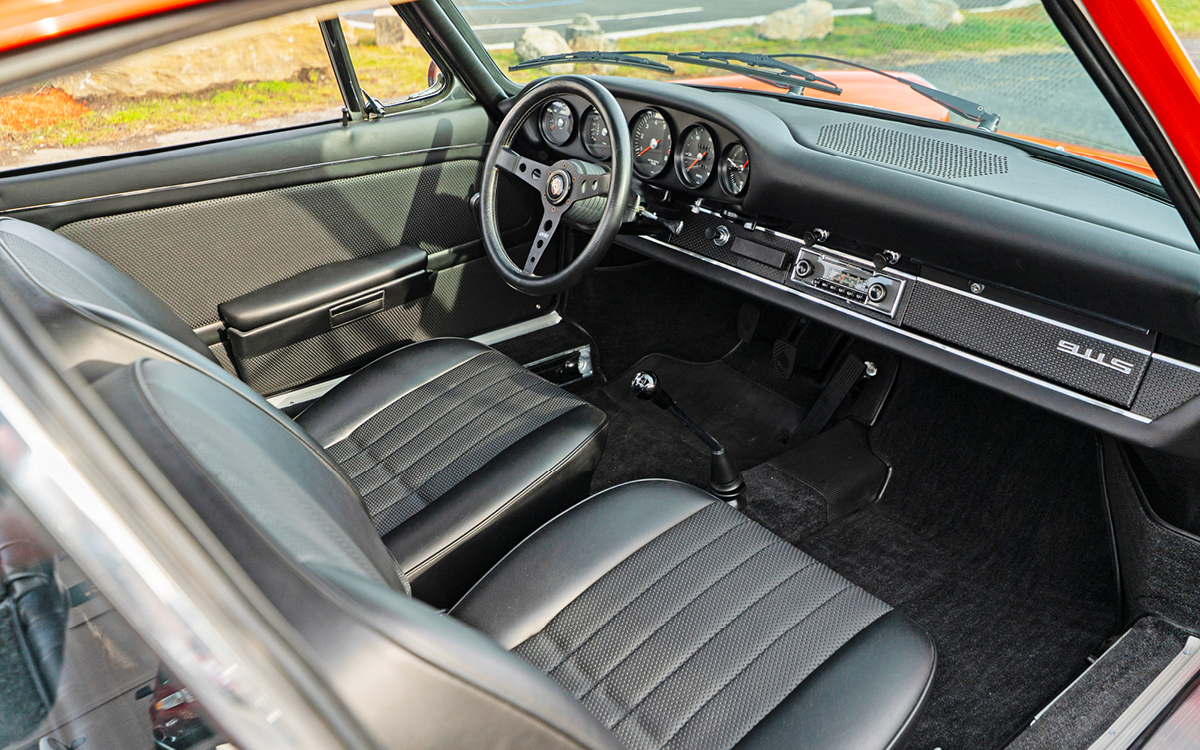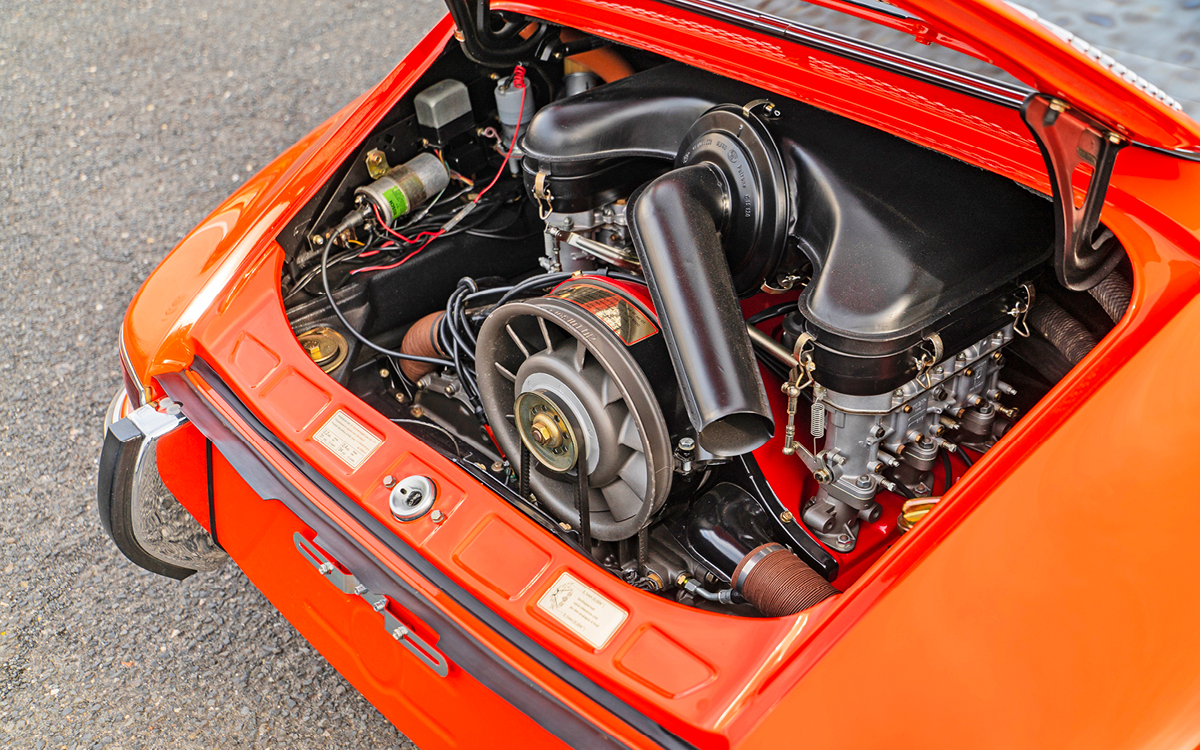 Don't Say "Let's Go for a Spin"
In a flash of blatant honesty, Porsche's brochure for the 1967 911 cautioned that the 911S said "is no car for a novice." Lest you think that was just some kind of marketing hype to bait egotists into writing bigger checks, well, it of course.
Yet, the truth was Porsche was playing on the 911's penchant for lift-throttle snap oversteer. For those unfamiliar, oversteer basically means the rear wheels slide out and can send the car into a spin if the drive is not skilled and quick-witted enough to catch it with some adroit counter-steering. With its extreme rear weight bias, the 911 could "snap" into oversteer mid-corner if an inexperienced driver reflexively lifted off the gas.
Porsche had taken some steps to mitigate that trait in 911s. For the 911S, however, installation of the rear anti-roll bar achieved flatter cornering, but at the cost of furthering the oversteer tendency, according to a 1967 Car and Driver road test. The editors, however, were delighted: "Oversteer makes driving fun . . . if you're expert enough to handle it," they said.
Suffice it to say that not everyone who could afford the 911S could also handle that aspect of its character.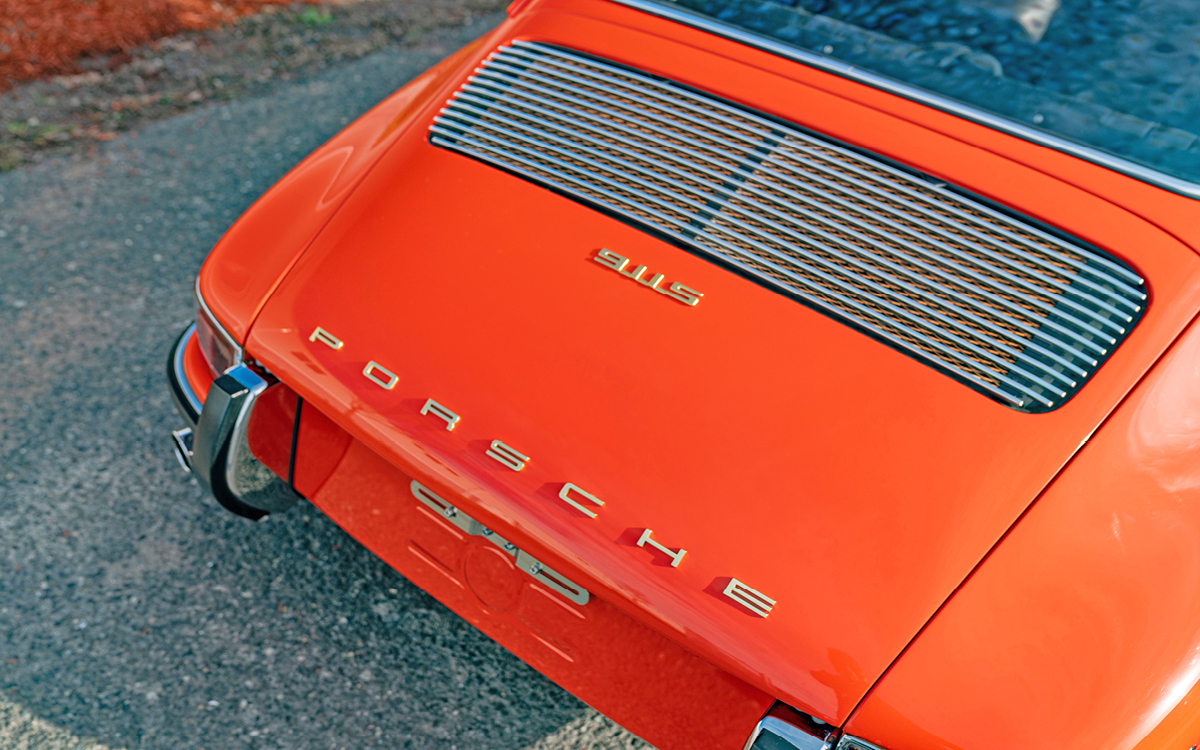 Super-Rare
Porsche made just 3,422 911S coupes for its inaugural year, plus 718 911S Targas. Facing more stringent U.S. emissions regulations in California, Porsche paused the 911S in the U.S. for 1968, though a few cars did come here. The 911S offered by RM Sotheby's is one of those.
For 1969, Porsche revised the 911's rear suspension to stretch the wheelbase by 2.3 inches (to a still-very-short 87.3 inches) in a further bid to mitigate the oversteer. The 911S got fuel injection that year, too.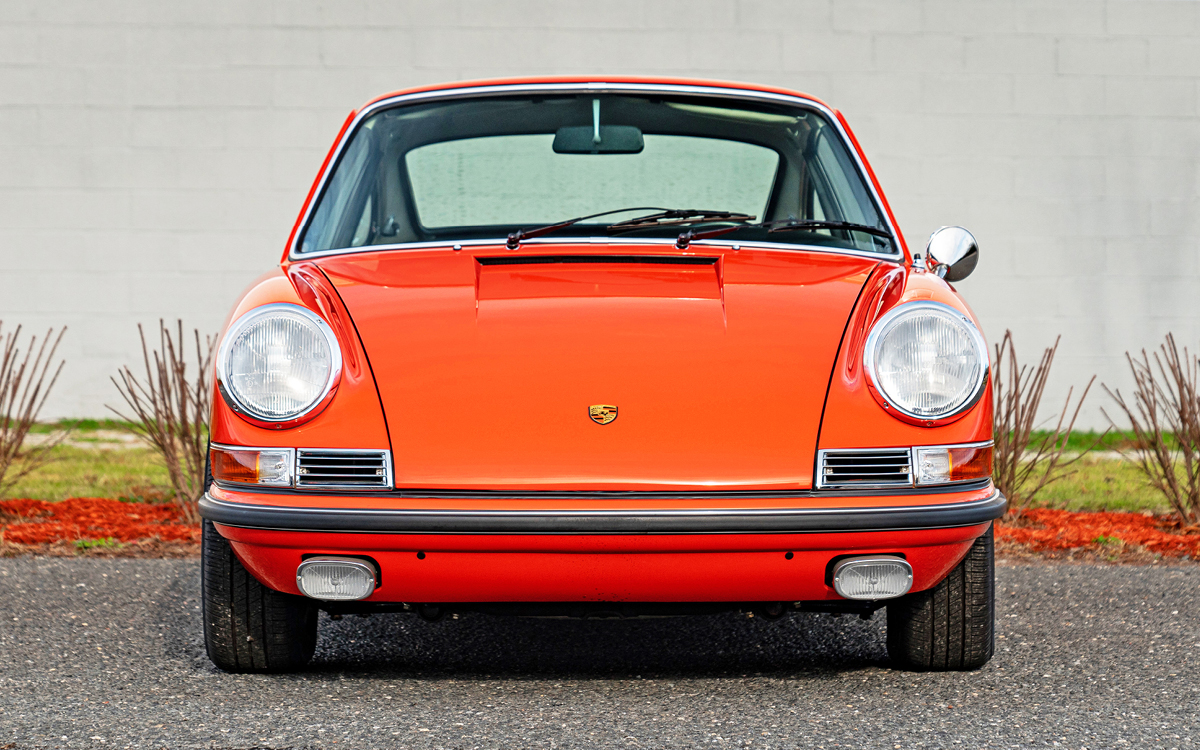 A Fast Drive to the Record Store
The same year of that SC road test, the 1968 911S offered by RM Sotheby's sold to a buyer who would keep it for 40 years, putting it through a concours-quality restoration. In addition to the owner's manual, a Pioneer radio manual, and other documentation, the new buyer will get a vintage Licorice Pizza record store coupon that was found in the car. Perhaps the original owner had plans to pick up the latest Doors album.
Unlike the 911, though, that California record store chain disappeared in the mid-Eighties. But don't worry, you can still stream The Doors.