The Hiked-up 911 Has Been Decades in the Making
Those seeing the newly introduced Porsche 911 Dakar for the first time will likely have one of two reactions:
"Why did they jack up a 911 for off-roading? It's a sports car … it'll get dirty and paint chips!"
Or:
"What took them so long?"
Introduced at the Los Angeles Auto Show, the Porsche 911 Dakar might shock people who think Porsche is trying to exploit the current trend in "overlanding" vehicles (or overlanding image) like Jeeps and Broncos. The truth is anything but.
Porsche is simply, and finally, capitalizing on the 911's rich rally-winning history with a production model. It will be an expensive and somewhat rare homage, too. Porsche says it will build 2,500 911 Dakars, with a starting price of $222,000 in the U.S. and plenty of options to take that higher. For example, the Rallye Design Package seen in photos, inspired by the 1984 and 1986 Porsche Paris-Dakar winners, costs an extra $28,470.
Let's dig into this wickedly wild new Porsche.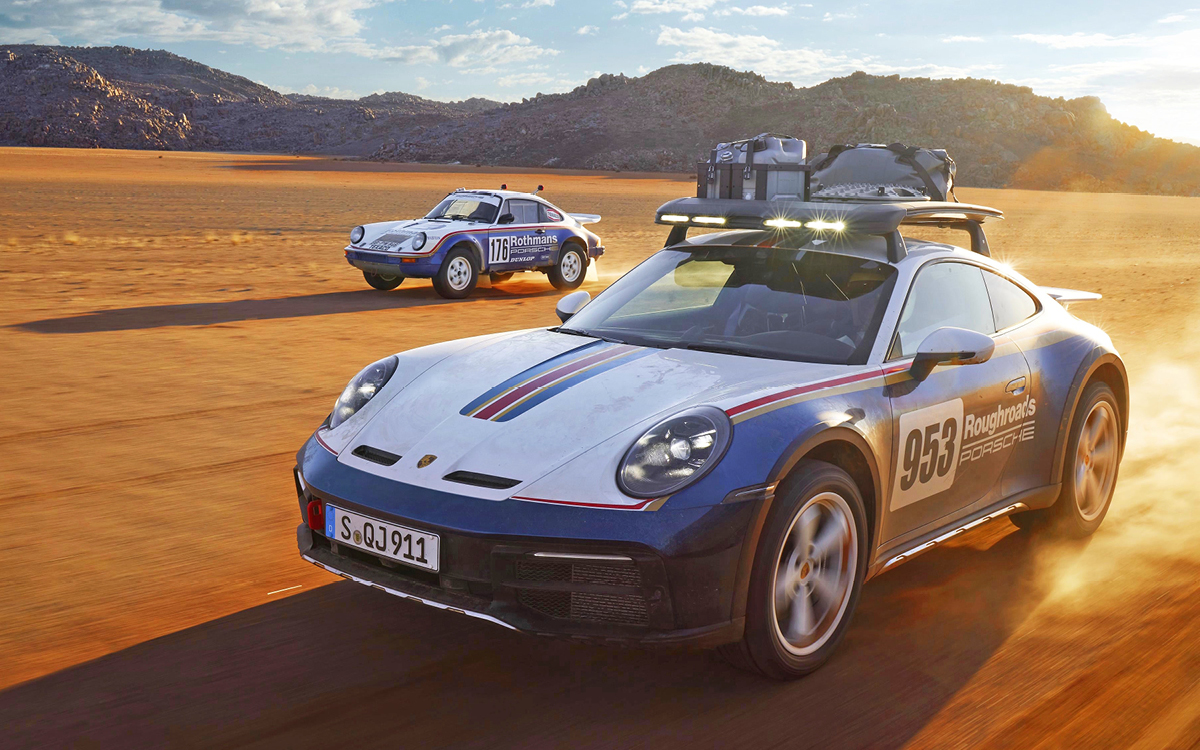 No Country for Old Jeeps
As a race-inspired Porsche, the new 911 Dakar emerges from a colorful and significant part of 911 history. The Porsche 911 began its factory-backed motorsports career in the 1965 Monte Carlo Rally. It did well for a car that had been on the market a scant four months, with driver Herbert Linge and Porsche engineer Peter Falk earning a class win and taking fifth overall. Their 911 was one of just 35 out of 237 entrants to finish the snowy 3,000-mile race. (A Mini Cooper S won overall, followed by a factory-backed Porsche 904 GTS.)
European Rally Championships for the 911 followed in 1966, '67, and '68. The 2023 Porsche 911 Dakar, however, harkens directly back to the specially built 911 SC/RS 4WD (a.k.a. 953) that won the three-week, 12,000-kilometer (7,500-mile) Paris-Dakar Rally in 1984. Of the 427 entrants (cars, trucks, and motorcycles), just 148 finished. Much of the route tracked through the Sahara Desert. And a 911 won. Let that sink in.
Porsche had built 20 911 SC/RS racers for 1984, and three were modified into 953s for the Dakar race. These came equipped with the four-wheel drive system developed for the 959 supercar. The 959 then took a 1-2 victory in the 1986 edition of this insane competition. Britain's Rothmans cigarette brand livery on the winning cars inspired the new 911 Dakar's Rallye Design Package. (Hence "Roughroads" instead of "Rothmans" seen on its flanks.)
Three years later, Porsche introduced all-wheel drive to the production 911 with the 964-series Carrera 4, but nobody was asking for a jacked-up version to go trail driving … not just then, anyway.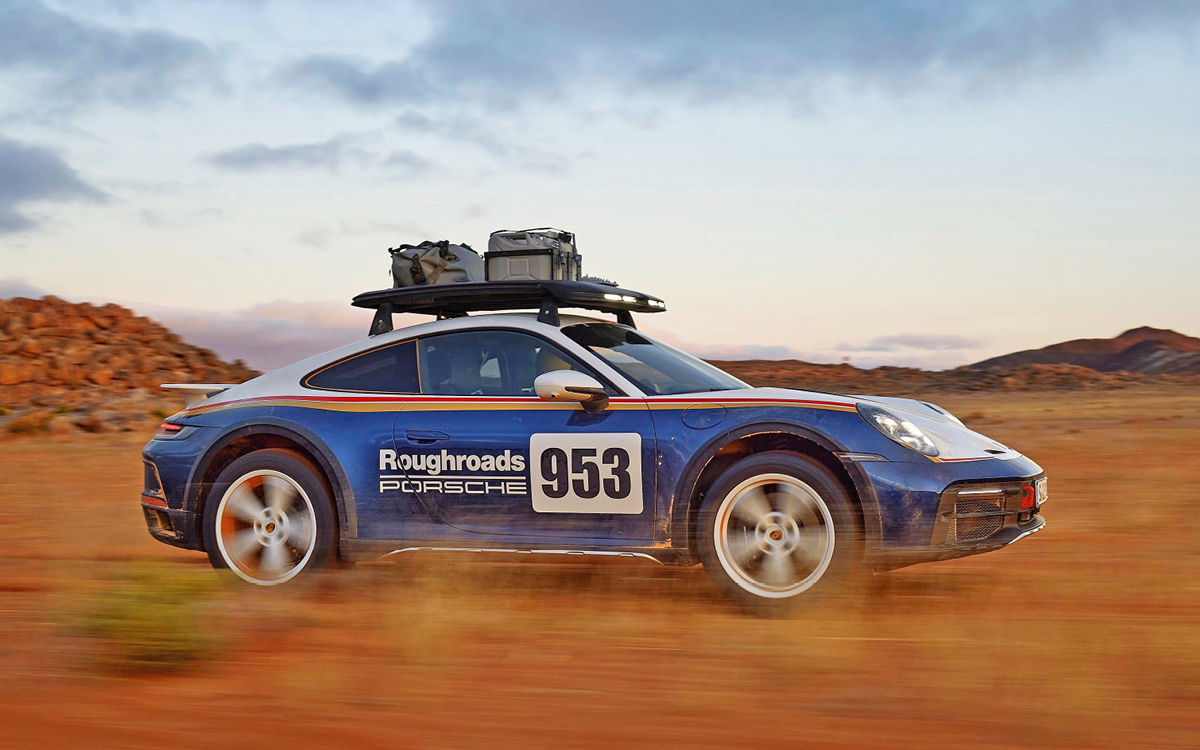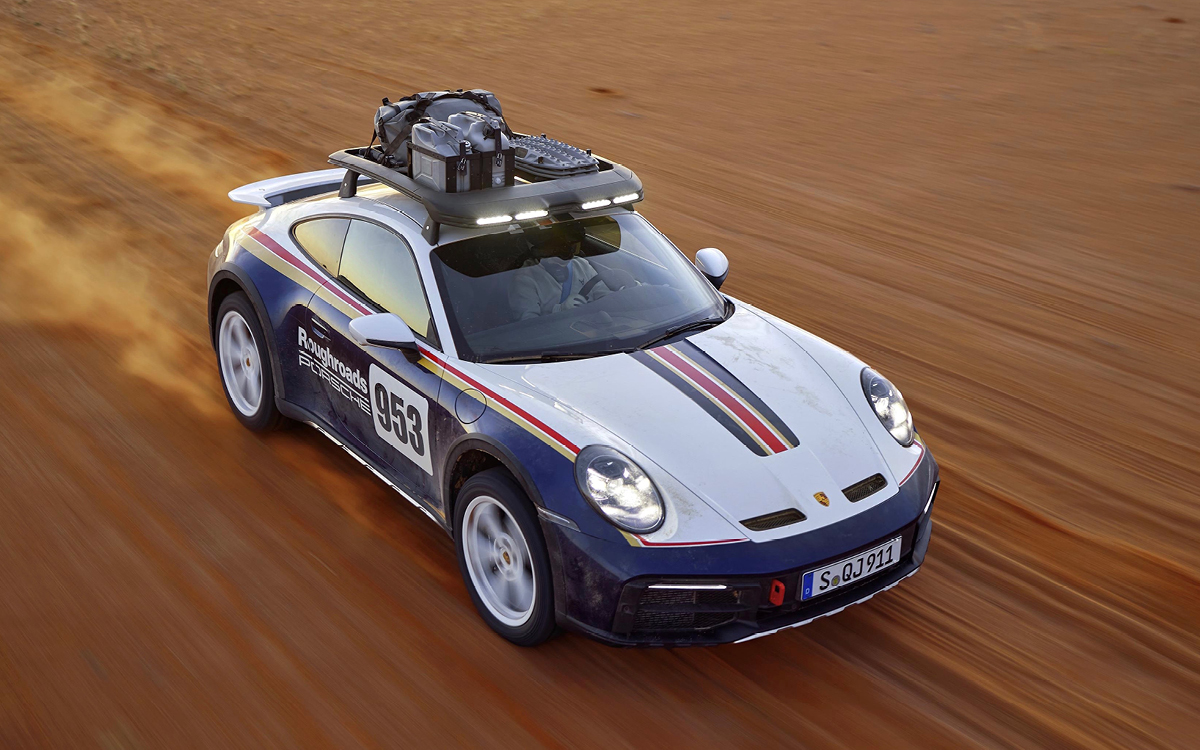 Into the Woods
A couple of decades later, Porsche aftermarket specialists began answering customer requests to raise their 911s for driving on rough roads and even trails. The trend took on the "911 Safari" nickname, inspired by Porsche's earlier entries in the East African Safari rally. (Enter "911 Safari" into a YouTube search if you are not familiar with the trend.)
Even Porsche dabbled in the "safari" theme. In 2000, the company's Australian arm dispatched two specially prepared (jacked up on its suspension, mainly) 996 C4s across the continent's unforgiving Simpson Desert. Six months later, the U.S. operation sent actor/racer James Brolin and journalists through the Mojave Desert in two similarly prepared 996 C4's, and, later that year, to the Grand Canyon North Rim. The reason? To help prepare Porsche buyers for the upcoming Cayenne SUV by demonstrating the company's off-road ability.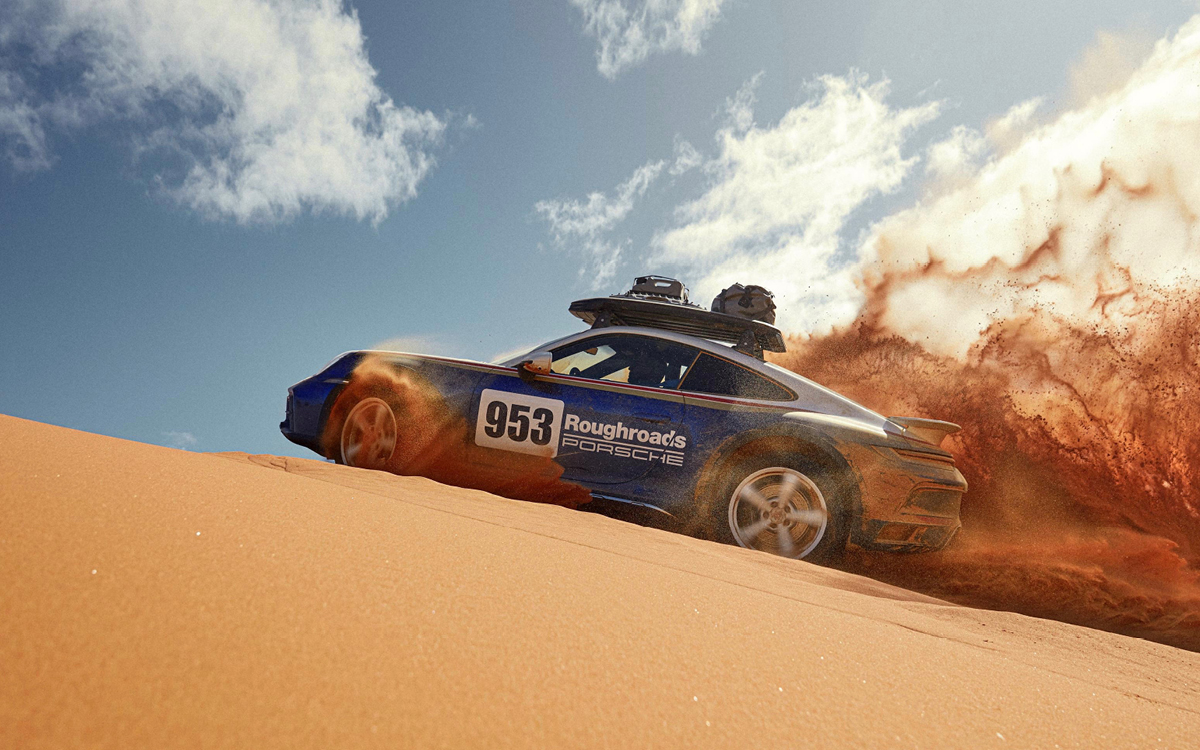 And Now, the 911 Dakar
Spy shots of a hiked-up 911 have been sparking rumors of a "911 Safari" factory model for several years. And now it's here. The 911 Dakar is based on the Carrera 4 GTS and as such is equipped with a 473-hp twin-turbo flat-six, eight-speed PDK automatic transmission and all-wheel drive.
The 911 already makes a good basis for off-roading thanks to its short wheelbase and tight overhangs, like the early Land Rovers. Porsche further tightened the 911 Dakar's front overhang. The suspension has been raised by 2.0 inches, and a standard lift system can boost ground clearance another 1.2 inches when needed or wanted.
This capability is not a low-speed gimmick. Selecting Off-Road mode raises the car, and Porsche says it can be used at speeds up to 105 mph. The 911 Dakar rolls on 19-inch wheels in front and 20-inches in back with Pirelli Scorpion All-Terrain Plus tires. Stainless steel skid plates, side protectors and other under-body protection should take some of the worry out of barreling along off-pavement trails.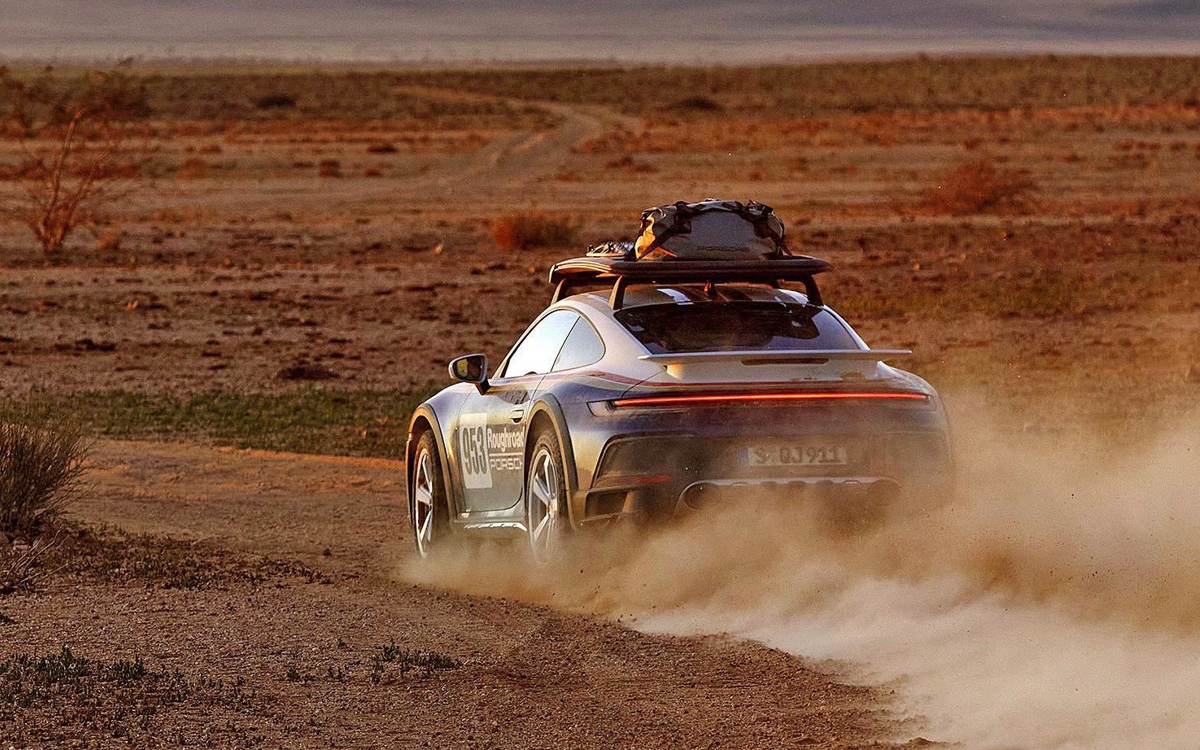 Special Diet
To keep the 911 Dakar from ballooning up to SUV weight, Porsche removed the back seats and installed the 911 GT3's carbon-fiber hood and lightweight window glass. As a result, the 911 Dakar is just 16 pounds heavier than a PDK-equipped 911 Carrera 4 GTS. Capable of 0-60 in just 3.2 seconds, it could probably outrun sandstorms.
Porsche says its 300,000 miles of road-testing Dakar prototypes included 6,000 miles off-road. Two-time rally champion and veteran Porsche test driver Walter Röhrl wrung out the 911 Dakar at the compacted snow surface at the company's Arjeplog, Sweden testing grounds and reported, "This car is incredibly fun to drive. Everything works so precisely and calmly."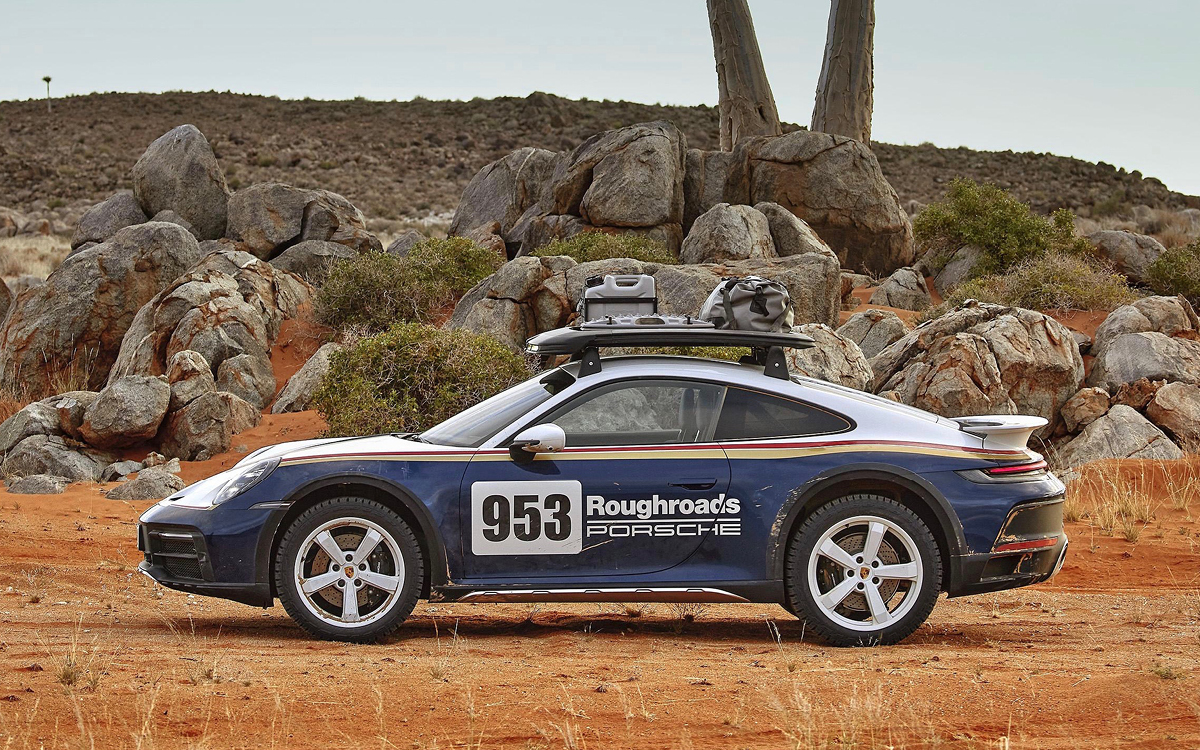 Ready to Rally
The 911 Dakar gets special sport seats, but buyers can choose standard 911 seats for greater comfort. But really, why order this car and not go all-in on the rally theme? So, go ahead and get the roof-top cargo basket with integrated floodlights. Choose the Porsche rooftop tent to avoid roving hyenas.
Porsche has already added the 911 Dakar to its website configurator, so what are you waiting for? For some inspiration, enjoy this cinematic fun from Porsche, complete with classic 1980s soundtrack.