Porsche Revs Up The Wayback Machine Once Again
When unveiling the 2023 911 Sport Classic, Porsche proudly touted the classic model that inspired the second of four promised 911s in the Heritage Design series: the 1973 911 Carrera 2.7 RS.
That's fairly evident from a design perspective, particularly with the ducktail rear spoiler and side graphics that distinguished that 50-year-old classic. From a mechanical perspective, however, the new 911 Sport Classic seems to hearken back to another special 911 that came out a few years later and wearing a spoiler so large it earned the nickname "whale tail." In its technical specification, the Porsche 911 Sport Classic appears like a reincarnation of the first 911 Turbo, the 930.
Porsche plans to build 1,250 911 Sport Classics, reportedly priced at $272,300. That's $89,400 more than a 2022 911 Turbo, or like adding an entire Cayman GTS 4.0. Heritage does not come cheaply at Porsche.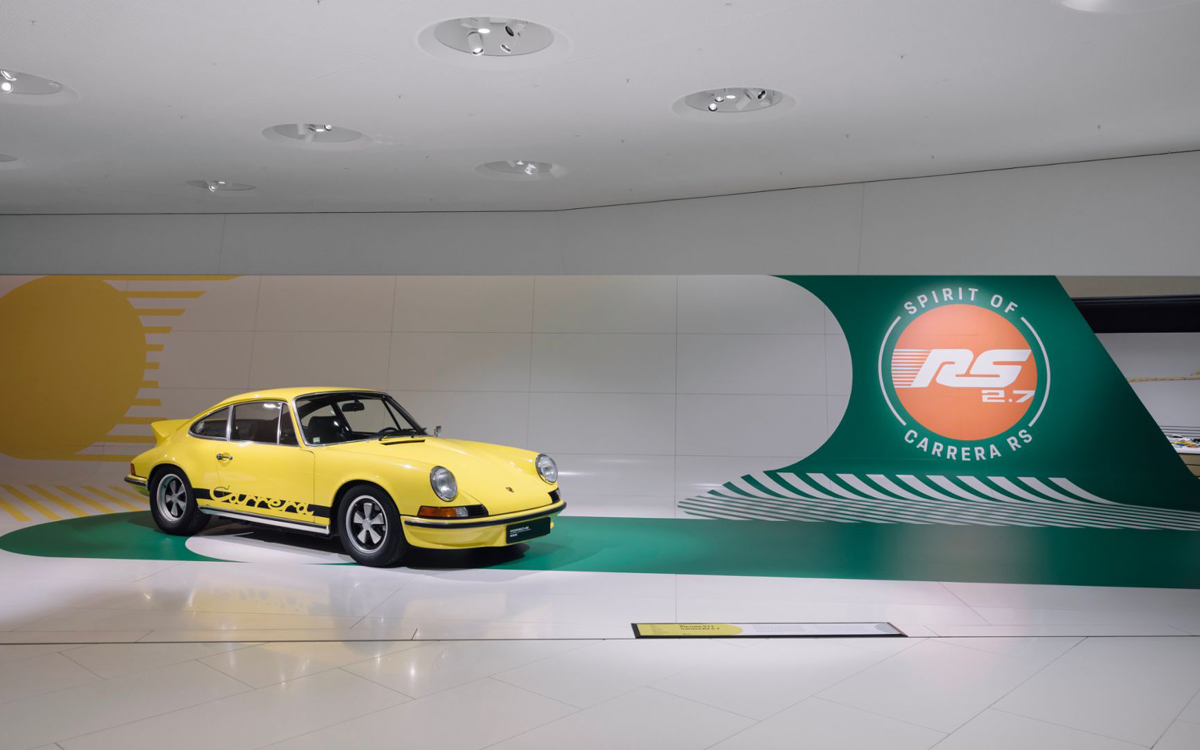 Putting the Heritage in Heritage Design
Porsche launched its Heritage Design series with the 2021 911 Targa 4S Heritage Design Edition. Where that model put its classic inspiration right in the name and body style, the 2023 911 Sport Classic's name alone does not point to a specific classic 911.
There was a 911 Sport Classic back in 2010 that did not come to America. That one put the wide-hipped Carrera 4S bodywork around the rear-wheel drive Carrera S, boosted engine output by 23 horsepower and added ceramic brakes and unique styling features. That car, too, wore the famous ducktail spoiler.
The current Heritage Design Series cars seem to express a wider and deeper interpretation of "heritage," drawing on design elements and even paint colors from unrelated models, including the early 356.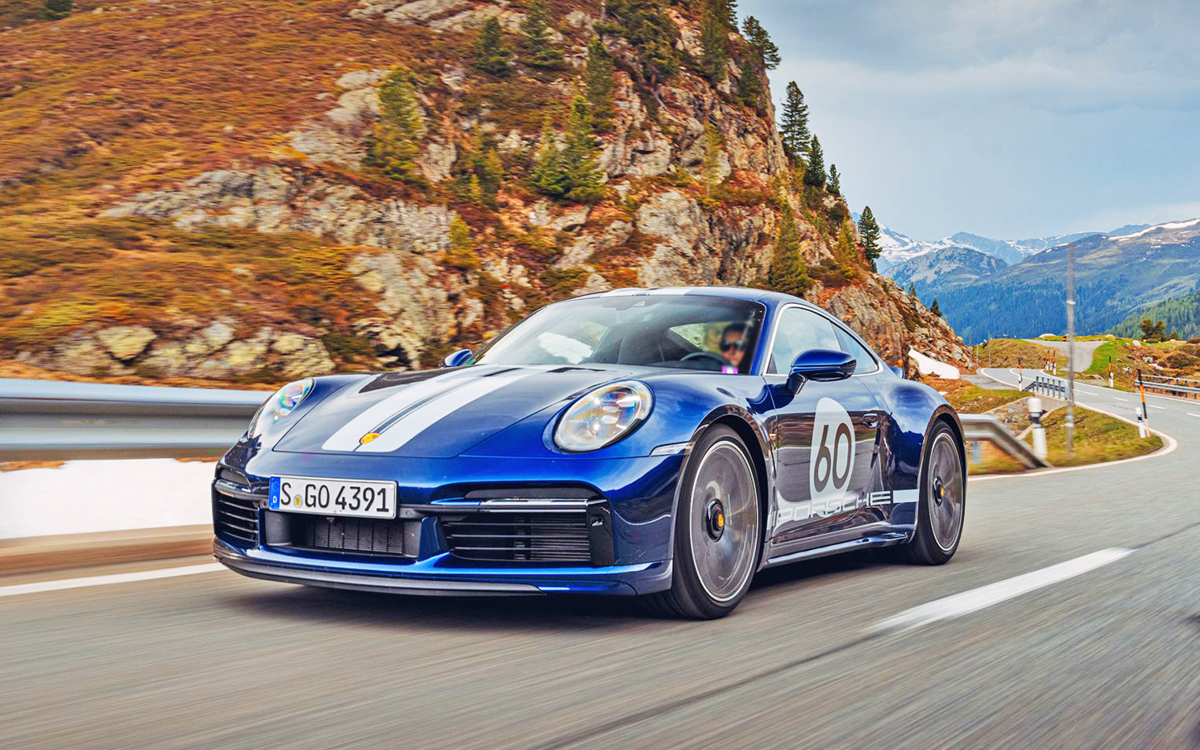 A Nod to 911 Turbos Past
At its core, the 2023 Porsche 911 Sport Classic is a 911 Turbo with some major parts (and their weight) left out. Notably, the Sport Classic ditches the 911 Turbo's all-wheel drive and PDK 7-speed automatic transmission, substituting a 7-speed manual. Porsche reports a weight of 3,468 pounds for the 911 Sport Classic, 167 less than the 911 Turbo coupe.
Now, brace yourselves: Porsche reduced the 911 Turbo engine's output for the 911 Sport Classic. The reason is not nostalgic, but rather to accommodate the manual transmission's torque capacity. In the 911 Sport Classic, this 3.7-liter twin-turbo flat six yields a still-impressive 543 horsepower and 442 lb-ft of torque, reductions of 29 hp and 111 lb-ft.
As a consolation, Porsche reminds us that the 911 Sport Classic is still the most powerful current 911 with a stick shift. Fear not, speed demons, the 911 Sport Classic will be plenty fast.
The 911 Sport Classic comes with Porsche Ceramic Composite Brakes (PCCB), Rear Axle Steering, the Sport Chrono Package, and Porsche Dynamic Chassis Control (PDCC). The latter is Porsche's active anti-roll system. Porsche Active Suspension Management (PASM) lowers the ride height by 10 millimeters (0.44-inch), while a "specially modified" Sport Exhaust system gives the car more bark.
The Sport Classic Look
Porsche wants you to know where your extra $89,000 over the 911 Turbo goes, considering that it deletes some expensive mechanical hardware. Redesigning the rear quarter panels to eliminate the 911 Turbo's air intakes, which are not needed on this car, "required significant engineering work, and new tooling to stamp the panel," Porsche explains. Ka-ching!
Next, that large ducktail spoiler, special hood with the dipped center and the "double-bubble roof" inspired by the 2010 Sport Classic, are all rendered in carbon fiber reinforced plastic (CFRP). Ka-ching again! Plus, Porsche deserves to make some money on this deal, right? Ka-ching, Ka-ching!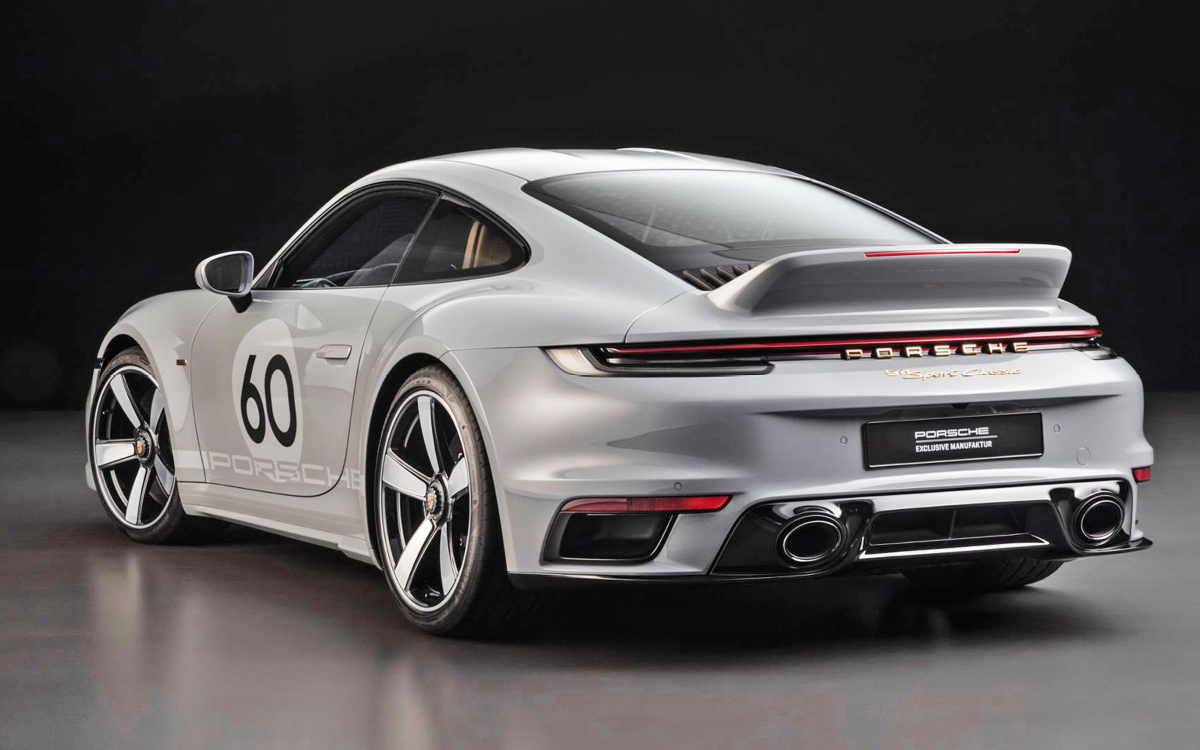 Heritage Done Well
Porsche put a lot of thought into the heritage theme. The Sport Grey Metallic paint was inspired by Fashion Grey, a color first used on the Porsche 356. You can also get a 911 Sport Classic in Black (non-metallic), Agate Grey Metallic, or Gentian Blue Metallic.
The side graphics of course mimic the classic 2.7 RS. The big white, highway patrol-attracting door gumballs can be ordered with any number from 1 to 99. They're applied as decals, not paint, and so can be removed if desired.
Finally, the 911 Sport Classic rolls on 20-inch front and 21-inch front aluminum center lock hub wheels inspired by the Fuchs wheels on first-generation 911s. Tires are 255/35 ZR20 in front and 315/30 ZR21 out back.
Super Groovy Cabin
Porsche applied its heritage brush liberally throughout the cabin, with materials that recall half-century-old models. Seat centers and door panels are covered in Pepita cloth upholstery, while the other parts of the seat are covered in black or Classic Cognac semi-aniline leather. You can also choose all-black leather seats as an option, but why do that?
That little strip of trim along the dash is open-pore, dark Paldao wood. Each 911 Sport Classic will carry a numbered badge on the passenger side of the dashboard. If all that is not enough, 911 Sport Classic buyers "become eligible" to buy the Chronograph 911 Sport Classic watch from Porsche Design. Go ahead … Ka-ching!
Instant Classic
Cosmetically, the 2023 Porsche 911 Sport Classic pays homage to the 1973 911 Carrera 2.7 RS. Mechanically, it's a tribute to the original 930. So, you could think the 911 Sport Classic gives you two limited-production heritage-infused models in one. That is, unless Porsche is planning to offer a 930 Heritage Design Edition.