Heading into the sunset
Because front-engine V-12 Berlinettas and convertibles were foundational to the Ferrari marque, many purists welcomed their revival in the 1990s as a pivotal direction for the company. Indeed, here we are over 25 years after the 550 Maranello's introduction, and the front-engine V-12s remain among Ferrari's pinnacle machines. One of the latest, the 812 GTS, could also be among the last.
Don't let that scare you. It just means the last naturally aspirated front-engine V-12, meaning no turbos and no hybrid electric drive like the Ferrari SF-90 Stradale or 296 GTB. You can count on Ferrari to build alluring and fast front-engine coupes and roadsters going forward, regardless of the powertrain. And, while you may have heard that the 812 Competizione Aperta has been sold out, the barely tamer 812 GTS remains available for order.
Of course, if you are not already on the list, getting a pre-loved 812 GTS from an auction may be a possibility. Bonhams will offer such a car at its Scottsdale auction, a highly optioned 2021 model car with just 227 delivery miles. The pre-sale estimate is $680K-$750K. Let's have a look.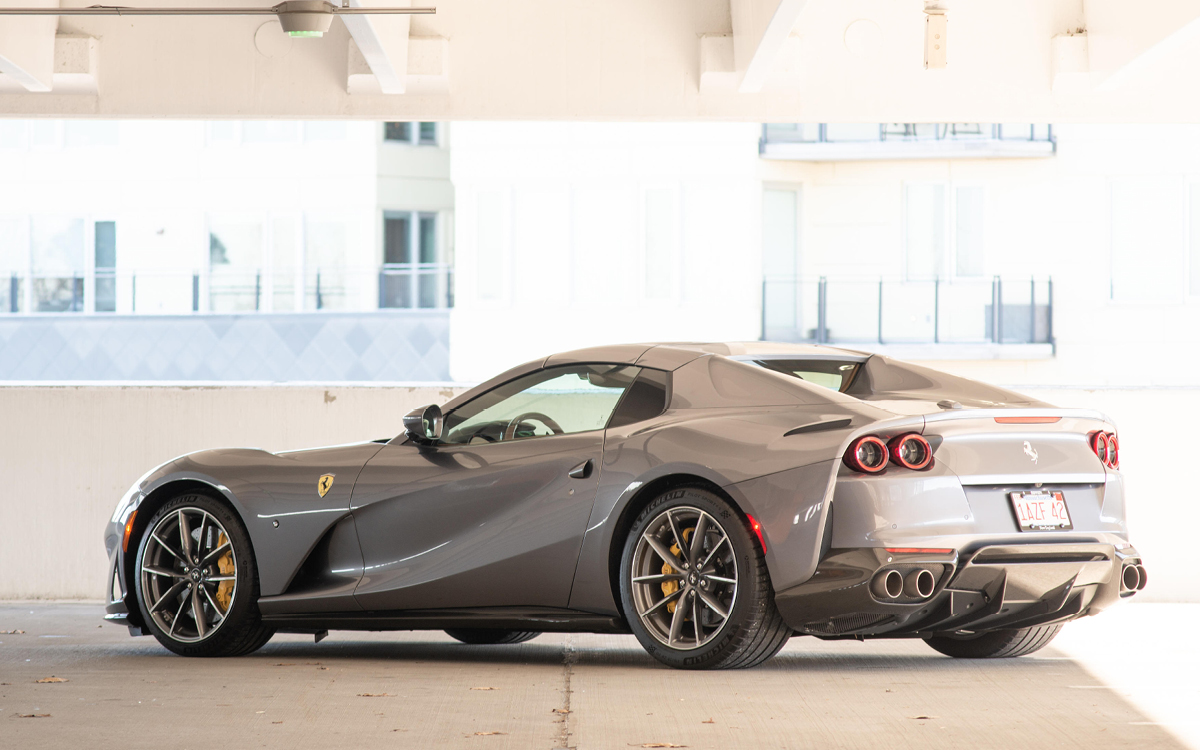 History is Hard
Describing the 812 GTS, Ferrari's media literature said, "The front-mounted V-12 architecture has not been used in a Ferrari series-production spider since the 365 GTS4."
This is a bit of marketing sleight of hand, however. That statement refers to the Ferrari 365 GTS/4 Daytona Spider, of which just 122 were built through 1973. Since the 550 Maranello, Ferrari has produced a number of V-12 spiders, including the 2001 550 Barchetta Pininfarina, with 448 made. Ferrari followed that with the 2005 Superamerica, the open version of the 575M Maranello, with 559 made and 170 sent to the U.S.
Ferrari refers to those as "special series" models. The later SA Aperta based on the 599 GTB (80 made) and the F60 America based on the F12berlinetta (10 made) seem to better fit that category. But Ferrari can refer to its cars any way it wishes. The bottom line is that many people dream of driving an open V-12 Ferraris and probably will continue to do so until we're all driving hovercars.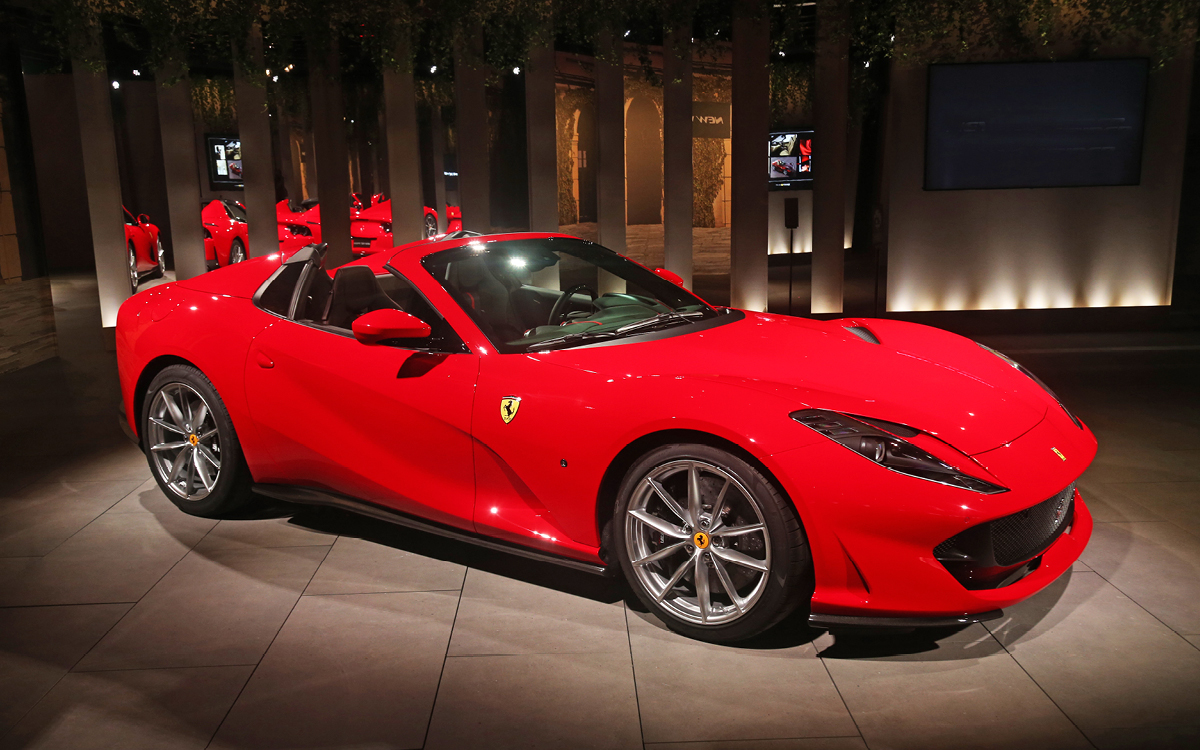 Still a Superfast
So, let's get to that engine. Since the 812 GTS is based on the 812 Superfast, it shares that coupe's 789-horsepower, 6.5-liter V-12. The power retractable hardtop roof and its mechanism adds about 265 pounds over the Superfast. Ferrari compensated for any effect on acceleration by using lower gear ratios in the 7-speed dual-clutch automatic transmission and making the shifts even faster. If you can tell the difference between the two, you should probably be the Technical Editor at Car and Driver or a top-tier American Le Mans Series racer.
The 812 GTS V-12 pounds out a rather stunning 530 lb-ft of torque. Car and Driver had coaxed an 812 Superfast from 0-60 in a mere 2.8 seconds and figured the GTS might increase that to 2.9 seconds. Again, inconsequential.
More significant is that the car can run the quarter mile in 10.2 seconds at 139 mph. You can't do that on an NHRA-sanctioned drag strip, however, since any car exceeding 135 mph, or any convertible quicker than 10.99 seconds requires installation of a roll cage. We don't see anybody doing that with a Ferrari 812 GTS.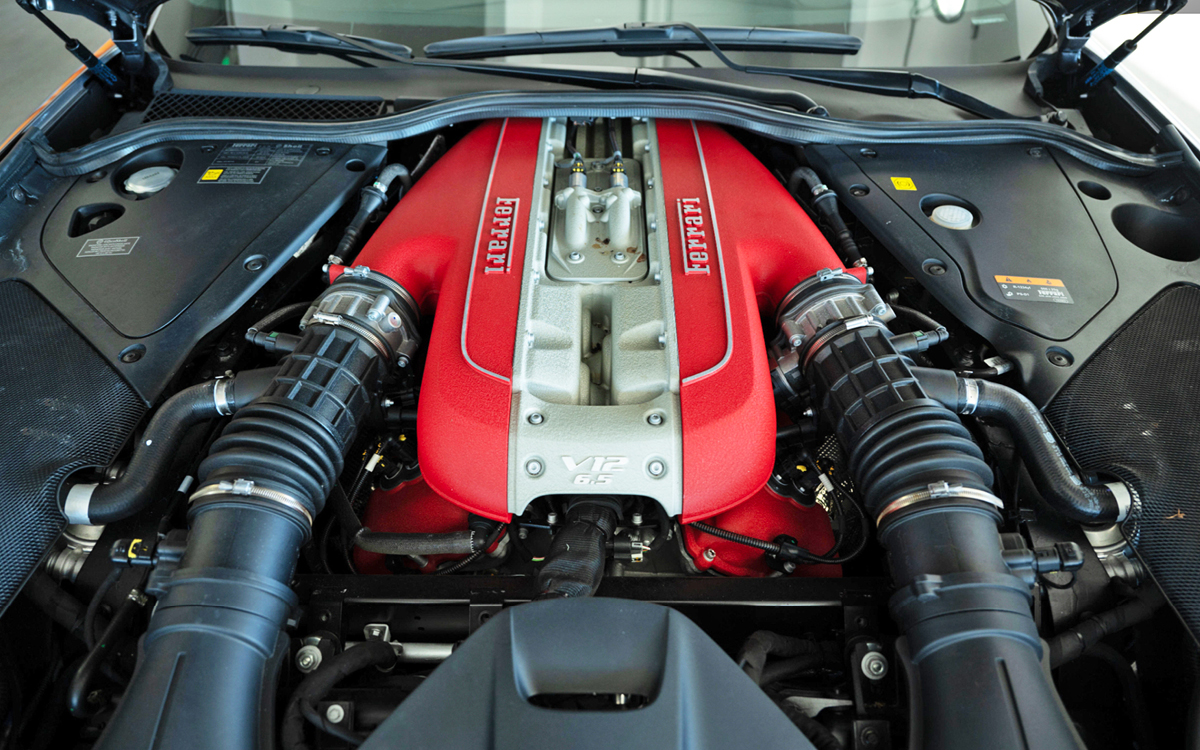 The Look of Dreams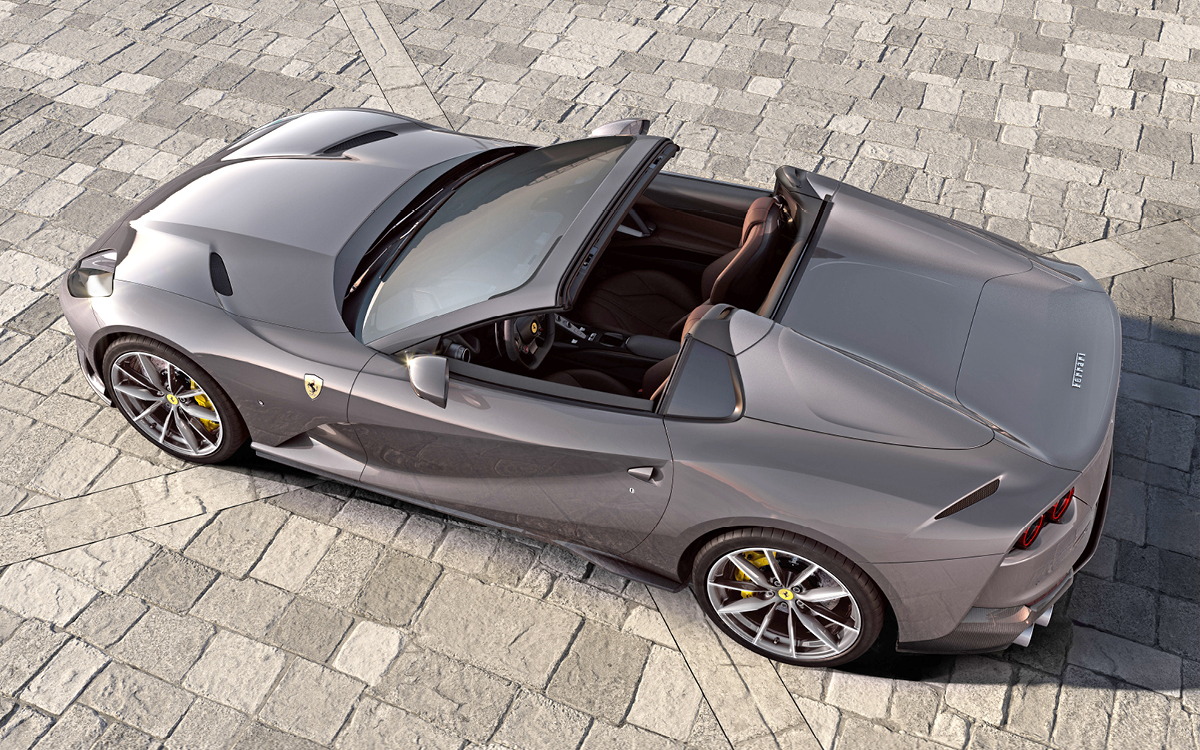 One does not buy an open V-12 Ferrari just for the fresh air. The design, especially with the top down, can be more evocative than the coupe's. With its roof retracted, the 812 GTS recalls Ferrari's F8 Spider, notably in the "flying buttresses" that lend a fastback look in profile. The roof can be raised or lowered in just 14 seconds, and at up to 28 mph. It's a clever system that does not reduce luggage storage space.
A "production" car or not, the 812 GTS will still be a relatively rare model. Customers typically personalize these cars using Ferrari's extensive special options menu. The car offered by Bonhams is said to have over $140,000 in extras, which drove the price shown on the original window sticker to $543,476.
The special Slate Gray paint alone, which shows faint lavender undertones, added $12,000. The "forged diamond" wheels added $8,100. Full power seats and a passenger display screen cost nearly $13,000. Other options include adaptive headlights, rear parking assist radar, titanium exhaust, yellow brake calipers, electric suspension lift for driveway clearance, and some carbon fiber trim. The seller also added a hardwired $6,600 radar detector and jammer that claims to use "military grade technology."
If you missed the chance to order a brand-new Ferrari 812 GTS and the sellers taste matches your own, Bonhams has the car in Scottsdale.