When Ferrari celebrated Pininfarina's birthday.
The era of Ferrari producing special versions in small batches, as it had done in collaboration with its design partner, Pininfarina, for decades, might have been lost for a while in our era of modern automobile manufacturing. Fortunately, that's no longer the case, as a rather impressive succession of special Ferrari models has shown in recent years.
The 2011 Ferrari 599 SA Aperta is based on the 599 GTB and has only 80 built. It exemplifies that continuing devotion to the ultra-special car for the most dedicated customers. Those clients, Ferrari knows, understand they are purchasing rare automotive artworks, which are usually pre-sold even before they're unveiled to the public.
That was the case with the 599 SA Aperta, with all cars spoken for by the time it was introduced to the public at the 2010 Paris Motor Show. For those not invited to the table, the secondary market eventually rewards patience and persistence – and, often, bidding skill. That skill will certainly be on display at the Gooding & Co. Scottsdale auctions this month, as Ferrari collectors battle over a Ferrari 599 SA Aperta with a documented 2,498 miles and presenting as new.
Happy Anniversary
There is really no parallel to the Ferrari + Pininfarina partnership in the automotive realm. Pininfarina, of course, was responsible for iconic designs for other marques, as well, across all price strata. The Ferrari 599 SA Aperta celebrated not a milestone from the Ferrari timeline, but rather Pininfarina's 80th anniversary – hence the 80 cars built. The "SA" paid homage to both Sergio Pininfarina and his son, Andrea. He was chairman and chief executive of the design company when he was killed in a motor vehicle collision in 2008. Sergio lived to see the 599 SA Aperta but passed away in 2012.
Homage to Classic Ferrari Sports Racers
Aperta means "open" in Italian. Further, the SA Aperta was designed as a true roadster, with a light soft top provided as weather protection if needed. A carbon fiber roof panel was optional for a mere $50,000.
The low windshield of the SA Aperta, which was unique to this special model, accentuates the low-to-the-ground stance in pure roadster fashion. In profile, the sleek design arches back from the A-pillar to two aerodynamic fairings. They seamlessly integrate the two roll bars, which themselves follow the seats' contour for a sleek appearance. That design integration also serves as a subtle homage to classic Ferrari open sports racers.
Above all, Ferrari designed the SA Aperta to be driven. Therefore, its chassis and powertrain are engineered for the performance expected of such an elite automobile. The structure was engineered to give this open car stiffness comparable to that of a closed berlinetta while keeping weight gain to a minimum.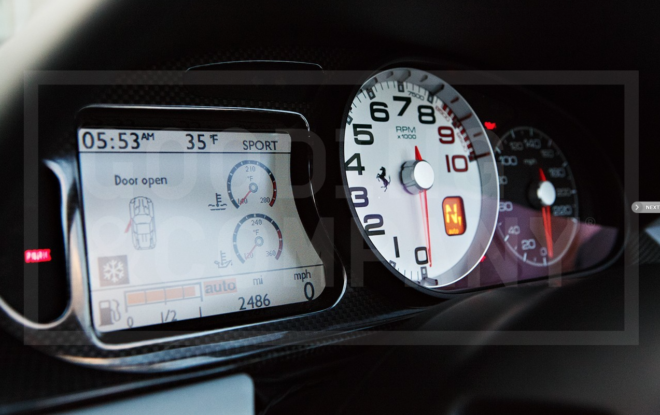 208-mph Wind in Your Face
The Ferrari 599 SA Aperta borrowed some design ideas from the 540 Superfast Aperta, a one-off built for an American client in 2009, but it was a different animal under the skin.
Based on the 599 GTB model architecture, the SA Aperta was, up until that time, the most powerful and fastest open Ferrari V12 ever offered. (The Ferrari F12berlinetta-based F60 America bested it, but just 10 were made.) The highly tuned 661-horsepower version of the 599 GTO's 6.0-liter V12, teamed to the F1 six-speed transmission. It gives this Prancing Horse even more prance than a 599 GTB.
The 599 SA Aperta also inherited the 599 GTO's Brembo carbon-ceramic brakes and magnetorheological dampers. These can be adjusted on demand with a twist of the "manettino" steering wheel control switch. Additionally, it can adjusted other performance parameters. Ferrari quoted the same 3.3-second 0-60 mph time and 208-mph top track speed as the 599 GTO.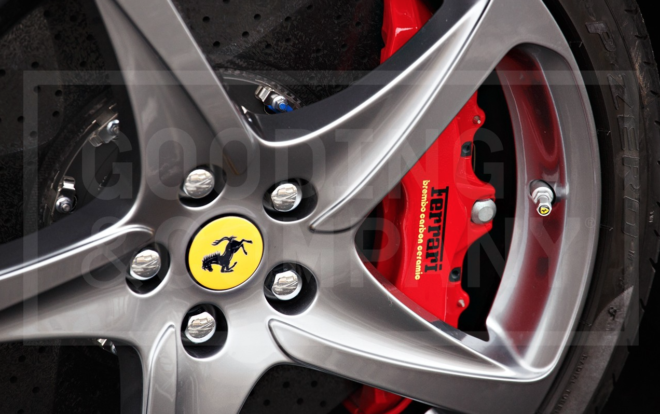 One of 80, and One of a Kind
Each of the 599 SA Apertas built was not just one of 80, but also likely one of a kind as well. This is thanks to Ferrari's virtually endless combinations of materials, trim and colors available.
The owner of this Gooding-consigned car believes it was the only one finished in Grigio Titanio (gray metallic) over Nero leather with red stitching. Additionally, it claims "every available factory extra". You'll find the cockpit outfitted with full power and heated carbon fiber sports seats. In addition, polished carbon fiber for much of the interior trim. Further, it is outfitted with Bose audio, front and rear parking sensors and a navigation system. Outside, the gorgeous gray is accented by Scuderia Ferrari fender shields and 5-spoke alloy wheels finished in titanium. This car has the optional carbon fiber roof panel.
Good luck bidding!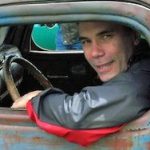 Written by Jim Koscs,  Audamotive Communications
For Premier Financial ServicesSaveSaveSaveSave