The short flight of a rare American-Italian GT
Melding reliable American V8 power with European craftsmanship was not a new idea in the 1960s, but that is when it took off as a trend that lasted into the early 1970s. Most of these "hybrids" were hatched by Europeans, including Sydney Allard, Jean Daninos (Facel Vega), the Jensen brothers and Renzo Rivolta (Iso), while in the U.S., racers Briggs Cunningham and Carroll Shelby led the charge.
Lesser known were three 20-something Californians: Milt Brown, Newt Davis and Ron Plescia. Car buffs and high school pals, they were determined to create a Italian-flavored gran turismo that could run with a Ferrari yet be serviced by the same shop that worked on the family Buick – quite literally, as it turned out.
The resulting Apollo GT would remain a rarity, with a total of 88 made, a dozen assembled under a different company and name. Fewer than 50 are believed to survive. Fantasy Junction in Emeryville, CA has a critical example, #1074, a 1964 model said to be the second-to-last made, all original with just 4,000 miles and with an ownership chain that includes one of its creators.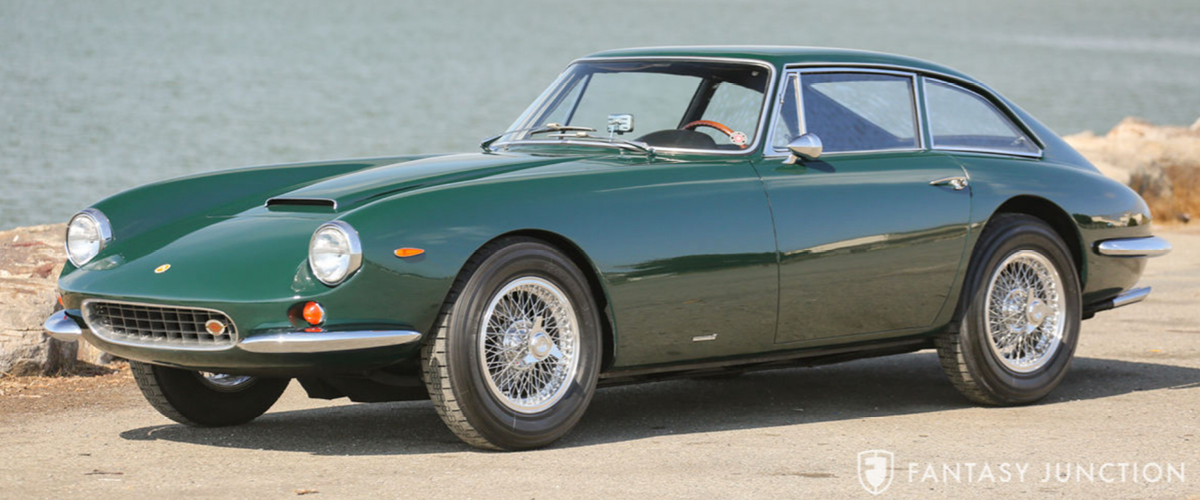 Three Amigos
In 1961, Brown, Davis and Plescia hatched a plan for an American-powered, semi-exotic GT. Brown, who had worked for a racecar builder in England after engineering school, designed a ladder-frame chassis around the aluminum 3.5-liter V8 engine and suspension from the Buick Skylark, a compact car that was much more sophisticated than its buyers likely knew.
Plescia, a graduate of the ArtCenter College of Design in Pasadena, CA designed a body that took inspiration from Pininfarina's Ferraris but did not copy them. Davis had a degree in business management and experience running small businesses. In Oakland, CA, the three friends formed International Motor Cars.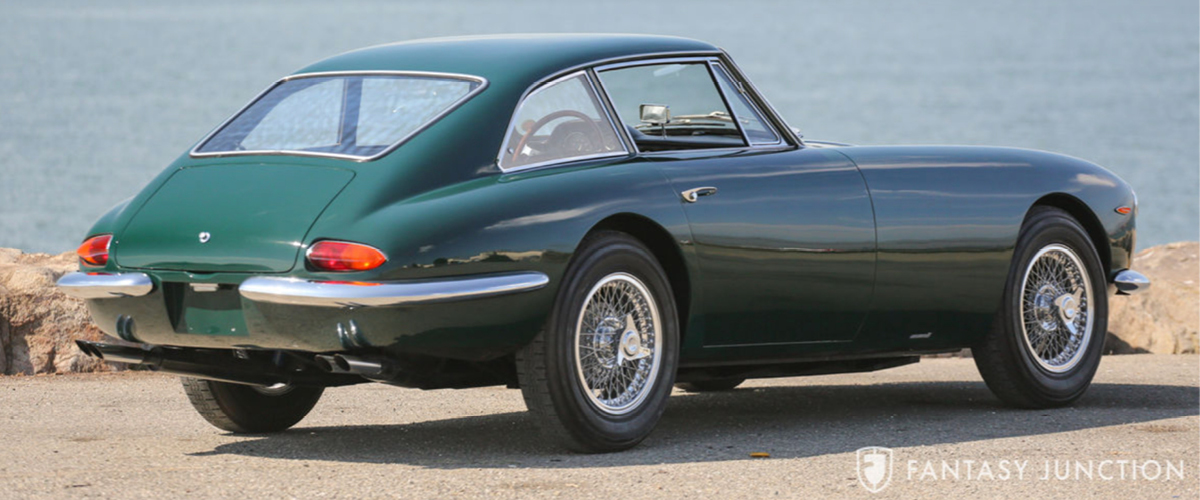 The Italian Connection
Brown found the man to bring the package together in Turin, Italy: Frank Reisner. A Hungarian-born Canadian expat, Reisner had founded Construzione Automobili Intermeccanica. Given the Apollo commission, he had Turin designer Franco Scaglione refine Plescia's design. Scaglione had designed an amazing array of exotic beauties, including Alfa Romeo's stunning Berlinetta Aerodinamica Tecnica (B.A.T.) concept cars and the Arnolt-Bristol roadster..
After ironing out some issues with the aluminum-body prototype, limited production of steel-body cars began in 1963 at the rate of two cars per month. The car was called Apollo GT for the Greek god of the sun. Completed body shells on frames were shipped to International Motors in Oakland for completion. Intermeccanica's craftsmanship was impeccable, and the interior could have come out of any number of Italian GTs.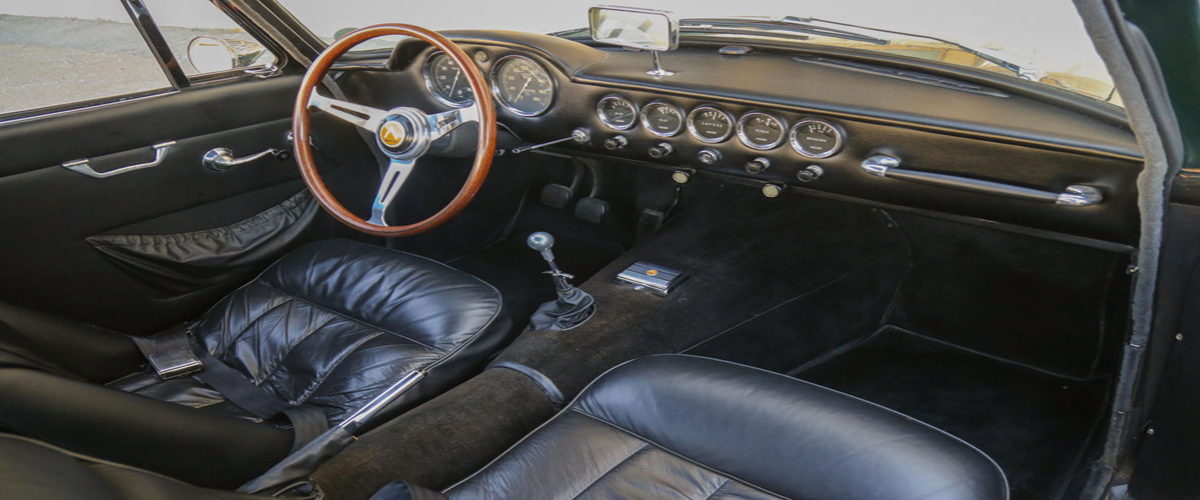 My Cousin Vinny?
Brown chose excellent hardware for the Apollo GT. The 1961-1963 Buick Skylark shared its frame and basic tooling with the Oldsmobile F-85/Cutlass and Pontiac Tempest. You may recall the priceless courtroom scene in the 1992 hit film "My Cousin Vinny" where Mona Lisa Vito, played by Marisa Tomei, saves the day by explaining key engineering differences between the Buick and Pontiac models.
The Buick's 200-horsepower 3.5-liter engine was the lightest production V8 at the time, at just 315 pounds. It was tweaked to 225 hp for the Apollo. From the Skylark also came front and rear suspension, the latter system employing a solid axle with a sophisticated four-link trailing arm setup and coil springs. Ferraris and Maseratis of the day were still using solid axles on leaf springs.
Apollo Takes Flight
The Apollo GT had a 98-inch wheelbase and weighed about 2,400 pounds and used a four-speed manual transmission. Brown enhanced the Buick suspension with stiffer springs, a thicker front stabilizer bar and quicker steering. Notably, the engine was set well back in the chassis, essentially creating the kind of "front-mid" position that Ferrari touts for its Roma coupe and Portofino convertible, which yielded 47:53 weight distribution in the light Apollo GT.
The Apollo's claimed 130-mph top speed was not quite a match for a Jaguar E-Type, but the price was nearly $1,000 higher than the $6,000 Jag. This was a stumbling block for a new, unknown entity and car.
In 1964, Buick's 250-horse iron-block 4.9-liter (300 cu. in.) V8 became an option, adopting the 5000 GT name and Bendix front disc/rear drum brakes, while the original became the 3500 GT. Performance really came alive with the higher-torque 4.9-liter, with 0-60 in under 7 seconds and a 140-mph top speed, both figures squarely in 1960s European GT territory.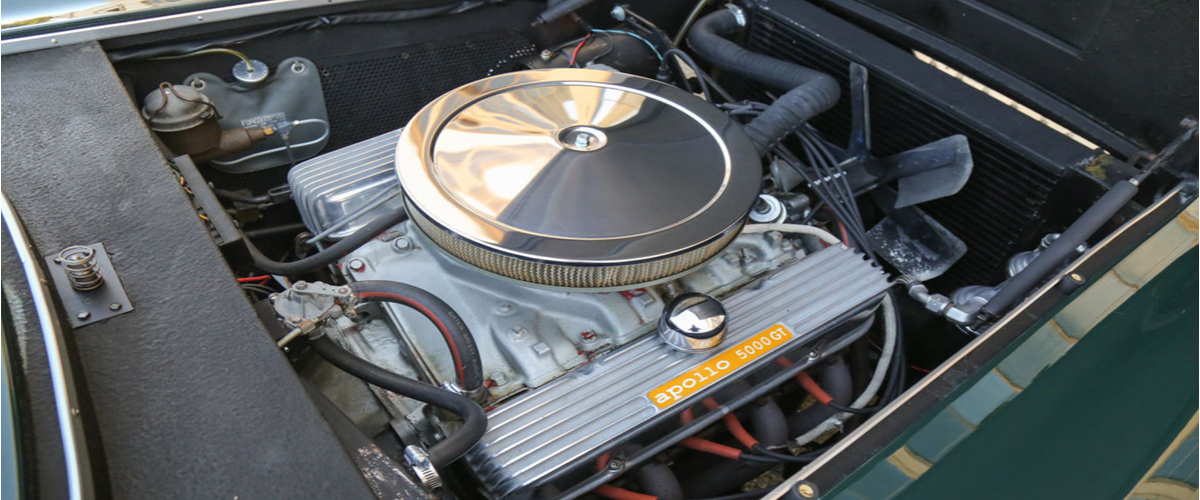 Money Problems
An absolutely stunning Apollo convertible, with rear design by Scaglione, was also offered. Unfortunately, the financial picture was dismal at International Motorcars, which managed to build 76 cars under different owners. Another dozen were completed by automotive air conditioner maker Vanguard Industries in Texas, which sold them as the "Vetta Ventura."
The final total, according to the Apollo Registry, came to 88 cars, including 12 convertibles. The Apollo would have been a rare sighting on the road, but millions saw it on the big screen in Disney's 1968 comedy, "The Love Bug," where the car was called the "Thorndyke Special."
When the Apollo chapter closed for Intermeccanica, the coachbuilder moved on to a Robert Cumberford-designed model called the Griffith 600 GT, later renamed Omega, and, finally, Italia.
Apollo (Time) Capsule
The Apollo 5000 GT offered by Fantasy Junction is a time capsule, a car that was rarely used by its original California owner, who kept it properly garaged for 35 years. Brown bought the car in 2004 and had it repainted in the original green. (It is believed to be the only one painted this color from the factory.) He consigned the Apollo to Fantasy Junction in 2006, when it showed 1,300 miles, also providing a letter or authenticity for the car, which now shows 4,008 miles.
The Apollo GT flew under collectors' radar for a long time, but earning milestone status from the Milestone Car Society in 1979 helped boost its visibility. Among the many American-European collaborations, the Apollo was certainly one of the most compelling.