Returning In Glory
Few events in recent years have stirred as much anticipation among car enthusiasts than the resurgence of Alfa Romeo in America. The marque returned to our shores in 2008, and the first car, the 8C Competizione, incited desire, excitement and even some disappointment. In other words, it was an Alfa Romeo.
The desire and excitement parts were obvious — just look at it! The enticement continued with an exhaust note that still makes even jaded car reviewers giddy. Going only by the numbers, the performance was sparking, though not much different than the half-as-expensive Maserati on which it was based. But as Alfisti know, it's never just about the numbers.
Disappointing to many Alfa buffs was that the marque that made its mark in postwar America with affordable roadsters, coupes and sport sedans was returning with a $250,000 GT, and bringing in just 84 of 500 cars built. (Alfa built another 500 8C Spiders.) In retrospect, that was just the start of what has been a fairly remarkable revival in this market.
Two of those 84 Alfa 8C's will be available at the Amelia Island Concours auctions, offered by Gooding & Company and another from RM Sotheby's, the latter with just 600 miles from new.
Mesmerizing
If sound alone were enough to ensure success in the U.S. market, Alfa Romeo would never have left in 1995. In the history of great-sounding cars, Alfa Romeo has been a veritable Mariah Carey as a hit maker. It's safe to say Alfa has produced the best-sounding inline-four engines. That goes double for V6s, like that in the 164 sport sedan, and maybe triple for the 2.5-liter V8 in that little 1970s GT masterpiece, the Montreal, which sounded like a Hemi 'Cuda and a Ferrari 308 had a baby.
The Comeback Kid
Alfa's return had been rumored and teased over the years after its departure, but it was always more hope than fact. Alfa built some interesting front-drive hatches and sedans, but nothing that would really suit the U.S. market. So, it aimed higher. In 2003, Alfa showed the 8C concept at the Frankfurt Auto Show. The design, by Wolfgang Egger, evoked Alfa Romeo's 1960s 33 Stradale and Giulia TZ while staying on the tasteful side of retro.
The 8C was clearly meant as a halo car, of course. The name was simply for "8 cylinder and an homage to vintage Alfas, but despite the "competizione" label, this was closer to a luxurious GT than a bare-bones track car.
The production version was based on Maserati GranTurismo underpinnings, but with a shorter wheelbase (104 inches vs. 115), a carbon fiber body and some tweaks to that car's 4.7-liter Ferrari/Maserati F136 V8. Like the Maserati, the Alfa 8C engine used a cross-plane crankshaft rather than Ferrari's flat-plane crank. A dry-sump oil system was in place for high-g track and road driving.
The engine makes 444 horsepower and 347 lb-ft of torque, the power channeled through Maserati's Cambiocorsa single-clutch 6-speed paddle-shift transaxle. This unit was not as quick as the dual-clutch 7-speed automatic that Ferrari used in its California and 458 Italia.
Despite the carbon fiber body, the Alfa 8C Competizione was no lightweight at 3,700 pounds. The resulting acceleration performance, with 0-60 in under 4.5 seconds, about even with that year's $55,000 Corvette. The 180-mph top speed was in Maserati GranTurismo territory.
Stunning to Ears and Eyes
And then there was the sound. The Alfa 8C blended spiced its cross-plane V8 burble with some of the angry buzz you'd hear in a cross-plane Ferrari V8. Said Motor Trend: "Fire up the 8C with its pushbutton starter and that operatic V8 thumps into an idle note you'll mistake for nothing else. The tone is lower and throatier than a Ferrari's, louder and more electrifying than a [Corvette] ZR1's."
The Alfa Romeo 8C absolutely stunned in the cockpit, where carbon fiber, aluminum pieces milled from solid blocks, and available braided leather came together in a symphony of bespoke Italia couture.
After adding an 8C to your collection, consider Alfa Romeo has a new one in the works. Announced in July 2018, the next 8C will be a mid-engine supercar with a version of the Giulia Quadrifoglio's twin-turbo 2.9-liter V6 mated to a hybrid system, for a possible 700+ total horsepower.
You'll want both.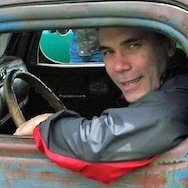 Written by Jim Koscs, Audamotive Communications
For Premier Financial Services