Reinventing the Endless Summer.
The folks at Ferrari just might be fans of late filmmaker Bruce Brown's 1966 seminal surfing documentary, "The Endless Summer." That's because, in Ferrari world, it can always be summer somewhere. Getting a bit chilly for top-down driving in New York? Ship your new Spider to Hawaii for a few months.
In fact, ship two new open Ferraris to Hawaii, or Tahiti, or New Zealand…
While most carmakers tend to introduce their new convertibles before drop-top season begins in their key markets, Ferrari revealed its new F8 Spider and 812 GTS near the start of fall in the Northern Hemisphere. Both Ferrari Spiders have retractable hardtops that lower or raise in just 14 seconds at the push of a button, while driving at speeds up to 28 mph. That's no doubt so you can get a running start on the paparazzi while you raise the top.
Both the F8 Spider and 812 GTS are regular production Ferraris. Of course this still means a list, but a longer list than special edition models. You might want one of each.
A Convertible for Every (Ferrari) Budget
While it's true that Ferrari's "entry" model, the Portofino, is an open model with a retractable hardtop, that doesn't in any way dilute the special place that open models still hold in the higher levels of Maranello's range. Let's start with the F8 Spider. The open version of the F8 Tributo introduced in March 2019, the F8 Spider was of course expected as the replacement for the 488 Spider.
Like its F8 Tributo coupe sibling, the F8 Spider is a major refresh of its predecessor and features the 710-horsepower version of the 3.9-liter twin-turbo V8 that debuted in the 488 Pista. That means 568 lb-ft of torque at a low 3,250 rpm, all going through a 7-speed dual clutch automatic transmission. Yes, it'll be mighty quick.
All of the F8 Tributo's high-tech chassis trickery is here, including Side Slip Angle Control to prevent drifting through corners. The Ferrari Dynamic Enhancer puts more drift ability into handling for track-day fun.
Ferrari's First "Production" V-12 Spider in 50 Years?
Oddly, in its official press release for the 812 GTS, Ferrari says, "The front-mounted V12 architecture has not been used in a Ferrari series-production spider since the 365 GTS4."
Somehow those 122 Daytona Spiders built were considered "series production," while the four V-12 spiders that came along afterward are called "special series." To many observers, this might seem like a distinction without a difference. Consider that Ferrari's 2001 550 Barchetta Pininfarina was far more prolific than the Daytona Spider, with 448 made.
And, what about that car's successor, the 575 Superamerica? Ferrari built 559 of those. Its unique "Revochromico" electrochromic glass hardtop rotated rearward to rest flush against the deck lid, leaving the rear window in place to serve as a wind deflector. When raised, the top's opacity could be adjusted to let in anywhere from one percent of sunlight to full transparency.
The later SA Aperta based on the 599 GTB (80 made) and the F60 America based on the F12berlinetta (10 made) seem better qualified as "special" models for their more limited numbers.
Unlike any of those four V-12 spiders, the 812 GTS has no announced production limit.
Superfast In All But Name
The 812 GTS is of course based on the 812 Superfast, Maranello's current ultimate front-engine V-12 GT. It shares the coupe's 789-horsepower, 6.5-liter V-12, but not its roof.
The 812 GTS features a rear design treatment similar to that of the F8 Spider. The rear design features two buttresses and a tonneau cover, beneath which resides the folded hardtop. There are some mechanical upgrades to go with the 812 GTS' estimated $371,000 starting price. The 7-speed dual-clutch automatic has been programmed for even quicker shifts, as it that even seemed possible. Also, lower gear ratios make for better throttle response – again, as if anyone with an 812 Superfast was complaining.
Ferrari says the 812 GTS will do 0-100 km/h (62 mph) in less than 3 seconds. It will reach 200 km/h (124 mph) in 8.3 seconds and top out at 211 mph. This is not the car in which to test a toupee.
Perhaps Ferrari could take inspiration from "The Endless Summer" and film the owners of an F8 Spider and an 812 GTS as they travel around the globe seeking the best driving roads in sunny weather. Great marketing content idea, right? You're welcome, Ferrari.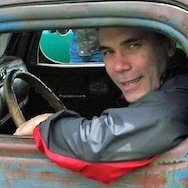 Written by Jim Koscs, Audamotive Communications
For Premier Financial Services