A Racecar-Inspired GT For A Legendary Racer
One sign that a high-end car company had truly arrived is when a famous racecar driver, movie star or monarch requests a bespoke model. Maserati enjoyed such attention in the late 1950s, just as production of its first volume model, the 3500 GT, was coming up to speed.
As a result, Maserati created the 5000 GT by installing a slightly enlarged and tamed version of the V8 engine from the 450 S racecar into the 3500 GT chassis and topping it with special coachwork. Maserati made just 34 of these special models, bodied by eight different coachbuilders, including Frua and Allemano. One of the latter, a 1964 model designed by Giovanni Michelotti, was made especially for American yacht and car racer and all-around wealthy guy, Briggs Cunningham.
RM Sotheby's will offer the Cunningham car at its Monterey auction, with a pre-sale estimate of $700,000-$850,000.
More Fun Than a Persian Rug
Cunningham certainly filled the role of race hero, and a 1954 cover story in TIME magazine helped make him a celebrity, too. But he was not first in line for the ultimate Maserati of the period. That spot went to the man who instigated the whole affair, monarch and despot-in-training Mohammad Reza Pahlavi, the Shah of Iran.
The Shah was filling a huge palace garage full of exceptional cars, but the Maserati 3500 GT didn't seem special enough for him. So, he asked the company to make him something nobody else had, by putting its V8 racing engine in that car.
As it turned out, Maserati had a bunch of unused 4.5-liter V8s left over from its fabulous late 1950s 450 S sports-racer. (Carroll Shelby was among those who raced the 450 S.) Engineer Giulio Alfieri reinforced a 3500 GT chassis and installed an unused 450 S engine. The Shah then had Carrozzeria Touring give the car a new body.
A Racer Steps Up
Not surprisingly, other super-wealthy car enthusiasts asked Maserati to make 5000 GTs for them. Alfieri was tasked with taming the 450S engine for more agreeable road performance. In the American hotrodding tradition, he bored and stroked the 4.5-liter engine to 5.0 liters. He also replaced the racing version's Weber carburetors with Lucas fuel injection. And, replacing the camshafts' gear-drive with a chain-drive helped quiet the racket under the hood.
The "tamed" racing engine only made the 5000 GT more attractive to such clients as Fiat head Giovanni Agnelli and the Aga Khan. Having Cunningham on that roster, though, was really the strongest endorsement of all for the marque, which was just beginning to add more production models and becoming a legitimate rival to Ferrari in that regard.
Maserati, of course, quickly came to appreciate the value of having powerful V8 models in its regular lineup, and such models proliferated through the 1960s and 1970s.
Make Mine Faster, Please
Cunningham knew a thing or two about bespoke road and racecars, having been in that business himself. He wanted a unique body for his 5000 GT, one that offered some resemblance to the 450 S.
The result from the very talented Michelotti looked nothing like a 450S, although if you squint tightly, you might see a touch of it in the front fender contours. The hidden headlights were decidedly not like anything on the racecar.
The overall shape is a thing of elegant beauty. With its generous glass area and semi-tapered rear deck, this 5000 GT shows a resemblance to Bertone's Iso Rivolta of the period. One can even see that basic theme in the 1967 Ferrari 330 GTC.
The lines were refined in the wind tunnel at the University of Turin, making the Cunningham car the most aerodynamic 5000 GT built. Before taking delivery, Cunningham test-drove the car at Italy's Monza circuit. He then used it to drive to various European racetracks where he was competing.
Known History
Cunningham kept his one-off Maserati 5000 GT for several years, eventually taking it to his home in California. A subsequent European owner had the unique Maserati restored in the early 1990s, and by the end of that decade, it was in the hands of Alfredo Brener, known for owning more 5000 GTs than anyone else. Brener sold the car to its present owner in 2003, attesting that it was the fastest 5000 GT he'd owned.
Put this very special Maserati 5000 GT on the long list of Cunningham's impacts on the car world, and good luck bidding!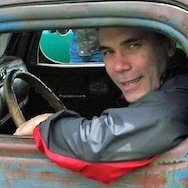 Written by Jim Koscs,  Audamotive Communications
For Premier Financial Services