Some impressive sales despite a subdued start to auction season
Like most businesses, the collector-car auction circuit found itself upended by the COVID pandemic shortly after last year's Scottsdale events. So, this year's Scottsdale Auctions seemed from a different world, with one of the majors, Gooding & Company, conducting its auction solely online. RM Sotheby's and Bonhams conducted in-person sales (with social distancing) plus phone and online bidding. Barrett-Jackson and Worldwide moved their Scottsdale sales to March.
Overall, the three auctions that took place were notable for reduced offerings compared to previous years. Yet, there were also some highly notable sales from each, including $6 million for a Jaguar D-Type at RM Sotheby's, $1.935 million for a Ferrari 275 GTB at Gooding & Company and $1.8 million for a BMW 507 at Bonhams. There were also some surprises.
RM Sotheby's
Held at the OTTO Car Club & Storage in Scottsdale, the RM Sotheby's in-person sale was restricted to registered bidders, and the auction house reports there were online and phone bidders from 35 countries. The auction achieved just over $35 million in total sales, with 74 of 84 cars sold.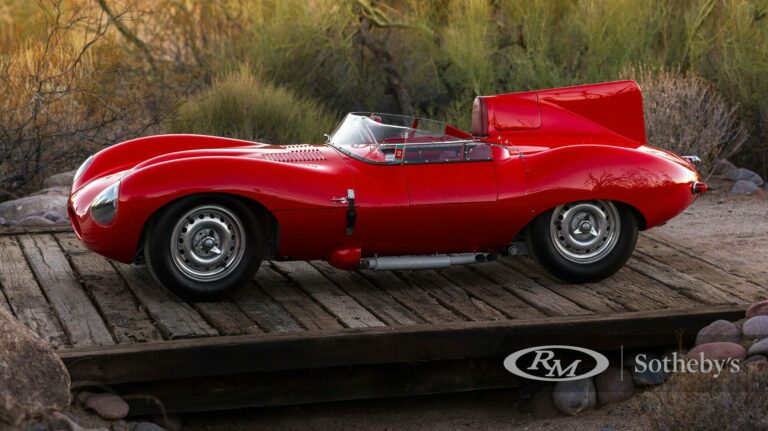 The top sale was a 1955 Jaguar D-Type for $6 million, including fees. The red stunner was once owned by British race car driver Peter Blond and then, later, Led Zeppelin manager Peter Grant. Premier had previewed this very car in its D-Type story. At the time, it was on offer in Gooding & Company's 2018 Scottsdale auction, where it was bid to $8.85 million.
Next, a 1937 Bugatti Type 57SC Tourer brought $4.735 million. Third place went to a 2020 McLaren Speedtail at just under $3.28 million, or over $1 million more than the original factory list price. This car was sold with an NHTSA "show or display" exemption for U.S. importation.
One of Premier's preview cars, the 1954 Ferrari 375 America by Vignale, was fourth on the list with a sale price of $2.557 million. That was a bit above the low end of its $2.4 -$3.4 million pre-sale estimate. Another classic Ferrari, the 1956 Ferrari 250 GT Alloy Coupe by Boano, was fifth at $1,352,500.
Here's how Premier Financial Services' "Cars to Watch" for RM Sotheby's performed:
1984 Ferrari 512 BBi, lot 117, sold for $230,000, which was below its $250,000 – $300,000 estimate. Originally brought to the U.S. as a new and privately federalized car, it was documented with $90,000 in service work over 14 years. (Read Premier's story on the Ferrari Berlinetta Boxer series.)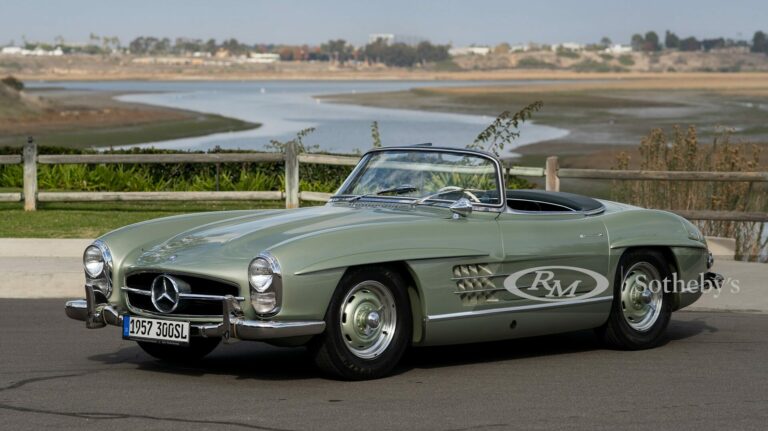 1991 Lamborghini Diablo, lot 121, sold for $145,600 against a pre-sale estimate of $140,000 – $160,000. (Read Premier's story on the Lamborghini Diablo.)
1957 Mercedes-Benz 300SL Roadster, lot 138. Sold for $1,066,500 — on target with its $1 million – $1.2 million pre-sale estimate. Its light green metallic color change looked stunningly elegant. (Read Premier's story on the Mercedes 300SL Roadster.)
1993 Cizeta V16T, lot 139, was one of nine of these unusual supercars made. Sold for $665,000 against a pre-sale estimate of $600,000 – $750,000.
1956 Mercedes-Benz 300 Sc Roadster, lot 160, was one of just 53 built. Sold for $775,000, against a $750,000 – $850,000 pre-sale estimate. (Bonhams sold one of these, as well.)
1974 BMW 2002 Turbo, lot 173, sold for $168,000 a healthy bump over its $120,000 -$140,000 pre-sale estimate. (Read Premier's story on the BMW 2002 Turbo.)
Gooding & Company
Gooding & Company conducted its Scottsdale auction via its Geared Online platform, selling 39 of 49 lots offered, which represented an 80-percent sell-through rate. The high sale was a well-preserved 1966 Ferrari 275 GTB Long Nose that achieved $1.936 million. A 1954 Aston Martin DB2/4 Drophead Coupe, was second at $968,000, and a 1926 Bugatti Type 37 Grand Prix set a world record at $935,000.
In fourth place, a 1968 Ferrari 330 GTC brought $517,000, and a 1965 Shelby GT350 finished the top-five at $385,000. Also worthy of mention was the car in sixth place, a 1957 Porsche 356 Speedster, one of our preview cars, that brought $317,000.
Gooding had a couple of unique surprises, as well: The record-breaking 1972 Citroen SM Land Speed Racer, complete with a custom-built, El Camino-style Citroen SM tow car and custom trailer, sold above its $100,000 – $200,000 pre-sale estimate at $203,500. A 1968 Meyers Manx more than doubled its low estimate by selling for $101,200, setting a new auction world record for this iconic, trend-sparking California buggy.
Here's how Premier Financial Services' "Cars to Watch" for Gooding & Company performed:
2006 Mercedes-Benz SLR McLaren, lot 20, sold for $220,000, versus the $200,000 -$240,000 estimate. This was a $500,000 car when new. (Read Premier's story on the Mercedes SLR McLaren.)
1950 Jaguar XK120 Roadster, lot 22, was modified for better road performance. It did not sell and was still available with a $130,000 asking price.
1957 Porsche 356 A Speedster lot 29, one of our auction preview cars, sold for $313,500 — in the middle of the $275,000 – $350,000 pre-sale estimate. When new, the Speedster was Porsche's cheapest model.
1966 Ferrari 275 GTB 'Long Nose', lot 37, was the top sale at $1.936 million. That was just below the low end of the $2 million -$2.4 million pre-sale estimate. (Read Premier's story on the Ferrari 275 GTB.
1954 Aston Martin DB 2/4 Drophead Coupe, lot 41, sold for $968,000 versus the $1.0 – $1.4 million estimate. (Read Premier's story on the Aston Martin DB2/4.)
Bonhams
Bonhams conducted its sale both live and with online access from Westin Kierland Resort and Spa. A 1959 BMW 507 Series II Roadster was the high sale, earning $1.809 million following what the auction house called "a tense bidding battle."
Coming in second was another of the 53 1956 Mercedes 300Sc Roadsters built. The Bonhams car brought $698,000 against a pre-sale estimate of $775,000 – $875,000. At $538,500, the first of 99 2018 Aston Martin Vanquish Zagato Volantes built was third on the list.
In fourth place on Bonhams top-five sales, an Alfa Romeo-based 6C 2300 Monza Replica, a recreation of the 1930s racing legend, brought $406,500. And in fifth, a one-off aluminum mid-engine Rünge RS010 sold for $240,800. The design was inspired by early Porsches.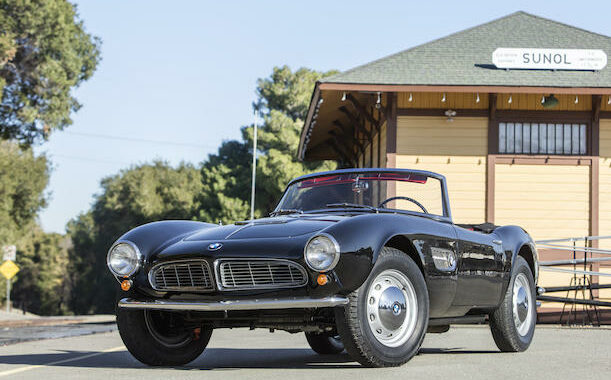 Many enthusiasts were watching the 1992 Lancia Delta HF Integrale Evoluzione 1 rally car. Thisa well-preserved example in Martini 6 livery brought $182,000.
Perhaps matching Gooding's Meyers Manx for surprise sales, while also reflecting the current market interest in "pure" off-road SUVs, a 1993 Land Rover Defender 110 doubled its low estimate, selling for $123,200.
Here's how Premier's "Cars to Watch" for Bonhams performed:
1958 Porsche 356A Speedster, lot 110, was one of our preview cars. Did not sell; pre-sale estimate was $475,000 – $550,000.
1959 BMW 507 Series II Roadster, lot 115, sold for $1.809 million against a $1.9 -$2.3 million pre-sale estimate. This was Bonhams top sale. (Read Premier's story on the BMW 507.)
1958 Jaguar XK150 3.4 Roadster, lot 117, sold for $145,600.
1968 Lamborghini Islero, lot 112, sold for $183,680. (Read Premier's story on the Lamborghini Islero, perhaps the marque's most understated GT.)
1954 Kurtis 500KK SR-100, lot 107, sold for $89,600. Successful as a vintage racer and concours show car.
Our congratulations to these auction houses and thanks to the people who worked so hard to make the sales possible under current conditions.