A Favorite with Bond and Birds.
One certainly could not blame Aston Martin drivers for being careful about where they park their cars vis á vis birds perched in trees or on overhead wires. Nobody wants to see that gleaming paint damaged by bird droppings. Many, though, remember seeing a classic Aston Martin receive far worse punishment meted out by birds in an early 1960s movie thriller.
The year before Sean Connery helped make Aston Martin a household name by driving a gadget-equipped DB5 in "Goldfinger," Tippi Hedren drove a DB2/4 in the Alfred Hitchcock classic, "The Birds." Bond would have liked Hedren's character, a pretty socialite named Melanie Daniels. She drives her 1954 DB2/4 Drophead Coupe – or convertible to us yanks – from San Francisco to Bodega Bay to see a man (Rod Taylor). Mayhem ensues when hoards of very angry birds inexplicably attack the town, Miss Daniels, and her British grand tourer.
Spoiler Alert: If you've never seen "The Birds": Despite the lack of protective devices such as machine guns, smoke screens and an ejector seat, the Aston Martin DB2/4 manages to offer some vital protection to the protagonists. (The car used in the film still exists.)
Spoiler Alert 2: There is a James Bond connection to the DB2/4. More on that later.
Not As Famous, But Plenty of Love
Although the Aston Martin DB2/4 was not a product placement in "The Birds" – it was a 10-year old car, after all – it did enjoy considerable screen time, and it looked fabulous against the backdrop of Northern California. The DB2 and DB2/4 have remained on Aston Martin aficionados' radar, however, despite the popularity of its more famous successor models.
At its upcoming Pebble Beach auction, Gooding & Co. will offer a 1957 Aston Martin DB2/4 Drophead Coupe for a pre-sale estimate of $450,000-$550,000. A Bertone-bodied 1954 DB2/4 Spider, one of three made, has a pre-sale estimate of up to $4 million.
Early Hot Hatch
The Aston Martin DB2 arrived in 1950 after customers shunned Aston Martin's first car under David Brown ownership, the four-cylinder 2-Liter Sports. While it was not officially called DB1, it took on that unofficial label when Aston's next car was called DB2.
The DB2 began a two-decade reign of twin-cam inline sixes, borrowing its 116-horsepower, 2.5-liter six from Lagonda, which Brown had also bought in 1947. The smooth body was by Frank Freely, who had also come from Lagonda.
The DB2 established a basic design theme that would evolve through the DB6. All DB2 models used a rear solid axle with trailing-link suspension, along with an unusual trailing-link front suspension.
Engine displacement and power were increased in subsequent years, and Aston Martin introduced an upgraded DB2/4 in 1953. The coupe added a small back seat and addressed luggage access with a side-opening glass tailgate, making the DB2/4 an early hatchback. Take that, McLaren 570 GT. The downside was a rather bulbous rear end design.
Steady Improvements and a Racing Sibling
The 1955 DB2/4 Mk. II debuted design and performance upgrades. The engine became a 2.9-liter in 1954 and would reach 195 horsepower in a handful of 1958 Mk. III models.
Introduced in 1957, the DB2/4 Mk. III debuted the classic Aston Martin grille shape still in use today and also offered a third body style, a fixed-head coupe. This model would become known as the DB III, hence the successor model being called DB4. But don't confuse it with the DB3, the sports-racer introduced in 1951, or the DB3S, which succeeded it in 1953 and did well through the 1950s, including second place at Le Mans in 1958.
Thoroughbred GT
The Aston Martin DB2 and DB2/4 also established the kind of road cars the company would focus on: fast, comfortable GTs rather than all-out sportscars like some of the hotter Ferraris. The Jaguar XK 120 and XK 140 were more powerful and faster, but the Astons offered more modern style, an aluminum body and the exclusivity of handcrafted low production. Pricing in America exceeded $7,000 for the Mk. III.
Yes, James Bond Drove One
The Aston Martin in the film "Goldfinger" was there because James Bond drove a specially equipped DB2/4 Mk. III in the novel, which published in 1959. It had some special features, but not an ejector seat.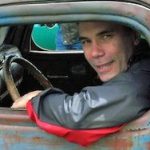 Written by Jim Koscs, Audamotive Communications
For Premier Financial Services
Save