Bavarian Boy Racer
When you think of "boy racer" performance cars of the 1970s with wheel flares, stripes and decals, you're probably more likely to think of an American muscle car like the Pontiac Firebird Trans-Am than a BMW. But BMW did indeed jump into the boy racer fray with the 1974-1975 2002 Turbo. Lately, they've been getting a lot of attention and money at major auto auctions.
With just 1,672 made, the BMW 2002 Turbo is a fairly rare bird, one that was not exported to the U.S. Today, thanks to the EPA and DOT exemptions offered to individuals who wish to import an older model never certified for sale here, the population of these forced-induction Bimmers is growing. Values are rising, too.
At Gooding & Company's 2018 Amelia Island sale in March, a 1975 BMW 2002 Turbo sold for $192,500 against a pre-sale estimate of $130,000-$160,000. Two months prior, RM Sotheby's sold a 1974 model for $145,600 at its Scottsdale auction. At Gooding's 2017 Pebble Beach sale, a '74 brought $143,000 – again, considerably above its pre-sale estimate.
Under Pressure
Imagine this: when BMW introduced the 2002 Turbo at the Frankfurt Motor Show in September 1973, the car actually angered some in the German automotive press. More on that later.
In the early 1970s, the BMW 2002tii was considered a driving enthusiast's dream, a car that imbued a practical little sedan with genuine sports car handling. The fuel-injected 2002tii was quick and fun in the context of small British and Italian roadsters, but with the Datsun 240Z on the loose for less money, the game was changing.
Meanwhile, Porsche had been making racing history with turbocharged engines, including a Can-Am monster with over 1,200 horsepower, and Stuttgart was preparing a turbocharged version of the 911. Although engine-driven superchargers had been used on production cars since the 1920s, exhaust-driven turbochargers did not debut on factory models until the 1962 Chevrolet Corvair Monza Spyder and Oldsmobile Jetfire. The former was a fairly reliable success while the latter was a short-lived mechanical nightmare. Meanwhile, there were aftermarket turbo kits on the market, too.
Subtle It Was Not
To create the 2002 Turbo, BMW started with the 2002tii engine, reducing compression to a very low 6.9:1 and limiting turbo boost to 8 psi to control detonation. Output was 170 horsepower and 180 lb-ft of torque, substantial jumps over the 2002tii. At everyday driving speeds, the engine could feel lax, although it came alive at higher speeds. Lag was also an issue when getting off and back on the throttle at higher speeds, with boost taking 2-3 seconds to return, according to Road & Track's European correspondent, Paul Frere.
Still, it was a quick little machine. Although BMW claimed 0-60 in 6.9 seconds, Road & Track recorded the deed in 8.2 seconds with Frere driving. The quarter-mile was dispatched in 16.2 seconds, and top speed was 124 mph.
Decal Anger
BMW gave the 2002 wider wheels, but still 13 inches in diameter. Riveted-on fender flares covered the wider rubber, lending the car a boy-racer stance that upset some in the German auto press. The decals, though, attracted more criticism. The 2002 Turbo was bedecked in BMW Motorsport livery and wore conspicuous "Turbo" graphics on its flanks. Some thought the overt boy-racer image might provoke boy-racer behavior on the road.
The front air dam drew the most ire. Along with the Motorsport stripes, BMW added reverse-script "2002" and "turbo" graphics, which other drivers would see as normal when looking in their rear-view mirrors — a kind of rude "move over" warning, some feared. BMW deleted the "provocative" graphics, but they appeared in the aftermarket and most owners added them.
Quick and Clean?
Interestingly, Frere noted that the 2002 Turbo exhibited better emissions performance than the 2002tii, and he speculated that turbocharging might help BMW meet the tougher U.S. standards on the boards for 1975. Perhaps Mr. Frere had a magic 8-ball and saw 40 years into the future.
By 1975, Porsche had introduced its Carrera Turbo in Europe, and the monster 911 would arrive in the U.S. for 1976, the beginning of a high-performance dynasty. BMW replaced the 02 models with the first 3 Series for 1975, and the turbo engine – admittedly a fairly crude turbocharger setup anyway – did not make the jump.
Today, collectors are free to import one thanks to a waiver of EPA standards for cars more than 21 years old, and an exemption from Federal Motor Vehicle Safety Standards for cars at least 25 years old (from date of manufacture).
So, expect to see more 2002 Turbos. And, in this space, expect to see a review of how to import a car for yourself under these exemptions.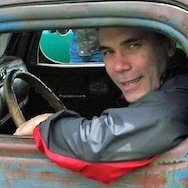 Written by Jim Koscs, Audamotive Communications
For Premier Financial Services