When "Exclusive" Really Meant Something
In the earliest days of Ferrari road car production, every model was essentially built to order. This resulted in cars that were truly unique, and not just for their particular combination of paint and options. All had coachbuilt bodies, and, in the years before Pininfarina essentially became Ferrari's exclusive designer, other names were in the mix.
The 1954 Ferrari 375 America, with body by Vignale, epitomizes this period. Introduced in 1953, the 375 America was the marque's elite model. It veritably defined exclusivity, with just 11 coupes and one convertible built. Two of the three coupes made by Carrozzeria Vignale two were in the style of the car to be offered by RM Sotheby's this month, but each was unique.
The pre-sale estimate for this car is $2.4m-$3.4m.
When Ferraris Were Like Unicorns
Imagine, if you can, when a Ferrari was a rare sighting even in Southern California, Miami, The Hamptons and Connecticut's tony suburbs. Maranello would build a particular model in small batches over a couple or several years. If you think it's tough to get on the list for a modern special-edition Ferrari that might be one of 500, try being one of 11.
Almost from its beginning, Ferrari established a model hierarchy. In 1951, the top car was the 340 America, succeeded by the 342 America in 1952. As per what became a longstanding (though later inconsistent) Ferrari practice, the numbers reflected the engine's individual cylinder displacement in cubic centimeters; the "375" therefore signified a 4.5-liter V12.
Ferrari also introduced the more race-oriented 375 MM for 1953. Each of the 375 variants used its own version of the Lampredi-designed "big block" V12, the MM getting the wet-sump preferred for racing. The 375 America had 300 horsepower and a 150-mph top speed. Meanwhile, the 375 MM had 340 hp and could approach 170 mph. These were staggering figures for the time.
Italian Design, American Appeal
Numerous carrozzeria (car body makers) competed for the chance to design and build bodies for the Ferrari's early limited-production cars. Alfredo Vignale's company, founded in 1948, was known for working right from full-scale drawings to craft bodies in aluminum, rather than using a body buck. Among his early designers for the Ferraris was Giovanni Michelotti, who would later become famous on his own.
Around this time, American carmakers were looking to Italy for design inspiration. Vignale, likely taking the 375 America's name to heart, must have sparked plenty of ideas. Vignale bodies were known for effective use of chrome and stainless-steel ornamentation that would likely have been especially attractive to American buyers.
Numerous elements of this car's design influenced American cars into the following decade. Notably, the wraparound rear window seemed to predict similar treatments on the 1963 Corvette Stingray and 1964 Plymouth Barracuda. Various ducts and scoops and even side louvers suggesting a side-exit exhaust appeared in various forms on later American designs. Vignale was also renowned for two-tone paint schemes, a trend that swept through Detroit for a few years after this car was built.
The Ferrari 375 America offered by RM Sotheby's, chassis 0327 AL, is similar to a second coupe built, 0337 AL. The key difference is that 0327's headlights are set deeply into the front fenders to flank the prominent eggcrate grille. One can see this theme's influence on 1965-1970 Ford Mustangs.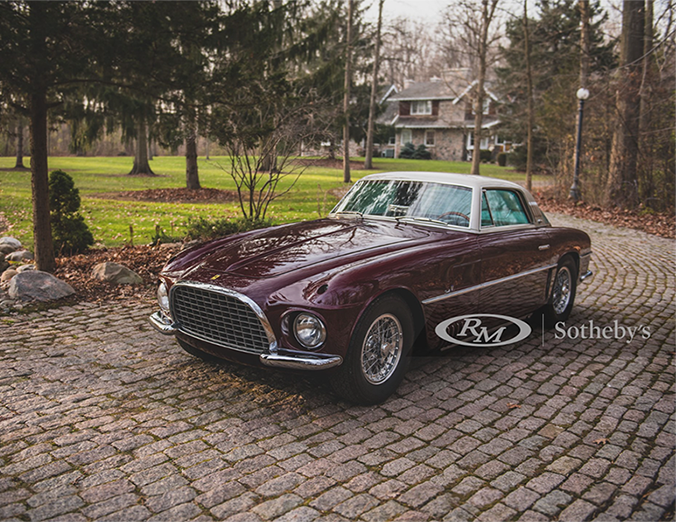 Race-Famous Provenance
This spectacular vintage Ferrari, restored in burgundy and metallic grey, with a beige interior, looks close to its original livery. Ferrari distributor Luigi Chinetti displayed the car at the New York World Motor Sports Show at Madison Square Garden in January 1954. Two months later, it was shown at the Geneva Motor Show.
The unique Ferrari's first owner was Robert C. Wilke, whose Leader Card Company in Milwaukee, Wis. was a major name in American racing. This includes sponsoring a very successful Indy 500 team. He used the 375 America as a daily driver and had it repainted twice, first in red with a black roof and later in metallic blue.
Wilkie came to own seven Ferraris all custom-built to his tastes and drove all of them. After he died in 1970, the 375 America passed through various owners. This includes Ed Jurist, who owned the famous Vintage Car Store in Nyack, NY. An article in Cavallino issue no. 78 by noted Ferrari historian Marcel Massini discussed the car in a feature about Wilke.
A Rare, Drivable Artwork
You might have seen this Ferrari 375 America Vignale coupe if you were at the Cavallino Classic in Palm Beach in January 2011. Soon after, the car was refurbished, including the new paint and correct taillights. The car still has its original engine, as confirmed by Ferrari Classiche certification.
The 1954 Ferrari 375 America embodies an era when cars from Maranello were indeed like rare artworks, combining both racing and designer pedigrees.
.
.
.
.