Funny, You Don't Look 60
With its 70th birthday a year in the rear-view mirror, Porsche this year is celebrating the 60th birthday of its evergreen 911, truly one of the world's most iconic automobiles. If you guessed that Porsche would mark the occasion with a special edition model, give yourself a gold star. Joining in the celebration will cost $290,000 to start.
Meet the Porsche 911 S/T. The "S/T" designation reaches back more than half a century to a special lightweight 911 model built for racing. The new rendition is not made for racing but does claim the mantle of light weight in the 911 line, pressing the Earth with just 3,056 pounds.
Here's another key number to know: 1,963. That's how many 911 S/Ts Porsche will make for global consumption. The number acknowledges Porsche's unveiling of the 911 (then known as the 901) in fall 1963. Production began a year later, as a 1965 model. (We can imagine the marketers are already dreaming up more 911 anniversary editions for the next two model years.)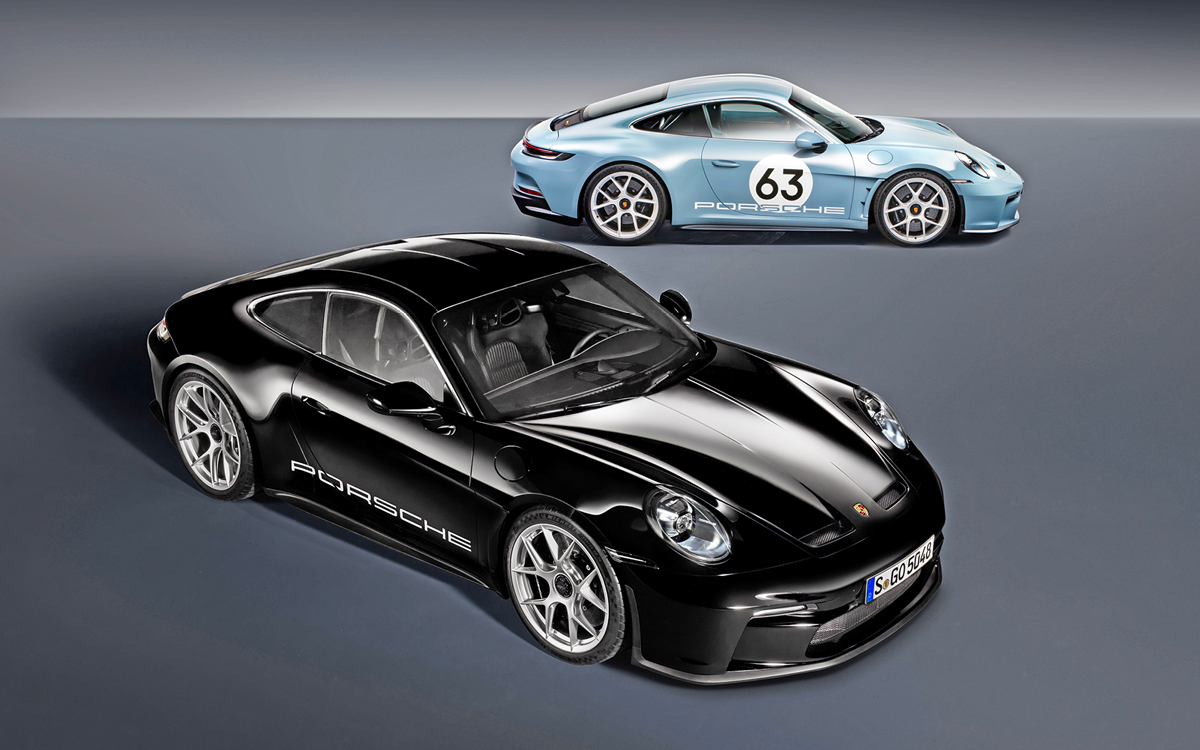 Why S/T?
Porsche did not pull the S/T badge out of thin air, but rather from the very rich air of the 911's considerable racing heritage. The early Porsche 911 began adding to the automaker's trophy case right away, especially in rallies. By the late Sixties, it had become a familiar sight in road racing, including in the winner's circle in FIA GT racing, SCCA B-Production, and the SCCA Trans-Am series.
To better cater to road racers, Porsche built about two dozen competition-oriented 911 ST models from 1970-1972. Built in Porsche's Werk I race shop, these lightweight cars featured a twin-plug-cylinder-head engine, strengthened body shell, extra structural reinforcements, and wide rear fender flares.
Factory drivers and privateers campaigned STs in a wide array of motorsports events, from endurance races to grueling off-road rallies. An even beefier version of the ST, known as the STR, was entered in the East African Safari. That's a heck of a historic muse for the 2023 Porsche 911 S/T.
60 Going on 25
The introduction of the Porsche 911 S/T brought the number of 911 model variants to 25 this year. That's counting all engines, body styles, and drivetrains. It's a wide gamut, for sure, something for everybody with $115,000-$290,000 to spend on a sports car (before options, of course). The 911 S/T sits atop that mountain of cars, above the GT3 models, the Dakar, and 911 Turbo S Cabriolet.
So, what makes the 911 S/T so special? The simple answer is, "Much more than meets the eye." At its essence, the 911 S/T puts the 518-horsepower naturally aspirated 4.0-liter flat six from the GT3 RS into the GT3 Touring body and makes a six-speed manual transmission with rear-wheel drive the only drivetrain choice. Porsche adds a lightweight clutch and uses carbon-fiber reinforced plastic (CFRP) for the front fenders and hood, roof, and doors.
The standard Porsche Ceramic Composite Brake (PCCB) system and a lithium-ion starter battery cut more weight. Leather interior door pulls probably save just a few ounces over conventional handles, but they sure look cool. The total reduction comes to 70 pounds taken off a 911 GT3 with the Touring Package.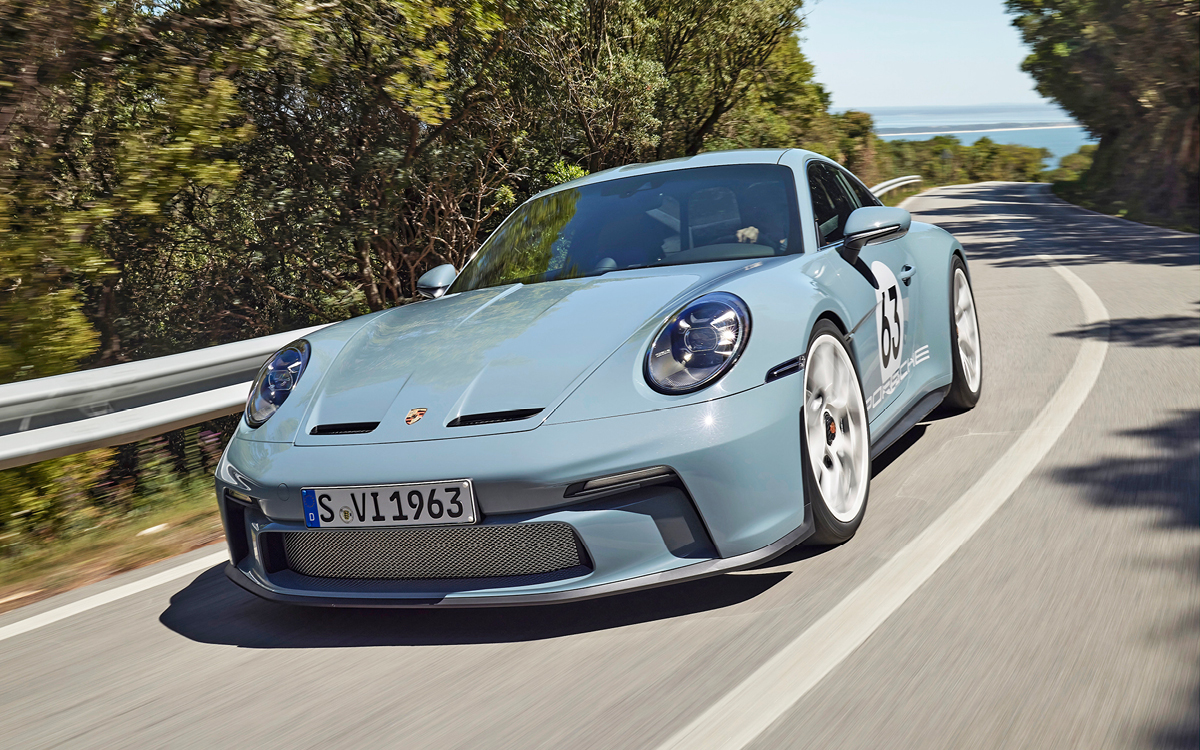 Losing Weight at 60
Seventy pounds is hardly notable in a car with 518 hp to kick around. Perhaps more critical is how and where that weight was removed. The lightweight clutch, combined with a lower axle ratio, improves engine response noticeably, according to Porsche. The lightweight Sport Exhaust and forged magnesium wheels come standard, and the rear suspension's anti-roll bar is made from CFRP. What's more, Porsche leaves off the rear-wheel steering used on its other high-end 911s.
If you thought that the GT3 RS engine combined with that diet would yield the quickest and fastest 911 in a straight line, you'd be mistaken. The S/T's 3.5-second 0-60 time can be bested by a GT3 with the PDK transmission (3.2 seconds), and the GT3 also tops the 911 S/T's top track speed by 11 mph (197 vs. 186).
For enthusiasts who relish experiencing the most elemental driving feel in a 911, though, those numbers remain merely academic arguments. "Every steering movement, every ounce of pressure on the accelerator or brake is implemented immediately and with pinpoint precision," according to Porsche. You can bet that is no exaggeration.
Extra Dose of Heritage
CFRP full bucket seats come as standard, but notably, Porsche did not sacrifice comfort on the altar of weight reduction. The four-way-adjustable Sports Seat Plus package is available at no extra cost, and the 911 S/T has all the luxury you'd want for a more-than-occasional driver.
For the full heritage vibe, choose the optional Heritage Design Package. That is the only way to get the striking new Shore Blue Metallic exterior color and the Ceramica color for the wheels. Upon request, you can add gumballs on the doors with numbers from 0 to 99. (We're guessing "60" and "63" will be popular.)
With this package, the interior features cloth seat centers in Classic Cognac with black pinstripes, another nod to Porsche's past. The rest of the interior is done in two-tone Black/Classic Cognac semi-aniline leather and a headliner in perforated Dinamica, all items from the Porsche Exclusive Manufaktur catalog. You have seen many of these exterior and interior features before, in the limited-production 2023 911 Sport Classic, which is sold out.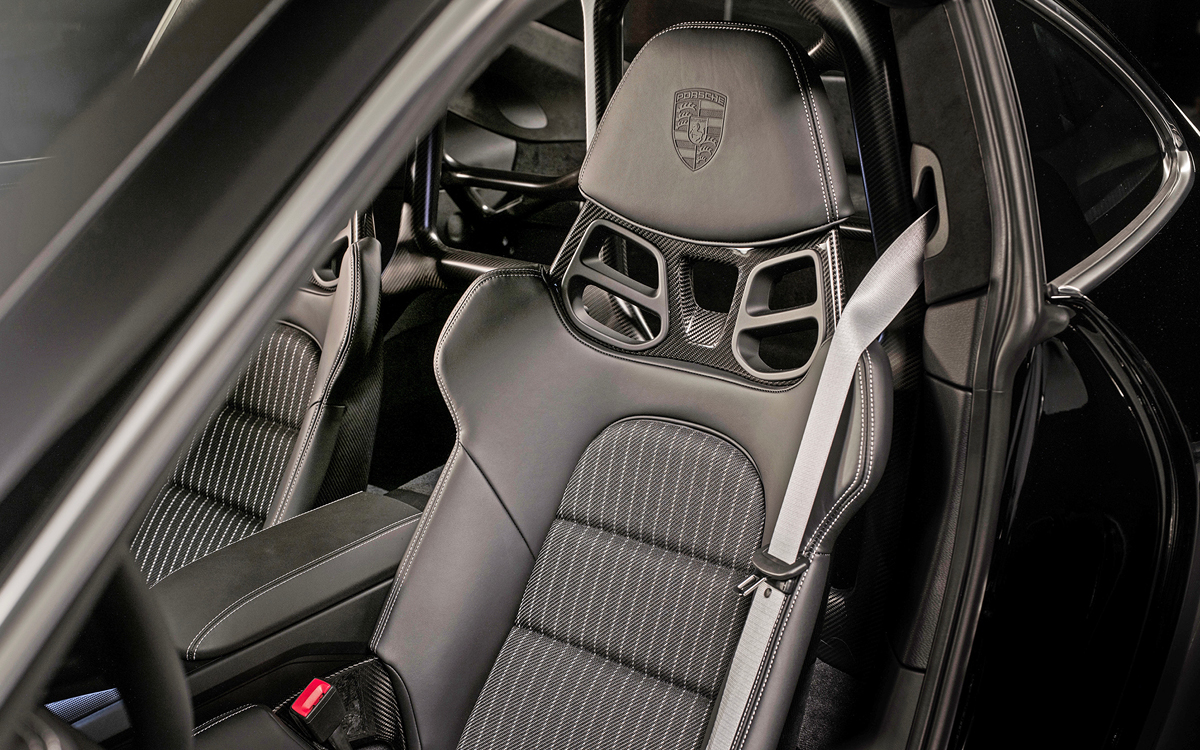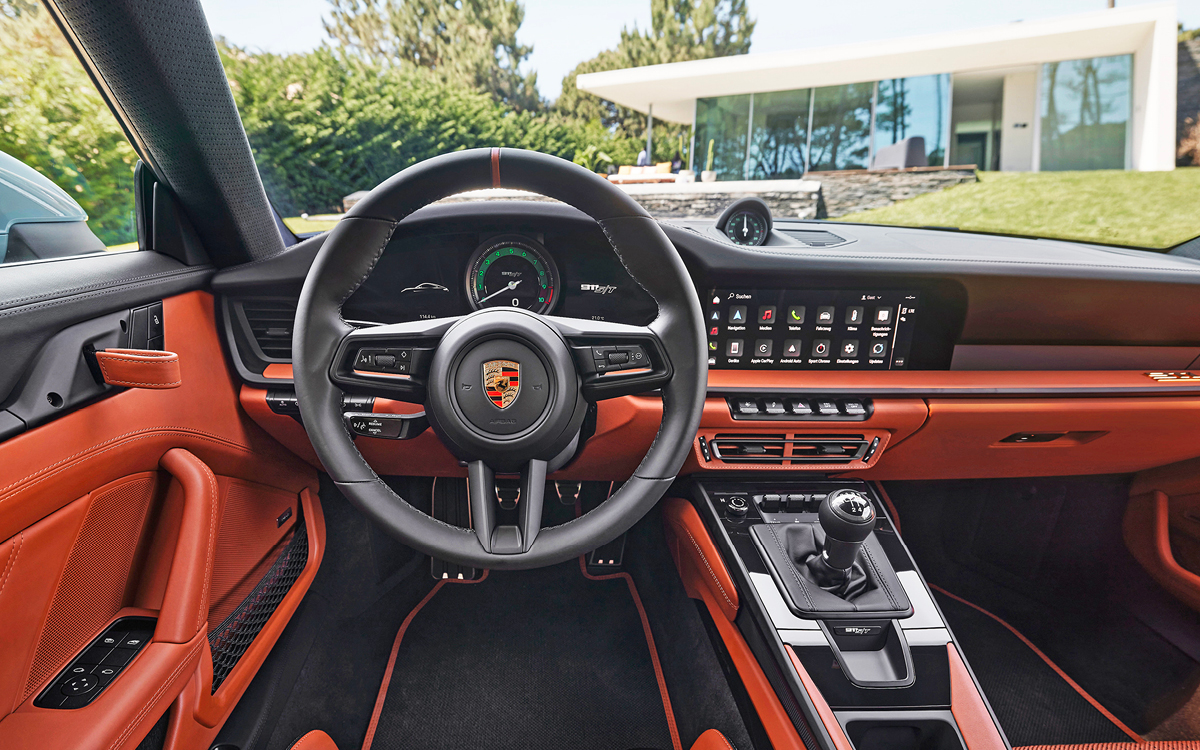 A Gift to 911 Purists
Mechanically, the 2023 Porsche 911 S/T is a purist's delight. Aesthetically, it connects Porsche's present and past in a respectful manner. It puts the track spirit into a thoroughly streetable car that won't beat up passengers. Nobody knows how to take one iconic car model in so many different directions in the same model year. Porsche has had 60 years of practice.