Surprising Talents in Porsche Wickedly Quick EV
Some enthusiasts may take umbrage with Porsche using the "Turbo" badge on a car that not only doesn't have a turbocharger, but doesn't even have a gas-burning engine. But then, when a dual-motor, 750-horsepower Porsche Taycan Turbo S Cross Turismo can zoom from 0-60 in just 2.4 seconds and blaze the quarter-mile in 10.4 seconds at 131 mph, Porsche could call it anything it likes.
In case you were unaware, Porsche's growing Taycan EV model range now includes 10 variants across three body styles, and the top performance models wear "Turbo" badges. This is an homage to the top-of-range 911 models for the past 45+ years and not an indicator of propulsion.
Let's have a look.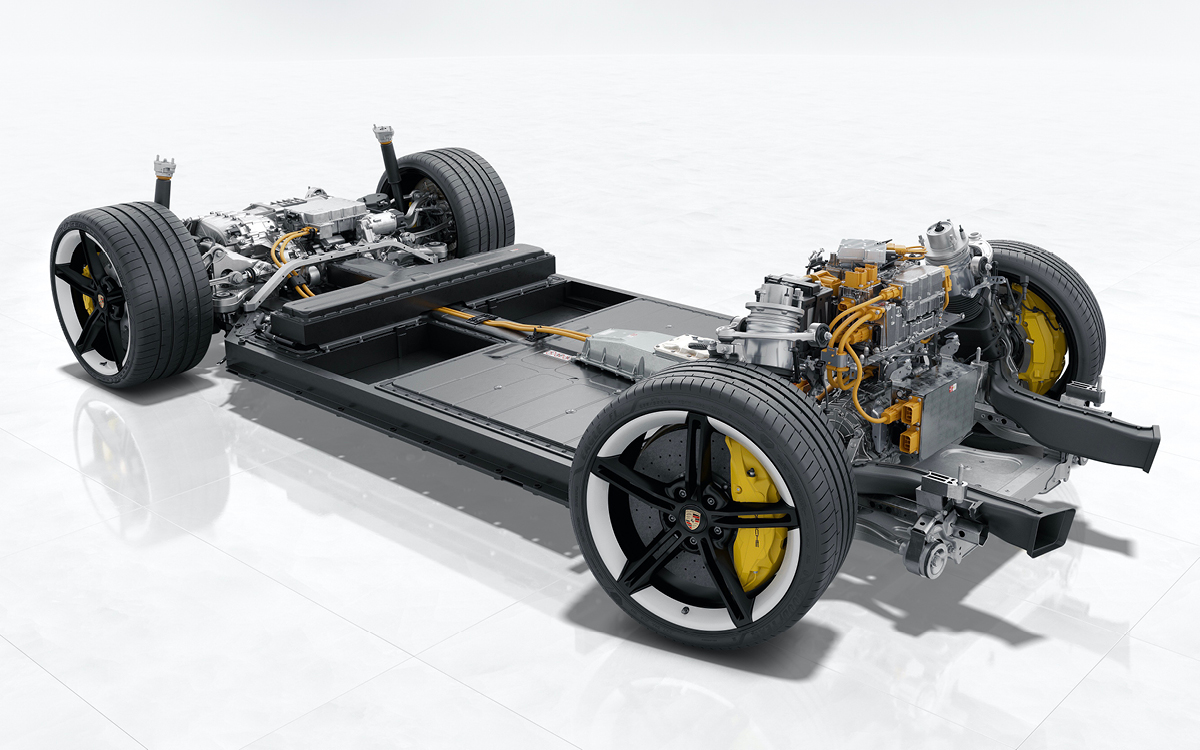 The "Other" Numbers
In 2021, the Porsche Taycan outsold the 911, hitting 41,296 vs. the 911's 38,464 and becoming the brand's third best-seller. (The Macan was #1, at over 88k in sales, and Cayenne was #2 at 83k.) That's mighty impressive for one model in a luxury brand lineup.
Other, less impressive numbers need mention, as well. The 5,300-pound Taycan Turbo S Cross Turismo is rated at an EPA-estimated 202 miles of range. And, using the EPA's measurement that equates the energy in a gallon of gasoline to 33.7 kilowatt-hours (kWh) of electricity, the top Porsche EV earns a rating of 74/73 MPGe city/highway. As with gas cars, your mileage may vary.
By comparison, Tesla's quickest car, the 1,020-horsepower Model S Plaid, is rated at 116 MPGe and 396 miles of range on a charge. It flashes from 0-60 in 2.1 seconds and it obliterates the quarter-mile in 9.4 seconds at 151 mph. The Plaid is also 500 pounds slimmer than Porsche's top EV and, at $129,990 to start, $60,000 less costly.
That comparison is not offered to bash the Porsche in any way but merely to illustrate how competition in the luxury EV market is shaping up. Right now, Porsche seems to be selling all the Taycans it can build, and we'd bet Stuttgart has more surprises in store.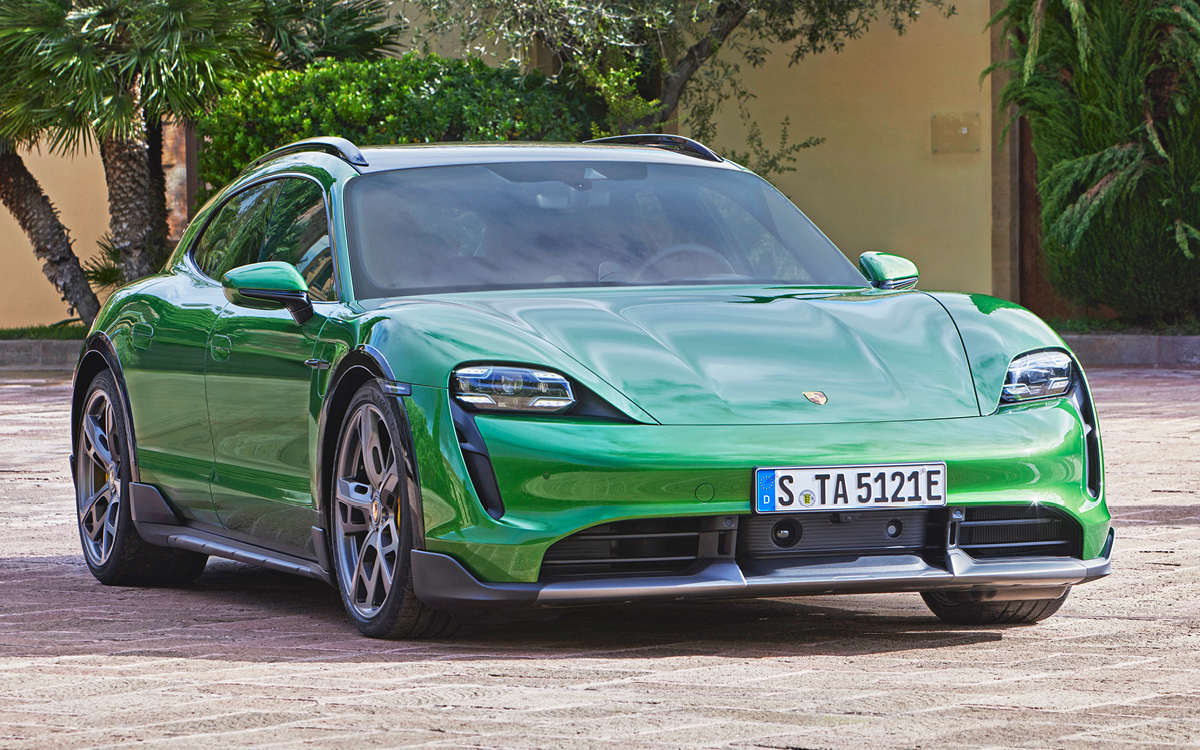 Don't Call It A Wagon
The "Cross" in Taycan Turbo S Cross Turismo is meant to signify crossover, sort of. This long-roof car may be one of the sexiest wagons in the world, and Porsche offers some mind-bending colors for it, too. It's also fairly practical, with 41.4 cu-ft of carrying space behind the front seats when the rear seats are folded. Forget the weekend getaway, go for two weeks.
The standard roof rails are designed to handle a variety of mounts for carrying bkes, kayaks, etc. Porsche also offers bike rack for the back of the car, which will come in handy for carrying Porsche's own e-bikes. That line is likely to expand since Porsche recently purchased German e-bike maker Fazua. Perhaps we will soon see a "Turbo" two-wheeler.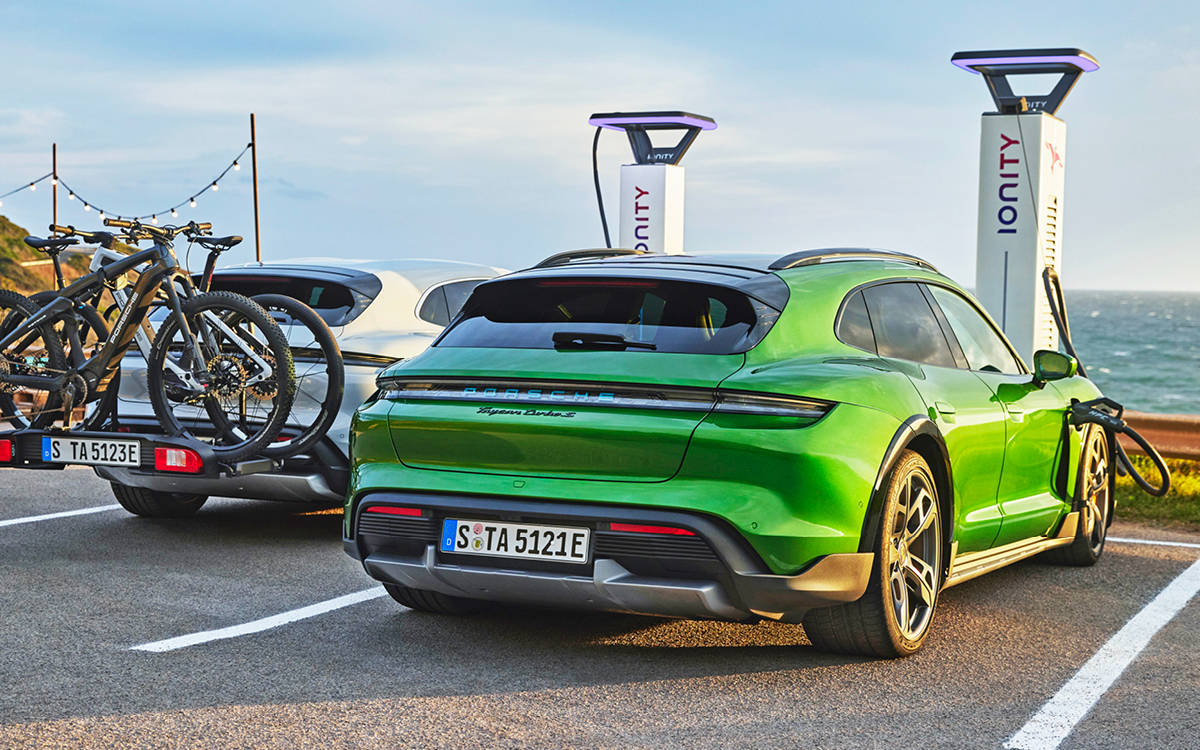 Track Magic
Let's get to some real Porsche magic. If you think driving a heavy EV means having no fun on the track or your favorite curvy road, you are mistaken. Rest assured, Porsche has equipped this top EV's chassis for all the fun stuff.
The Taycan Turbo S Cross Turismo rides on 21-inch aluminum wheels, which wear huge Pirelli P Zero Elect tires: 265/35ZR-21 in front and 305/30ZR-21 on the back. Car and Driver recorded 0.98 g on the skidpad. The standard carbon-ceramic brakes, too, are ready for punishment. The rotors are huge: 16.5 inches for the front and 16.1 inches for the rear. That's bigger than the wheels on an Eighties 911 Turbo.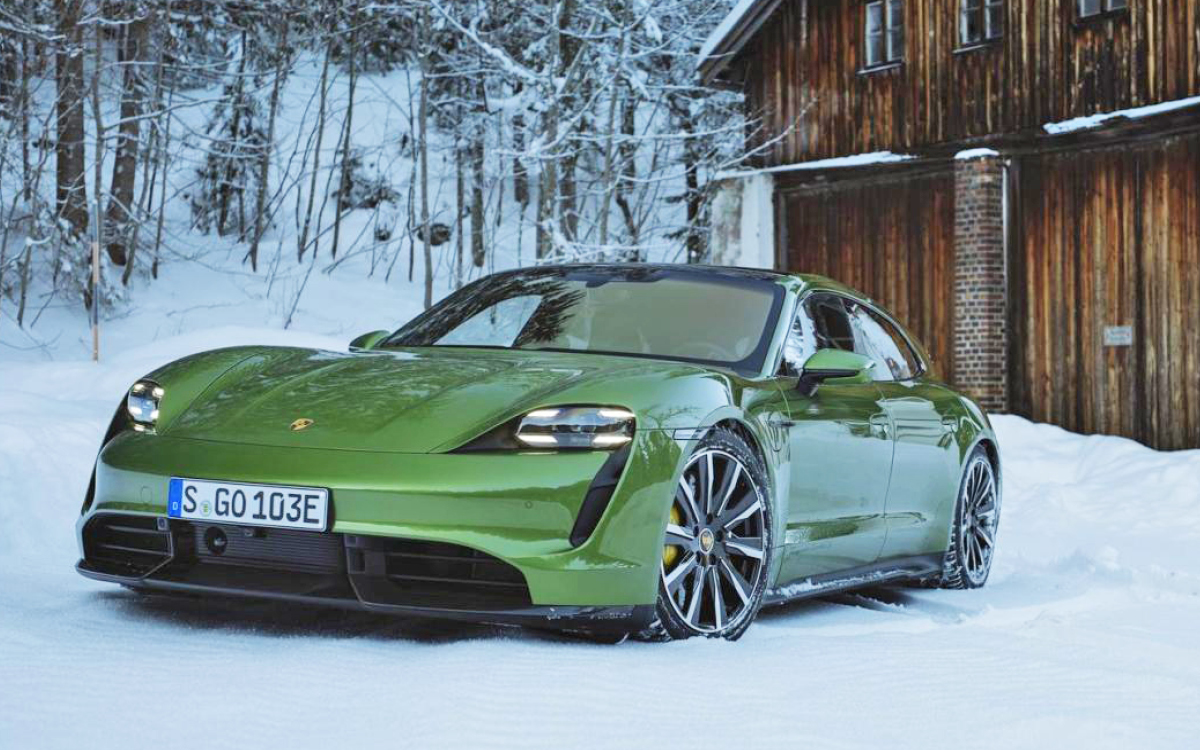 Trail Magic
Getting back to that getaway, if your destination should be located at the end of a long and somewhat lumpy dirt or gravel road, or if snow is in the forecast, the Porsche Taycan Turbo S Cross Turismo is ready. Cosmetically, the black cladding pulls a page from the modern crossover playbook. Functionally, these appendages can resist rock chips.
The real trick of the trail comes from the standard Adaptive Air Suspension, which includes Porsche Active Suspension Management with Smart Lift. The driver can select from five settings, the highest giving the Taycan Turbo S Cross Turismo nearly seven inches of road clearance. That's not super-tall – a Subaru Outback has 8.7 inches – but it is enough to clear most of what most Taycan drivers would reasonably subject their cars to. The front and rear dual-motor setup provides all-wheel drive, and a Gravel mode optimizes the car's traction systems for driving on loose surfaces.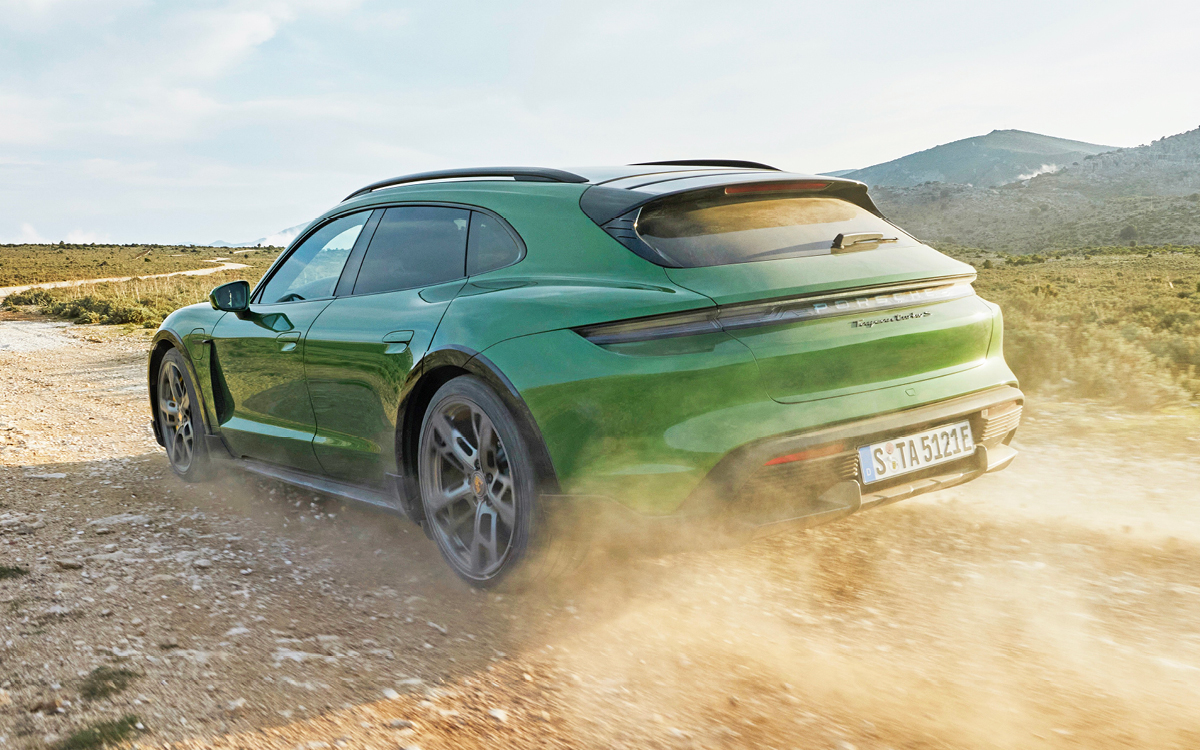 Great Daily Driver
Like all Porsches, the Taycan Turbo S Cross Turismo is no one-trick pony. When not engaging Launch Control for max-acceleration, there's still 616 horsepower and 774 lb-ft of torque at your disposal. And, like all Porsches, the option list allows extensive personalization customization. Paint to Sample is available for $11,430. If the "Turbo" badge still bothers you, then the best factory option is the one that doesn't cost anything: deleting the model designation. Problem solved.