An Emotional Record-Setter
While many enthusiasts and collectors are turning their attention to this weekend's collector-car sales in Arizona, auction history was already made on January 10 in Kissimmee, FL. At the Mecum sale there, one of the two Highland Green 1968 Mustang GT fastbacks featured in the Steve McQueen movie "Bullitt" sold for a breathtaking $3.75M (including buyer's premium).
Previously, a 1967 Shelby GT500 held the auction record for a Mustang at $2.2 million; that was for the one-of-a-kind "Super Snake" that Shelby built for Goodyear's high-speed tire tests. The Bullitt Mustang's hammer price of $3.4M was just $100k shy of the muscle car record set by a 1971 Plymouth Hemi 'Cuda convertible that Mecum sold in 2014.
The Bullitt Mustang sold by Mecum (serial #8R02S125559) was the film's "hero car," used for close-up scenes. A second Mustang (#8R02S125558) was the "jumper car," specially modified to run the movie's toughest stunts. Long thought to have been scrapped, that car was finally discovered in Mexico – by accident and in dilapidated condition – months before Kiernan's car was made public in 2018. It is currently being restored by its owner, Ralph Garcia.
97,000-Percent McQueen Premium
In Kissimmee on Friday night, Sean Kiernan, whose family had owned the Bullitt Mustang since 1974, briefly addressed the large crowd. He mentioned that when his father, Bob Kiernan, bought the '68 Mustang from a classified ad in Road & Track magazine, he paid $3,500. Bob passed away in 2014. (Hagerty had reported it selling for $6,000.)
"We're gonna start it off with that, and we're gonna go from there," an emotional Sean Kiernan announced with a knowing smile.
Bidding immediately jumped to $500k, then $1M and a few seconds later raced past $2M. The crowd roared when each million-dollar threshold was crossed. Momentum among three phone bidders slowed past $3M. After seven minutes total bidding time, the Bullitt Mustang had a new and so far unidentified owner. The crowd cheered in approval as Kiernan drove his family heirloom for the last time, blipping the throttle as he rolled it slowly off the platform.
Mustang-palooza
The Bullitt car was one of 121 Mustangs that sold at Kissimmee, with many solid first-generation drivers and cruise-night cars going in the $20s and $30s. What would a 1968 Mustang GT fastback optioned with the 390 engine and four-speed get without the McQueen connection? A "Bullitt" clone in restored condition brought $74,800. A restored '68 in Lime Gold (a lighter shade of green) brought $82,500.
There were some other big-ticket Mustang sales, but none in Bullitt territory. The closest was another movie Mustang; one of the 11 "Eleanor" 1967 fastback resto-mods used in the 2000 remake of "Gone in 60 Seconds" with Nicolas Cage sold for $852,500 — well over its $500-$600k estimate.
A 1967 Shelby GT350 sold for $440k. This was a rarity, one of 35 equipped by Shelby with the optional Paxton supercharger, making the car good for 390 horsepower.
A 1969 Boss 429 brought $335k, in line with the high value indicated by Hagerty, which shows a recent downward trend. A couple of other Boss 429s sold in the $200s.
Mach 1 models had been escalating in recent years but seemed to struggle here. One exception was a remarkable $159k for a 1971 Mach 1 429 with the optional Drag Pack. Hagerty shows top value at $76,500 but with a recent downward trend.
Bullitt Effect?
The $3.4M Bullitt is unlikely to affect other Mustang values. This one is an anomaly, a car culture/pop culture icon that owes a whopping 98 percent of its value to the McQueen effect. And McQueen didn't even own it. Bob Kiernan turned down his offers to buy the Mustang in the 1970s. The McQueen premium has also affected prices of other cars the king-of-cool actor owned, including Ferraris, but none to this level.
We're looking forward to learning who bought this mean, green machine, and hope we see it again.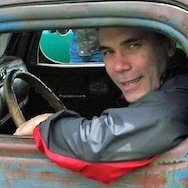 Written by Jim Koscs, Audamotive Communications