Sculptures have Wheels
A sale of world-renowned sculptures during New York City's art auction season might seem entirely routine — until you realize the sculptures have wheels. And engines. And projected selling prices of up to $6 million.
We're talking about the inaugural event to launch Keno Brothers Fine Automobile Auctions November 19 at Skylight Clarkson Square in the city's SoHo neighborhood.
The brothers named the "Rolling Sculpture" Auction for its emphasis on classic autos that emphasize exceptional design, craftsmanship and speed. Premier Financial Services is prepared to assist its clients in acquiring and leasing any of the 40 or so cars on offer.
They've Been in Your Living Room
For many, news of Leigh and Leslie Keno holding an auction in Manhattan's art epicenter would not be a surprise. The surprise is that the objects being auctioned are not antique pieces of furniture and stoneware. Many Americans – 10 million per week, in fact — know the Keno twins for their informative appraisals on the Emmy-nominated PBS show, "Antiques Roadshow," for which they have served as volunteer appraisers for 19 years. The brothers are also familiar to many from MSN's "Collect this! with the Keno Brothers," the PBS series "FIND!" and Fox's "Buried Treasure."
Lifelong car enthusiasts, the Keno brothers started getting their hands dirty restoring cars with their father from a very young age. Over the decades, they have collected, judged and raced vintage automobiles. As they do with antiques, the Keno brothers express a preference for originality. Their passion for such has been on display for more than a decade as judges in the Preservation Class at the Pebble Beach Concours d' Elegance.
Cars as Sculpture
Many have compared the great automobiles to art and sculpture, but this is no cliché for the Keno brothers.
"As a result of trying to go faster, they were making beautiful sculptures in the late 1950s, the 1960s and into the '70s," said Leigh Keno in a video produced to showcase the brothers' 1969 Lamborghini Miura S that will be offered. "Those are the cars we get excited about."
In the video, one of a series produced to showcase the auction cars, the brothers can be seen driving their Lamborghini Miura briskly along a dusty country road, and enjoying the experience immensely.
"Driving a car like that, feeling the rush – it's really like a time machine," said Leslie Keno. "Cars are very primal. They involve all of our senses."
New Twists on a Classic Format
An auction of great automobiles seems like a logical next step for the brothers, who are determined to bring a new approach to the business. The aforementioned video series reflects the wave of technology brought to bear under the leadership of the new auction house's chief operating officer, Bradley Farrell. The presentation he developed for the Keno Brothers Auctions website applies the clarity for which the brothers are famous. It's the next best thing to having the Keno brothers evaluate each car's provenance and quality as they might an antique table on "Antiques Roadshow." The vignettes for all the cars are available for the public to enjoy on the Keno Brothers website.
Bidders, who can begin bidding online prior to the auction, are in for a technological treat at the auction. Each registered bidder will be provided with a Rolling Sculpture digital catalog tablet, which presents all data available for each vehicle. Upon approaching the vehicle, one need only tap a designated spot on the image and Near Field Technology will activate and play the vehicle's vignette.
Though known for their knowledge and expertise in automobiles, the Keno brothers nevertheless have engaged the services of marque experts, including Tom Yang for Ferraris; Geoffrey Reis for Jaguars; Jim Stranberg, a Bugatti restoration expert, and, as an expert voice on design, Jason Castriota, a former designer for Pininfarina and Bertone. Taking up the gavel for the auction company is Simon Hope, whose 35-year career includes having run his own auction company.
A Dealer's Perspective
Brad Goldstone, proprietor of San Francisco Sports Cars, said he was intrigued by the Keno brothers' unique approach to automobile auctions.
"They're top performers in art and antiquities, and very recognizable faces on television," said Goldstone of the Keno brothers. "They have a different audience that know and trust them, in addition to the people who would already be attracted to an auto auction. I'm intrigued by that."
Goldstone, who has five cars in the auction, including a Ferrari F40 and a 1972 Ferrari 365 GTC/4, was also impressed by the way the auction's selection process.
"They have a very astute team, which was very confidence-inspiring," he said. "They were looking for the special and unique, the most interesting cars."
If you are looking for something unique, as well, the auction previews are Nov. 18, 9am-9pm and Nov. 19 9am-3pm. Also on Nov. 18, there is a symposium, "At the Crossroads of Art, Engineering and Technology, the Many Facets of Historic Automobiles."
Premier, the Perfect Partner
We hope to see you next week at The Rolling Sculpture Auction. Don't forget to review your auction basics here and be sure to contact Premier Financial Services if you will be bidding. Premier's Simple Lease is a perfect alternative to financing an exotic or vintage marque. Whether it is a classic Jaguar, vintage Ferrari, Porsche or Aston Martin, Premier can cater a lease to your driving needs.
Happy Motoring!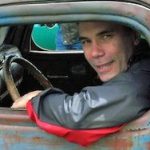 Written by Jim Koscs, Audamotive Communications
For Premier Financial Services