From $5,500 to $2 Million in 49 Years
At Mecum's Indianapolis auction on May 17, a 1970 Plymouth Hemi 'Cuda convertible, one of just 14 built, sold for $1.98m. This was not a surprise, nor was it a record. But it was still a showstopper, as Hemi 'Cuda convertibles sales have been for many years.
If you aren't familiar with the curious world of Hemi 'Cuda convertibles, $2m-$3.5m prices might seem a little bizarre for a car that sold for about $5,500 when new and was, at the time, shunned by muscle car buyers.
For 1971, the number built dropped to 11, not because it was designed to be that rare, but because that's all that were ordered. When these cars were new, performance enthusiasts preferred the coupes. The convertibles were heavier and, without a roof, had a weaker unibody structure that shook and shimmied over bumps.
And that's essentially why the Hemi 'Cuda convertible became the poster car for the "accidental million-dollar collectible" category.
The 'Cuda and Its Direct Challenger
Plymouth's third-generation Barracuda debuted for 1970, along with its Dodge Challenger corporate cousin (and mechanical clone). Plymouth badged its muscle car version the 'Cuda. A 335-horsepower 383 cu.-in. V8 was standard. The typical Detroit smorgasbord of options included a slew of 340 cu.-in. and 440 cu.-in. V8s and topped out with Chrysler Corporation's mighty 426 cu.-in. Hemi V8, rated at 425 horsepower.
The Street Hemi was a tamer version of a race engine introduced in NASCAR and drag racing in 1964, with the Hemi name trademarked. "Hemi" comes from the engine's hemispherical combustion chambers, an engineering highlight that yielded outstanding high-rpm breathing for enormous power potential.
By itself, the Hemi engine was an $871 option for the 1970 'Cuda and included some chassis and driveline upgrades to handle the power. A "Shaker" hood scoop was standard for the Hemi and optional for the other 'Cuda engines. Attached over the air cleaner, it poked through a hole in the hood and vibrated with the engine at idle, a period gimmick that Ford also offered on Mustangs.
'Cuda dress-up options included High-Impact paint colors with names like In-Violet Metallic, Sno White, Lime Light, Vitamin C Orange, Tor-Red and, on the $1.98m Mecum car, Lemon Twist.
Very Quick, but Not Very Popular
Hemi Dodge and Plymouth Hemi muscle cars were fast but required some underhood technical acumen and above average driving skills to get the most from them. Media reports of the day showed quarter-mile times of about 14 seconds at 102-104 mph for a stock Hemi 'Cuda. Minor modifications and drag slicks made them much quicker.
With just under 51,000 made for 1970, the Barracuda came in well behind the 77,000 for Dodge Challenger. For 1971, the Barracuda adopted a one-year-only four-headlight facelift that made it look more like the Challenger, but sales plummeted to about 16,000. The two-headlight front end returned for 1972, but the Hemi, 383 and 440 engines did not. Meanwhile, muscle cars were becoming harder to sell due to rising insurance premiums for customers.
Wild Value Differences
Convertible sales at the recent Mecum Indy auction illustrate disparate value differences among different 'Cuda engines today. That extra $871 spent for the Hemi option on a 'Cuda in 1970 proved to be quite a good investment.
A 1971 'Cuda convertible, one of 17 built that year with the 390-hp 440 "6-Barrel" engine (a $253 option when new), brought $1.155m. A restored 1970 convertible with the 275-hp 340 cu. in. V8, which was considered underrated when new and was quite a quick car, sold for $137,500.
The $1.98m Mecum Indy auction car was one of three 1970 Hemi 'Cudas exported to Canada. One of the other three was its visual twin and the only other 1970 Lemon Twist Hemi 'Cuda convertible made. That car brought $2.675m at Mecum's Kissimmee, FL auction in 2016. It had the more desirable (for value reasons) 4-speed stick shift, along with more options. At the same auction, a '70 convertible in Sno White brought $2.3m. Color makes a big difference in the 'Cuda world.
A Record As Yet Unbroken
The record price for a Hemi 'Cuda convertible still stands at $3.5m, sold by Mecum in 2014 in Seattle. A 1971 model in True Blue Metallic, it's the only one remaining of two built that year with the 4-speed.
The Hemi 'Cuda coupes are a bargain by comparison. Hagerty shows a high value of $280,000 for a "concours" condition model, of which 652 were made for 1970 and another 107 for 1971.
In any case, nobody with a genuine Hemi 'Cuda convertible is driving the thing. Many muscle car buffs have built Hemi clones from standard Barracuda models. The job is more than an engine swap, but all the parts are available. At Mecum's Indy auction, a restored 1970 convertible cloned to Hemi specs sold for $81,400 – quite a discount from the real thing!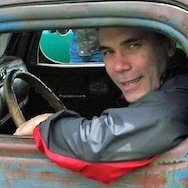 Written by Jim Koscs,  Audamotive Communications
For Premier Financial Services