"Democratization of the supercar"
It's finally happening.
Delayed by a labor strike against General Motors in earlier in 2019, the first mid-engine Corvette is finally going into production in February. Media tests of pre-production prototypes have already made the new Vette a star, with a 2.8-second 0-60 time that moves comfortably into an upscale Italian supercar neighborhood.
Beyond that one metric, the new Corvette has been lauded for all-around performance. The $59,995 base price seems almost unbelievable until you remember that Chevrolet, as the saying goes, will make it up in volume. (The convertible, with a retractable hardtop, costs $6,500 more.)
And so, the "democratization of the supercar" has begun. That's how Eddie Alterman, Chief Brand Officer at Hearst Autos and former editor-in-chief for Car & Driver, describes the potential impact of the 2020 Corvette Stingray on the sports car world. Alterman was quoted with that phrase in a New York Times article about the Corvette entitled "Everyday Supercar: A New Corvette Puts a Target on Ferrari's Back."
Should Ferrari, Lamborghini or Porsche be worried? Well, maybe just a tiny bit.
190-MPH Bargain
Undoubtedly, the Corvette's performance capability transcends its price. Even when optioned-up, the new Corvette remains accessible to a wide range of customers. As The Times article revealed, it sets Chevy on a course to attract younger, wealthier customers who've been avoiding the Corvette.
The avoidance hasn't been for lack of speed. Throughout the Corvette's 67-year history, there have been models that could match or excel exotics in that regard. The Corvette, too, has amassed an impressive racing trophy case during its life.
Still, the idea that one could buy several Corvettes in lieu of one Ferrari has never been a sales booster for the Corvette, nor a sales obstacle for Ferrari.
Exotics: A Moving Target
Now, as those words were typed, Car & Driver published its review of the Lamborghini Huracán Evo, and it performs on a slightly higher plane than the Corvette. For a $268,000 base price, it should!
Huracán drivers can consider their egos safe for now. Just know that more powerful Vette variants are coming. Speaking of acceleration, though, remember, too, that electrics are likely going to dominate in this realm.
60 Years in the Making
There are many, including the Corvette's first chief engineer, Zora Arkus-Duntov, who believed the Corvette should have been a mid-engine car a long time ago. Duntov, who died in 1996, had begun experimenting with mid-engine placement in 1960. As a racer himself, he knew this layout was the way for all top sports cars to go.
Mid-engine Corvette concepts and prototypes began showing up five decades ago. Car magazine covers promised, "This is the next Corvette!" an embarrassing number of times. Because the Corvette had been successful and profitable as a front-engine car with conventional engineering, GM saw no need to bankroll such a huge leap in technology and design.
Even as the Corvette finally made progress in chassis tech and performance in the mid-1980s and 1990s, it would remain, like the Porsche 911, rooted in a formula that loyalists preferred. The problem for Chevy was that the average age of Corvette loyalists kept creeping upward, no matter how good the car got.
Take the Nürburgring, Not Rt. 66
The last front-engine Corvette, which revived the Stingray name in 2014, was undeniably a world-class performer. Despite that, the Corvette had ceased to be a dream car for 20- and 30-somethings and instead had become a reward car for retirees, some of whom still remember watching "Route 66" in first-run series. Those who don't get that reference exemplify Chevy's dilemma.
Tadge Juechter, the current Corvette chief engineer, told The New York Times that just half of current Corvette customers surveyed approved of the switch to mid-engine configuration. At the same time, 90 percent of supercar owners surveyed liked the idea.
The decision to finally go mid-engine came with no small amount of risk. Would younger sports car fans buy a Corvette that was finally cutting edge? Unlike Ferrari, which fields a series of divergent models like the mid-engine F8 Tributo and front-engine Portofino (which looks remarkably like the previous Corvette) and 812 Superfast, Chevy did not have the luxury of offering two Corvette architectures.
It's Not Your Father's (or Grandfather's) Corvette
The 2020 Corvette Stingray's bona fides are spot-on. While there are some stylistic nods to past models, the only tradition carried over is a boisterous exhaust note from the LT2, the latest in a series of aluminum V8s with basic architecture dating to the late 1990s. The lightweight 6.2-liter beast produces 495 horsepower and 470 lb-ft of torque, channeled through an eight-speed dual-clutch transmission with paddle shifters. There is no manual transmission offered, nor is one likely to be.
Also, it's a dry-sump engine, which keeps the moving parts oiled under high cornering loads; Chevy has track-driving owners in mind.
For those who scoff at a pushrod-type V8 in a modern supercar, remember the Corvette's 2.8-second 0-60 time and also consider its 11.2-second quarter-mile at 122 mph and top speed approaching 200 mph – for the base model. Also, routine services don't require removing the engine, and 25-mpg highway fuel economy is something no exotic could ever pull off.
Even diehard Eurocar owners should stop and cheer for the home team on this one. Add a 2020 Corvette Stingray to your collection, and drive it when the Ferrari is in the shop.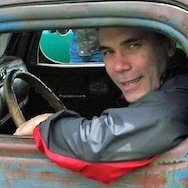 Written by Jim Koscs, Audamotive Communications