Some Notable Records From The Cyberworld Sales
Another season of social distancing is coming to a close, and the world of car collecting is still doing quite well, all things considered. That's the takeaway from the major online auctions that moved online in lieu of the cancelled Monterey events in August.
Although auction totals were well off previous years, there were still some notable sales, including two seven-figure prices for Ferraris. Just as in the live-and-in-person auction world, prancing horses dominated top slots in these online sales. "The appeal of the Maranello marque continues unabated within the market," reported RM Sotheby's.
The RM Sotheby's Shift/Monterey auction rang up a $30.5m total, Gooding & Company's Geared Online sale brought $14.5m and the Bonhams Quail Motorcar Auction tallied $12.8m. Each served up some striking highlights, signaling, we think, a positive outlook for online high-end auctions going forward.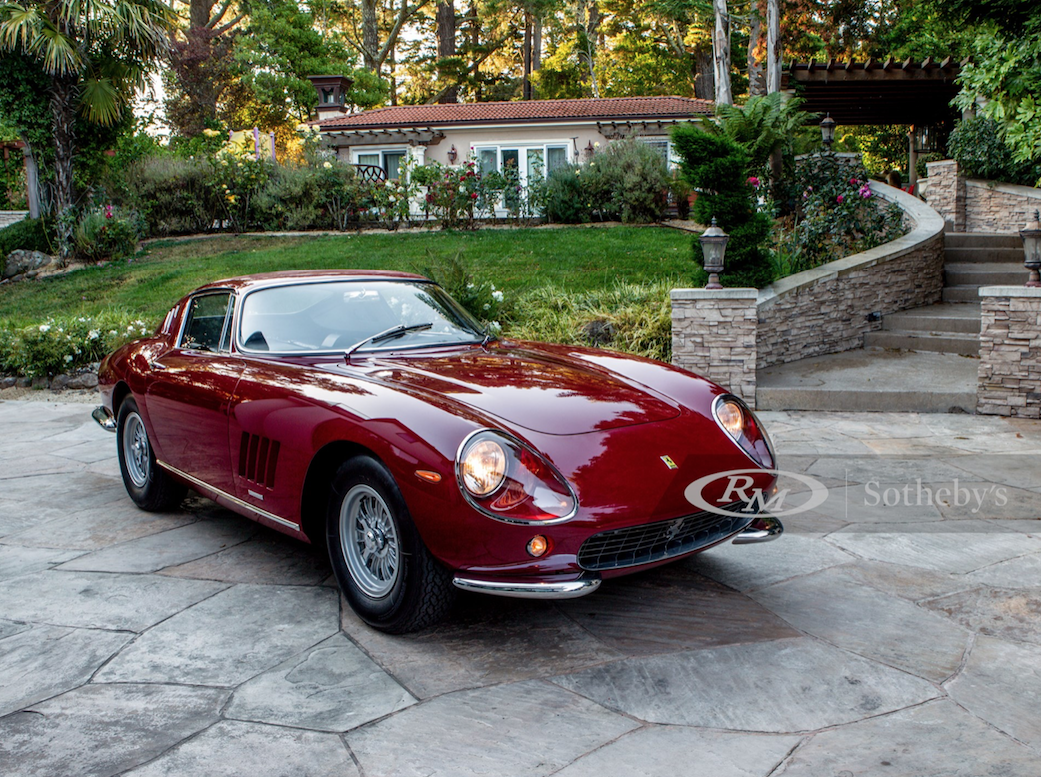 RM Sotheby's Shift/Monterey
It's not a surprise that the top sale at any Monterey auction would be a Ferrari V12 berlinetta with racing provenance. It might surprise some, however, that the $4.29m paid for such a car was not a 1950s or 1960s model, but rather a 2001. The Ferrari 550 GT1 Prodrive set a record for the highest price paid thus far for a car in a dedicated online-only collector car auction.
The car in question was the second of 10 Ferrari 550 GT1 racers built by Prodrive. It was consigned by its single owner since new, Prodrive's program promoter Care Racing Development. It was a winner, too, competing in 49 races, taking 14 outright wins out of 29 podium finishes. This includes The 24 Hours of Spa in 2004. That makes this modern-era racer the last V12 Ferrari to win a 24-hour race overall.
Coming in second at RM Sotheby's was a fully restored 1965 Ferrari 275 GTB "short-nose" for $1.98m, followed by a 2014 Pagani Huayra, which brought $1.848m. It was one of just 100 made.
A Variety of Modern, Classic, Vintage and Pre-War Cars
Completing the top-five were two more Ferraris. A 1964 Ferrari 250 GT Berlinetta Lusso, looking particularly posh in white, exceeded its pre-sale estimate and sold for $1.496m. At #5 was a car on our "Cars to Watch" list for this auction, a 1991 Ferrari F40 with less than 6,500 miles that brought $1.386m.
Another car on our watch list, a 1981 BMW M1 Procar, one of 54 such built and with solid racing provenance, sold for $913k. The breathtaking 1937 Bugatti Type 57C Ventoux on our list, originally used as a factory demonstrator and driven by Bugatti test driver Pierre Veyron, was still listed as for sale at $680k.
The sole pre-war car within the top ten results was a lovely 1932 Packard Deluxe Eight Individual Convertible Victoriathat brought an impressive $1.056m. From the wild and crazy file, the Rod Emory 1960 Porsche MOMO 356 RSR Outlaw brought $858k. "Outlaws" are essentially "resto-mods," vintage Porsches restored and updated to offer modern performance traits.This one is a heavily modified 356 shell stretched over a stiffer 964-generation 911 chassis and powered by a twin-turbo flat-four.
From the Porsche rarity files, one of the 10 pre-production 916s made sold for a whopping $957k. The ultimate development of the 914/6, the 916 was envisioned as a competitor to Ferrari's Dino 246, but with a retail cost estimated 50 percent higher than a 911S, the idea was shelved.
Gooding & Company Geared Online
The Gooding online sale for Monterey Car Week sold 55 out of 77 cars, with five of those garnering more than $1m. The top sale was a 1966 Ferrari 275 GTB "long nose," which landed at $3.08m, right in the middle of its pre-sale estimate range.
As with RM Sotheby's, Gooding had three more Ferraris in its top five. The next three places went to three of Ferrari's elite supercars from the same private collection: a 2003 Enzo for $2.354m, a 1995 F50 close behind it for $2.134m and a 1992 F40 with 4,500 miles (also on our cars to watch) for $1.628m. Coming in fifth was something completely different, as the old Monty Python phrase goes – a 1934 Duesenberg Model J Town Car that sold on the final day of bidding for $1.012m.
Two more of our cars to watch for this auction also sold well. A 1990 Mercedes-Benz 190E 2.5-16 Evolution II brought $258,500 – right in the middle of its pre-sale estimate range. A 1961 Porsche 356B Cabriolet brought $126,500 – a bit below the low end of its pre-sale estimate.
Runner Ups
Notably, a 1961 Mercedes-Benz 300 SL Roadster sold for $946k, which was right at the top of its $850k-$950k estimate.One of the more fascinating offerings was a 1971 Porsche 911 ST rally car, one of five factory team cars entered in that year's East African Safari Rally. (It was one of the two practice cars.) This special 911 did not meet its pre-sale estimate of $950k-$1.25m. However, it was listed as still available for a $780k after the auction closed and was later listed as sold. On the modern Porsche front, a 2019 911 Speedster brought $330k, or about $60k over the base MSRP for this model, which we profiled last year.
The Gooding Geared Online auction also sold a number of more mainstream collector cars priced under $100k. This includes a 1941 Lincoln Zephyr Continental, selling for the bargain price of $39,600 – well below estimate for an award winner.
Bonhams Quail Motorcar Auction
Bonhams held its Quail Motorcar Auction live from its own Los Angeles showroom, though bidding was conducted only online or by telephone. Interested buyers were able to preview the majority of the cars at the Petersen Automotive Museum, as well as in New York and at other locations around the country.
The top sale was a stunner, a 1959 Porsche 718 RSK Spyder that sold for $2,232,500. Not surprisingly, this was on our "Cars to Watch" list for the auction. One of 34 Porsche 718 RSKs built, this one was originally sold to metals industry entrepreneur, Bernie Vihl of Clifton, NJ and raced by Bob Holbert in 1959-1960. The car changed hands just twice more; the consignor had owned it since 1974.
Behind the RSK was a 2014 Bugatti Veyron 16.4 Grand Sport Vitesse "Meo Costantini"that brought $1.75m. It was one of three such editions made, and the only U.S.-spec version. Just under the $1m mark, a 1956 Mercedes-Benz 300Sc Roadster came in third at $951,000.
Topping Out the List
Also on our Premier's Cars to Watch list, a 1956 Porsche 356A "Outlaw" coupe sold for $142,800. As Porsche Outlaws go, this one was not nearly as radical as the Emory-built car sold by RM Sotheby's. Another on the list, was a 2008 Mercedes-Benz SLR McLaren Roadster, which sold for $263,200. We also had our eyes on a beautiful 1934 Alfa Romeo 8C 2300 Cabriolet Décapotable. The Alfa was bid to $4.6m but did not come close to its $6.5m-$7.5m pre-sale estimate.
Among other Porsche sales, we think two of the most notable were a 1957 356A 1500 Carerra GS that brought $428,500 and a 1964 Porsche 901, the 25th built, for $340,500. Porsche built 82 "901" models before an objection from Peugeot over model naming forced a badge change to "911″. Documentation with the Bonhams car indicates that it was the first 911 to ever enter a race. Further, it has been actively tracked since new.
The highest-selling Ferraris at Bonhams were a 1958 250 GT Coupe Pininfarina for $456k and a 1972 Daytona coupe for $434k.
Bidding in Your Pajamas
A health crisis forced the Monterey auctions to go online. However, it was probably an inevitable move, as it has been for so many forms of automotive commerce. The success of Bring a Trailer, which set the online auction trend, now sells more than 275 cars a week. Its highest sale so far was a Mercedes 300 SL Gullwing that sold for $1.234m. Publishing giant Hearst acquired BaT in June 2020.
While all the auction houses that offered online sales say they're looking forward to getting back to in-person sales, online sales are on the schedule, too.
"We do plan to continue our Geared Online auction platform once live auctions resume," Gooding and Company spokesman Ryan Bender for confirmed for Premier. "This new format of online only auctions will operate in conjunction with our annual in person auctions."
Written by Jim Koscs, Audamotive Communications