Yes, "Carbotanium" is a Thing
It wasn't all that long ago when talking about exotics and supercars meant the "Big Three," as in Ferrari, Lamborghini and Maserati. That seems like a quaint notion now, with supercars and hypercars emerging from all over the globe.
One of those upstarts, Pagani, is no spring chicken. It's been around for nearly 30 years and making cars for about 20. First came the Zonda series at the end of the 1990s, followed by the Huayra in 2011. Built in Italy and powered by German Mercedes-AMG engines, Paganis have set high benchmarks for bespoke engineering and innovative materials.
And, some people find them beautiful to look at.
At RM Sotheby's Arizona sale last month, a 2018 Huayra Roadster, one of 100 made, sold for just under $2.4M, which was the starting price when new.
Classic Startup Story
A favorite part of Lamborghini lore has it that company founder Ferruccio Lamborghini decided to build his own high-end GT cars after Enzo Ferrari rudely rebuffed his suggestions for improving clutch life and customer service. How much of that is true doesn't matter, but we all like an "Oh yeah? I'll show you!" business startup story.
Horacio Pagani fits that mold. Born in Argentina to parents from Italy, Pagani followed his automotive passion to work on the Renault racing team and then, after moving to Italy, Lamborghini. By the mid-1980s, he was head of engineering. His interest in lightweight materials showed in the carbon fiber and Kevlar used in the Countach 25thAnniversary Edition.
Pagani history tells us that the young visionary tried to persuade Lamborghini to invest in making carbon fiber bodies. When rebuffed, he left to form his own company, Modena Design, to do that very thing. Pagani was barely 40 at the time.
Almost Named for a Race Hero
Lamborghini obviously respected Pagani's innovative nature, because the marque became a Modena Design client. Like Signor Lamborghini nearly 30 years before did, Pagani decided that he, too, could build his own cars.
He made the wise decision to not build his own engines, however, a path that had tripped up others before him. Power came from a 444-horsepower Mercedes-Benz V12. The prototype car was named Fangio, after the great Argentine driver, Juan Manuel Fangio. That would not carry into production, however.
Just Blow Their Minds
Pagani debuted his first "production" car, called the Zonda C12, at the 1999 Geneva Auto Salon. The lightweight carbon fiber supercar could hit 60 mph from rest in four seconds. That was 20 years ago, so no wisecracks about modern Mustangs, OK?
Just three were made for resale, succeeded by the Zonda S 7.0 with a 7-liter V12 specially built for Pagani by Mercedes-AMG . Top speed was 208 mph. The engine would eventually be made as a 7.3-liter with more than 700 horsepower for the Zonda S 7.3 model. From the beginning, the Zonda design incorporated Pagani's trademark four-pipe central exhaust.
The line continued with a series of bespoke Zondas, ending in 2018 after just 140 had been made. Pagani was not trying to outsell anyone, just blow their minds.
Hypercar of the Year
In 2011, Pagani introduced the Zonda's successor, the even wilder looking Huayra. The name came from Wayra Tata (or Huayra Tata), "god of winds" to Quechua-speakingpeopleof the Peruvian Andes. That's one way to top cars named after winds, like certain Maseratis.
The Mercedes-AMG 6-liter twin-turbo V12 engine made more than 700 horsepower. The racing-type seven-speed sequential gearbox transmission bucked the dual-clutch trend, sticking with a single-clutch configuration for much lower weight.
Top Gear named the Huayra "Hypercar of the Year" in 2012.
Living in the Composite Material World
The Pagani Huayra Roadster arrived for 2018, the 100-car run selling out quickly. Pagani brought his expertise in composite materials and active aerodynamic design to the fore with the Huayra.
The Huarya body is made from what Pagani calls "carbotanium," a weave of carbon fiber and titanium. The active aero system can vary the car's downforce, automatically responding to input from various sensors.
Where some roadster versions of supercars are heavier than their coupe counterparts, owing to added structural reinforcements, Pagani was able to reduce weight by 176 pounds compared to the coupe. The Huayra Roadster weighs under 2,900 pounds, about the same as a 205-horsepower Subaru BRZ sports coupe.
Mercedes-AMG pushed output of the twin-turbo V12 to 753 horsepower and 738 lb-ft of torque. The Roadster used the lightning-quick Xtrac seven-speed automated manual transmission from the track-focused Huayra BC.
It's quick and fast, with 0-60 in under 3 seconds and a top speed of 210 mph. The wearing of hats is not recommended. Pagani is promising a successor to the Huayra in 2022, and an electric hypercar not long after.
Add V12 Pagani model into your collection while you can.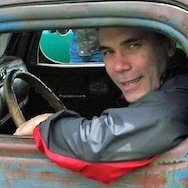 Written by Jim Koscs, Audamotive Communications