A Ferrari at Heart
A few years before Fiat did Enzo Ferrari the biggest favor possible by purchasing 50 percent of the company in 1969, it had done the old man a very different kind of favor: building a Ferrari-designed engine to race in Formula Two. The collaboration yielded an intriguing trio of production cars, including two Fiats and a Ferrari that, uh, wasn't a Ferrari … at least in the beginning.
Does that sound any stranger than Porsche and Volkswagen teaming up to build a VW-powered mid-engine sports car around the same time? It was the late 1960s, after all. Tune in, turn on, drop a new car.
In any case, it might not be a stretch to say that more people today probably know the Ferrari Dino than the Fiat Dino models that came out of this arrangement. Gooding & Company will offer an early Fiat Dino Spider at its Monterey auctio. It comes without reserve and with a pre-sale estimate of $120,000-$140,000.
Son of a Son of Ferrari
Ferrari was a great racing experimenter in the 1950s and '60s. It featured inline-fours and sixes and even V8s in addition to the more famous V12s. Something of an oddball in that eclectic mix was a 1.5-liter V6 designed at first for Formula Two. It had a lot of input from Enzo's son, Alfredo. Better known as Dino, the Ferrari scion died at age 24 from muscular dystrophy in 1956 before the engine that would bear his name was produced.
The Ferrari V6 would power various racecars from the late 1950s through the mid-1960s. This includes the 1961 156 F1 "shark nose" and the tiny yet impossibly beautiful 1965 166P and 206P sports-racers. When the FIA announced a higher 1.6-liter displacement limit for the 1967 F2 season, the V6 was again a perfect candidate. There was just one hitch. The rules demanded that the engines be based on production units installed in at least 500 cars within a 12-month period.
Ferrari struck a deal with Fiat to produce a 2.0-liter, 65-degree aluminum V6 and use it in Fiat sports models, to be called Dino. That satisfied the rule makers. The engine would also go into a new, small mid-engine sports car from Ferrari. This was also badged "Dino." That's a whole other story.
Brothers from a Another Mother
Fiat contracted with Pininfarina to design a Dino convertible, called the Spider, which debuted at the Turin Auto Show in October 1966. A much different looking Dino coupe by Bertone was unveiled at the Geneva show the following March. Both drew on chassis parts from Fiat's quasi-luxury 2300S coupe, including a solid rear axle on mono-leaf springs and dual shock absorbers. The transmission in both was a 5-speed manual.
The Dino coupe rode on a 10.6-inch longer wheelbase and offered 2+2 seating. Meanwhile, the shorter Spider was billed as a "2+1″. The Spider comes off as the more striking design of the pair. However, from some angles its proportions can seem a tad off. As a result it looks almost as if the engine was in the back. The early Dino Spiders had cheaper-looking interiors than the Coupes, lacking, for example, the wood trim and wood steering wheel, but this was later rectified.
Both cars were badged "Fiat" and "Dino". When the Ferrari sports car came along in 1968, it wore the same Dino logo script as the Fiats. Fiat claimed 160 horsepower at 7,500 rpm for the 2.0-liter engine, while Ferrari would claim 180 for the identical engine, which included three Weber carburetors. The redline was 8,000 rpm.
What mattered was performance, and the Fiat Dino models were respectable in this regard, with 0-60 mph in the mid-7-second range and a top speed of about 130. A privateer's 2.0-liter Spider finished 18th overall in the 1968 24 Hours of Le Mans.
Spider Rarity
You might think that an engine shared with Ferrari and a curvaceous open body would make the Spider the most popular, but in fact it was Bertone's coupe that accounted for about three quarters of Fiat Dino production. In 1969, both models graduated to a 2.4-liter iron-block version of the V6 and gained independent coil-spring rear suspension. Both models were built until 1973, though the Spider remained fairly rare. (Ferrari's Dino also got the larger engine.)
The 1967 Fly Yellow Fiat Dino Spider offered by Gooding is one of 1,133 2-liter Spiders made. The 2.4-liter Spider is much rarer, with just 420 built. Total Fiat Dino production reached just over 7,800 cars.
You may have seen the Gooding car at The Quail, A Motorsports Gathering in 2015. The following year, the owner completed the Copperstate 1000 rally in this rare Italian jewel.
How would a fun Fiat Dino Spider fit into your collection?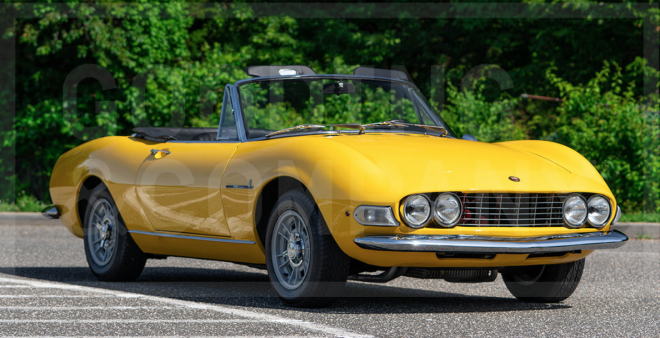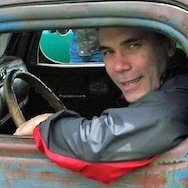 Written by Jim Koscs, Audamotive Communications
For Premier Financial Services