The Sequel, Four Years Later
File this under the "major surprises of 2022" category: Not only does Aston Martin remain one of the few marques still offering V-12 models, but it just added yet another one to its bench, the Vantage V-12. EVs may be coming, but this seems to be Aston Martin's way of saying, "Ahem, but we've still got some glorious internal combustion noise to make."
Aston Martin had pulled off the same trick with the first-generation Vantage, adding a V-12 companion model to the original V-8 version in 2009. But there is a big difference in marketing this time. First, the 2023 V-12 Vantage reported price of "around $300,000" is more than double the base price of the V-8 model. In the first generation models, the V-12 added a 50 percent premium over the V-8 model.
Also, Aston Martin had already confirmed in March that it would build just 333 V-12 Vantages, and that all were already spoken for. Contrast that with the 3,052 first-gen Vantage V-12s made from 2009-2018.
Still, we'll be seeing these come up for auction in the near future, so let's have a look.
Aston Goes V-12
Aston Martin fielded its first V-12 road car in 1999 with the DB7 Vantage as an upgrade over the supercharged inline-six that had been derived from a Jaguar engine. While no one could ever accuse the first-generation (2005-2017) Aston Martin V-8 Vantage of being a slouch, dropping in the 5.9-liter V-12 from the DBS injected an extra 100+ horsepower, with the last model rated at 565 hp. The V-12 model was roughly 200 pounds heavier than a V-8 version but about the same amount lighter than the bigger DBS.
Fast forward, and in the 2023 V-12 Vantage, a 5.2-liter twin-turbo V-12 makes 690 hp, versus 715 hp in the DBS. The V-12 Vantage also gives up rather substantial 108 lb-ft of torque compared to that model. This is the same engine used in the windshield-less Aston Martin V-12 Speedster, of which just 88 are to be built.
Nobody should complain about having "only" 555 lb-ft of torque to play with, so let's not call this a drawback. As Car and Driver states, "…it still has more than enough muscle to make the car feel monstrously fast." (By comparison, the current V-8 Vantage offers 503 hp and 498 lb-ft of torque.)
The torque finds its way to the rear axle through an eight-speed automatic transmission. Of note, the V-12 Vantage's rear limited-slip differential is a conventional mechanical type, not the torque-vectoring electronically controlled active differential from the V-8 Vantage.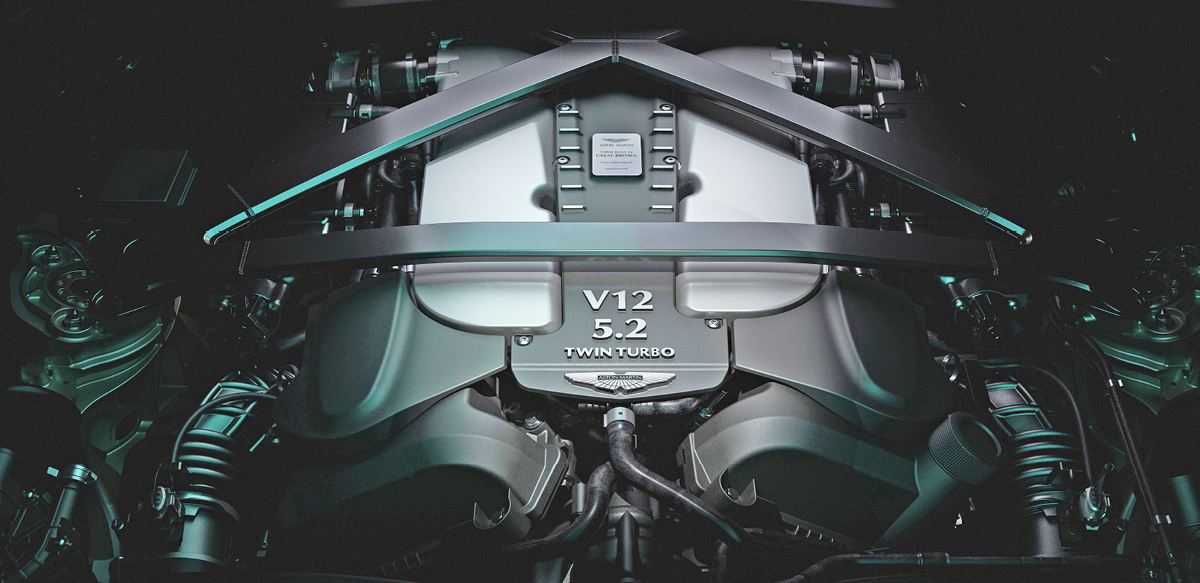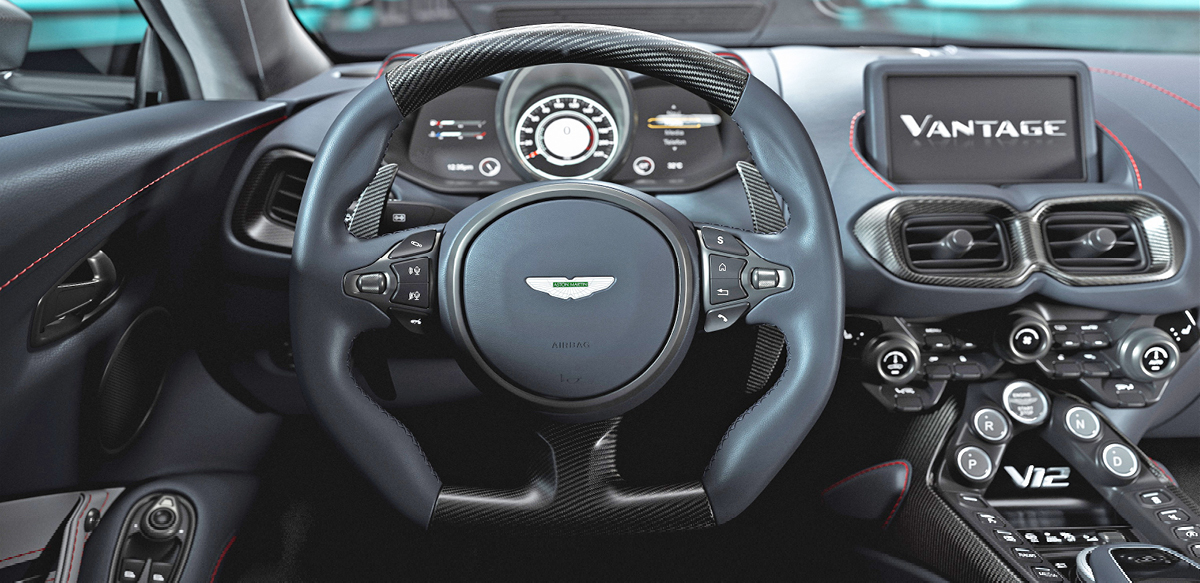 Looks Like A Hooligan, But…
At first glance, the new Aston Martin V-12 Vantage appears to be a track machine, with its aggressive look and huge rear wing. But is it that kind of car? Car and Driver's early test drive of a development prototype suggests that the V-12 Vantage, while certainly track-capable, might be more of a hopped-up GT. The V-12 is even described as having a more subdued sound than one might associate with a track machine.
Aston Martin applied structural elements from the V-12 Speedster to the new V-12 Vantage. The suspension is stiffer than on the V-8 model, with the company indicating 50-percent firmer springs in front and 40-percent firmer in the rear. Carbon-ceramic brakes can stand up to track use for those who choose to partake.
Lots of Pounds
The V-12 Vantage is a heavy car, weighing just under 4,000 pounds. That wide rear wing, which will not be every one's aesthetic cup of tea, is said to be functional at track speeds, adding up to a claimed maximum 450 pounds of downforce. There is a choice to order the car without it, but we wonder how many of the 333 owners will.
We'd wager that many will choose the optional carbon-fiber race-style seats to complete the track vibe, simply because they're carbon, look cool and cost more. But early drive reports suggest the standard sport seats could be more comfortable for road driving.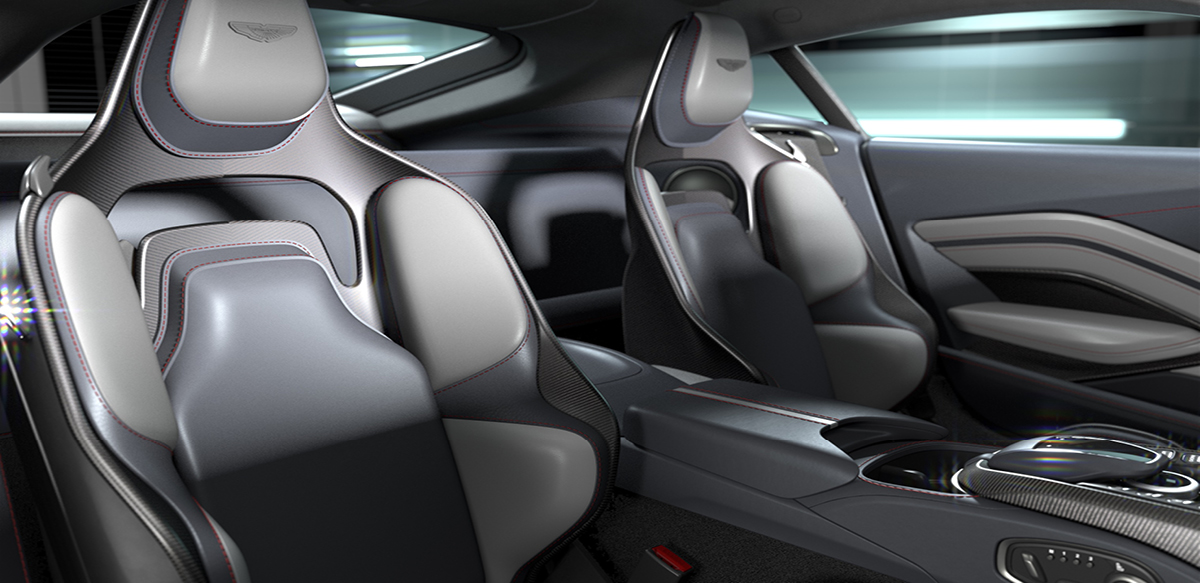 Another Special Vantage Model
With its low production, higher power and undeniable exclusivity, the new Aston Martin V-12 Vantage will no doubt thrill all who possess and drive one. If you did not make that list, perhaps you can console yourself with the also-new F1 package for the V-8 Vantage. Available for coupe or roadster, the F1 Package adds 25 horsepower, stiffer suspension, a big functional wing and other cosmetic features. It also adds a slatted front grille and $23,000 to the $142,000 base price.
We'll look at that one in a future post.