Astounding Car, But Too Much Bond?
Admit it, you forgot all about the 50th anniversary of the sixth James Bond film, "On Her Majesty's Secret Service".  You know, the one with that other guy as Bond. Aston Martin's product planners didn't forget. They cooked up the OHMMSDBS Superleggera to commemorate the 1969 movie.
Spoiler alert: This special edition Aston Martin has no gadgets. It's basically a very nice Olive Green paint job, a snazzy set of wheels, and a smattering of 007 badges. Is the $72,000 premium over a standard $308,000 DBS Superleggera worth it to satisfy your devotion to both the marque and to the Bond film franchise?
Bonding Experience
With a 715-horsepower, twin-turbo 5.2-liter V12 and a can't-look-away body, the DBS Superleggera hardly needs a special movie edition to generate excitement, especially when the movie is 50 years old. Yet, Aston Martin's marketing people just can't seem to stop promoting the marque's association with the James Bond film franchise. It must be a real money maker. Or is that "moneypenny" maker?
For a long time, that link to the films was based on one car, the DB5 used in 1964's "Goldfinger." Its array of gadgets included machine guns, a kind of navigation and tracking system, oil slick dispenser and, best of all, an ejector seat to remove unwelcome passengers. The DB5 made a brief appearance in Bond film #4, "Thunderball" but was absent in  #5, "You Only Live Twice."
For Bond film #6, "On Her Majesty's Secret Service," Sean Connery was replaced by Australian model George Lazenby as Bond for this one film only. He drove an Olive Green Aston Martin DBS, the William Townes-designed model introduced in 1967.
The DBS appeared in only a few scenes and had no gadgets, even though (spoiler alert) it really could have used bullet-proof glass, as on Bond's DB5. The red 1969 Mercury Cougar convertible driven by Contessa Teresa "Tracy" di Vicenzo (played by Diana Rigg) is the film's real automotive star.
Aston Martin Hiatus and Comeback
Aston Martin then disappeared from James Bond's arsenal for the next nine films. In 1977's "The Spy Who Loved Me," Roger Moore as Bond drove 007's second most famous car, a Lotus Espirit that turned into a submarine. Ten years later, there was another new Bond, Timothy Dalton, and he was back in an Aston Martin, a V8 Vantage Volante.
The DB5 began making brief return appearances starting with 1995's "Goldeneye," with Pierce Brosnan stepping into Bond's tuxedo and also driving a wimpy BMW Z4. The DB5 has made cameos in several films since, including the latest series with new Bond Daniel Craig. He also drives modern Astons. In the most recent, "Spectre" in 2015, Craig drove one you can't buy – a DB10, one of 10 made specifically for the film. The consolation prize for customers was the DB9 GT Bond Edition, essentially a paint, wheel and trim package limited to 150 cars.
By this time, Aston Martin was all in on Bond, even naming its bespoke personalization division "Q Branch" after the gadget-making arm of MI6 in the films.
Bond Villains, Beware
The Aston Martin DBS Superleggera is such a fantastic machine, it would take an ejector seat or submarine capability to make it more so. The engine is the same as in the DB11 AMR, but with turbo boost bumped up by 4.4 psi to uncork another 85 horsepower and 147 lb-ft of torque. With 715-hp and 663 lb-ft., Bond wouldn't need a smoke screen to evade the bad guys; just mashing the gas pedal would do it.
The rear-mounted transmission is a heavy-duty version of the DB11 AMR's 8-speed unit. The Superleggera name comes from the construction method used on the DB5, meaning "super light." The composition is different here, and the "light" part comes from substituting carbon fiber for aluminum for the fenders, hood, roof panel and trunklid. The exhaust system is titanium.
Celluloid Hero
While Aston Martin says the OHMSS DBS Superleggera is "every inch 007," the big-screen hero veneer seems a bit thin. The metallic Olive Green paint is attractive in its own right, and the diamond-turned forged aluminum wheels, meant to evoke the wire-spoke wheels of Bond's 1969 DBS, are striking.
Chrome grille bars are also supposed to evoke the classic DBS. (Maybe if you squint?) The black and gray interior with red stitching is likewise an homage to the 1969 car. The "Bondness" really comes down to badges in the fender vents and on the door sills, though. The logo, using the famous gun barrel graphic seen in Bond movie opening credits, is also repeated on the audio system's subwoofer.
The Aston Martin OHMSSDBS Superleggera edition is coming to the U.S. The price in Britain was announced as £300,007, currently about $382,000. Where legal, buyers can get an optional "drinks case" in the trunk, with felt-lined storage for two bottles of champagne and four champagne flutes. The bubbly is sure to be shaken and stirred when you arrive.
If that's not enough Bond for you, Aston Martin is also building 28 "Goldfinger" DB5 continuation cars. Equipped with working gadgets as in the film car, they'll cost about $3.6m but will not be street legal.
If you didn't get on that list, you can always order a new Aston Martin in "Skyfall" Silver. Don't hold your breath for a "Live and Let Die-sel" version.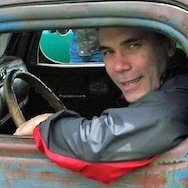 Written by Jim Koscs,  Audamotive Communications
For Premier Financial Services