A Bolder Brit with a German Heart
In car industry terms, the 12 years since Aston Martin introduced the Vantage V8 is an eternity. But then, this car's sheer beauty alone would justify such a long production run. The Vantage was a design masterpiece when introduced and, one could easily argue, still retains a sense of timelessness. The current Vantage will depart as one of the marque's most beloved models. (Premier Financial Services has leased more than 100 of the current Vantage models.)
The Vantage won accolades from all corners of the automotive media and became the first Aston Martin to pass the 10,000 unit production threshold. It also spawned V-12 powered variants, numerous special editions and successful racecars. That's a lot for a successor to live up to, but the 2019 Aston Martin Vantage unveiled in November certainly seems up to the task, and then some. The new model is set to arrive next year at a base price of $153,081.
A Name with a Past
Aston Martin has used the Vantage name since the early 1950s, usually signifying a hotter engine in a production model. In the 1972-1973 DBS, it signified the six-cylinder engine rather than the V8.
Since "Vantage" enjoyed strong recognition among Aston Martin owners and enthusiasts, it made sense to use it for a new entry model that would compete with higher-end Porsche 911s. Of course, the high end of the 911 spectrum has only continued to move upward. And so, the 2019 Aston Martin Vantage heads in that direction, as well.
The 200 Club
In David Brown's day, Aston Martin owners were not wont to brag about 0-60 times, which usually lagged more affordable cars such as the Jaguar E-Type and Corvette. But in the first quarter of the 21st century, a $150,000 sports car is expected to deliver blistering acceleration and a 200-mph top speed. With the all-new Vantage, Aston Martin aims to deliver those attributes while remaining true to its grand touring ethos. (Aston Martin claims a 195-mph top speed for the 2019 Vantage.)
The new model will be instantly recognizable as an Aston Martin, as it carries over familiar proportions and shape and that trademark grille. On the 2019 Vantage, the grille is much larger and lower and, to some, might resemble the maw of some terrifying deep-sea creature.
The 2019 Aston Martin Vantage is based on Aston's new bonded-aluminum vehicle architecture, sharing some structural elements with the new DB11. The stance is more muscular, meaner even, than the outgoing Vantage. Overhangs have been trimmed and bodylines are creased. The headlights have more of a Clint Eastwood squint, and the taillights follow the contour of an integrated spoiler. A front splitter and rear diffuser aid the aero needed to achieve the 195-mph top speed. Aston Martin designers should be commended for achieving their aero goals without resorting to active elements, but fans of motorized wings and things might be disappointed.
German Horses
As with the new Aston Martin DB11 V8, the Vantage engine comes from Mercedes-AMG, a hand-built 4.0-liter twin-turbo powerhouse that belts out 503 horsepower and 498 lb-ft of torque. It's teamed in the Vantage to a rear-mounted 8-speed automatic transmission, a fast-shifting conventional torque converter unit. With a claimed 0-60 time of 3.5 seconds, you'll enjoy blistering speed and the smoothness of a torque converter for everyday driving. Aston Martin promises that a 7-speed manual transmission will be offered, as well.
Also like the new DB11, the 2019 Aston Martin Vantage uses electronic systems from Mercedes, and so there's a leap in multimedia capability and safety tech, along with the German marque's high-quality switchgear.
Using the Mercedes hardware (and software) allows Aston Martin to maintain its fiercely independent persona while remaining highly competitive, performance-wise and pricewise, in the premium field. The Mercedes-AMG connection could draw comparisons to that marque's own fabulous GT series of sports cars, but that would be unfair to both cars. These are very different machines, and many enthusiasts might want one of each.
SaveSave
SaveSave
SaveSave
SaveSave
SaveSave
SaveSave
SaveSave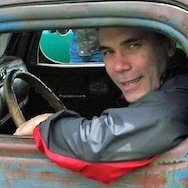 Written by Jim Koscs, Audamotive Communications
For Premier Financial Services
Save
SaveSave
SaveSave
SaveSave
SaveSave
SaveSave
SaveSave
SaveSave
SaveSave
Save