Aston Martin Continuation DB5s
The saying, "boys never grow up, they just get older and their toys get more expensive," is well understood by Aston Martin. The storied British marque is about to make a dream come true for 25 affluent older boys. This will be done by building continuation DB5s. They will come equipped like the lethal, gadget-laden version used in the 1964 James Bond film, "Goldfinger."
It's a pretty safe bet that those 25 were among the millions who had the Corgi toy version of the DB5 that became "the most famous car in the world". The toy car featured many of the gadgets from the movie car, including the front machine guns, tire-shredding wheel hubs and, of course, the ejector seat.
Now, through the magic of movie studio tie-ins and the profitability of nostalgia, Aston Martin will produce a total of 28 "Goldfinger" DB5 continuation cars. Likewise, this is in cooperation with EON Productions, which produced the Bond movies. Twenty-five of the cars will be sold to customers, beginning in 2020. Aston Martin and EON Productions will each keep one, and another will be auctioned for charity. The price for living out this innocent boyhood fantasy is £2.75m (about $3.6m).
All the cars will be equipped with working gadgets developed by Chris Corbould, OBE. He worked on the special effects for 14 of the Bond films, winning Oscars®for eight. However, there is one catch: the James Bond continuation DB5s will not be street legal, according to Aston Martin.
What Happened to the Originals?
Aston Martin provided two cars for "Goldfinger". Chassis #DP216/1 was a test mule that became the "effects car," fitted with the famous gadgets. Another, used for the driving scenes, was a production model. The effects car sold at auction in 1986 but was stolen 11 years later. Earlier this year came news that it may be have been located by an insurance investigator.
The driving-scenes car was later also fitted with the Bond gadgets for exhibition purposes. Lastly, in 2010, sold at auction for $4.6m to collector Harry Yeaggy.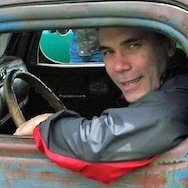 Written by Jim Koscs, Audamotive Communications
For Premier Financial Services