Doug & Tony enjoying Colorado's most inspiring roads and Rocky Mountain landscapes (Source: John Waugh Photographic Images @2021)
Founded in 1989 by automotive enthusiast Bob Sutherland, The Colorado Grand has established a reputation as one of the nation's most respected charity tour events. Over the past 32 years, this "by invitation only" road rally has offered around 85 owners of pre-1960 sports and race cars of distinction an opportunity to experience 5 days and 1,000 miles enjoying Colorado's most inspiring roads and Rocky Mountain landscapes. The route features several mountain passes, with elevations reaching over 11,500 feet.
The tour attracts entrants from around the world and always includes several 1920's and 1930's cars. Typical makes include Mercedes-Benz, Ferrari, Porsche, Bugatti, Alfa Romeo, Bentley, Aston Martin, Jaguar, Maserati, Allard, and such exotic names as Amilcar, Cisitalia, Squire, Delahaye, and Talbot-Lago.
The Colorado Grand is more than a way for people to show off their cars; the relaxed, non-competitive event generates well over $500,000 annually for small Colorado charities and Western Slope towns. Some of the towns along the route even pass official proclamations recognizing the event. This year, for example, the Board of Trustees in Walden, Colorado declared a local holiday called "Colorado Grand Day," and closed a portion of its Main Street to all traffic and parking, to accommodate the rally participants.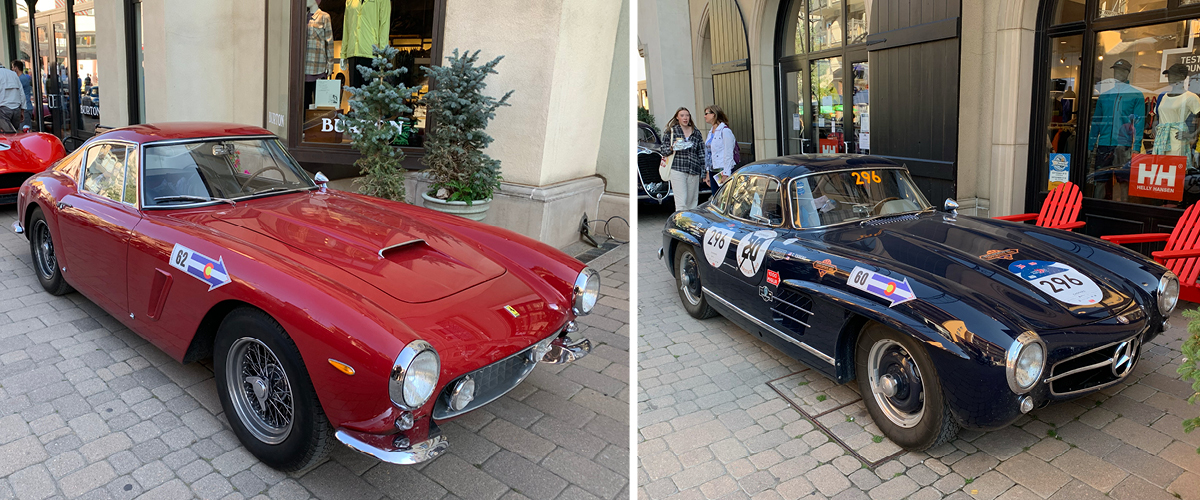 The event is run with the cooperation of the Colorado State Patrol. Seven motorcycle officers, called "The Motors," accompany drivers on every stage of the event to provide security, to assist with any problems that might arise, and to warn drivers of road hazards such as wandering cattle, slick surfaces, and accidents. And as one participant learned in this year's event, the officers are also present to enforce local traffic laws.
Premier's Doug Ewing Joins 2021 Rally
This year, Premier was honored to join Mercedes-Benz USA, Hagerty Insurance, WeatherTech, and RM Auctions as one of corporate sponsors of the rally. As a sponsor, Premier was given the opportunity to enter a car in the event, and invited Tony Connor – a longtime client and personal friend of Vice President of Sales, Doug Ewing – to enter his modified 1956 356A Porsche. Tony agreed to participate, with (fellow Porsche enthusiast) Doug to be his "co-driver" for the event. Tony also allowed Premier to display its logo on his car.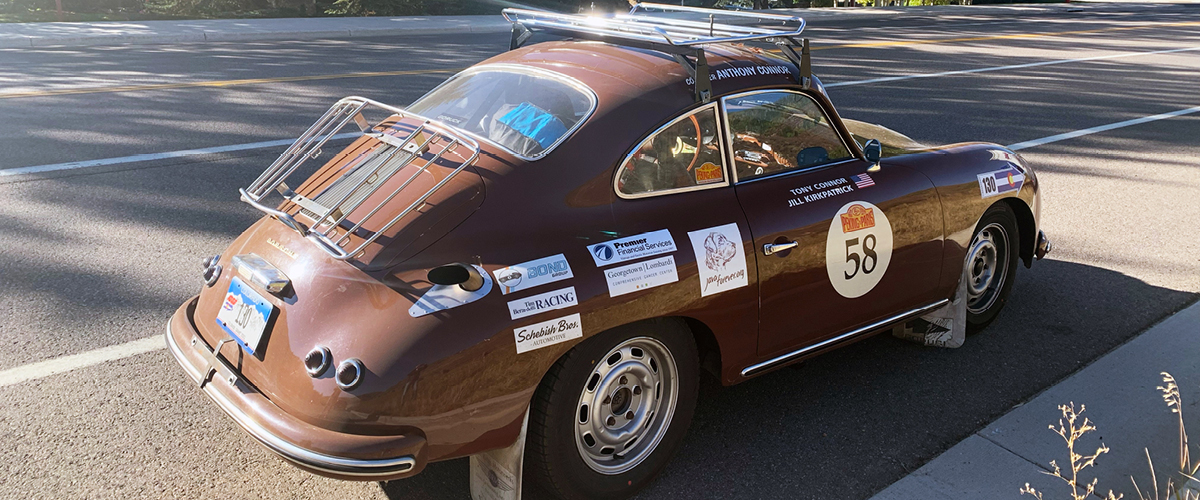 Tony and his chocolate brown Porsche, called "Java," are no novices when it comes to road rallies. In 2016, Tony and his wife completed the rugged 8,500 mile, 36 day Peking-to-Paris Rally in his vintage Porsche. The car has traveled from Washington, D.C. to Bozeman, Montana, and Tony is preparing the car to participate in a South Africa Rally in 2022.
According to Doug Ewing, "Colorado Grand is undoubtedly the best road rally in the United States. It's extremely well organized, and the routes and driving logistics are spectacular. The participants are serious enthusiasts who love to drive and talk about their cars, which at this year's rally included vintage masterpieces that ranged in value from $60 million on down."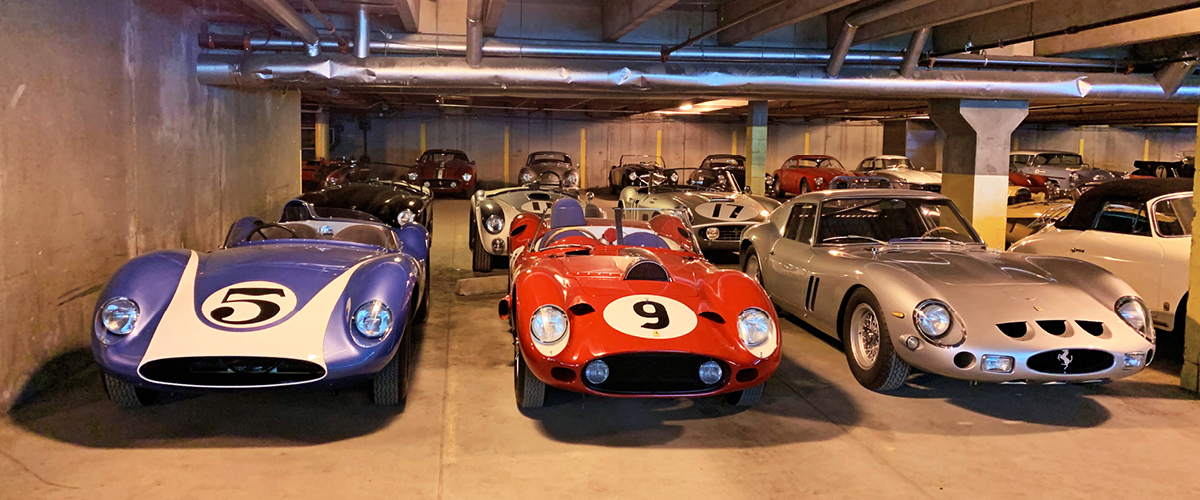 Doug had his turn at the wheel of Tony's Porsche for a good part of the route. "There is no better co-driver than Tony," he noted, "and we had a lot of laughs." Those laughs included a practical joke that Doug played at Tony's expense at a scenic pull-off, where he took advantage of Tony's discomfort with heights. Doug also noted that, although Java was not the most exotic or expensive car in the event, it attracted a significant amount of attention, given its long rally history and the modifications that were added to survive tough overland routes. "Give the car's unique history, Tony's car was certainly the coolest, and I was honored to be in it."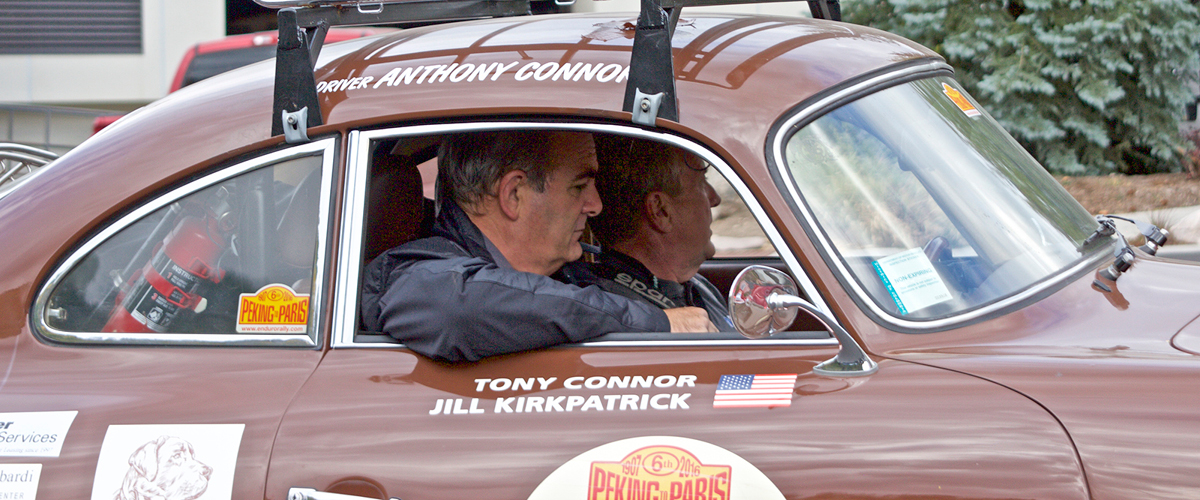 Tony's Connor's Perspective on the Rally…and on Doug's Practical Joke
Echoing Doug's comments, Tony Connor had glowing praise for "an event that I didn't want to end. I had the best time of my life." He noted that every day of the rally he and Doug would ask each other, "Have we remembered to thank someone for this experience?" Tony was particularly proud of his 65 year-old Porsche's performance: "Nothing broke on the car, and we only burned one quart of oil." Seven cars in the rally were not so lucky, and dropped out for mechanical issues.
As you might expect, Tony had a different perspective on Doug's practical joke at the scenic pull-off. "I was half asleep in the passenger seat, and I felt the car lurch. When I looked up, it appeared as though we were about to drive off a cliff. Up until that point, I had felt completely safe when Doug was driving, but at that moment, I was pretty sure that he was about to end my life." Tony said he was happy that Doug found so much humor in taking advantage of his lifelong vertigo, and regrets that the race did not offer sufficient time for "payback." Tony's message to Doug is that "there will be retribution sometime in the future, when you least expect it."
To gain a better perspective on the cars, the people and the routes in The Colorado Grand, here's a YouTube video of this year's rally that you can watch.