From Barn Find to Beauty Pageant
Two words in collector-car circles grab the public's attention unlike any others: barn find. Perhaps jaded by megadollar restorations, many recognize the particular charm and value of a rare car discovered after years or decades spent in hiding. What stories might it hold?
Sometimes, a barn find yields rare gems, like this 1956 Maserati A6G/54 GranSport coupe, which is expected to bring $2.5-$3.25 million at the Gooding & Company Pebble Beach Auction in mid-August. The car is one of 60 built in the A6G/54 series, and one of four built in this coupe style by Carrozzeria Frua.
How did such a rare beauty end up in a barn?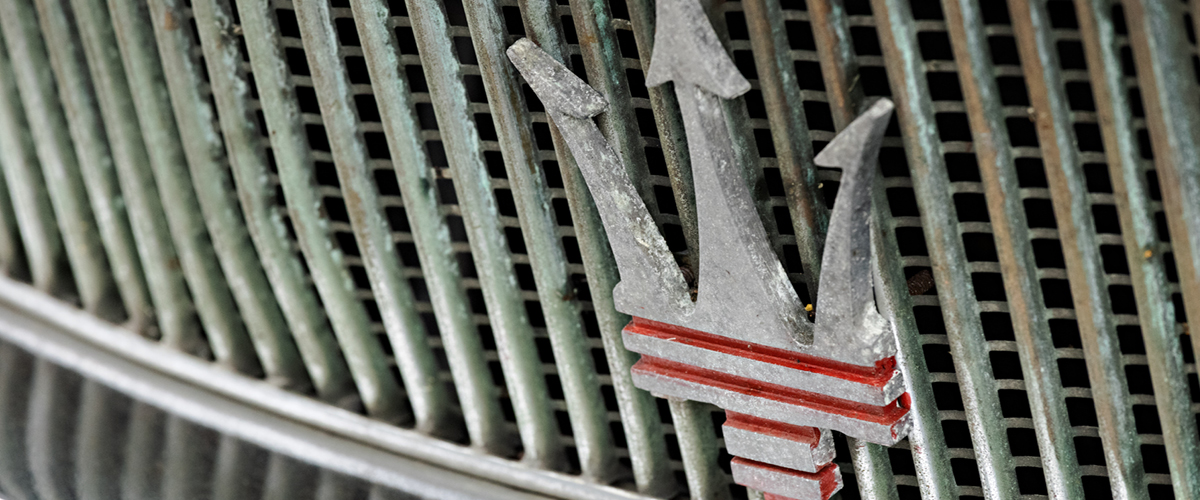 Smooth, Like Butter
In 2014, news of a barn find in the western French dairy town of Échiré, famous for its butter, stunned the collector-car world. Sixty rare and exotic cars had been bequeathed to two men when their father, Jacques Baillon died. The cars, though, had been gathered decades before by their grandfather, Roger Baillon, once a transportation magnate.
Baillon's cars represented the aristocracy of European luxury and performance machines: Bugatti, Delahaye, Delage, Ferrari, Hispano-Suiza, Maserati and Talbot-Lago. But there was some bad news; Baillon's hopes of restoring the cars had collapsed with his 1970s bankruptcy.
Most of the cars were simply left rotting in a farm's ramshackle open-air sheds. Two cars, though, spent their decades of slumber protected from the elements in a garage. This Maserati A6G/54 GranSport and a 1961 Ferrari 250 GT California Spyder were both found resting fairly comfortably with piles of books and newspapers.
In early 2015, during Retromobile week in Paris, the Artcurial Motorcars auction house sold the Baillon collection for $28.5 million. The California Spyder alone brought $18.5 million. This Maserati brought $2.2 million, $800,000 over the high end of its pre-sale estimate.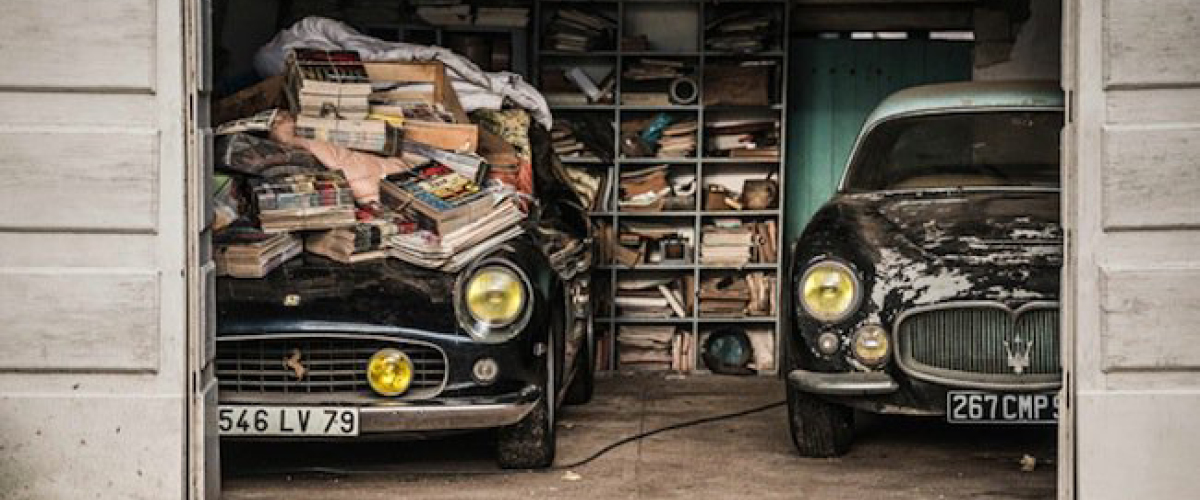 The First Maserati Road Cars
The Maserati brothers began building and racing Grand Prix cars in 1914, with the first cars actually named "Maserati" arriving in 1926. Ten years after the Orsi family had purchased the company, the first Maserati road cars arrived. The first A6 model series would encompass road and race cars, all powered by small-displacement six-cylinder engines.
The A6GCS/53 series, introduced in 1953, included fierce-looking competition sports and GT cars, with about 50 made. In 1954, Maserati introduced the A6G/54 road cars, ultimately building 60 chassis and commissioning bodies from Carrozzeria Allemano, Frua and Zagato.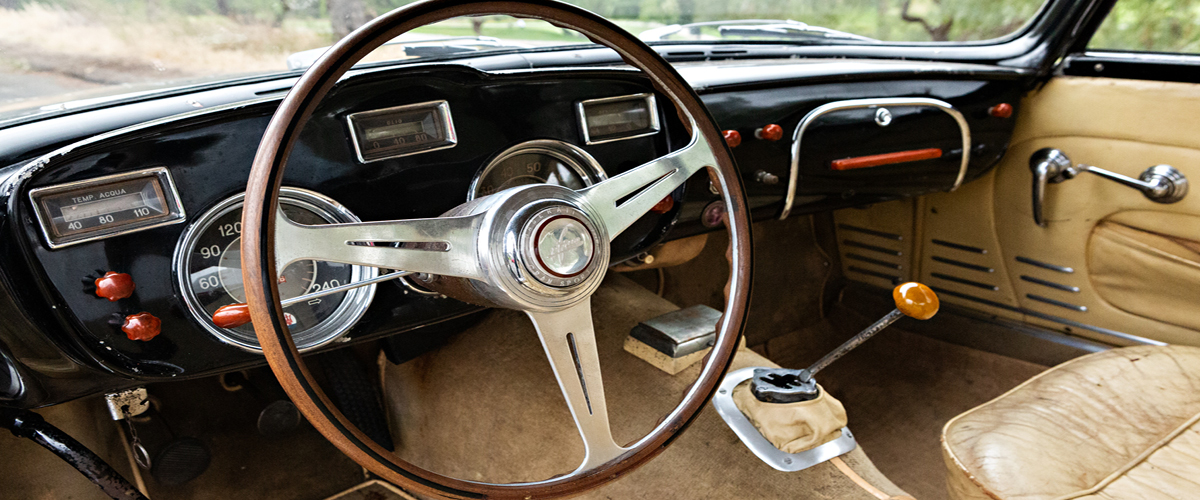 Racecar Roots
Built around a lightweight tube-frame chassis, the A6G/54 adopted many components from the A6GCS/53 race car. All had a new double overhead-cam 2.0-liter inline six-cylinder engine designed by Gioacchino Colombo, who is perhaps most famous for the V-12 he created for Ferrari in the late 1940s.
With three Weber carburetors, the Maserati inline-six made 150 horsepower, or 160 with the dual ignition system offered as an option on the 1956 cars, as this car has. All had a four-speed manual transmission.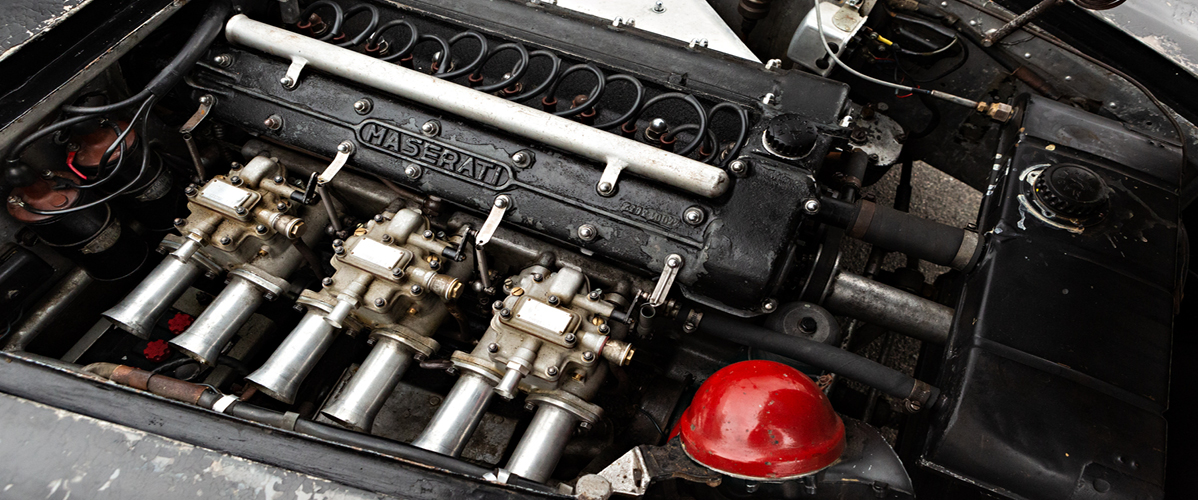 "We'll Always Have Paris."
Frua built about 15 of these Maseratis, the majority as convertibles. This Maserati, chassis number 2140, was completed by Frua in finished in black with an ivory leather interior. The car was displayed on the Maserati stand at the Paris Motor Show in October 1956 before its first owner, an architect, took delivery. A second owner picked up the car in 1957 and had Frua update it with the grille and taillights used on its later A6G/54 spiders.
Before Baillon added the car to his collection in late 1959, the Maserati appeared in an advertisement for Coty's Rue de la Pink lipstick, billed as "the color tying up traffic all over Paris." Renowned New York fashion photographer Gleb Derujinsky shot the ad's main image.
Baillon paid 1.9 million francs for the car, or about $4,000. He had the roof painted turquoise, giving the car a unique pop of color. From there, who knows what Parisian adventures and French country roads this Maserati A6G/54 GranSport experienced?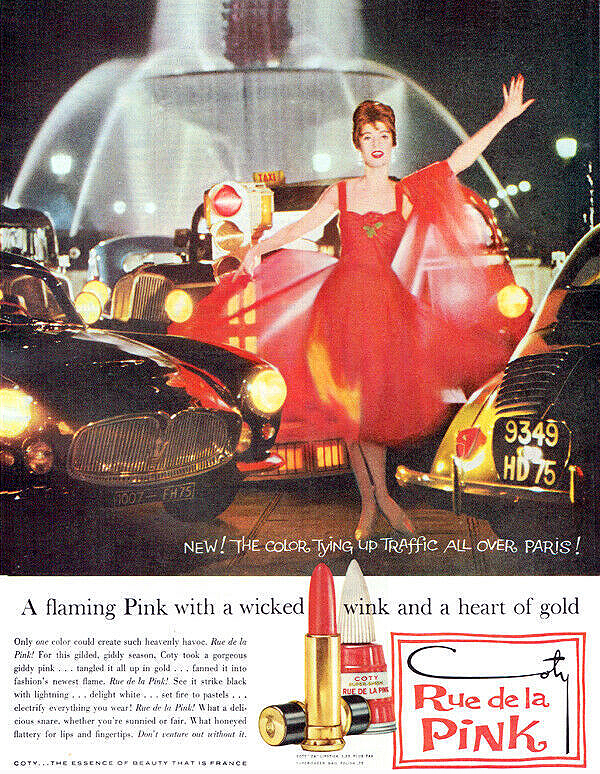 Show and Drive
After buying the car in 2015, the Maserati's current owner had Phil Reilly & Company of Corte Madera, CA perform a sympathetic mechanical refurbishment while choosing to preserve the car's unrestored patina. Maserati factory records confirm the powertrain's originality.
And then, he showed it. The Maserati Frua Coupe was awarded Second in the Preservation Class at the Pebble Beach Concours d'Elegance® and was also displayed at Villa d'Este and Hampton Court. The owner also drove it regularly, including completing the 2021 California Mille. The odometer shows less than 55,000 km (about 34,000 miles), its original mileage.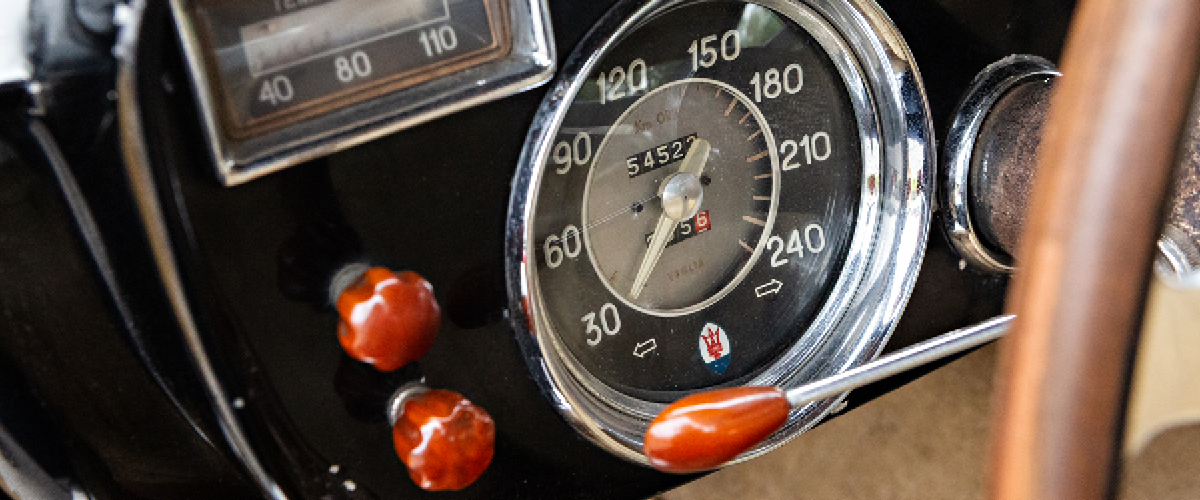 What Would You Do?
With its chipped paint and its original if somewhat worn interior, this Maserati A6G/54 GranSport wears its unique story on the outside.
"No two are alike," said David Gooding, founder of Gooding & Company, about the Maserati A6G/54 series. "This one, with its history, condition and colors, is a really captivating car."
The big question is what will the next owner do with it? Will it remain in this unrestored condition?
"That's hard to say," said Gooding. "There is a chance they will. One camp says not to touch it at all. Another camp would do a little, and there's a third that say they'll leave it as is but will then give in to temptation to restore."
Gooding mentioned receiving pre-auction inquiries from a couple of preservationists. "One likes to use his cars," he said. "He would not restore it cosmetically, but would attend to any mechanical needs. It would be a beautiful car restored, but personally, I like it in this condition. Cars left untouched are more memorable to me."