Along came a Spyder…
Even as Porsche was ramping up production of its rear-engine 356 road car in the early 1950s, the budding carmaker's engineers were starting a roadmap to the marque's mid-engine racecar future with the tiny but mighty 1953-1956 550 Spyder. The 550 Spyder would show it could run with front-engine giants from Aston Martin, Ferrari, Maserati and Mercedes-Benz.
It was the tragic death of actor James Dean at age 24 while driving his own 550 Spyder near the end of filming of "Giant," however, that still overshadows this Porsche's race history. A 1955 Porsche Spyder being offered at the RM Sotheby's 2021 Monterey auction, one of just 90 built, is car #0054, the one built before Dean's.
This Spyder's consignor, a master Porsche technician, did much of the car's mechanical restoration himself, with assistance from other renowned classic Porsche experts. The pre-sale estimate for the car is $3.8m-$4.2m.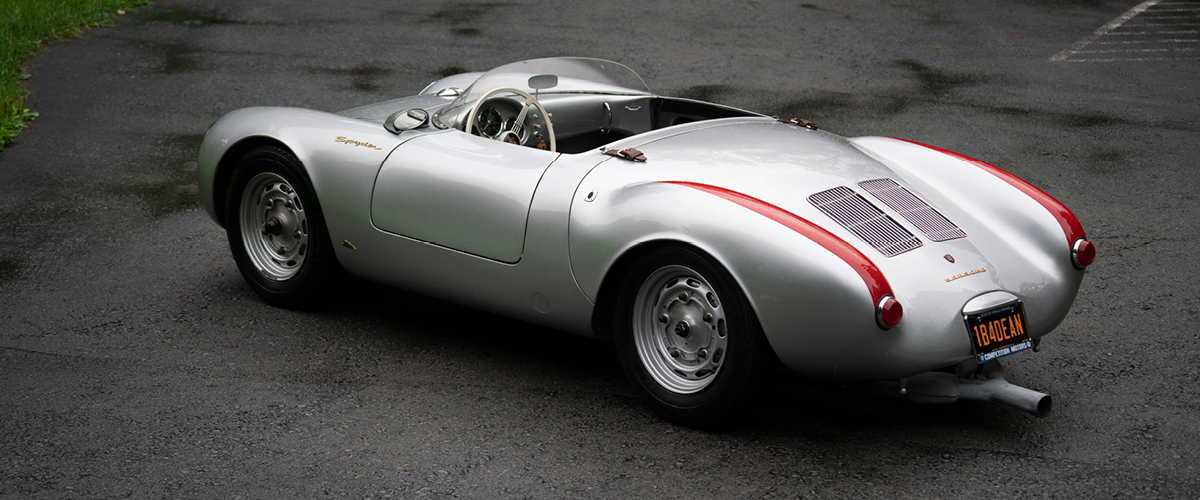 Taking on the Heavyweights
The early '50s period saw front-engine sports racers achieving breathtaking speeds. Porsche might as well have come from a different planet with its 550 Spyder in 1953. Weighing 1,200 pounds, the 550 was just over 145 inches long on a an 82.7-inch wheelbase and stood 38.6 inches tall at its windshield. Next to a Jaguar C-Type, the 550 Spyder looked like a toy.
Weighing 900 fewer pounds than the Jag and similar racers, and with the agility inherent with a mid-engine layout, the 550 Spyder put Porsche on the road to racing history with a 1.5-liter air-cooled four-cylinder boxer engine making about 120 horsepower.
The Fuhrmann Engine
The tiny engine with a big heart was known as the "Fuhrmann engine" for its development by Porsche engineer Ernst Fuhrmann. Its defining trait was the dual overhead camshaft (DOHC) configuration, with the cams driven by vertical shafts and angular gears.
This engine would power a number of different Porsche competition and road models into the early 1960s, including as a 180-horsepower 2.0-liter in the 1964 Porsche 904 GTS. Rebuilding one of these complex engines is said to require a level of patience possessed by few humans.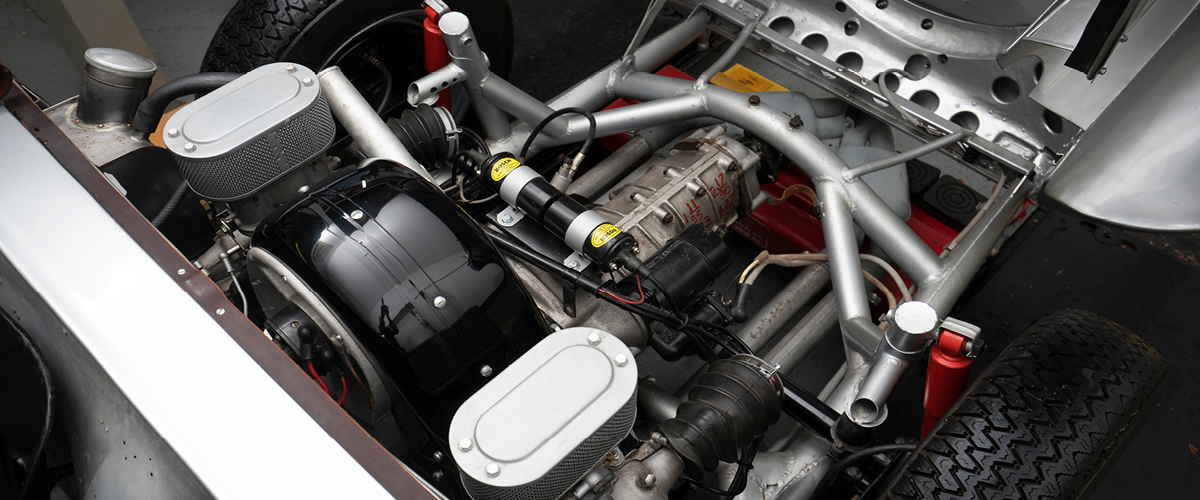 Beating the Biggies
The 550 Spyder was built around a simple yet effective tubular chassis with torsion-bar suspension. It instantly became the car to beat in under-1500cc class, which it would soon dominate. Class victories at the 24 Hours of Le Mans, Mille Miglia and Mexico's dangerous La Carrera Panamericana earned the 550 Spyder accolades and awe. As an homage to the 550 Spyder's performance in the Mexican road race, Porsche would adopt the "Carrera" name for race and road cars, and eventually the whole 911 series.
In the 1956 Targa Florio race around Sicily, the 550 Spyder took overall victory in the hands of Umberto Maglioli. His 7:54.52 time was seven minutes ahead of the second place OSCA (another tiny racer), and, perhaps more significantly, more than 20 minutes ahead of the nearest Ferrari, an 860 Monza.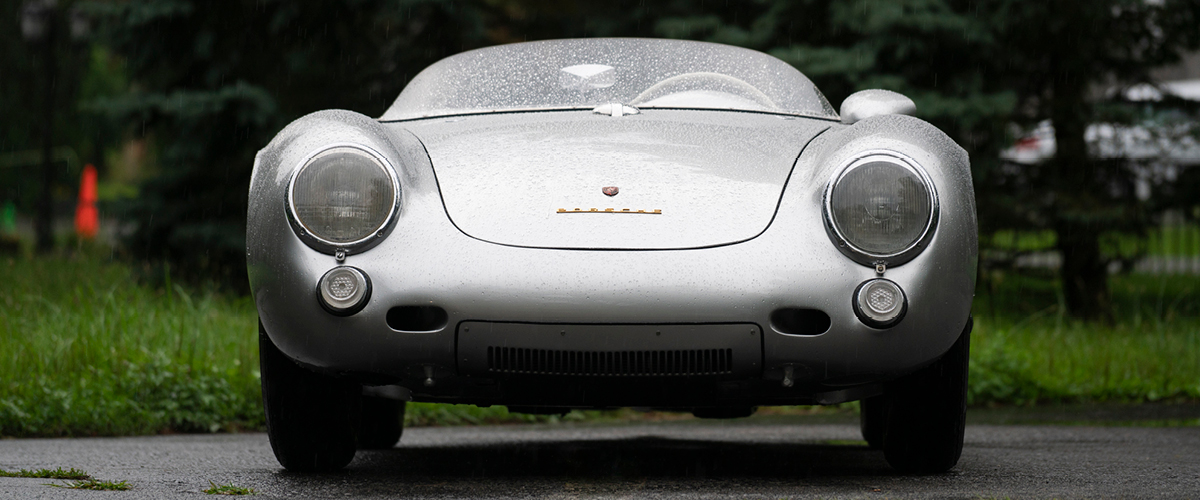 "Too Fast To Live, Too Young to Die"
Today, the 550 Spyder legend must embrace its legendary track feats and the death of Dean on September 30, 1955. With his German Porsche mechanic, Rolf Wütherich, in the passenger seat, Dean was driving the Spyder to a race in Salinas. He had named his Porsche "Little Bastard," which was painted on its tail.
As the Porsche rapidly approached the intersection of California State Routes 46 and 41 near Cholame, 23-year-old California Polytechnic State University student Donald Turnupseed, driving a Ford sedan, turned left into the path of Dean's car. Wütherich was badly injured but survived.
Two decades later, The Eagles immortalized the tragic event in their song "James Dean," which managed to hit only #77 on the Billboard Hot 100. Perhaps by 1974, few listeners understood that the lyric, "Along came a Spyder and picked up a rider, took him down the road to eternity" was about a car.
Built to Race
The 1B4DEAN license plate on the 550 Spyder offered by RM Sotheby's highlights this model's perpetual connection to the movie star. This car left the factory on July 14, 1955 and went through pioneering European car importer Hoffman Motors in New York City to West Coast Porsche agent John von Neumann's Competition Motors in North Hollywood, California. (Dean bought his car there that September.)
The car's first owner was SCCA racer Bob Donner. In his first race at Bakersfield, CA the following May, Donner found himself pitted against six other 550 Spyders, including those of rising talents Ken Miles, later of Shelby and Ford GT40 fame, and Richie Ginther. Donner came in ninth.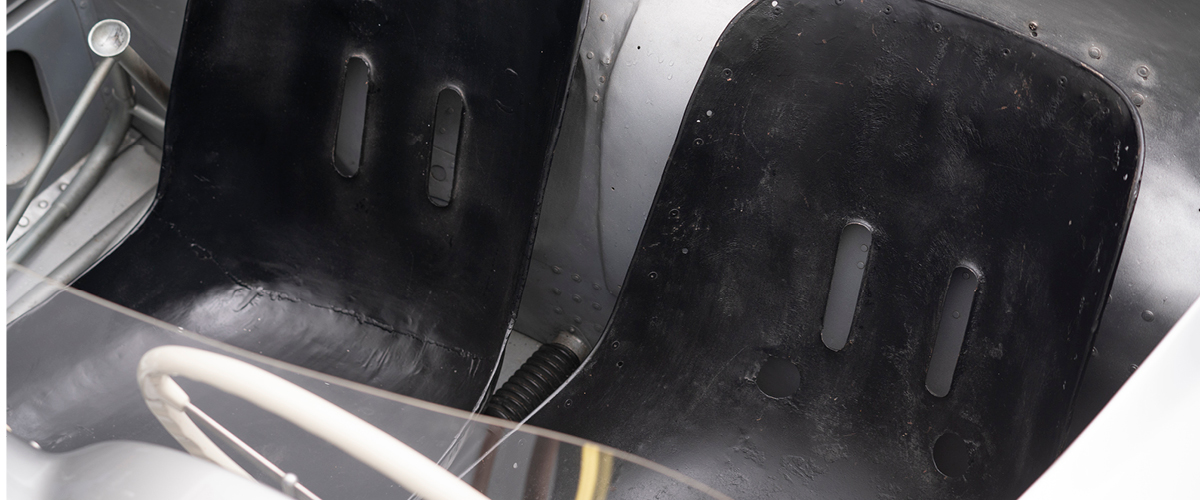 A Long Road Back
The Porsche passed on to other Porsche racers after 1958, including future Porsche Club America luminary Laurie Leva, who is believed to have raced the car only once. With a later owner, the Porsche was damaged in a garage fire in 1965 and remained in that condition through five more owners over 18 years.
The consignor acquired the Spyder in 1983. The engine sourced for the painstaking restoration is believed to be an original factory replacement motor earmarked for this car. It was rebuilt at Carrera Motors in Florida in 2000.
New England Metal Crafters of Newburyport, MA restored the damaged bodywork, and the car was painted by Warren Sandford of Newburgh, NY in its original racing livery. The restoration was finally completed this summer.
The Porsche 550 Spyder is eligible for events such as the Le Mans Classic, Mille Miglia, and Monterey Historics. Perhaps this restored racer will find itself among the giants once again.