When Porsche let all its hair down.
The 2004 Porsche Carrera GT arrived as a shocker. Up to point, Porsche had relied on the 911 Turbo to serve as its flagship performance model. Even having been a pioneer and champion with mid-engine sports racers since the 1950s, the only mid-engine models built specifically as road cars by then were the 914 and Boxster.
The 2004-2007 Carrera GT, with a name that to the unaware might have suggested yet another 911 variant, seemed to finally unleash all of Porsche's pent-up supercar energy. The Carrera GT was short-lived, though, and a decade past before Porsche offered another mid-engine supercar, the 918 Spyder. With the start of the 2020 auction season just weeks away, it might be time to consider adding a Carrera GT to your collection.
Porsche's SUVs Saved the Sports Cars
When Porsche veered off into SUV territory with the Cayenne, some thought minds in Stuttgart had been lost. That turned out to be a survival move, as SUV sales now dominate the marque's lineup. Fortunately, the Porsche sports car brain trust was in better shape than it had ever been, and the company brought its decades of experience to bear in a model unlike any it had ever made before.
The Carrera GT was everything any Porschephile could have dreamed of. Having grown out of abandoned racecar projects, this mid-engine stunner sent a clear message that Porsche was in the supercar game to win. With a carbon fiber chassis, rip-snorting V10 engine and Formula One-inspired pushrod-actuated suspension, the Carrera GT owed nothing to any Porsche that had come before.
Racing In Its Blood
Never let it be said that Porsche does anything half-hearted. When the marque decided to try its hand at a front-engine V8 grand touring coupe in the 1970s, the resulting 928 model made it seem as if Porsche had perfected the format many years before.
That same in-it-to-win-it spirit re-emerged in the Carrera GT. Essentially the aftermath of a cancelled model to race at Le Mans, the uber-Porsche borrowed nothing from the company's existing production cars. It's engine wasn't even flat.
Can you Say Raketenschlitten?
The Carrera GT's design may have echoed cues of the early 1960s 718 RS Spyder and 904 Carrera GTS Porsche sports racers, but there was zero retro in its engineering and construction. Most of the body and chassis were rendered in carbon fiber, with aluminum suspension. The latter used Formula One-style pushrod activation.
The seats, using carbon fiber shells, weighed just 23 pounds apiece, about half the weight of the 911's seats. The seatbacks were not adjustable, but some sacrifices had to be made.
The forged magnesium wheels weighed about a third less than aluminum wheels of the same size. The V10 engine was also of course aluminum. The bottom line was a 205-mph raketenschlitten that weighed 3,146 pounds, or just 100 pounds more than a 2020 Boxster S with the PDK transmission.
You Had to Shift It Yourself
The Carrera GT came equipped one way: a 5.7-liter naturally aspirated V10 teamed with a six-speed manual transmission. The V10 made 605 horsepower at 8,000 rpm and 435 lb-ft at 5,750 rpm.
To get the engine as low in the Carrera GT's chassis as possible, Porsche used a dry-sump oil system and a very small-diameter clutch (6.7 inches, vs. about nine inches for the 911). The trick was using four friction discs versus the more common single disc.
The engine, which used super-light titanium connecting rods, had almost no flywheel effect. "Breathing on the gas pedal sends the revs soaring," reported Car & Driver in its road test. "Likewise, if you lift off, they plummet. And the engine is all too willing to overpower the rear tires."
The magazine reported that the unusual clutch operated like an on/off switch, making smooth launches difficult. Even so, Car & Driver reported a blazing 3.5-second 0-60 time, with 100 mph arriving just 3.3 seconds later. In both measures, the 650-hp Ferrari Enzo was just two-tenths of a second quicker. Both cars ran the quarter-mile in 11.2 seconds, the Enzo at 136 mph vs. 132 for the Carrera GT.
In cornering performance, Car & Driver recorded 1.19g in the Carrera GT. For added downforce, a rear wing deployed at speeds over 75 mph.
Carrera GT? Enzo? Get Both
There was a much larger gap in price between the two supercars. The 2004 Porsche Carrera GT cost $448,400 while the Enzo was about $210,000 more. But who paid retail right? Almost nobody cared what they paid, as long as they got one or the other, or both.
There was big difference in production numbers, though. Porsche made 1,270 Carrera GTs, sending abut half to the U.S., versus 400 Enzos made.
Hagerty shows average value for a Carrera GT at $646,000 with concours-condition models about 50 percent more. Let's see what the new auction season brings.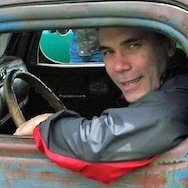 Written by Jim Koscs, Audamotive Communications