Lighting Up Both Ends of the Spectrum
If Ferdinand Porsche, who created the world's first gas-electric hybrid in 1901 and who won the "Car Engineer of the Century" award in 1999, were alive today, he would of course also hold the title of "world's oldest living human". In all seriousness, though, one could imagine Dr. Porsche walking into the car company that he started, taking one look at the 2020 Porsche Taycan EV and asking, "What took you so long?"
He'd be pleased, though, to see Porsche entering the EV market with the same zeal that drives the company to keep pushing its 911, Cayman and Boxster sports cars to new performance levels. And he'd no doubt be happy to hear that, Porsche confirmed plans to double production to 40,000 cars per year. Even before the first Taycans reach customers later this year.
Meanwhile, Rallying 'Round the Flat Six
After being briefed on the Taycan, Dr. Porsche might enjoy a presentation on Porsche's plans to return to rallying in 2020. The company had shown a concept of the 718 Cayman GT4 Clubsport to comply with the FIA R-GT regulations. Further, it has now confirmed it will build cars based on the new-gen GT4 Clubsport unveiled at the start of the year.
The new customer racer, designed for the GT4 series as well as club sport and track-day events, is powered by a 425-horsepower, 3.8-liter flat-six engine rather than the turbocharged four-cylinder used in Cayman production models. Still, Porsche says that "close affinity to the production car" will yield "comparatively low operating cost" for rally teams.
Perhaps to make Dr. Porsche's imaginary visit complete, legendary rally driver and Porsche racer Walter Röhrl could take him for hot laps in both the Taycan and the Cayman GT4 Clubsport, preferably before lunch at the Porsche Museum.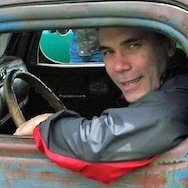 Written by Jim Koscs, Audamotive Communications
For Premier Financial Services