As American as it Gets
Sixty years ago, the second-generation Chevrolet Corvette introduced for 1963 was as much a revelation for the brand as the mid-engine eighth-generation Corvette is today.
A new chassis with four-wheel independent suspension, cloaked by an exotic design, let the Corvette turn corners as well as it could turn heads. Choosing one of the optional high-performance 327 cu.-in. V8 engines completed a package that could easily run with Europe's top sports cars. Top dog was the fuel-injected version, a.k.a. "fuelie." Combine all of that with the 1963 coupe's one-year-only "split window" design feature, and you've got an auction star today.
Gooding & Company's Pebble Beach Concours d' Elegance® auction is offering just such a car, a highly documented 1963 Corvette fuelie coupe boasting the "Triple Crown" of Corvette awards: the NCRS Top Flight, NCRS Bloomington Gold and the Chevy Nationals Gold Spinner. One of 2,610 fuel-injected Corvettes built for 1963, it's got a pre-sale estimate of $250K-$300K.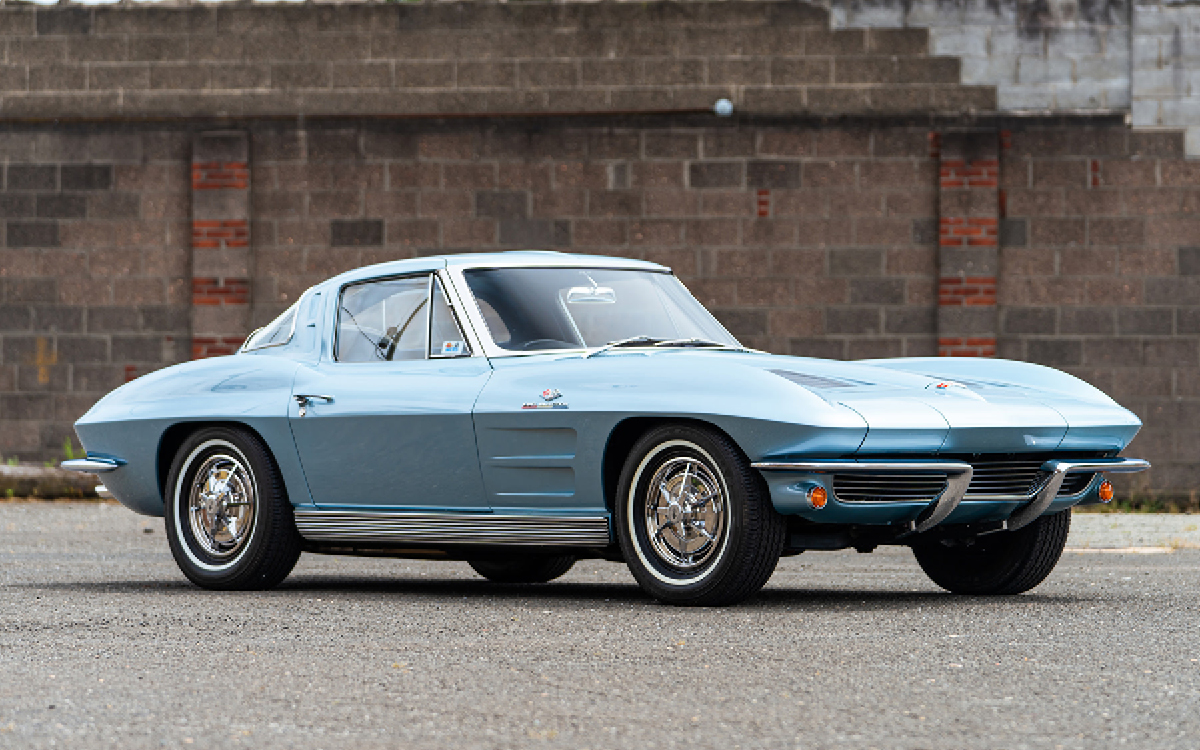 A Young Designer's Sketch
The concept for the 1963 Corvette was hatched just as Chevy was introducing the heavily facelifted 1958 model. That '58 would finally push Corvette sales figures into numbers that pleased the accountants. But designers and engineers, including Zora Arkus-Duntov, who would later lead the Corvette engineering team, had bigger ideas.
Duntov, who had been guiding the Corvette's early racing career and integrating lessons learned into production features, wanted to build a Corvette that could perform with Europe's best on road and track. William L. Mitchell, who became head of GM design in 1958, had Italian influences in mind, including the early-Fifties Alfa Romeo Disco Volante racers, when he envisioned a more exotic design for the next Corvette.
Their vision began to gel when a space-age coupe sketch by a 20-year-old designer named Pete Brock caught Mitchell's eye. (After leaving GM, Brock designed the Shelby Cobra Daytona coupe and, later, formed a winning Datsun road-racing team.)
Corvette had "Q" Before Aston Martin
Brock's sketch, later refined for production by Larry Shinoda, became the jumping-off point for a concept called "Q Corvette." Among other advanced features, the engineering team proposed using an aluminum V8 and a rear-mounted transaxle, but neither idea would materialize in a Corvette until the 1998 model.
While work proceeded to make the new Vette production-ready, Mitchell had his designers apply the Q-Corvette's styling to a one-off racer called the Stingray (one word at the time). The Corvette name did not appear on that car, which Mitchell later drove as his personal car. Its tail section styling was then appended to the first-gen Corvette for its final two model years, 1961-1962.
Split Opinions on the Split Window
Even with those early public previews of the upcoming Corvette's new design direction, the arrival of the 1963 model still generated awe upon introduction, particularly the coupe with its fastback wraparound rear window. Far sleeker than the earlier Corvettes, the 1963 model rode on a shorter wheelbase. The roadster gave up the previous model's trunk, but the coupe offered some luggage space behind the seats.
The Sting Ray sub-name inherited from Mitchell's pet project racer (now as two words) conveyed a sense of stealthy danger, while a central raised spine bisecting the roof and rear window suggested the namesake fish's deadly tail.
The split, two-piece rear window caused some controversy, however. Mitchell had insisted on that superfluous feature, but just about everyone else, including owners, disliked this visibility blocker. It was gone after one year, along with the phony hood vents. Referring to a '63 Corvette coupe as a "split-window" is redundant; they're all split-windows.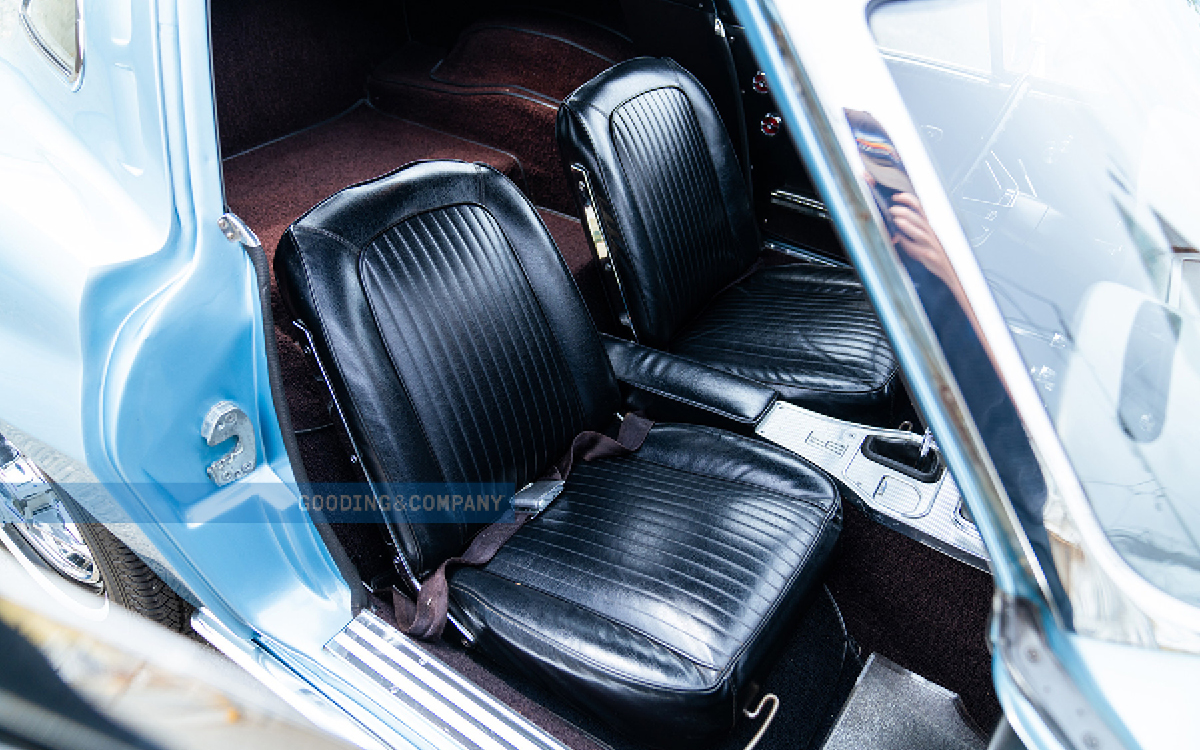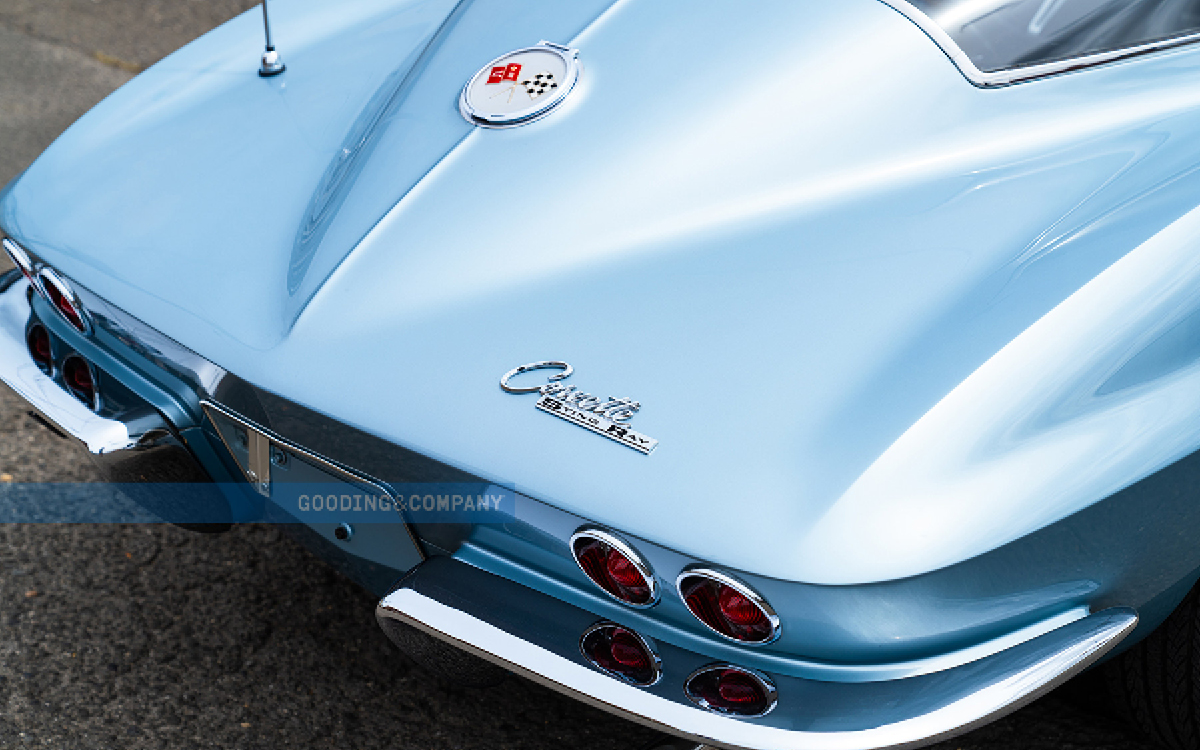 A Major Leap
Although it lacked the exotic engineering tested for the Q-Corvette concept, the 1963 Sting Ray debuted a new, stiffer chassis and independent rear suspension. Handling was greatly improved over the first-gen Corvette, and ride quality, while still stiff, was also better.
A weak point, compared to premium Europeans sports cars, was the four-wheel heavy-duty drum brake system. The '63 Vette didn't even offer front discs as an option, and a four-wheel disc setup wouldn't arrive until 1965.
The four versions of the 327 cubic-inch small-block V8 carried over from the '62 Corvette: most buyers chose the first-level upgrade, a 300-hp version, for a $53 upcharge. The 340-hp version added higher compression, solid valve lifters, and other tweaks. All used a single four-barrel carburetor.
The "Fuelie"
The alpha dog RPO L84 option swapped out the 340-hp engine's carburetor for GM's Rochester Ramjet fuel injection, which the Corvette had introduced in 1957. The horsepower rating jumped to 360 with this choice (375 the following year). Those were SAE gross ratings; a true net rating would have been closer to 280, still an impressive figure for the period. Corvette advertising conveniently pointed out the rarity of fuel injection among European sports cars at the time.
In Sports Car Graphic magazine's hands, a 1963 Corvette fuelie coupe with the 3.70:1 axle ratio did zero-to-60 in 5.6 seconds, covered the quarter-mile in 14.2 seconds at 102 mph and topped out at 151 mph. That performance would have been hard for any sports car to top in 1963.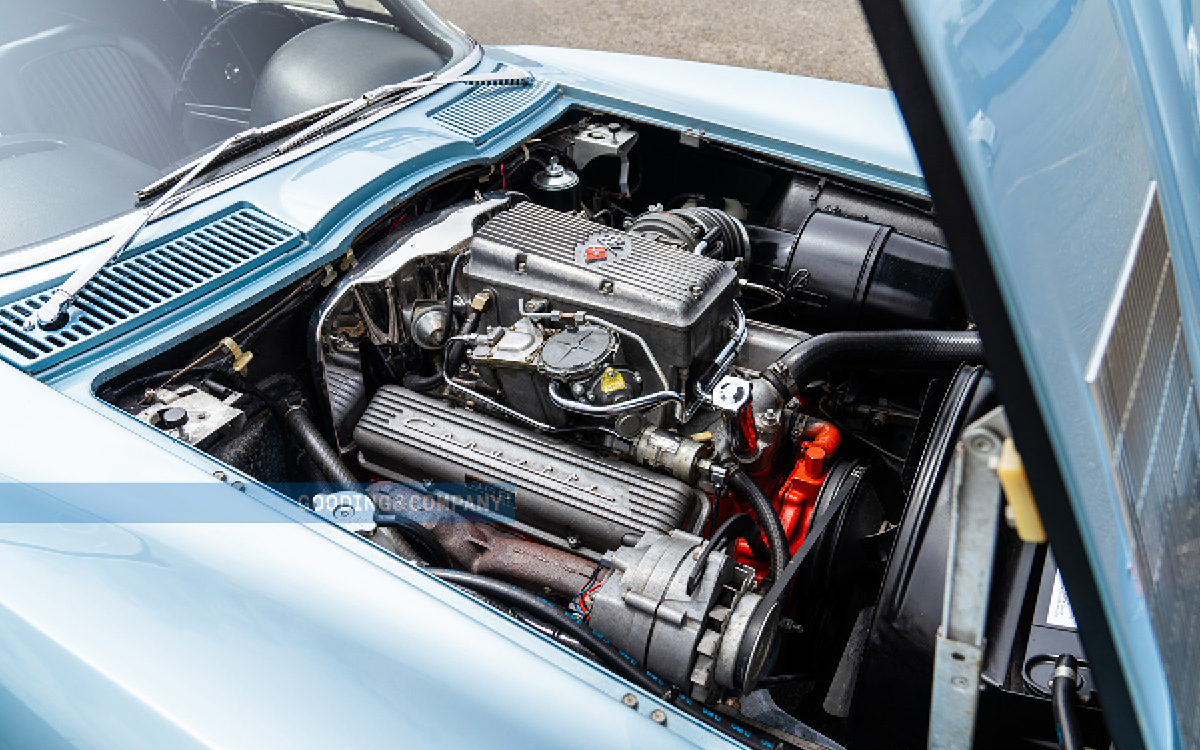 Becoming a Proper GT
Power steering was a new option for the '63 Corvette, and Car and Driver said it was "every bit as good as those used by Rover and Mercedes-Benz in terms of feedback and road feel." The magazine, however, felt it was not really needed, and just 14 percent of buyers ordered it. Air conditioning was also a new option for the Corvette, but just about one percent of the '63 models had it!
Eighty percent, though, got the all-important, extra-cost four-speed manual transmission. Sales of the first Sting Ray jumped 50-percent over the 1962 Corvette, approaching 22,000, about evenly split between coupe and roadster styles.
Award Winner
The 1963 fuelie Corvette Sting Ray offered by Gooding & Company was delivered to Benz Chevrolet in Lake Worth, Florida, on April 18, 1963. Its first owner sold it sold it shortly afterward to a long-term owner who kept meticulous care of the car until 1990.
A third subsequent owner commissioned a body-on restoration, with "utmost effort given to preserve the car as true to new," according to Gooding & Company. "Wherever possible, its original components were reconditioned and reinstalled to maintain the highest level of authenticity." That effort paid off in the aforementioned awards.
Immortalized on Vinyl
In this condition, the Silver-Blue Corvette offered by Gooding is likely to remain a showpiece. It is fun, though, to think about the tire-burning action some of these cars once saw, even the bravado-fueled antics immortalized in the radio hits, "Shut Down" by The Beach Boys and "Dead Man's Curve" from Jan & Dean.