Born on the Racetrack
Among the Chevrolet regular production option (RPO) codes for high-performance Corvette engines offered in the 1960s, "L88" stands as its own unique chapter. Built for racers and offered across three model years (1967-1969), the L88 became an instant racing success. This raucous Vette also tempted more than a few street drivers to pay an extra $1,500 or so on top of a $4,781 car (1969 model).
The 1967 L88s, the rarest with just 20 made, can command well over $1M today. The more "common" 1968-1969 models draw less impressive sums, but remain a powerful draw for collectors. Mecum sold a pair of 1969 L88 Vettes, both Tuxedo Black, for $990k at its Kissimmee, FL sale this past January.
The auction house is looking for another L88 twofer at its Glendale, AZ auction on Saturday March 14 with a pair of multi-award-winning 1969 L88 Corvette convertibles.
The Racer's Edge
Chevrolet began offering special performance hardware for road racers in the 1956 Corvette, but then dialed it back after the Detroit automakers joined the mutually-agreed-upon Automobile Manufacturers Association ban on motorsports support in 1957. From there, clandestine factory programs funneled parts and technical advice to racers. By the early 1960s, the AMA ban was history, and Detroit's racing efforts were back out in the open.
For SCCA B-production racers, Chevy offered the RPO ZO6 Special Performance Equipment package on the all-new 1963 Stingray. This was a thorough chassis and brake upgrade paired with the 360-horsepower fuel-injected 327 cu.-in. engine available separately. A few years later, Chevy began experimenting with something more ferocious for SCCA A-production and endurance racing: RPO L88.
Team Penske's First Racecar
After introducing the Corvette's 396 cu.-in. "big block" V8 option in 1965, Chevy looked at racing applications. For 1966, the engine was bored to 427 cu. in., and the top street option was the L72 with a 450-hp rating (SAE gross). This was changed to 425 hp shortly after introduction, but with no change in mechanical specification or actual output.
Meanwhile, on the track, former racer turned team owner Roger Penske began campaigning a Corvette development car with a special version of the 427 featuring aluminum cylinder heads and other tweaks. This was the soon-to-be-famous L88. Corvette racer Dick Guldstrand drove that first L88 from the Corvette factory in St. Louis to Penske's three-bay shop in Newtown Square, PA in the winter of 1967, using furniture blankets to keep warm in the unheated car.
That February, Guldstrand, George Wintersteen and Ben Moore drove the Sunoco-sponsored coupe to 12th place overall and first in the GT class in the 24 Hours of Daytona. It was the budding Team Penske's first racing victory, and so the start of two legends.
Dana Chevrolet, a dealer in California, entered a 1967 L88 coupe in that year's 24 Hours of Le Mans. The car clocked 171.5 mph on the Mulsanne Straight, which was 22 mph faster than the Ferrari 275 GTB Competizione that ultimately won the GT class. A piston failure ended the Vette's run around the 12th hour.
"Regular Production Option"
Chevy made the L88 a Corvette regular production option for 1967, though just 20 were built. The L88 engine option cost about $950 but also compelled the addition of numerous other performance upgrades for a total closer to $1,500.
The L88 engine was built around a reinforced cast-iron block and filled with hardware built to go the distance at high speed: forged crankshaft and connecting rods, high compression (12.5:1) aluminum pistons, and special transistorized ignition. A huge (850 CFM) Holley dual-feed 4-barrel carburetor on the aluminum manifold fed a steady diet of required 103-research octane gas. (The equivalent today would be about 96 AKI — racing fuel, essentially.)
Because the carburetor sat so high, the L88-equipped Vettes got a special domed hood for clearance and breathing. The air-cleaner element was sealed to the inner hood when closed and drew air from the base of the windshield.
"Just a Number"
The L88's 430-horsepower output rating has long been a source of confusion. That was actually 5 hp less than the top street 427 offered in the 1967-1969 Corvette, the L71 with triple two-barrel carburetors. Was this a case of the difference between the SAE gross horsepower figures used until 1971 and the SAE net ratings that followed?
No, it was much simpler. In his book, "Corvette: America's Star Spangled Sports Car," noted author Karl Ludvigsen reported that actual output for the L88 was about 560 gross hp. He quoted Corvette special engineering consultant Zora Arkus-Duntov saying, "And with unrestricted exhaust, 640."
Duntov also admitted to Ludvigsen that 430 was "just a number" that he picked for no apparent reason. One could surmise that he wanted to keep people guessing. At that, he succeeded.
Ready for Track Prep
Though not intended for street use, the L88 could be sold as such, and some were street driven. The Muncie M22 4-speed manual transmission was nicknamed the "rock crusher" due to the gear noise. Combined with a small-diameter flywheel and heavy-duty clutch, it was no picnic to operate in traffic.
Transistorized ignition without shielding would have caused static anyway. The chassis was reinforced with the G80 Positraction differential, F41 suspension and power brakes with heavy duty calipers. There was a $97.85 credit for deletion of the heater and defroster. Both could be added back in if desired.
The hardware proved formidable; L88 Corvettes racked up an impressive number of SCCA regional and national championships, along with GT class wins at Sebring and Daytona.
For 1968, the L88 returned in the new C3 Corvette body, and Chevy built 80. Another 116 were made for 1969. The option did not return for 1970.
North to Alaska
Both of the Mecum L88 convertibles have their matching hardtops, and both have been authenticated by numerous Corvette experts. The Fathom Green model is one of the few equipped with a heater, and for good reason. The original owner took it on an 8,000-mile roundtrip drive to Alaska in spring 1969. When he returned, he sold it to a drag racer who had much success with it through the early 1970s.
The Can Am White car sold at Mecum's 2018 Monterey sale for $451k. Since then, the two have been offered both as a pair and separately but have never met the reserve.
Maybe this time will be different. Do you need a pair of the fastest classic Corvettes in your collection?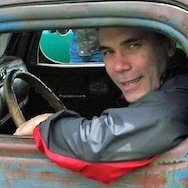 Written by Jim Koscs, Audamotive Communications