One of Two Unicorns
You might be looking at a $3M Corvette on your screen. That's the top of the pre-sale estimate range RM Sotheby's expects for this 1969 model at its Scottsdale auction. We wonder if the auction house might be a tad conservative since some vintage production Vettes have eclipsed $3M.
After all, the Monaco Orange Corvette on offer is one of only two ever built with the fabled aluminum ZL-1 427 cubic-inch race engine and retailed to customers. It's also the only ZL-1 convertible. Will it blow past the estimate? Let's have a look at the car.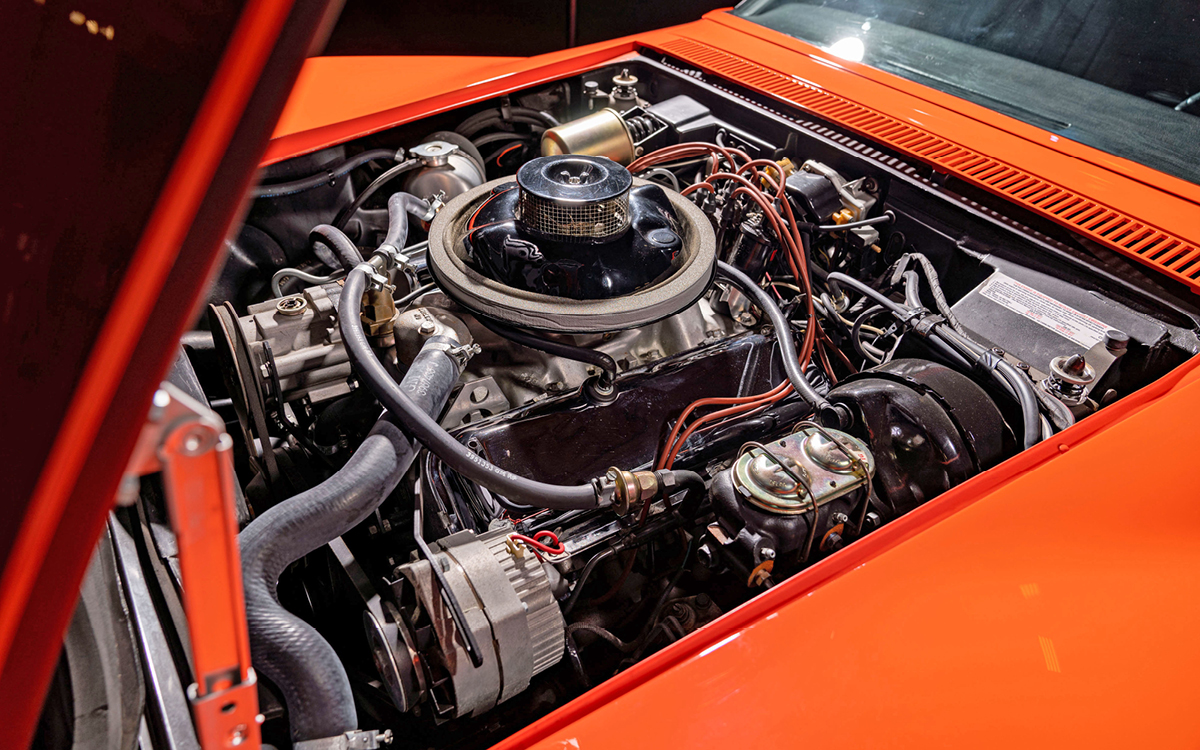 Rule Breaker
By the late Sixties, Chevrolet's Corvette had firmly established itself as a serious player (and winner) on drag strips and road courses, the latter including SCCA and FIA endurance racing. That was thanks largely to Corvette Chief Engineer Zora Arkus-Duntov, who had joined GM after seeing the 1953 Corvette's auto show debut.
Duntov's push to boost performance and take the Corvette racing initially met with internal resistance but ultimately woke up sales and saved the car from an early cancellation. He kept on pushing the envelope for the Corvette, both in performance and corporate rule avoidance. When GM said, "No racing," Duntov kept at it, using clandestine programs when necessary.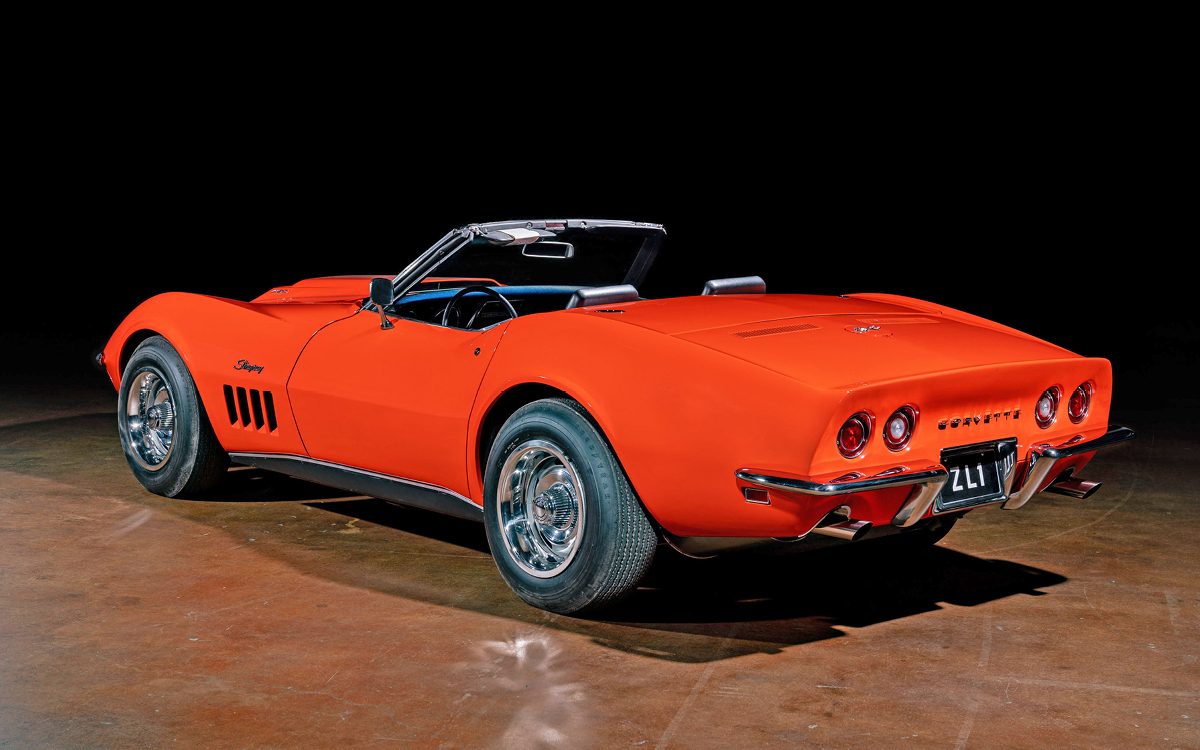 First Step to ZL-1: The L-88
In 1967, Duntov pushed through a racing version of the 427 cu.-in. Chevy Mk. IV "big block" V8 engine as a regular production option with the RPO code L-88. Roger Penske, who'd retired as a racer driver and became a Chevy dealer, started his racing team with the 1966 Corvette L-88 factory development car. That car remains in the hands of Kevin Mackay, whose world-renowned Corvette Repair in Valley Stream, New York restored the car. Corvette Repair also restored a slew of other L-88s … and this ZL-1.
The L88's reported 430 horsepower was a ruse, as the Vette's top street 427 was rated at 435. The real number was about 550 on high-octane pump gas. Chevy built just 20 L-88 Corvettes for 1967, 80 in 1968, and then 116 for 1969.
And then came the ZL-1, which did not replace the L-88 but rather augmented it.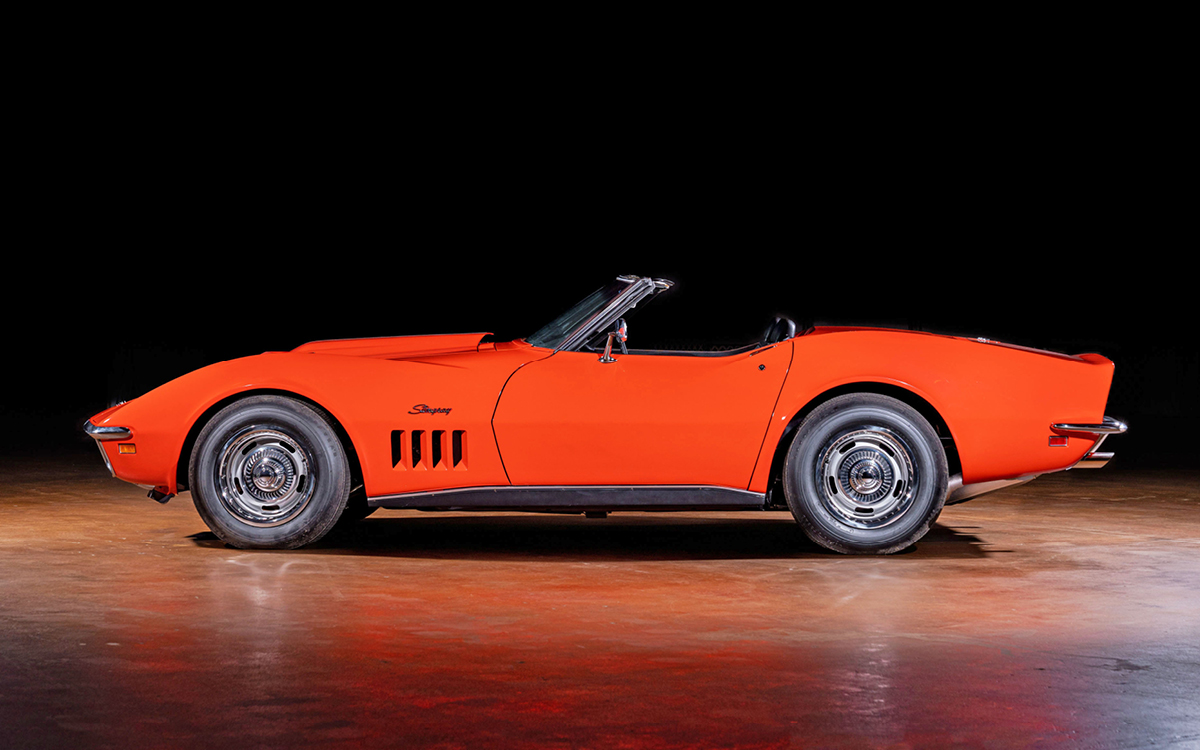 Friends in High Places
In addition to the L-88, Chevrolet had all kinds of things cooking for "in the know" performance enthusiasts and racers, including some options that were not advertised. Even then, customers might need to be aligned with a dealer "in the know" to get access.
John W. Maher of Leechburg, Pennsylvania knew Don Yenko, a Chevy dealer who was also a successful racer. Yenko had worked directly with Chevy's Central Office Production Order program (COPO) to build the Corvair Stinger in the mid-Sixties. Using the same program, he arranged a short run of 1969 Camaros equipped with a 427 V8 (not the L-88, though).
In summer 1968, Yenko told Maher about an experimental, all-aluminum racing engine intended for the 1969 Corvette, something above the iron L-88. For Maher, a serious drag racer, learning that the engine could be paired with the Turbo-Hydramatic 400 automatic transmission (RPO code M40) piqued his interest. The TH400 could take the abuse of drag-race launches. Maher wanted one.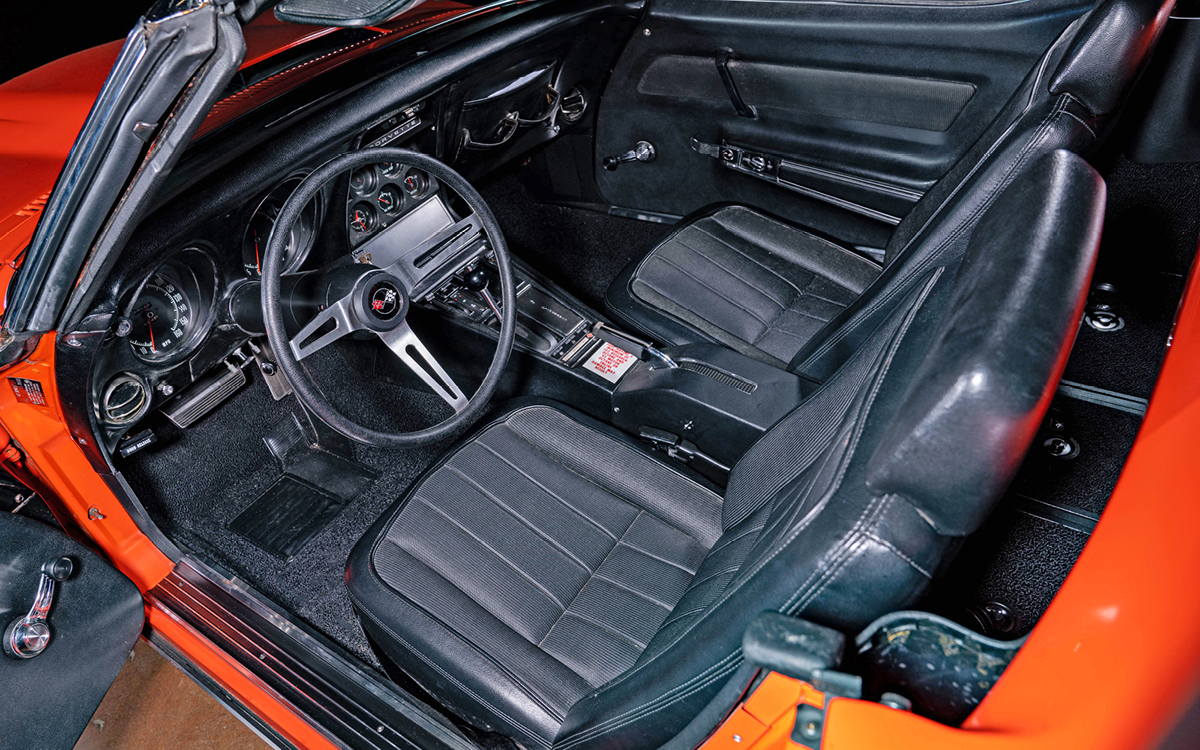 Weight Reduction
The ZL-1 was, in essence, an all-aluminum version of the L-88, which had been revised for greater performance for 1969. Although the ZL-1 was not believed to make more power in stock form than that L-88, its aluminum construction took 100 pounds off the Corvette's front end, a critical benefit for any kind of racing. (The same was true for the 1969 Camaro, which, through the COPO program, offered the ZL-1 to racers; just 69 were built.)
Maher was able to secure his order with help from Grady Davis, a two-time SCCA national champion and senior vice president at Gulf Research, then a secret partner in GM's clandestine racing operations. As a thanks to Grady, Maher ordered the car in Monaco Orange and then added blue stripes for racing to complete the Gulf Racing livery.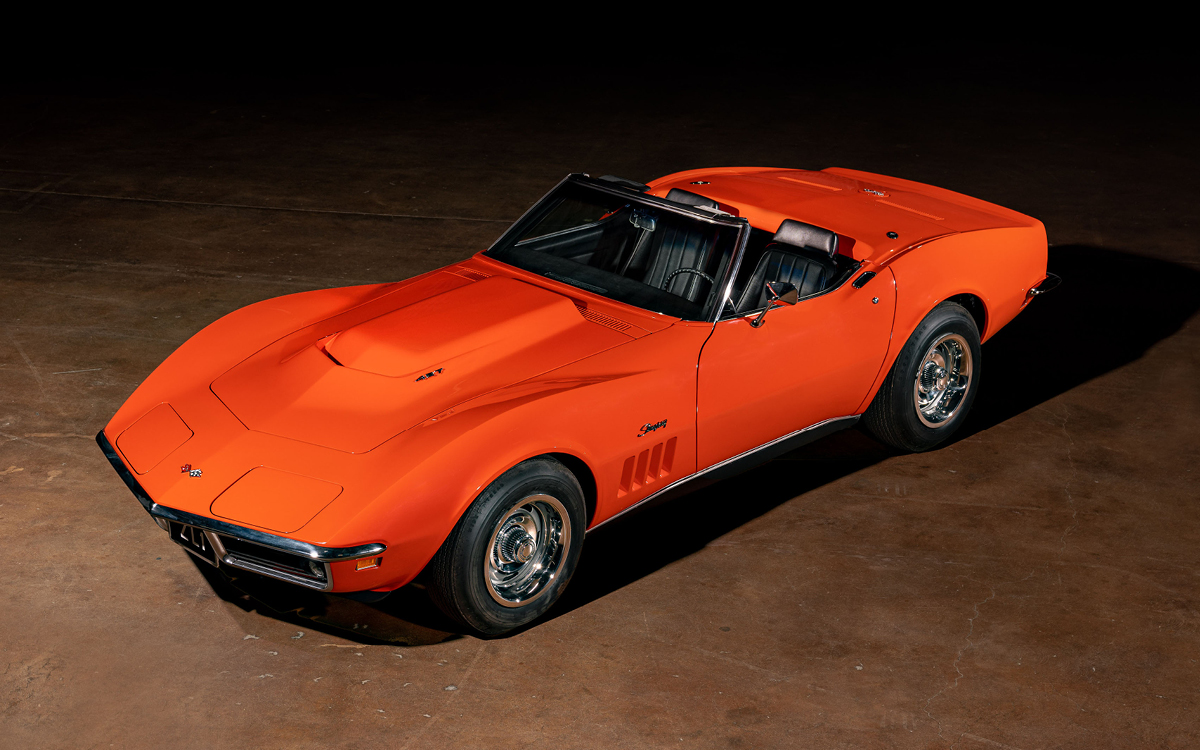 The Real Deal
GM documentation has confirmed that Maher's car was the first of only two ZL-1 Vettes built for sale. Oddly, ordering a ZL-1 required first specifying the L-88 for $1,032 and then adding the ZL-1 "special aluminum cylinder case" option for another $3,000. Other required options, including transistorized ignition, heavy-duty power brakes, special suspension, and the Positraction limited-slip differential added another $700.
While the ZL-1 was street legal, it would not have been an easygoing engine for street driving. Per its racing mission, the ZL-1 Vette came without radio or heater, and there was no power steering. Maher's original sales receipt shows he had the Chevy/Oldsmobile dealer, West Penn Garage, install a 4.11 rear differential gearset and special wide rear wheels for another $850. He also received a nearly $2,100 discount, plus $5,000 for the 1968 L-88 Corvette convertible he traded in. And then he went racing.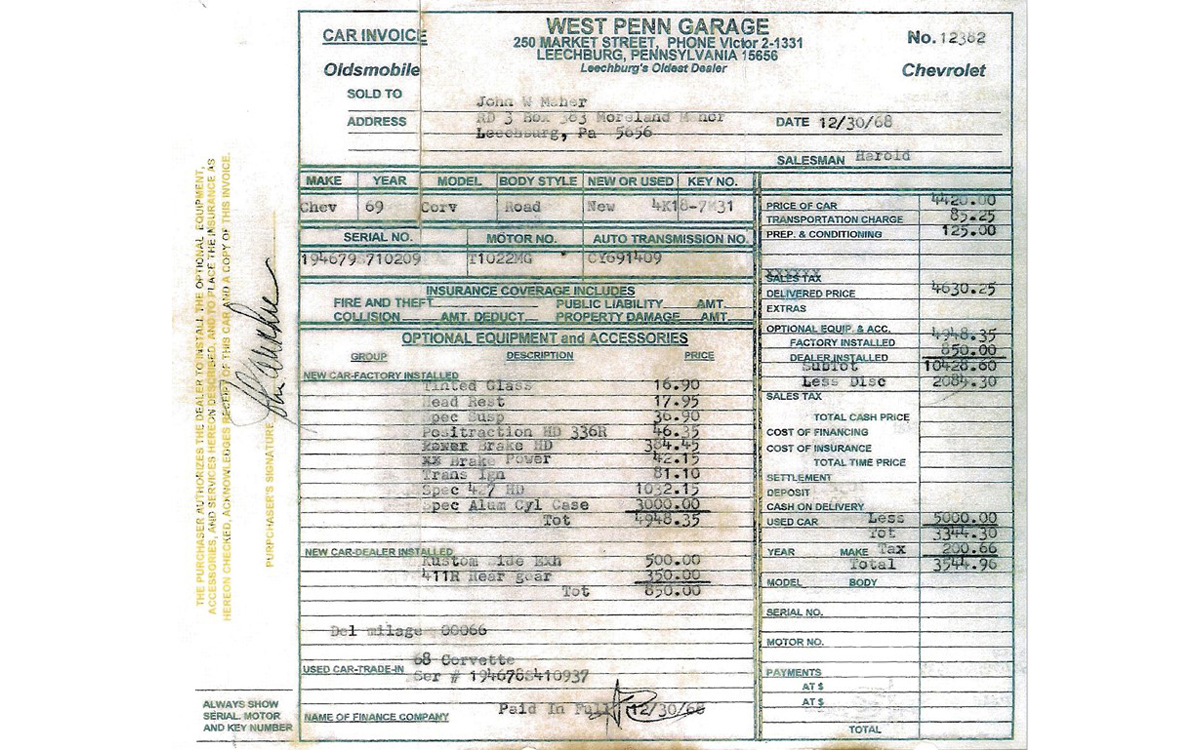 Three Fast Year
From February 1969 until November 1972, Maher raced his wild Vette on drag strips, hill climbs, and autocross events. And he won many. (Chevy, it should be noted, built a limited run of ZL-1 engines for racers to buy and install in their own Corvettes.)
How fast was a ZL-1 Corvette? Chevy's testing showed a quarter mile in 12.1 seconds at 116 mph in factory stock tune, using a 3.70:1 rear axle ratio. A lightweight Chevy development car built to drag race specs and using a 4.88:1 axle ratio, did the quarter in 10.9 seconds at 130 mph. Maher's car might have been somewhere in between. By September 1969, he'd blown the original short-block assembly, which Chevy replaced under warranty.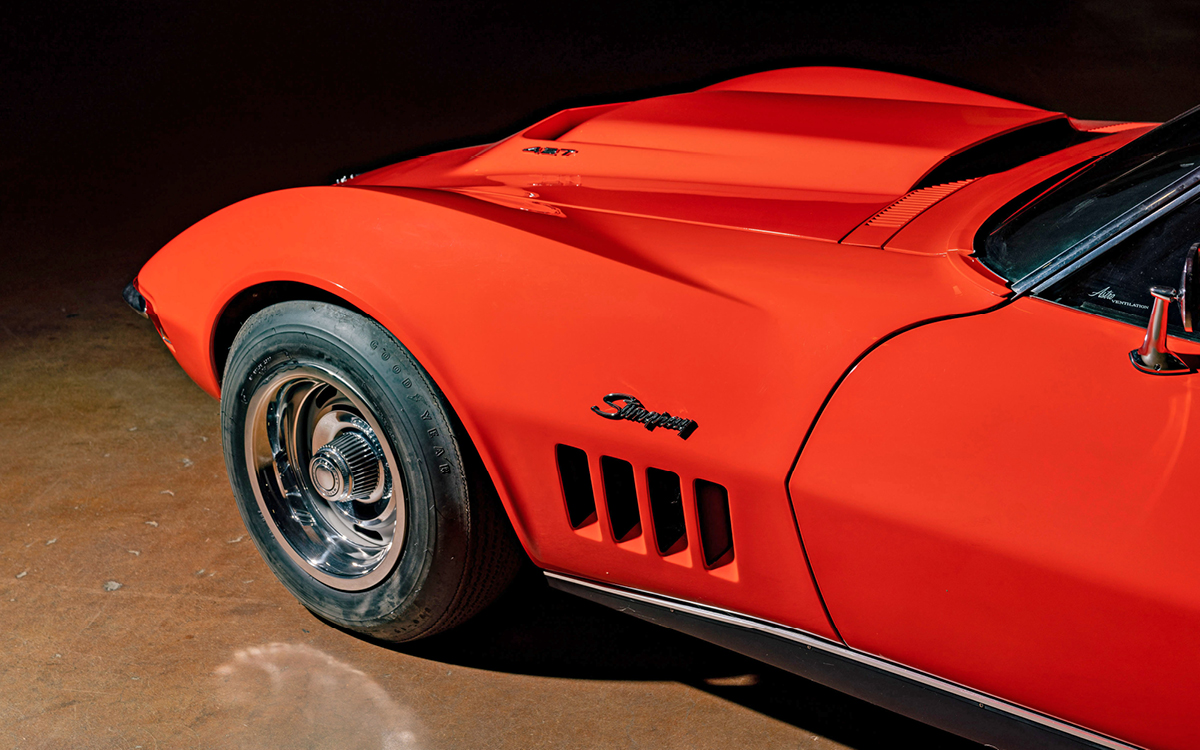 Second Life
Maher pulled the ZL-1 Vette out of storage in 1989 and had Bill Andrejko Auto Restorations of McKeesport, Pennsylvania prep it for showing and racing. The finished car debuted at the 1991 National Corvette Homecoming in Bowling Green, Kentucky wearing the Gulf Racing livery. The car won accolades at major Corvette gatherings over the next 15 years.
Maher then sold the car to the consignor, who showed it at "The Quail, A Motorsports Gathering," in 2008. In 2012, the new owner commissioned Mackay's Corvette Repair to perform a full restoration.
Completed in 2014, the ZL-1 was awarded the coveted Bloomington Gold certification. It has been shown at the Glenmoor Gathering, Radnor Hunt Concours, Pinehurst Concours, and other events. Until recently, it had been on loan to the Simeone Foundation Automotive Museum in Philadelphia.
We would expect bidding to get hot for this super-rare piece of Corvette history.