Once a Dream Car, Aways a Dream Car
Mercedes-Benz issued shocking news back in 2020: the next-generation S-Class would be offered as a sedan only – no more coupe or convertible (or "cabriolet" as Mercedes prefers to say). Mercedes delivered on that unfortunate promise, also dropping the little SLC roadster (formerly known as SLK). Comments from company management at the time also raised questions about the fate of the maker's other coupes and convertibles.
There are two silver linings here. First, you can find these cars in the secondary market. Secondly, may we show you something in a classic Mercedes look? One stands apart as a pinnacle in style, grace and class: the 280 SE 3.5 Cabriolet offered only for 1970 and 1971, with a total of 1,232 built.
RM Sotheby's will offer a beautiful example of the 280 SE 3.5 Cabriolet at its Arizona auction later this month. The car is stated to still wear its original Light Ivory paint. The pre-sale estimate of $300k-$350k is a bit below Hagerty's $364k estimate for a model in "Excellent" condition.
Shall we have a look?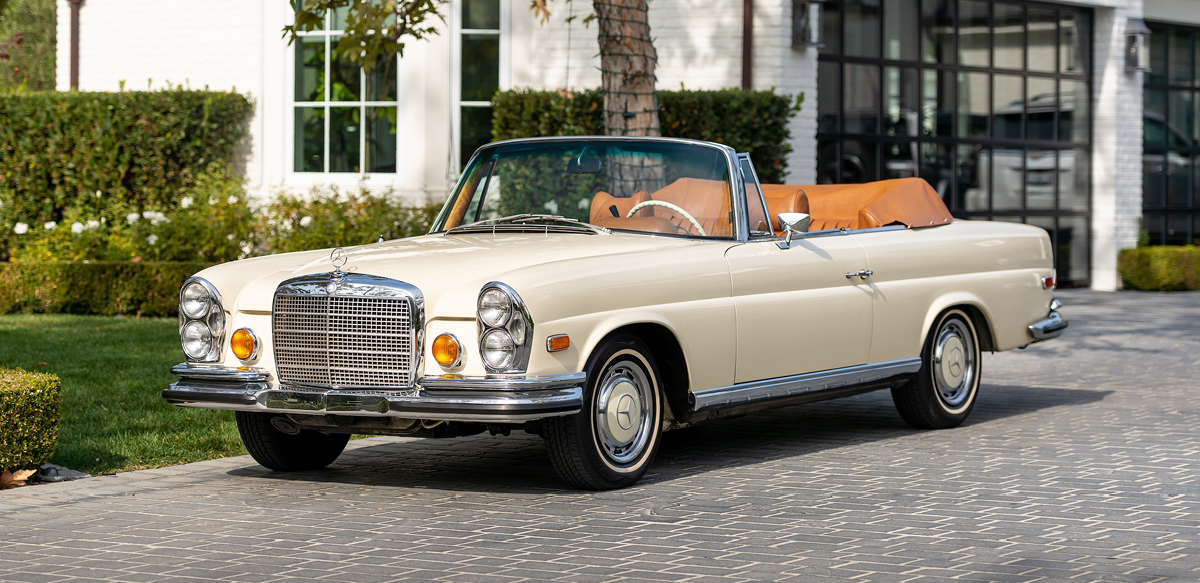 Dream Car
Not long before Mercedes dropped its doom notice for coupes and convertibles, the company had been gleefully referring to those models as its "dream cars." In that messaging, Mercedes rightly singled out one particular classic model that has spurred desire and envy for half a century, the 280 SE 3.5 coupe and Cabriolet.
We'll focus on the Cabriolet here, while pointing out that the coupe has one of the most exquisite roof lines and rear window designs to ever grace a two-door car. These were expensive cars at the time: $13,720 for the coupe and $14,380 for the Cabriolet in 1971. For perspective, a 1971 Porsche 911S Targa, the marque's top model, started at $9,600.
Much hand-work went into 280 SE coupe and Cabriolet body and cabin (both six-cylinder and V8 models), accounting for the huge premium over the Mercedes 280 SE sedan, which started at just under $7,700.
Birth of a Classic
In the Sixties, it was easy to take convertibles for granted. Among domestic cars, there seemed to be a convertible version of most models, from a lowly Plymouth Valiant to a Cadillac. Mercedes, though, was primarily a sedan maker, with coupes and convertibles positioned as the premium, rarer models.
Among the most beautiful were the iconic W111 coupes and Cabriolet models designed by Paul Bracq, then head of Mercedes design, and derived from the "fin tail" sedans. For these two-door models, Bracq shaved the sedans' little tail fins that seemed inspired by a '58 Rambler. The result was one of the most elegant profiles Mercedes ever produced.
By the mid-1960s, the sedans had adopted the sleeker tail of the coupe/ Cabriolet, while the latter shared in the mechanical upgrades to the sedan. For 1968, a new 2.8-liter inline six replaced the previous 2.5- and 3.0-liter units, and for 1969 (hence the "280" badge), a new 3.5-liter aluminum V8 also joined the line.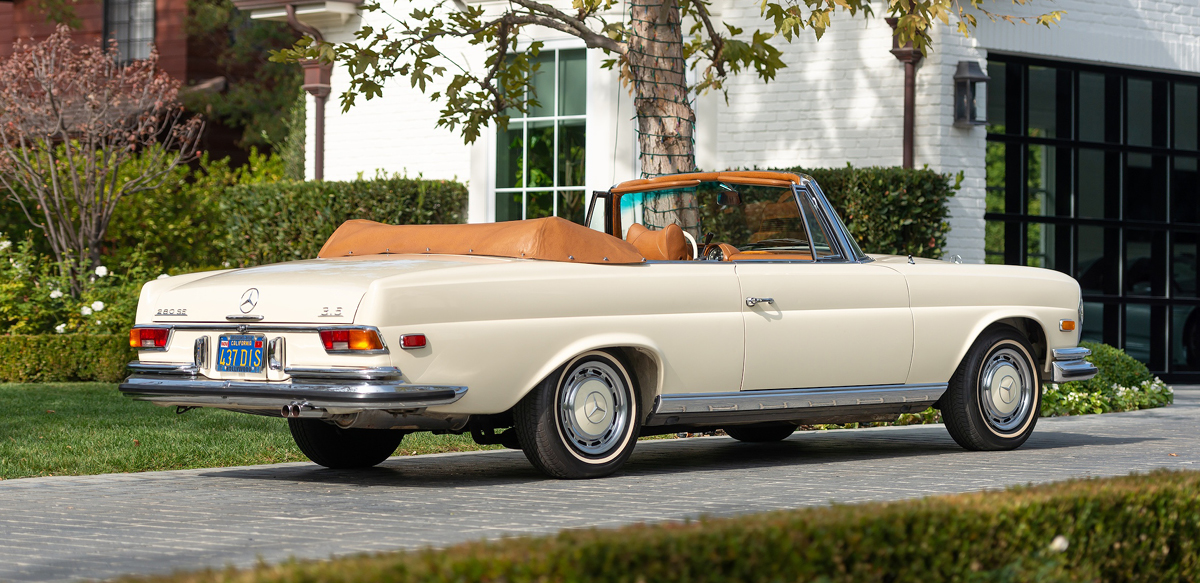 Successful Facelift
For the new V8 coupe and Cabriolet, Mercedes redesigned the front end a bit, lowering the center section of the hood and matching it with a lower, wider grille. The change brought some much needed modernity to the basic design that was by then more than a decade old.
The Mercedes 3.5-liter V8 was a modern overhead-cam design, rendered in aluminum and fed by Bosch electronic fuel injection. It made about 200 horsepower. Teamed with a four-speed automatic transmission, the V8 could take the 3,800-pound Cabriolet from 0-60 in a rather leisurely 10 seconds.
If you wanted a speedy Mercedes in 1971, the 300 SEL 6.3 was your car. The 280 SE 3.5 Cabriolet was for touring in luxury and style. Yet, if you lived where speed enforcement was lax, such as when crossing the desert in Nevada, you could easily get the car to 125 mph. Car and Driver magazine did just that in a 3.5 coupe, holding that speed for 20 miles out of Reno, and 20 miles back.
Uh, Where's the Power Top Button?
At those speeds, the Mercedes proved to be rock solid and quiet. Luxury in the 280 SE 3.5 Cabriolet was very different from the sofa-soft ride and full array of power accessories as American luxury models offered.
The Cabriolet was impeccably trimmed with that grainy Mercedes leather that seemed like it could last forever – and pretty much could, given proper care). Genuine wood trim and chrome were used artfully. Oh, and there was no power top.
That is correct. In this $14,000 German luxury convertible, one had to get out of the car and raise or lower the top manually. A power top was not even offered as an option.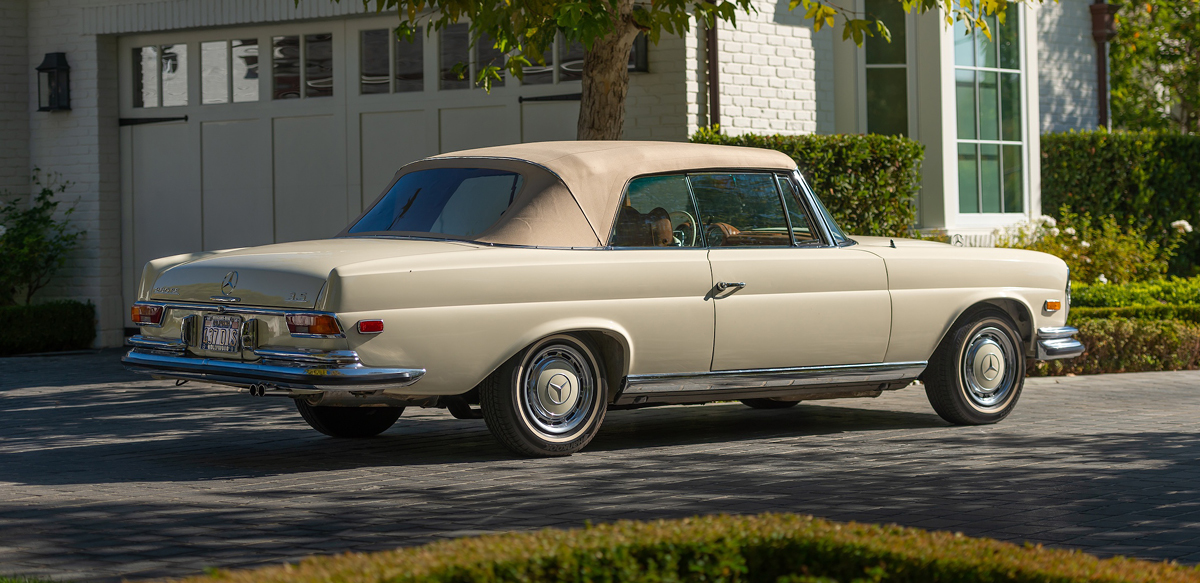 The Real Thing
As happened with other desirable premium convertibles, numerous 280 SE 3.5 coupes were rebuilt into the more valuable Cabriolet model. The 1971 Mercedes 280 SE 3.5 Cabriolet offered by RM Sotheby's remained with the original owner's family until 2014. Mercedes-Benz specialist and restorer Scott Melnick of Calabasas, California then acquired it and reupholstered the car's Cognac leather interior and beige soft-top. The Tenenbaum Collection acquired the Benz in November 2016 and attended to some mechanical needs.
Now, picture yourself behind the wheel of this classic 1971 Mercedes-Benz 280 SE 3.5 Cabriolet, with your hair slicked back and Wayfarers on, baby. The dream lives on.