When Less Really Was Much, Much More
It may sound like a quaint notion, but there was a time when Porsche underestimated the appeal of a lightweight, high-performance 911 that could be ordered for road or track. That time was 1973, and the car was the 911 Carrera RS 2.7, a "homologation" special that surprised Porsche with stronger-than-expected customer appeal.
Homologation is a big 50-point Scrabble word that means a production car must be built in a certain quantity to be eligible for racing. In this case, Porsche needed to build 500 to qualify for FIA Group 4 Special GT racing. The "RS" in Carrera 2.7 RS of course stands for RennSport, a name fully earned.
The resulting Carrera RS 2.7 was the early 911 distilled to its essence while revved up to its full potential. Customer demand drove Porsche to build more than three times the required number, and while this historic Porsche did not originally come to the U.S. market, many now reside here. Premier Financial Services has leased a dozen of them.
The Bonhams Quail Lodge auction in Monterey will offer a white Carrera RS 2.7 with a pre-sale estimate of $450,000-$550,000. RM Sotheby's, meanwhile, has a yellow Carrera RS 2.7 for its Monterey sale, with a pre-sale estimate of $600,000-$725,000.
Low Frills, More Thrills
It seems that no matter how much luxury and technology Porsche stuffs into its modern 911, anytime the company releases a special lower-frills performance model, the car causes a sensation. Porsche understands how purists and collectors crave such models and plans (low) production and (high) pricing accordingly. That's just good business, a lasting lesson from the Carrera RS 2.7 to Porsche marketing.
In 1973, though, the company was apparently caught off guard by the reaction to a new homologation model built to qualify for FIA Group 4 Special GT racing. The "RS" in Carrera 2.7 RS of course stands for RennSport, a name fully earned.
From 500 to 1,600 Just Like That
Homologation rules required Porsche to build 500 cars in the series. That was the company's plan, but customers had other ideas. Before Porsche even introduced the car at the 1972 Paris Auto Show, the 500-car run was sold. Another 500-car run was scheduled, with a higher price, and those sold out, too. The added production qualified the RS 2.7 for Group 3 GT racing, as well. And then came a third round, which also sold out quickly. All told, just under 1,580 were made.
The basic Carrera RS 2.7 was the RSH (homologation) weighing 2,117 pounds thanks to lighter-gauge steel for the roof, fenders, rear quarters and front hood, plus fiberglass bumpers and fiberglass engine cover. Windshield and rear side glass was thinner than on other 911s. (Fewer than 20 were made this way.)
Sport and Touring Versions
From that base, one could order the RS Sport option (M471) or Touring option (M472). The Sport, which weighed 2,150 pounds, was barely more trimmed than the homologation model. It had minimal undercoating and soundproofing, basic door trim, crank windows, thin felt carpeting and rubber floormats. Up front was a pair of lightweight Recaro bucket seats, but the rear seats were deleted, and so was the clock, passenger sun visor and headliner. Instead of a model name badge, there was a decal. About 200 of the cars made were Sports.
The M472 Touring, which accounted for the majority of the Carrera RS 2.7 models built, kept much of the interior trim and features of the 911 S and weighed about 2,370 pounds.
Chassis numbers for the Carrera RS 2.7 series started at 0011 and ended at 1590. After chassis No. 1230, stocks of some of the lightweight parts ran out, and the remaining cars used more of the standard 911 body parts.
Visually, the 911 Carrera RS 2.7 was a knockout. The rear quarters were flared 50mm (1.97 in.) to accommodate the 7-inch Fuchs alloy wheels. The fiberglass front bumper provided space to install an oil cooler. From the engine cover sprouted the Carrera's signature body feature, a "ducktail" spoiler that reduced rear end lift and improved high-speed stability.
Another signature design feature was the iconic big "Carrera" script and stripe graphic along the lower part of the doors. Cars ordered in Grand Prix white offered the choice of black, blue, red, or green "negative" graphics, with the wheel centers painted to match.
Racecar Heart
For homologation, Porsche created a special engine for the Carrera RS 2.7, using 90-mm (3.51-in.) cylinder bores in the basic 911 S 2.4-liter engine. Applying a lesson from the 917 racecars, a Nikasil nickel-silicon carbide coating in the cylinders reduced friction and added strength.
Power output rose from 190hp in the 911S to 210hp at 6300 rpm, along with 202 lb-ft of torque at 5100 rpm. The RS retained Porsche's proven Type 915 5-speed manual transaxle and 4-wheel disc brakes. Performance was startling for the time, with 0-60 mph in 5.5 seconds and a 150-mph top speed.
The Grand Prix White Touring-spec Carrera RS 2.7 offered by Bonhams is chassis No. 1446, built at the end of the production run. The car was ordered in Germany, then lived in Britain and Japan before coming to the U.S. around 2003.
This very special Porsche has run in vintage car rallies including the Copperstate 1000 and the Going To The Sun Rally. One could hope that its next owner will give it that kind of exercise, too. Its builders would have wanted it that way.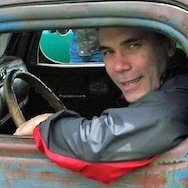 Written by Jim Koscs,  Audamotive Communications
For Premier Financial Services