A Racer's Racer
Those in collector-car circles often talk of provenance, the history that makes a car special, unique and valuable. This is most critical with racecars. A trophy case from renowned races like Le Mans, Sebring, the Mille Miglia, Targa Florio and Daytona and many others symbolizes the provenance that can add perhaps millions of dollars to an automobile's value.
But no car ever drove itself across the finish line. Today, we stand on the precipice of self-driving cars and trucks. The Roborace car suggests that at least part of the future of competition may pit robot cars against each other. It is against this backdrop that the recent passing of Sir Stirling Moss, one of the sport's greatest competitors, stands as a significant marker.
Others have eloquently eulogized Moss over the weeks following his death on April 12 at age 90. Here, we'll take a look at some of the marques and cars that gained provenance at the hands of the man who was knighted in 2000 for his services to motor racing.
A Jaguar in the Rain
Born in September 1929, Moss began racing as a teen with financing and encouragement from his father, Alfred. He was a successful dentist and driver who had placed 16thin the 1924 Indianapolis 500. Stirling Moss drove his father's BMW 328 in various races and then began his career in Formula Three, driving a Cooper 500, a tiny mid-engine machine powered by a 500cc motorcycle engine. The teenage Moss won 12 of 15 races entered.
That was not enough for Jaguar to add him to their team for the R.A.C. Tourist Trophy Race at the Dundrod circuit in Northern Ireland in 1950, but a private owner, Tommy Wisdom, lent Moss his XK120, one of six alloy-bodied factory race-spec cars. In qualifying, Moss set the fastest lap for a production car at Dundrod to that point. The race, though, took place in a driving rain storm. By the second lap, Moss had passed the leading XK120 of Leslie Johnson and handily won his first major sports car race.
Beating Danger … and Fangio
Five years later, Moss would win what was arguably his greatest victory, the 1955 Mille Miglia, casting his name in the same stone of racing legends. Moss, driving a Mercedes-Benz 300 SLR and with Denis Jenkinson as navigator, won the wildly dangerous 1,000-mile race across Italy's public roads and highways in a record 10 hours, 7 minutes, 48 seconds. Their average speed was nearly 99 mph.
Most notably, Moss and Jenkinson beat the time of their Mercedes teammate and Moss's idol, the great Juan Manuel Fangio, also in a 300 SLR, by nearly 32 minutes. (The Mille Miglia was a race against the clock, with each car released onto the route at one-minute intervals.) The top-placing Ferrari took third, more than 44 minutes behind Moss's time.
Moss's win at the Mille Miglia was instrumental in establishing the Mercedes 300 SLR's legendary status. Unfortunately, tragedy also played a role in the 300 SLR's history; it was Pierre Levegh's 300 SLR that flew into the spectator area at the 24 Hours of Le Mans just two months after Moss's Mille Miglia triumph. The crash took Levegh's life and killed 83 spectators. Mercedes withdrew from racing that day and did not field a factory team until 1989.
Aston Martin's Great Year
Moss also raced successfully in Formula One, winning races for Maserati, Cooper, Vanwall and Lotus. He drove Maserati Formula One and sports cars in 72 races, taking 25 wins and setting 31 lap records.
Moss never won at Le Mans, but he was instrumental in Aston Martin winning the World Sports Car Championship in 1959. Aston Martin owner David Brown had decided to skip the Nürburgring 1000 to focus efforts on the 24 Hours of Le Mans, but Moss convinced the team manager, John Wyer, to give him a DBR1 to compete in the German race.
Moss qualified fourth and then passed the Ferrari and Porsche teams, beating the lap record and owning the lead by the 17thlap. Trading back and forth with co-driver Jack Fairman after that put Moss into some memorable chases against the Ferraris of Jean Behra and Phill Hill. Moss ultimately beat Hill by 41 seconds after seven and a half hours of racing.
Two weeks later, on June 21-22, Carroll Shelby and Roy Salvadori won Le Mans for Aston Martin, and that September, Moss teamed with Shelby and Fairman to win the R.A.C. Tourist Trophy at Goodwood, giving Aston Martin the championship.
"Retirement"
After recovering from a near-fatal crash in a Lotus Formula One at Goodwood in 1962, including spending a month in a coma, Moss returned to racing but felt he'd lost his edge. And so, at the age of 32, he retired. In a 14-year career, he'd won 212 races out of 527 starts (including 16 of 61 Grand Prix races).
In the decades that followed, Moss remained a major presence in motorsports, driving in vintage racing events and becoming a racing commentator, among other activities.
Any car enthusiast would greatly benefit from a read of Moss's life.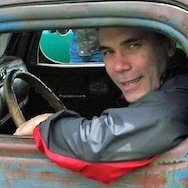 Written by Jim Koscs, Audamotive Communications