Did BMW Go Overboard on Track Performance?
In its road and track test (pun intended) of the 2023 BMW M4 CSL, Car and Driver concluded, "Track focus can go too far." This critique was triggered by the M4 CSL's seemingly singular focus on track performance, with carbon-fiber seats it deemed uncomfortable, along with a harsher ride.
We generally don't we see this complaint leveled at track specials from Ferrari, Lamborghini, and Porsche, and, indeed, some auto media often comment that "we're looking forward to the more track-tuned version" when they test high-performance cars. Yet, BMW offers tamer versions of its M4 and is pitching the $141,000 M4 CSL as an ultimate track car.
Nobody's suggesting you drive an M4 CSL on picnics. Could you drive it to the track? Of course. Better yet, leave it parked in your private track condo garage.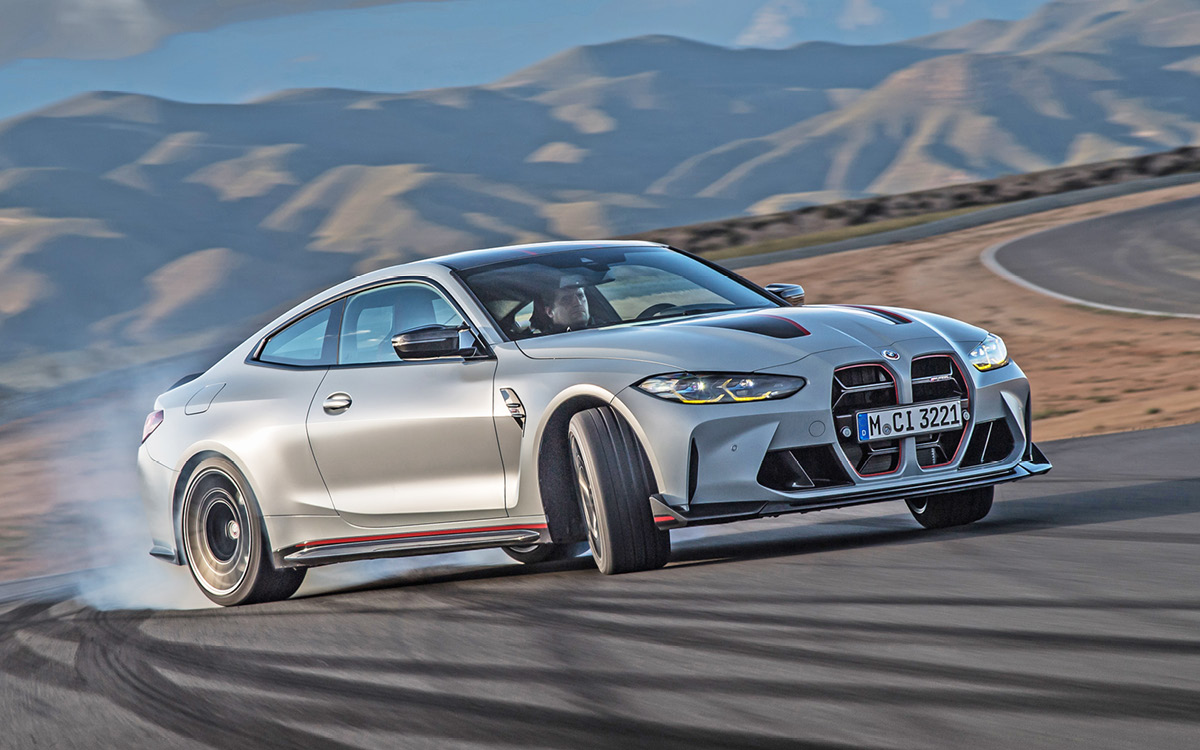 Track Heritage
The "CSL" badge is not something BMW bandies about haphazardly. It evokes the 1973 BMW 3.0 CSL developed by BMW Motorsport and nicknamed the "Batmobile" for its myriad wings and spoilers. BMW designed the 3.0 CSL lightweight to win the European Touring Car Championship, which it did in its first season.
With its prominent ducktail rear spoiler and deep front splitter, the M4 CSL seems to channel the spirit of the 3.0 CSL from half a century ago. The $4,500 extra-cost "Frozen Brooklyn Grey" metallic paint seems to scream, "Buy me!" but you can also choose standard Alpine White or Black Sapphire metallic.
Along with that first CSL model's aero features came a weight-reduction program to make the car track-ready. BMW says M4 CSL production for global markets is limited to 1,000 cars per year.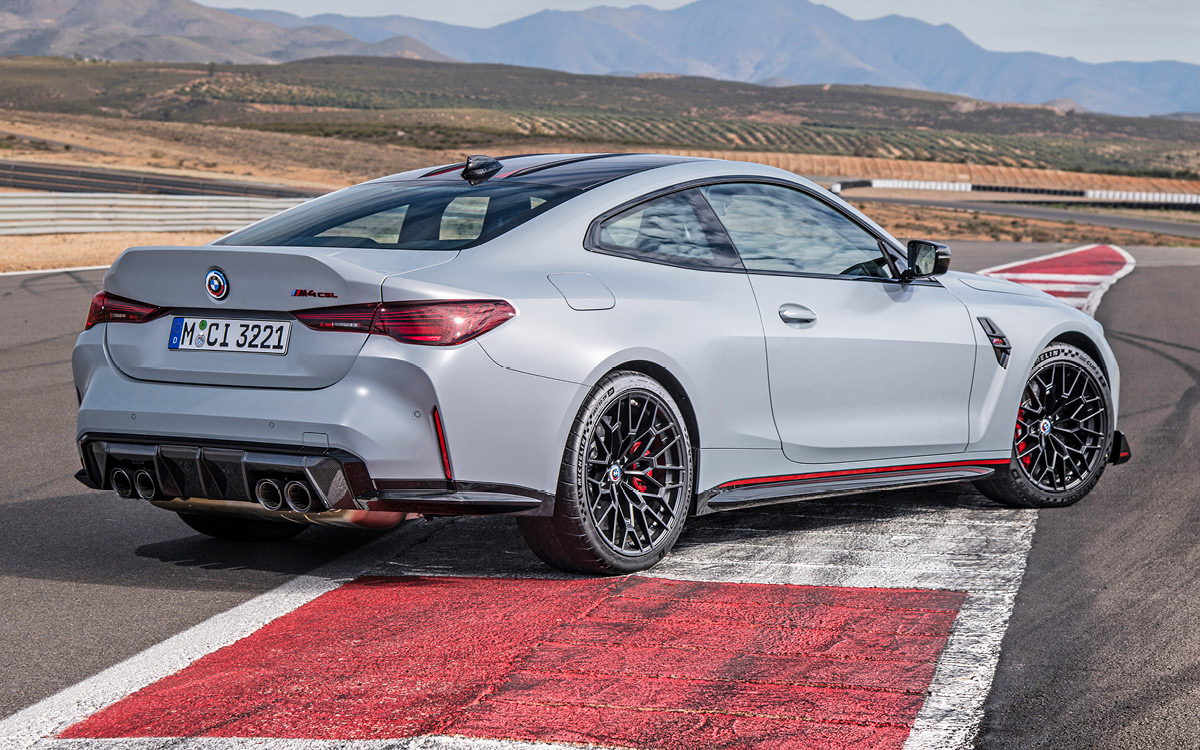 Track Capability vs. Track-Focused
For most customers seeking track capability from BMW, the $82,000 M4 Competition coupe delivers all they'd need while preserving street drivability. BMW goes even further with the M4 CSL.
Getting right to the numbers, the M4 CSL's version of the 3.0-liter twin-turbo inline six-cylinder engine delivers a 40-hp hike over the 503-hp M4 Competition. At the same time, BMW stripped 240 pounds from the car's weight. Keep in mind, the M4 Competition is a weighty car to begin with, at 3,830 pounds. It's even heavier with the available xDrive all-wheel drive system, which is not available for the CSL.
BMW raises turbo boost pressure from 24.7 psi in the M4 Competition to 30.5 psi in the CSL. A more track-appropriate intercooler uses a low-temperature cooling circuit. Output is 543 hp at 6,250 rpm, with 479 lb-ft of peak torque available from 2,750 rpm to 5,950 rpm. In this 3,580-pound car, that works out to a mere 6.6 pounds per hp.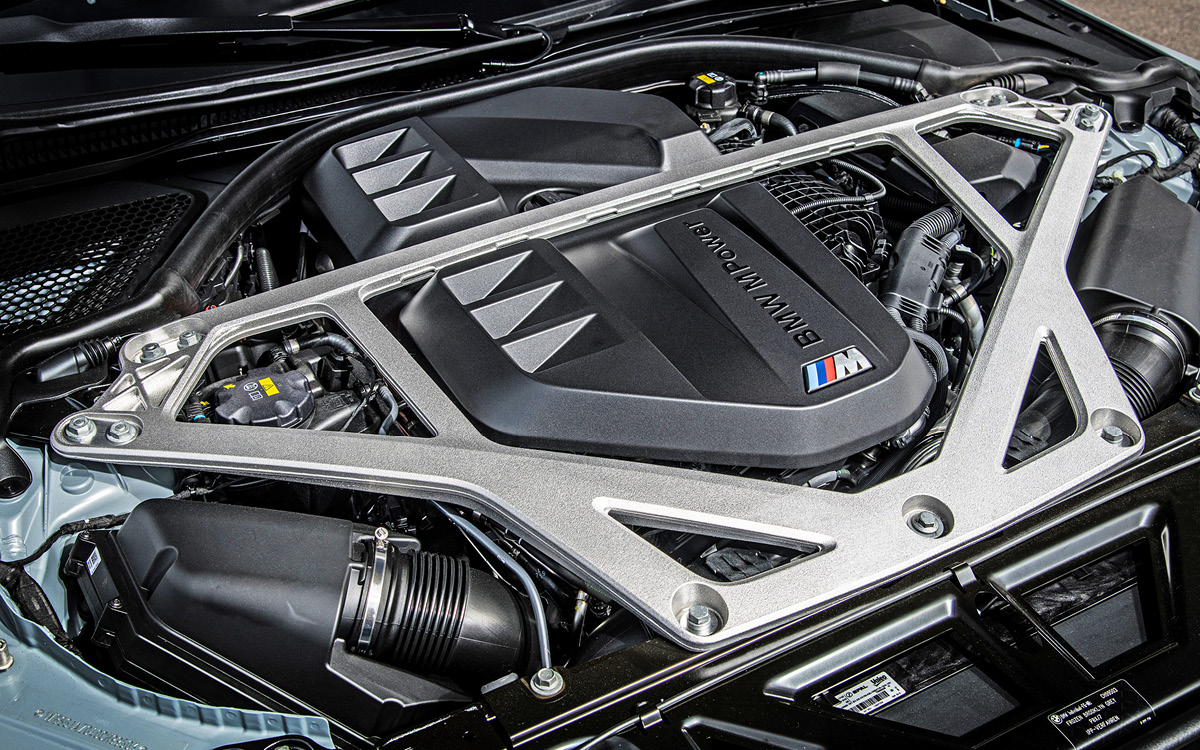 The M Diet
To drop 240 pounds from the M4 Competition, BMW pulled out the back seat to cut 46 pounds, and installed the aforementioned carbon-fiber front racing seats for another 53-pound weight drop. Special lightweight forged alloy wheels (19-inch front, 20-inch rear) and standard carbon ceramic brakes take off 46 pounds.
Using ultra-lightweight sound insulation – and less of it – removes 33 pounds. The carbon fiber center console takes off 9, ditto the titanium exhaust muffler. A carbon fiber trunk lid shaves 15 pounds, and finessing some exterior details, the automatic climate control system, and even the floor mats cuts another 8 pounds.
That's right, BMW kept the A/C and audio system. We've seen track specials from other automakers delete those items to tout a very low advertised weight and then let customers add them back in as options.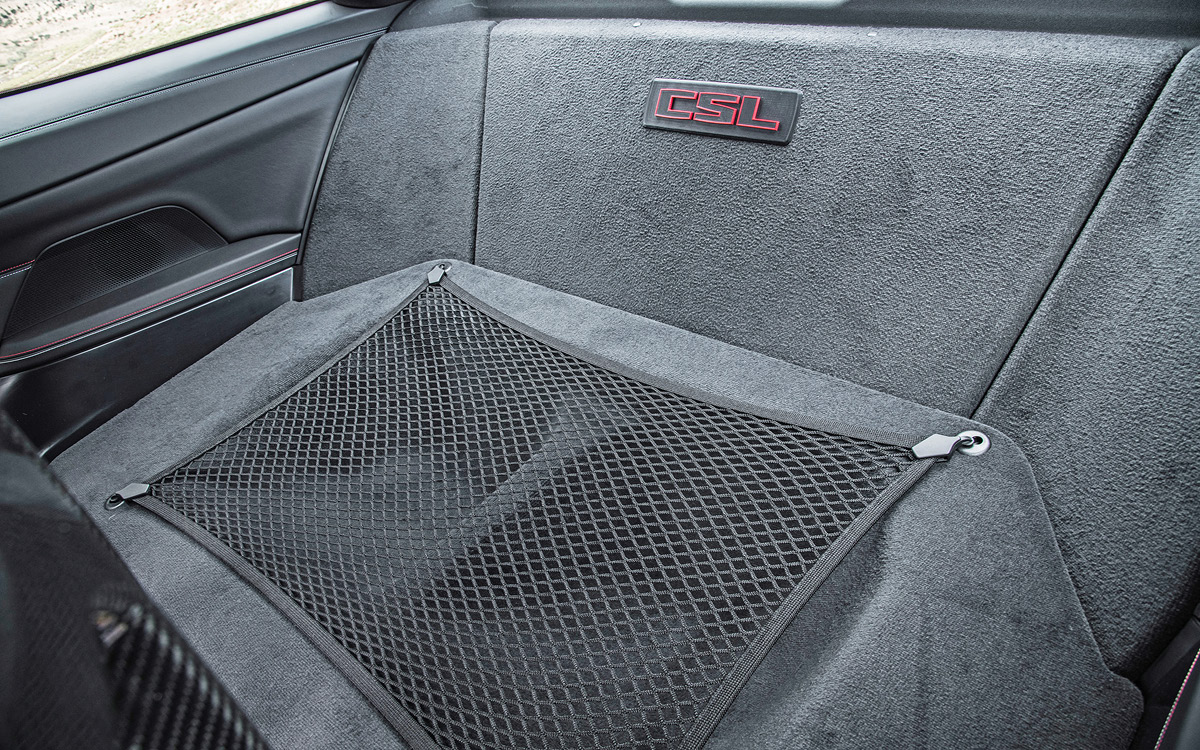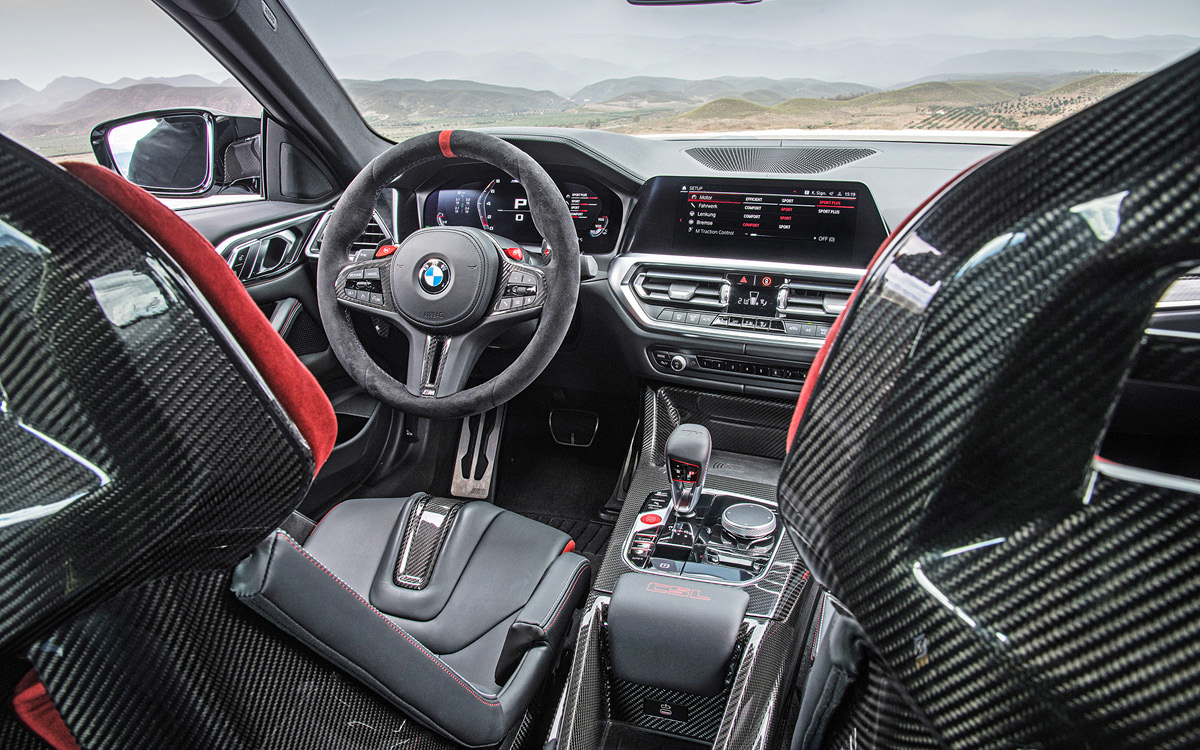 Do You Really Need the CSL?
Car and Driver dubbed the M4 Competition with all-wheel drive (something not available on the CSL), "ultra-intense." This model was blisteringly quick: 0-60 in 2.8 seconds and the quarter-mile in 11 seconds flat at 125 mph.
The M4 CSL is not as quick in all situations as the M4 Competition xDrive. Surprised? Blame two things for the disparity: the latter's all-wheel drive grip and the former's added power being concentrated at high rpm. That means the CSL, while 0.5-second "slower" from 0-60 and 0.2-second behind in the quarter mile than the M4 Competition in Car and Driver's hands, it begins to show its extra bite above 100 mph.
The M4 CSL's 131-mph quarter-mile speed (+6 mph over the M4 Competition xDrive) shows the benefits of its higher peak power and lower weight. The CSL's 15.4-second sprint from 0-150 mph is two seconds quicker than the M4 Competition, and its electronically limited 191-mph top track speed is 11 mph higher.
Both cars use eight-speed automatic transmissions – and torque-converter automatics, not dual-clutch transmissions, which BMW is dropping.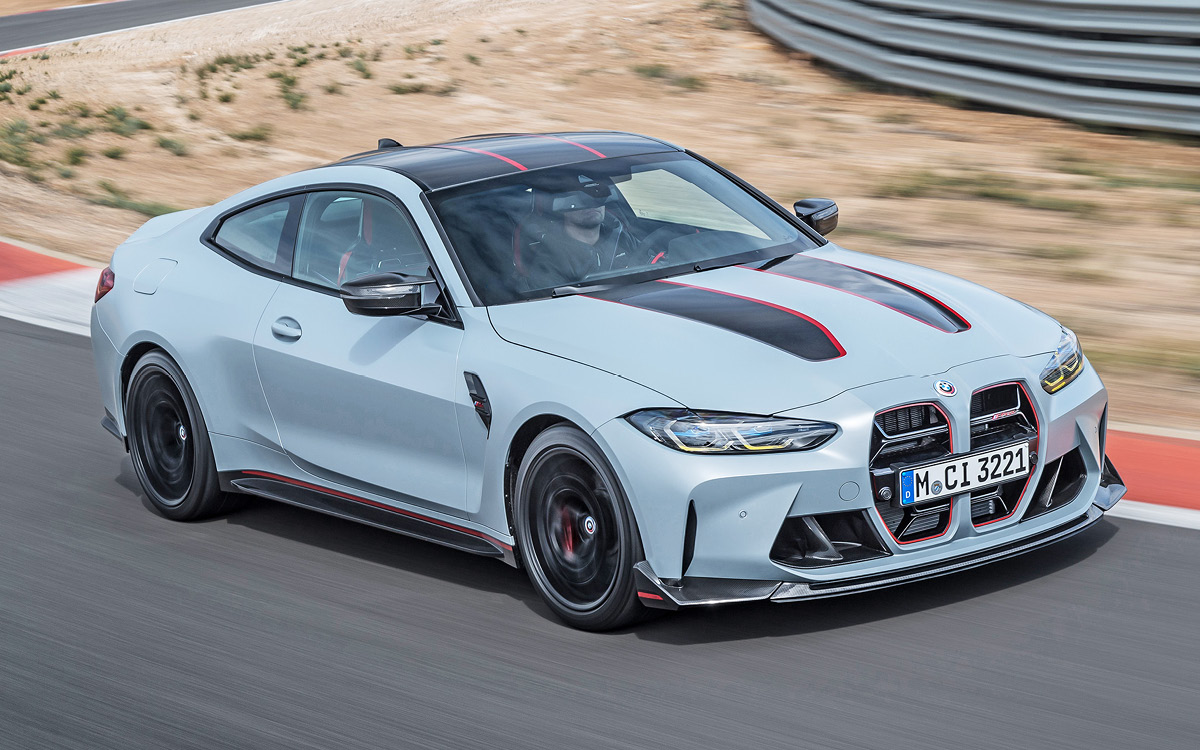 The Number That Really Counts
Straight-line acceleration does not tell the CSL's whole story. The M4 Competition xDrive model's 1.02g skidpad grip should be enough for occasional track activities, while the CSL's 1.10g reading (on its standard Michelin Pilot Sport Cup 2 R tires) puts it in a league for more dedicated track enthusiasts. Just as critically, the M4 CSL cuts braking distance from 100 mph by a significant two-dozen feet compared to the M4 Competition.
The M4 CSL's purpose can be summed up with one number: 2:47.5. That's for its 2-minute, 47.5-second lap around Virginia International Raceway in Car and Driver's "2023 Lightning Lap" comparison test. That makes it the fastest BMW around VIR the magazine had ever tested, outperforming the BMW M5 CS and the M4 GTS in past tests.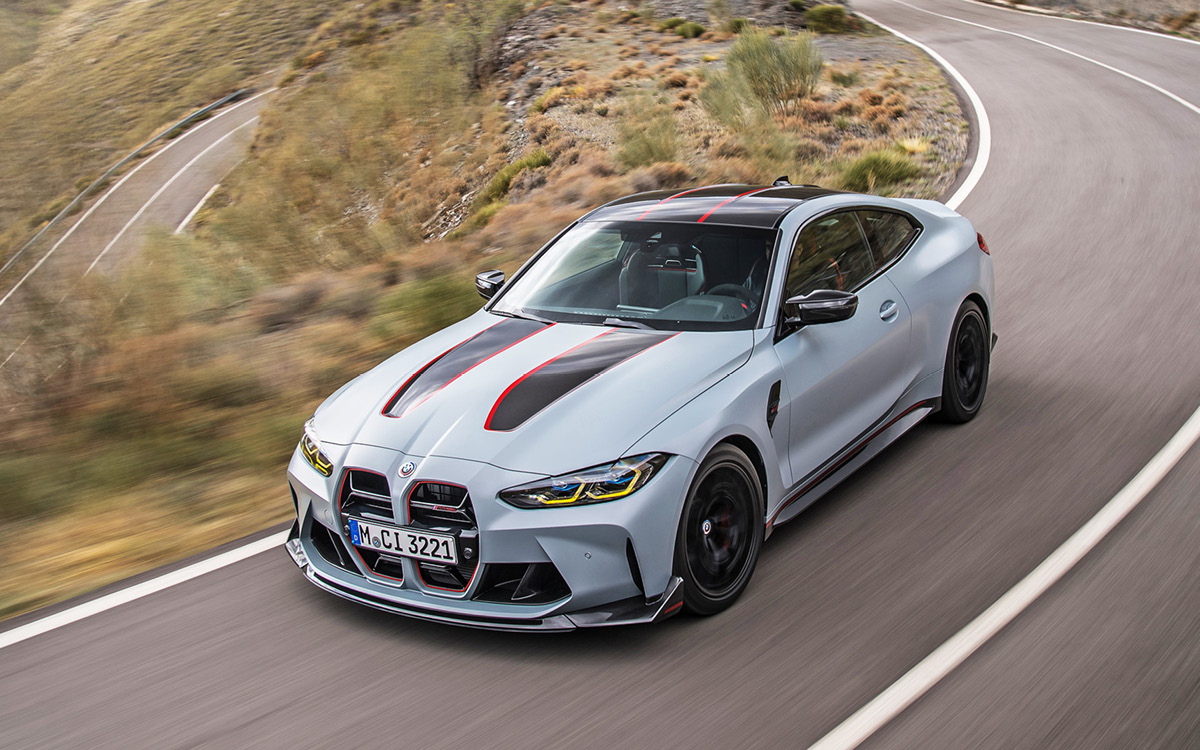 Too Much, or Just Enough?
For reference, the $40,000 more expensive Porsche 718 Cayman GTS 4.0 bested the M4 CSL's time by a significant 7 seconds, while the $4,000 less expensive Corvette Z06 beat it by 8.9 seconds. So, there are good choices for those not married to the BMW Roundel. The M4 CSL seems aimed at BMW loyalists who feel "too much is just enough." How many of these will see the track vs. sit in heated garages remains to be seen during auction season in a few years.