A Tale of Two Z8s
Do you like a good coincidence? We've got one for you. At RM Sotheby's Miami auction earlier this month, two BMW Z8s, from two different owners, sold for the same amount: $229,600. Both also showed 22,000-23,000 miles. One was a standard BMW Z8 and the other was the Alpina version called the BMW Alpina Roadster V8.
Taking inspiration from the classic BMW 507 of the 1950s, the BMW Z8 arrived as a 2000 model. BMW went on to build 5,703 Z8s through 2003, plus another 555 as the differently equipped Alpina Roadster. Of those, 2,503 BMW Z8s came to the U.S., along with 450 Alpinas.
It's the kind of car that many wish BMW would build again.
Roadster Happy
BMW was in a roadster state of mind in the 1990s. The German marque built the quirky and quick Z1 roadster for 1989-1991, making 8,000 and not exporting any to the U.S. The Z3 followed for global consumption in 1995. But the big kahuna was the limited-production 2000-2003 Z8, which was priced at $128,000 new. Early buyers paid high premiums.
Living up to BMW's "Ultimate Driving Machine" mantra, the Z8 was built for speed and corner carving. The sole powertrain offered was a 394-horsepower 4.9-liter V8 built by BMW's M performance division and teamed to a six-speed manual transmission. There was no automatic available, but Alpina, BMW's officially sanctioned tuner and manufacturer, would step in to fulfill that need. (Founded in 1965, Alpina became part of BMW in March 2022.)
Don't Say "Retro"
Henrik Fisker, who worked in BMW's advanced design studio, is credited with shaping the Z8. He subsequently left BMW for Aston Martin. Though an homage to the BMW 507, the Z8 was not a purely retro design.
BMW built the Z8 on a special production line in its Munich facility, largely by hand. Construction used a riveted and MIG-welded aluminum spaceframe structure, to which aircraft aluminum body panels were bolted to help make repairs easier. Aluminum construction kept the roadster's weight to 3,500 pounds. That was about 700 pounds lighter than the contemporary Mercedes-Benz SL500, which was about the same size.
Front coil-over strut suspension and multilink rear suspension systems were aluminum and tuned for maximum agility, with the car capable of nearly 1.0g cornering. BMW placed the V8 behind the front wheel centerline to give the Z8 a 50:50 weight balance.
The Z8 rode on 18-inch aluminum wheels with a "staggered" tire setup, 245/45WR18 front, and 275/40WR18 in the back.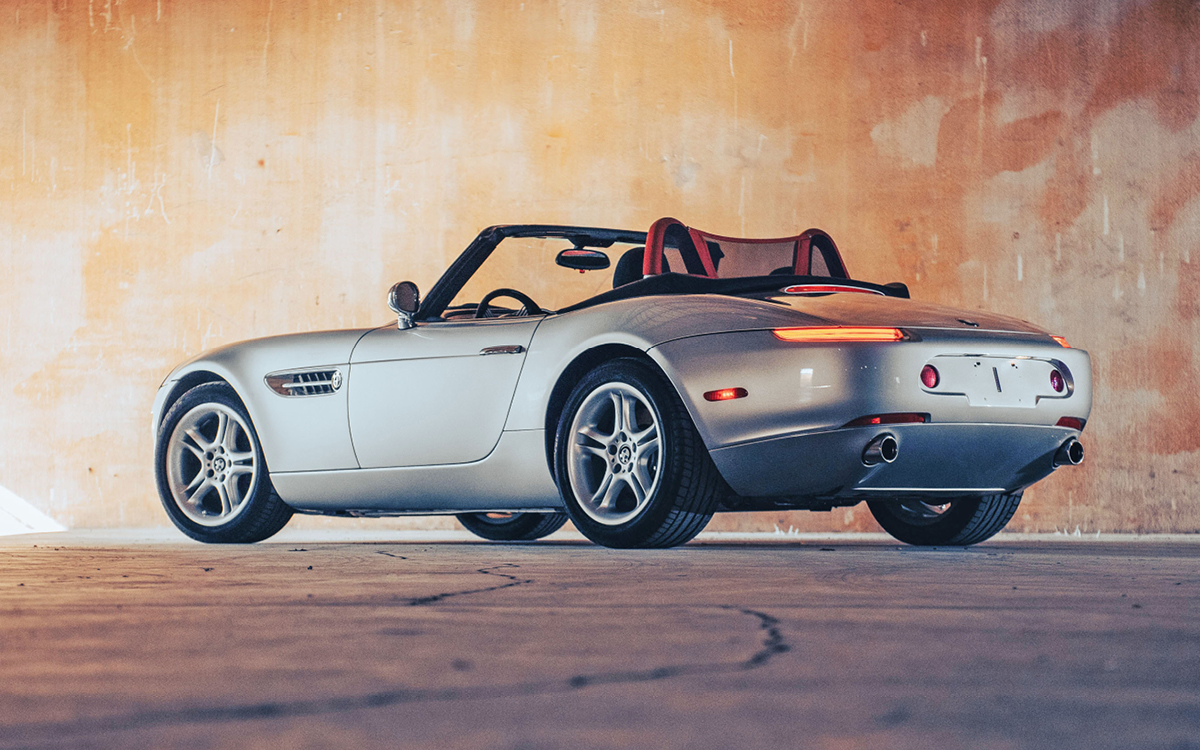 Ferrari Beater
In today's world of 600-horsepower luxury SUVs, the BMW Z8's 394 horsepower might seem a tad tame. Banish that thought and (1) go back to the 3,500-pound vehicle weight and (2) remind yourself that it's the stunning BMW S62 4.9-liter V8, a naturally aspirated aluminum sculpture built by the M division and also used in the M5 sedan.
The S62 V8's 369 lb-ft of torque came in at 3,800 rpm, and 85 percent of that was on tap right from 1,500 rpm, or basically the moment your right foot touched the accelerator. Keep your foot down and work the six-speed stick quickly, and the Z8 could do 0-60 in 4.2 seconds and blaze the quarter mile in 12.6 seconds at 111.8 mph according to Motor Trend's testing. Car and Driver got similar results, which were better than the Ferrari 360 Spider in the magazine's exotic car comparison test that also included an Aston Martin DB7 Volante.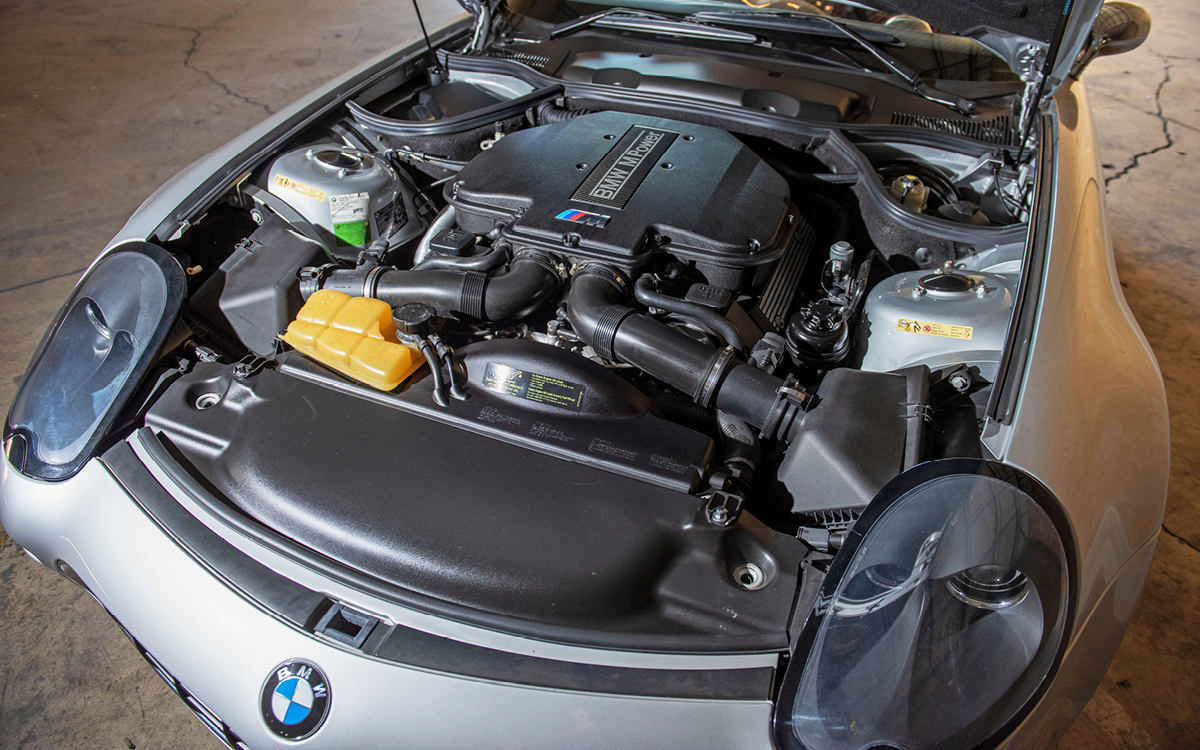 No Compromise on Luxury
BMW designed the Z8's cabin layout to help keep the driver focused. Placing the instrument panel in the center of the dash was said to give a better view of the road. The three-spoke "banjo" steering wheel was inspired by steering wheels in some classic sports cars. The "banjo" name comes from the way the wheel's spokes comprise individual thinner spokes.
Aluminum switches and buttons showed exotic-car level of detail, and matching leather covered the roll-bar hoops behind the seats. Even with its tight focus on performance and low weight, the BMW Z8 came loaded with luxury. Standard features included a power-adjustable steering column, navigation system, six-way power adjustable sport seats, and a 10-speaker Harmon Kardon sound system with CD changer. A detachable color-matched hardtop came standard for the Z8.
The 2002 BMW Z8 sold by RM Sotheby's in Miami was finished in Titanium Silver Metallic over a Sport Red and Black Nappa leather interior and showed just 23,197 miles.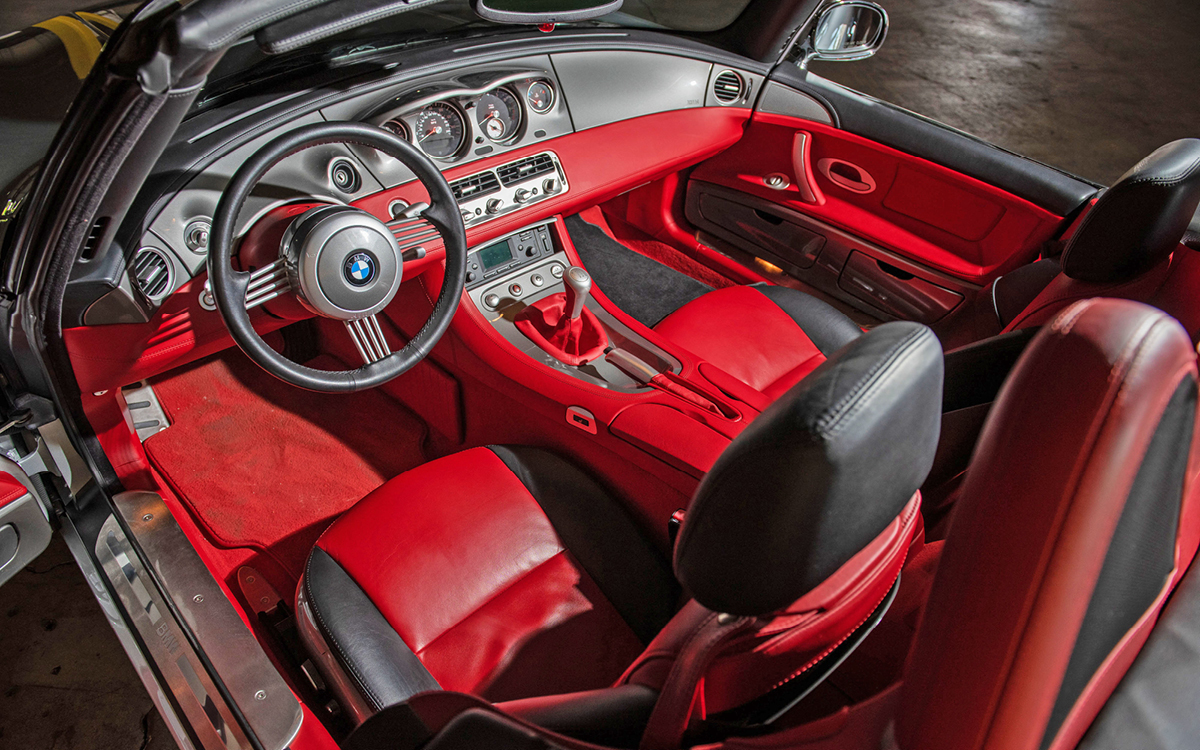 Alpina, the Automatic Choice
The BMW Z8's restriction to a manual transmission undoubtedly disappointed some customers. So, for 2003, BMW continued production of a models specifically for them. Working on tandem with its close ally Alpina (and now its subsidiary), BMW built a luxury GT version of the Z8 called the BMW Alpina Roadster V8. The longer model name signified a different (and slightly less powerful) version of BMW's V8 engine, and a five-speed automatic transmission, along with larger wheels and interior tweaks.
In place of the M-Division's S62 engine, Alpina started with BMW's tamer 4.6-liter engine from the 540i, using a slightly wider bore and longer stroke to get a 4.8 liter capacity. Further tweaks took the engine to get 375 horsepower and with a bit more torque than the Z8 (383 lb-ft vs. 369). This engine was reportedly better suited to the automatic transmission and this version's refined GT mission. You gave up some acceleration, with 0-60 in 5.2 seconds, but oddly, the electronically limited top speed was 6 mph higher than the Z8's.
Alpina replaced the 18-inch BMW wheels with its own specially made 20-inch wheels, which was more for aesthetics than performance. Curiously, while the wheels picked up the "banjo" theme (each spoke comprising four individual spokes), the Alpina's steering wheel used just two "banjo strings" per spoke, perhaps to better accommodate the automatic transmission's paddle shifters.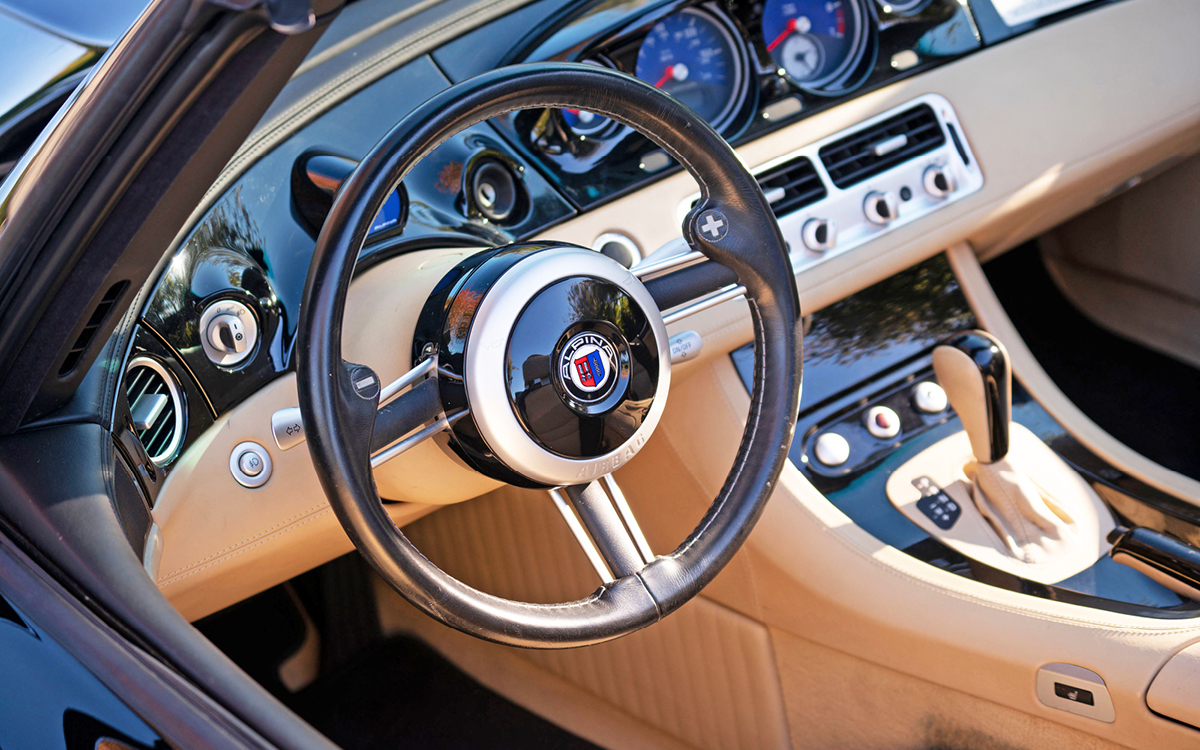 First U.S. Alpina
Significantly, this version of the Z8 was the first Alpina model that BMW dealers sold in the U.S., and 450 of the 555 made came here. The BMW Alpina V8 Roadster cost about $136,000 new. The one-owner car sold by RM Sotheby's in Miami was number 547 and had 22,686 miles showing.
So, which of these would you have chosen to put in your garage? (Hint: the best answer is "both.") And, keep in mind that BMW promised to keep Z8 parts available for 50 years, so we've got 28 to go.