A New Name, More Seats, and a New Direction
Ponder this: the Mercedes SL has been around for nearly 70 years, with the all-new 2022 SL being the seventh generation of this halo model. As the headline suggests, the new car gets a new version of its hyphenated brand name, substituting "AMG" for "Benz." It's more than a new badge, though, and it signals an elevated role within the brand for the evergreen grand tourer.
For the 2022 SL, with the internal code number R232, the car officially becomes a model of the AMG performance division. AMG developed this car on its own platform, and Mercedes says it does not share anything with its other cars.
Make no mistake, the SL is still a luxury-performance flagship for Mercedes, especially with the comforts lavished on the four occupants. That's correct. The new SL is a 2+2. Two more surprises include the addition of all-wheel drive and a return to a soft top after two decades with a retractable hardtop. Pricing for the new Mercedes-AMG start at $137,400 and zoom toward $200,000. If you've not looked at an SL in a while, this one deserves a close inspection.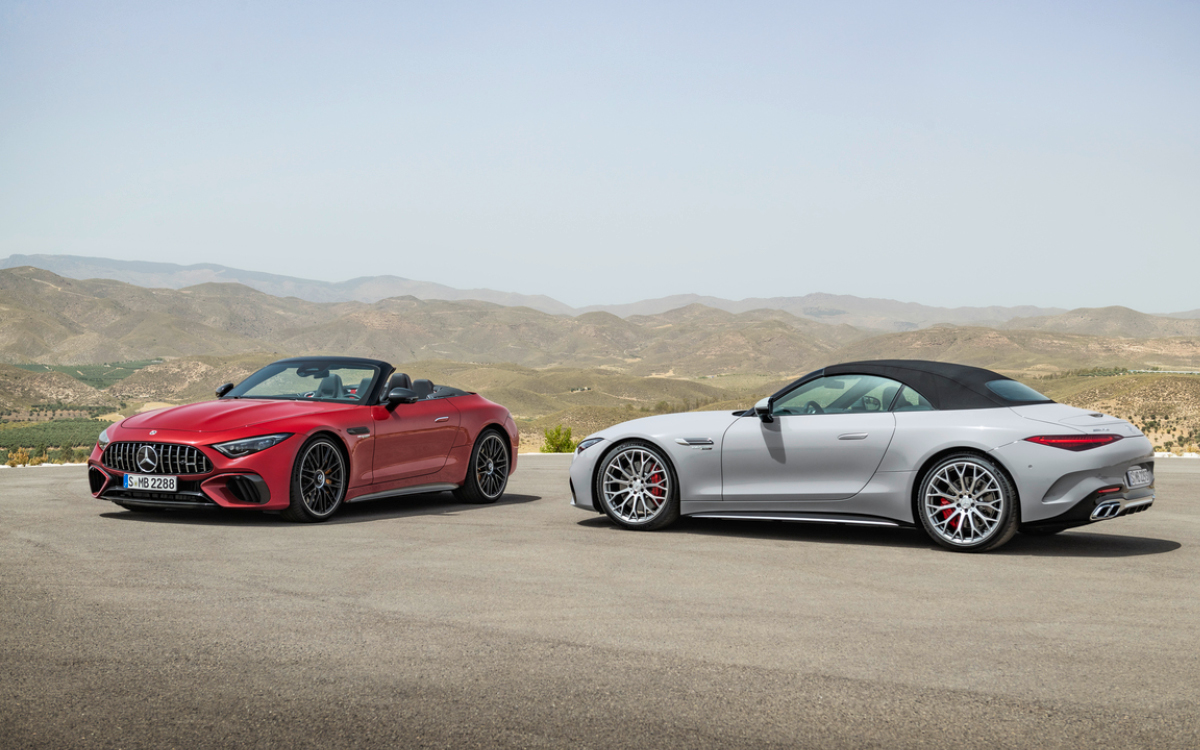 AMG Performance Cred
Three decades ago, the R129 SL series transformed the car from the country club cruiser it had become into a proper high-performance luxury GT. The next two design generations (R230 and R231) featured a retractable hardtop and offered new levels of performance, yet some felt the car lacked a clear direction.
The new SL aims to change that. Mercedes emphasizes that it does not carry over anything under the body from the previous SL. Nor does it share anything with the AMG GT Coupe and Roadster, except a passing resemblance to their designs and using versions of their hand-assembled 4.0-liter twin-turbo engines. Published reports indicate that a new AMG GT Coupe and Roadster in development could share much with the new SL.
Two SL Models
Mercedes offers the new SL as the SL55 and SL63, but, as on other Mercedes models, the numbers do not correspond to engine displacement. Both new SL models are powered by a hand-built twin-turbo 4.0-liter V8, the SL55 getting a 469-horsepower version and the SL63 boosted to 577 hp.
Both models employ the nine-speed AMG Speedshift MCT automatic transmission. This unique unit uses a multi-plate clutch pack rather than a torque converter to execute rapid shifts with less complexity than a dual-clutch automatic transmission. Mercedes estimates 0-60 in 3.8 seconds for the SL55 and 3.5 seconds for the SL63.
All-wheel drive is standard on both new SLs, a first for this model. The company calls it AMG Performance 4MATIC+ and says it "intelligently apportions torque to all four wheels." The standard chassis spec now includes four-wheel steering, which turns the rear wheels slightly to give the SL better maneuverability. The four-wheel multi-link suspension includes standard adaptive dampers.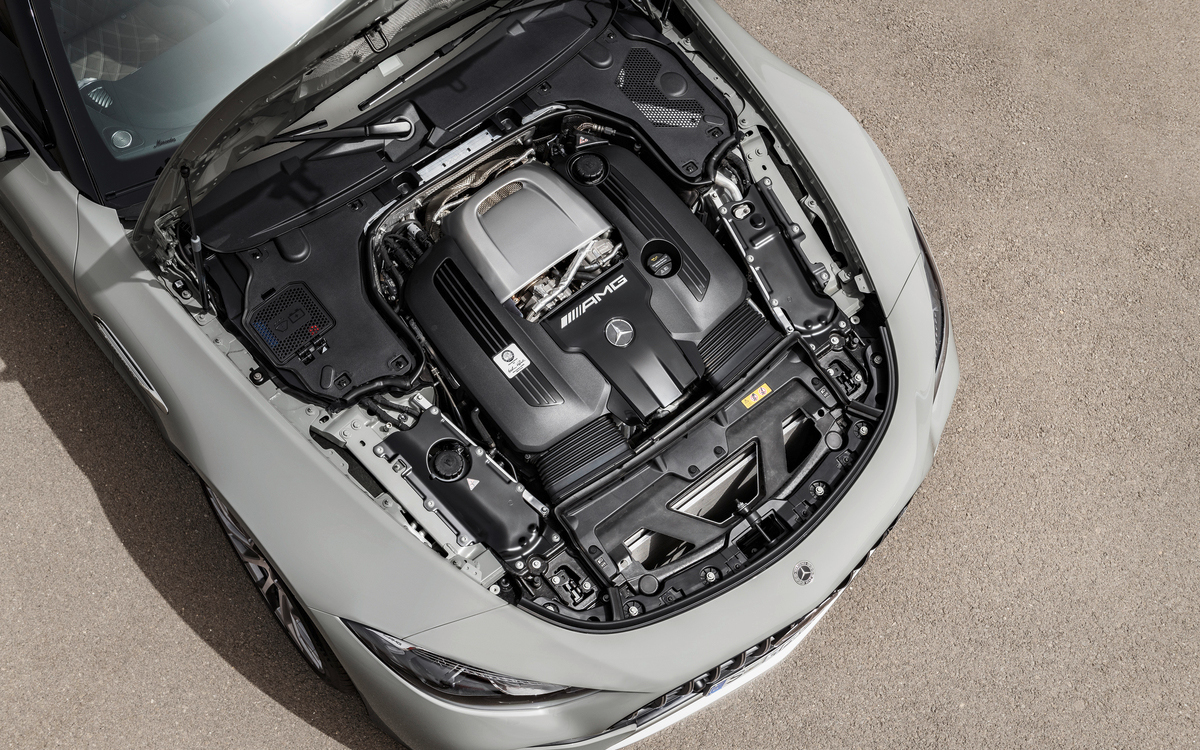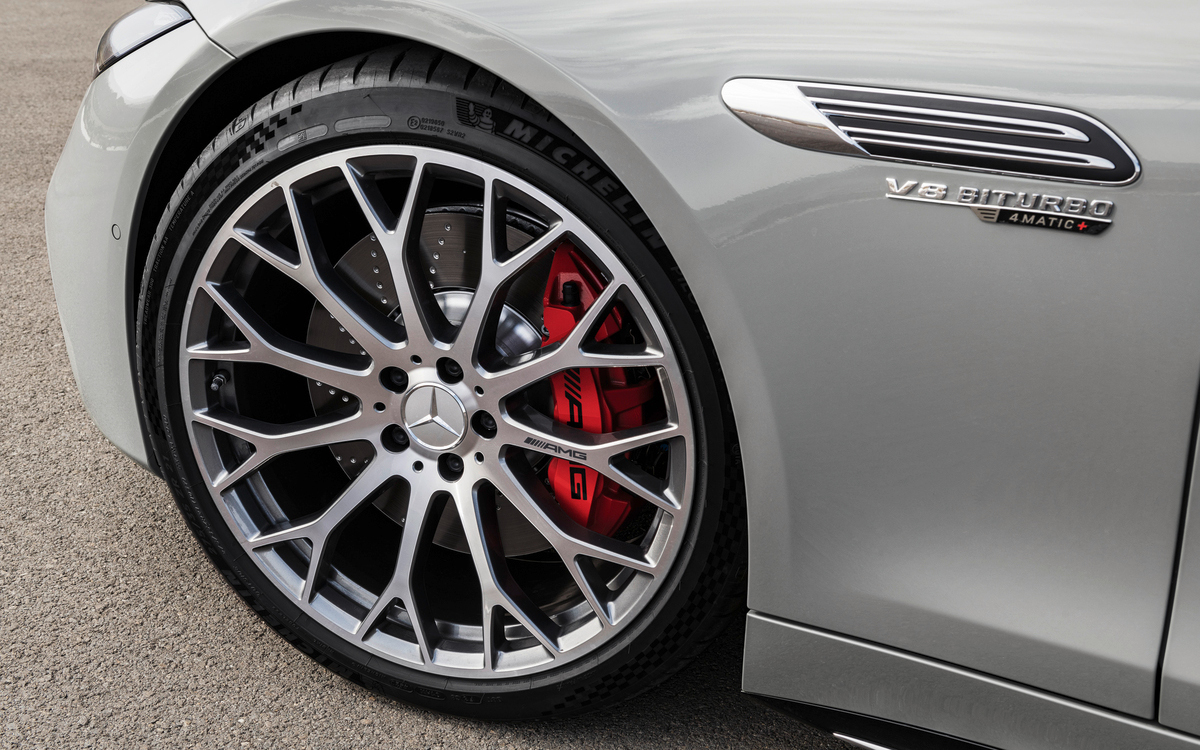 2+2 = Room for the Kiddos
The new SL rides on a longer wheelbase, 106.3 in. versus 101.8 in. for the previous model, and is about three inches longer overall. The growth spurt makes room for two seats that Mercedes says should be suitable for passengers under five feet tall – children, essentially.
It's been a very long time since "SL" really meant "super leicht," but there's no denying that packing so much performance, luxury, and safety into a not-so-small 2+2 also packs on the pounds. To compensate, Mercedes builds the new SL unit body structure from a combination of aluminum, high-strength steel, magnesium, and fiber composites. Still, weight reportedly climbs by about 200 pounds, though Mercedes has not yet released official figures.
Touring and Performance Trims
Both new SL models come in Touring and Performance Trims, but content differs for each. On the SL55, the package adds an electronically controlled limited-slip rear differential and AMG Active Ride Control, which uses hydraulically operated roll control at each wheel instead of anti-roll bars. Also included with the Performance Trim, a front-axle lift system can raise the front of the car by 1.2 inches to help it clear steep driveway aprons, and it can be programmed to remember a particular driveway location. Neat.
Because the SL63 makes the electronic limited-slip rear diff and Active Ride Control standard, its Performance Trim adds only the front-axle lift system, which most would not view as a performance feature. Both models ride on 20×9-inch front wheels and 20×11.5-inch rear wheels. You can option either with 21-inch wheels and ceramic-composite brake rotors, along with carbon fiber features.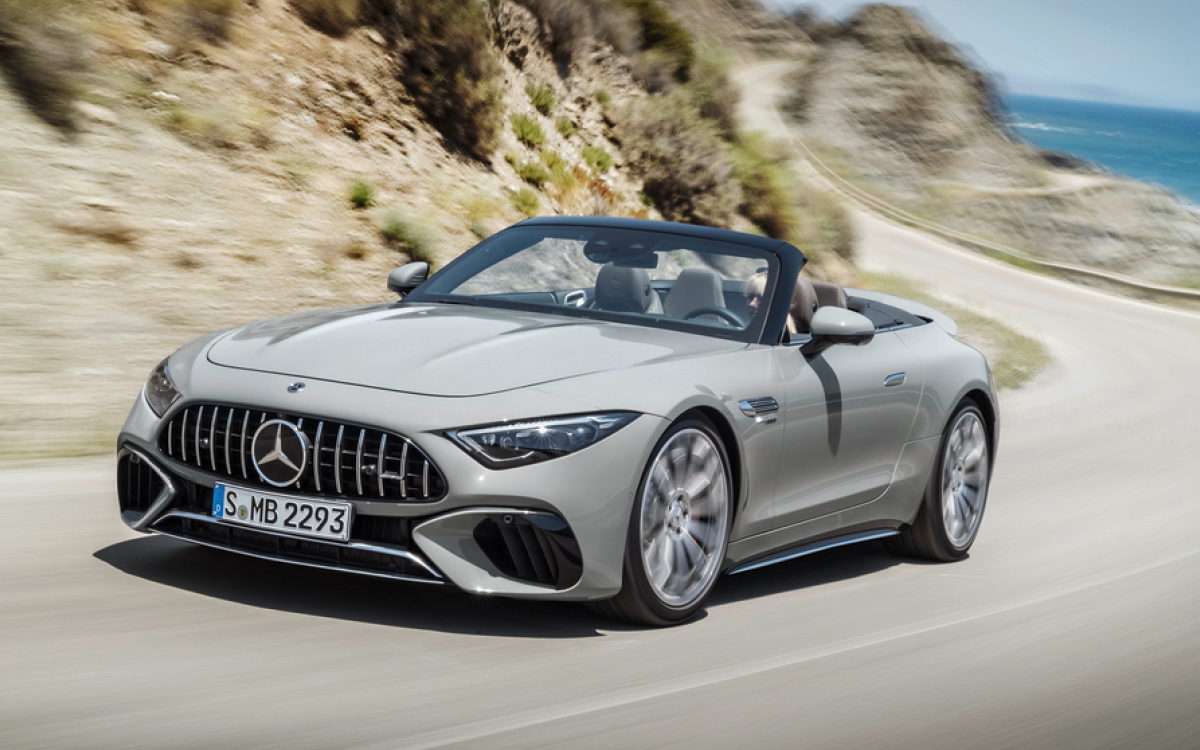 On Target
One glance at the new SL's cabin and you know you're a long way from SLs gone by. As on many modern sports and GT cars, it's all digital in there. The SLs use a 12.3-inch instrument cluster and the adjustable 11.9-inch touchscreen central multimedia display. The roster of standard luxury features goes on and on. Highlights include heated and ventilated Active Multicontour front seats with massage, Burmester Surround Sound system, and the much-loved neck-level heating system with the silly-but-memorable "Airscarf" name.
The newly branded Mercedes-AMG SL series really is a new chapter in this seven-decade story. The car continues as a high-speed luxury GT in a market where such models are flourishing.