History and the future meet in a hypercar
Late spring brought big news for Mercedes-Benz track cars spanning seven decades. First, in mid-May, Mercedes announced that it had sold one of the two 1955 300SLR "Uhlenhaut" coupes from its own collection for a staggering $142.4 million, setting a record for an automobile.
Just two weeks later, the company unveiled the production Mercedes-AMG One, a hybrid-hypercar powered by a Formula One powertrain. As the 300SLR was a 300 SL Gullwing body adapted to a Mercedes W196 grand prix car chassis, these two news items seemed to close a circle in marque history.
Part of the deal to sell the 300SLR reportedly included that the unidentified buyer will occasionally show it in public, presumably at special events. Perhaps we'll see it at the Goodwood Festival of Speed in England this month, where the Mercedes-AMG One will make its public driving debut.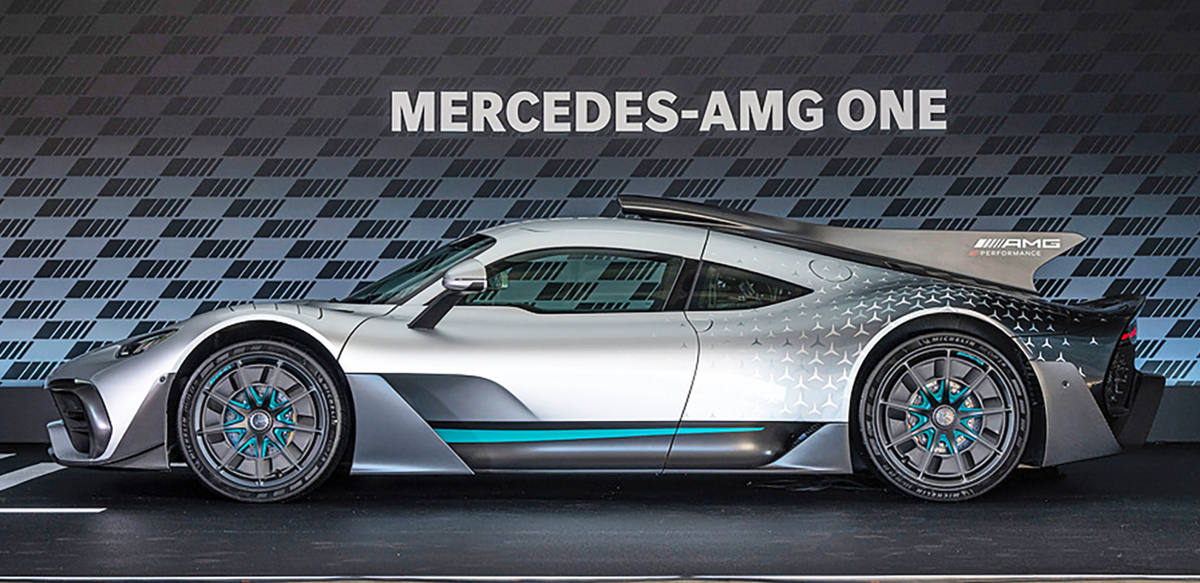 Not Coming to America?
Mercedes will make just 275 AMG One models, and, as you might guess, all are apparently pre-sold at an estimated $2.7M apiece. Oh, and by the way, the Mercedes-AMG One will not be imported to the U.S.A. A letter to customers from AMG stated:
"In order to preserve the unique character of its F1 powertrain, we have concluded that meeting U.S. road standards would significantly compromise its performance and its overall driving character."
In any case, it's a pretty safe bet that there will be American buyers, and that they will simply keep their cars at their European homes. Some cars could possibly come here on "Show and Display" permits.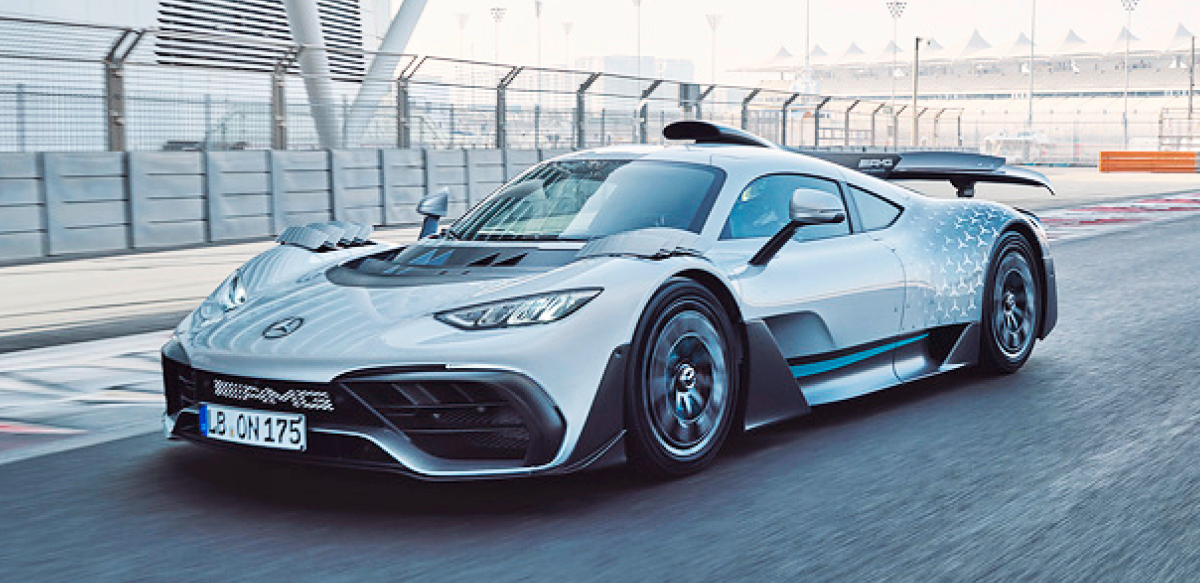 When Worlds Collide
The 300SLR was a hypercar in its day, a racecar that could at least theoretically be driven on the road in an era when functional headlights and taillights pretty much enough to make that legal. Although not built around the chassis of a Formula One racecar, the AMG One is jam-packed with F1 technology. Chassis engineering, construction techniques, aerodynamics and even the steering wheel are truly "F1-derived."
But it's the F1 engine that gets people talking first.
Since 2014, Formula One rules have required a 1.6-liter turbocharged V-6 and will do so at least through 2025. So, the AMG One can still claim an F1 engine. The "Power Unit," as F1 calls it, is a hybrid powertrain based around the gas engine that powered Lewis Hamilton to win the 2015 World Driver's Championship.
Four Electric Motors
In the AMG One, the V-6 engine powers the rear wheels through a 7-speed dual-clutch automatic transmission. It is augmented by four electric motors, two of them derived from the F1 Power Unit. As on the F1 racer, the V-6 gas engine gets an extra kick from a 163-horsepower electric motor, known as Motor Generator Unit—Kinetic (MGU—K).
A 122-hp electric motor, known as Motor Generator Unit-Heat (MGU-H), is also from the F1 car. It operates with the turbocharger, electrically spinning it to 100,000 rpm to eliminate turbo lag and then letting the exhaust gases take over. MGU-H then recovers excess energy from the turbo's operation, converting it to electricity to store in the car's lithium-ion battery pack.
Finally, a pair of 163-hp motors power the front wheels, making the AMG One all-wheel drive, a technology not used in F1 racing. In the AMG One, this all adds up to 1,063 horsepower.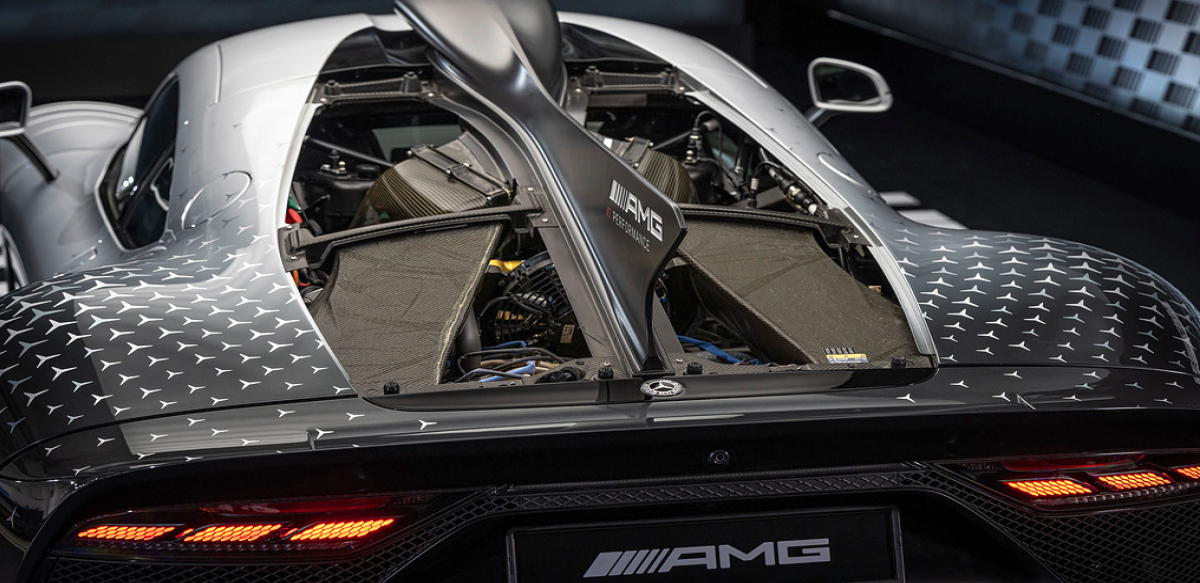 Small, But Really, Really Mighty
AMG One's mid-mounted V-6 has a few differences from the actual F1 engine to make it more streetable, including a lower compression ratio and maximum revs reduced to a "mere" 11,500 rpm from the race engine's 13,500 rpm. Also, the AMG One's V-6 engine will idle at around 1,000 rpm versus a 4,000 rpm for the F1 car. By itself, the baby V-6 makes 574 horsepower, compared to 800+ hp in the F1 car.
The AMG One's battery pack is derived from the F1 car, but with more cells to give 8.4 kWh capacity to provide more juice for hybrid driving. If the driver feels so inclined, the AMG One can go about 11 miles on battery alone. Much more impressive are the performance figures that Mercedes claims: 0-200 km/h (0-124 mph) in just six seconds and a top track speed of 218 mph.
F1 Chassis Tech for Real
There is F1 engineering throughout the chassis, highlighted by multilink pushrod front and rear suspension. The setup is said to completely eliminate body roll while still providing a comfortable on-road ride. Six selectable drive modes vary the mix of combustion engine and electric propulsion and also lower the suspension height and activate the aero body features for maximum track performance.
If the standard center-locking forged aluminum wheels don't do it for you, Mercedes offers optional magnesium forged wheels. Michelin Pilot Sport Cup 2 tires measure 285/35 ZR19 in front and 335/30 ZR20 out back. Carbon-ceramic brakes are standard.
Oh the Shark Bites
The Mercedes-AMG One's carbon fiber body manages to look more beautiful than brutal. Meanwhile, the central "sharkfin" stabilizer and overhead air scoop to feed the engine air intake are reminders of the car's intent.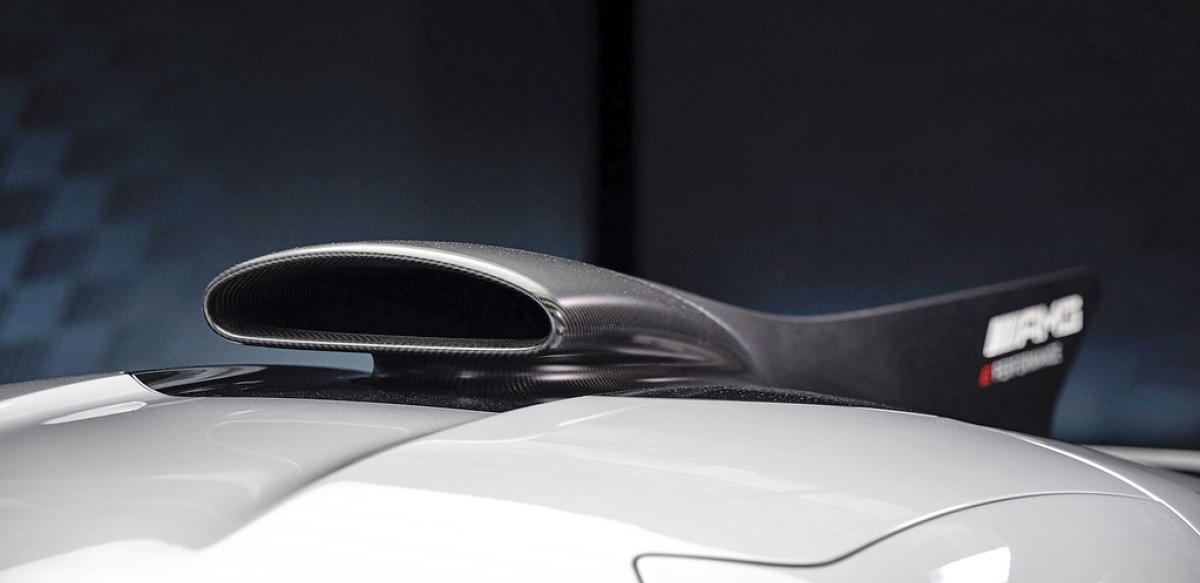 You will have to see the AMG One in motion at speed to appreciate the aero-tech ballet. To generate maximum downforce when needed, a quartet of flaps on each front fender flip up, and a two-stage rear wing deploys to the sharkfin's height.
Inside, the steering wheel and its multiple controls looks right out of an F1 car. The rest of the cockpit, elegantly basic in appearance, includes power windows, an infotainment system and air conditioning. (Are you really going to listen to music while driving this car?)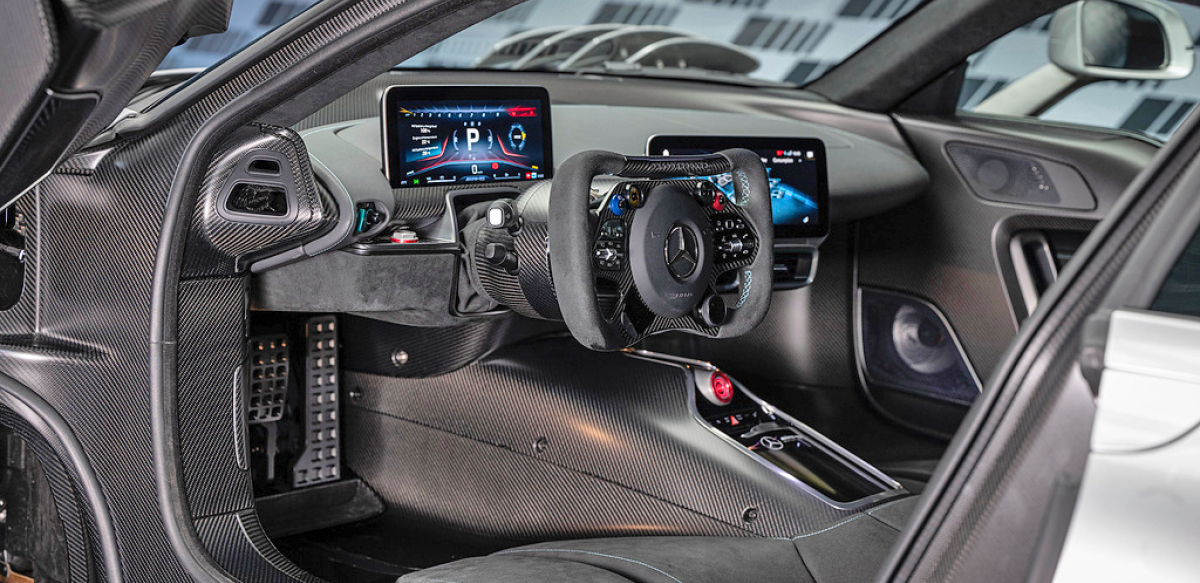 History, and the Future
Sixty-seven years after Mercedes built the 300SLR Uhlenhaut coupes, the Mercedes-AMG One is a hypercar built around a Formula One powertrain and chassis tech. We would not bet on seeing copycats, and one could reasonably guess that a good number of the 275 to be built will be turning up at auctions in a few years with under 100 miles.
In a semi-ironic closing note, what will Mercedes do with the proceeds of the 300SLR sale? According to auction house RM Sotheby's, which conducted the private auction, the dough will fund a worldwide scholarship program for climate change education and research.