Whatever You Call It, It's a Pure Ferrari
The day has finally come. The Ferrari Purosangue, the vehicle designed to lure SUV buyers while "not being an SUV," has been revealed. And guess what, it really is not an SUV. It is simply, in Ferrari's words, "the first ever four-door, four-seater car in the Prancing Horse's 75-year history."
Bravo! Ferrari called the Purosangue a "car," not a crossover or SUV. By eschewing labels, Ferrari acknowledges that this is simply the state of the four-door passenger car today.
There's so much to unpack here. Let's get started.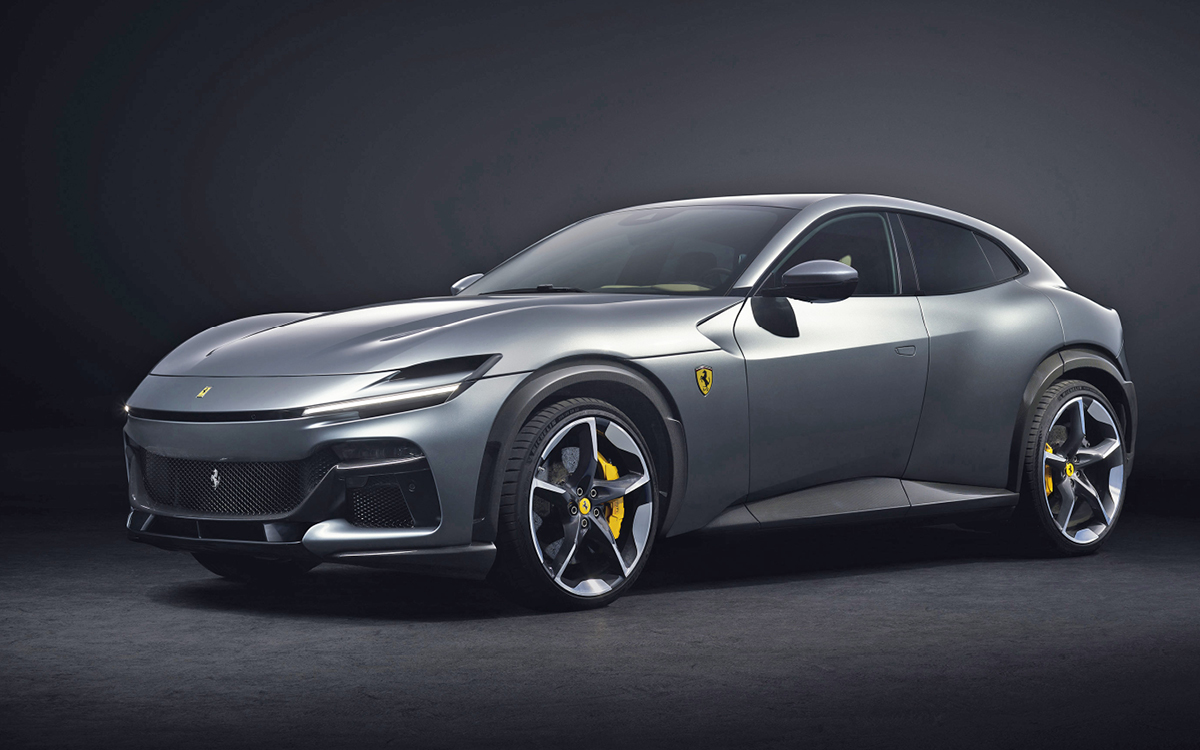 No Labels
The Ferrari Purosangue may be one of the most honestly presented new vehicles in a long time. We repeat: Ferrari refers to the Purosangue as a "car." But this car is 100-percent pure Ferrari, as if a 715-horsepower V12 that can rev to 8,250 rpm could leave any doubt.
While we applaud Ferrari for calling the Purosangue a "four-door car," it does have a power rear tailgate and slightly higher ride height than most passenger cars (7.3-inch ground clearance). So, it at least fits the mold of the modern crossover.
Into that mix, Ferrari seems to have blended in a little of its slinky Roma coupe. The Purosangue is not based on the Roma's chassis, however, and the two disparate cars do not share anything. From certain angles, the Purosangue displays a coupe-like stance, but Ferrari deserves credit for not following the unfortunate luxury brand trend of calling four-door models "coupes."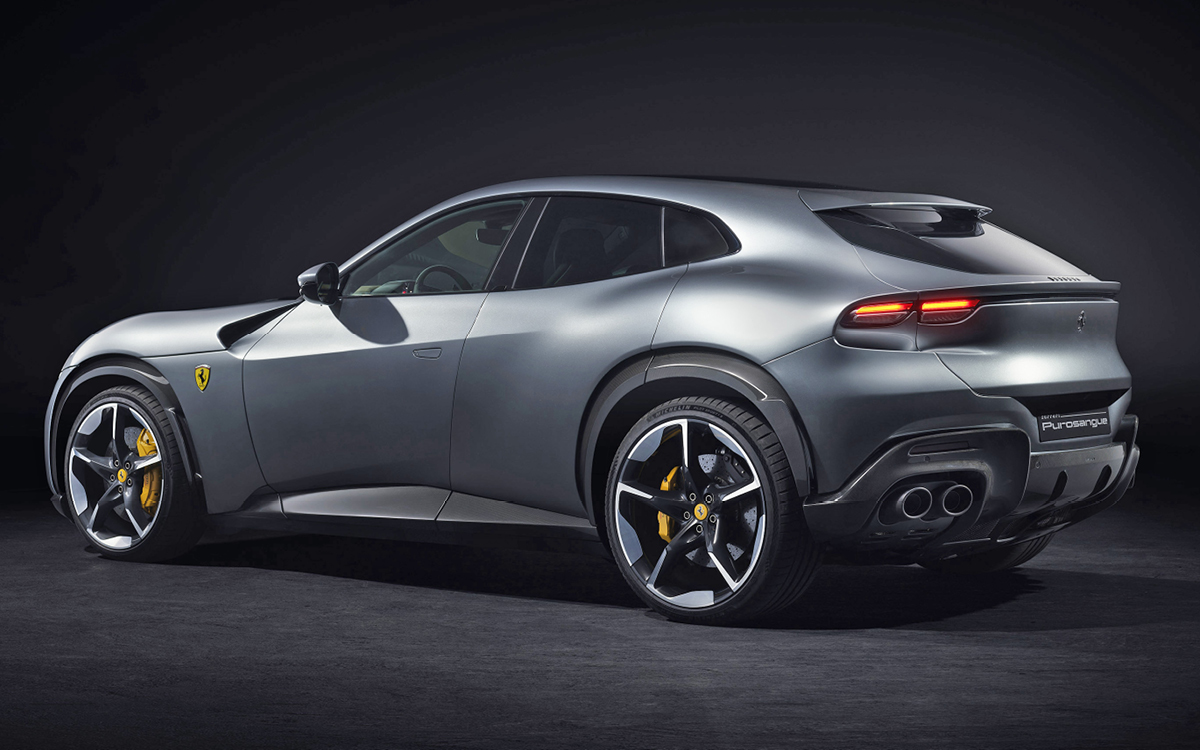 Four-Door Surprise
While the Purosangue cleverly hides its rear doors when viewed from certain angles. Ferrari made these doors very practical by hinging them at the back. The back doors open to a very wide 79 degrees. The design, Ferrari says, gives plenty of ingress/egress room without having to stretch the wheelbase further.
Surprise! They're called, simply, "rear-hinged back doors," because that is what they are. No fancy marketing term here, though the press release uses the term "welcome doors" just once, and in lower-case letters.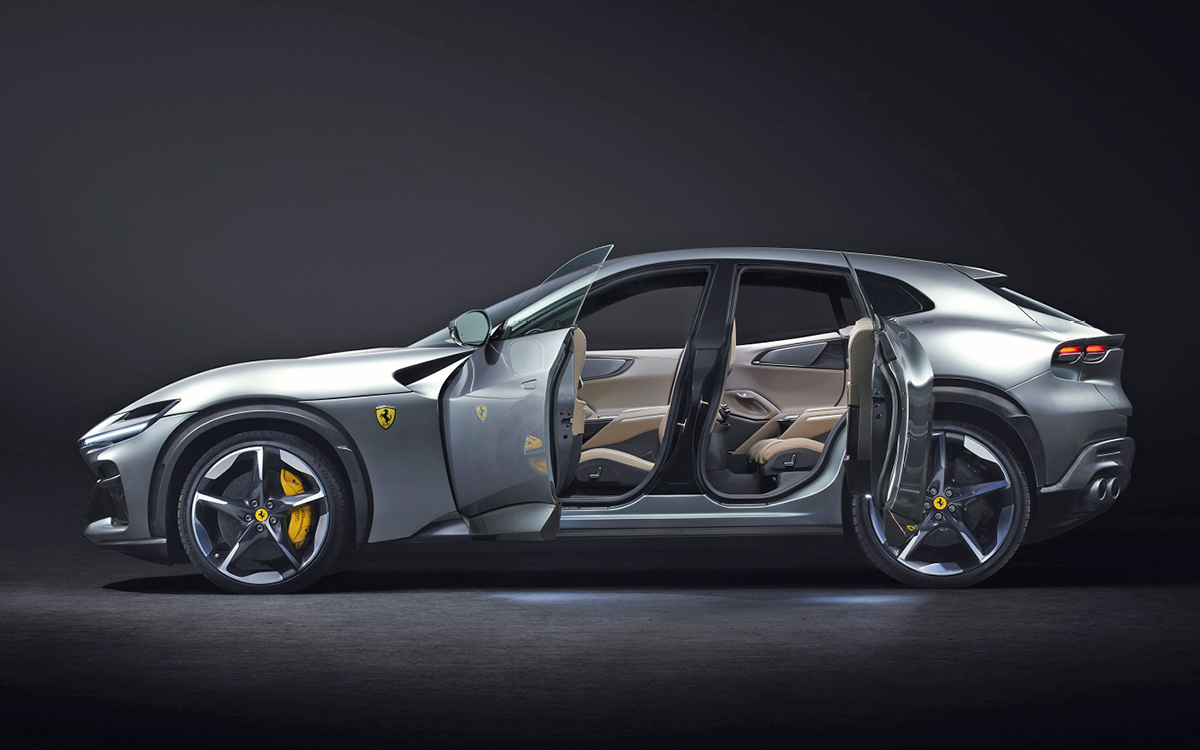 The Practical Supercar
The Purosangue is quite obviously the largest Ferrari ever made. It stretches 195.7 inches long on a 118.8-inch wheelbase. In comparison, a Lamborghini Urus is 201.3 inches long on a 118.2-inch wheelbase, and the Aston Martin DBX is 198 inches long with a 120-inch wheelbase.
The Purosangue is wide, at just under 80 inches, and tall at 62.6 inches. The design disguises the car's size well, and cabin room is plentiful. Ferrari has fitted four power-adjustable bucket seats, and early reports confirm that six-foot adults can sit in the back very comfortably.
The dual-cockpit dash features fully digital displays, including one for the passenger, as on other current Ferraris. This is a practical Ferrari, but with a highly emotional side. Let's talk about that.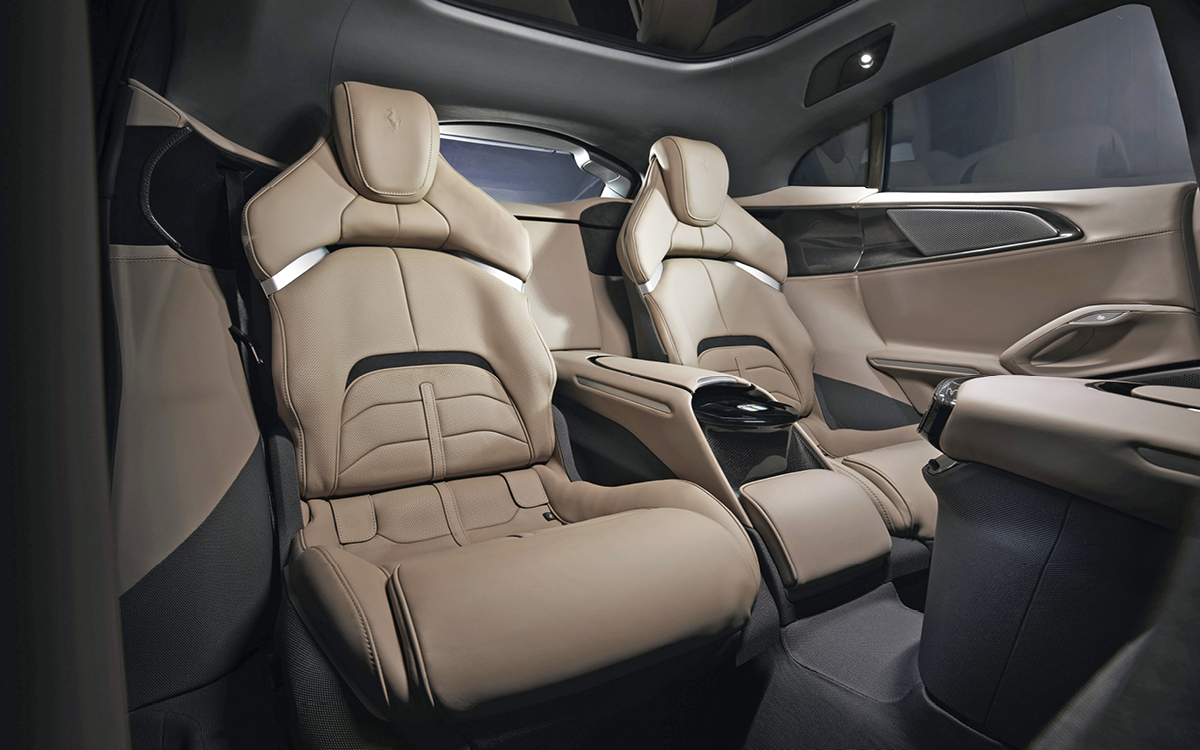 12 Cylinders of Fury
The Purosangue comes ready to rumble with a revised version of Ferrari's familiar dry-sump 6.5-liter V12. It's tweaked for this model to deliver greater torque, especially at low- and mid-range engine speeds. The engine gives 715 hp at 7,750 rpm and 528 lb-ft of torque at 6,250 rpm. Significantly, 80 percent of peak torque is available at just 2,100 rpm. So, even at light throttle, this thing is going to push you hard into the seatback. Ferrari projects 0-100 km/h (62 mph) in 3.3 seconds and a top track speed of 193 mph.
Ferrari is quick to point out that, like its V8 front-engine cars, Portofino and Roma, the Purosangue's V12 is set well back in the chassis for a "front-mid" layout. (Nissan's Infiniti division did this with the FX crossover 20 years ago.) In the Purosangue, this configuration yields 49:51 percent weight distribution, setting the stage for Ferrari-like agility.
Not A Land Rover
The only transmission offered, unsurprisingly, is an eight-speed dual-clutch automatic. And yes, there is standard all-wheel drive, Ferrari's unique 4RM-S system from the discontinued GTC4 Lusso. It employs a separate front-mounted power takeoff to send torque to the front wheels in first through four gears at speeds below 124 mph.
As on Ferrari's other cars, the Purosangue comes packed with a raft of dynamic handling systems, including E-Diff and Side Slip Control, plus the active four-wheel steering from the 812 Competizione. Standard carbon-ceramic brake discs are enormous: 15.7-inch in front and 15.0-inch out back.
Kudos to Ferrari for not packing the Purosangue with off-road features and tech that most customers will never use. There is an optional ride-height system that can push ground clearance from to 8.5 inches, so light trail driving could be possible. But really, why would you?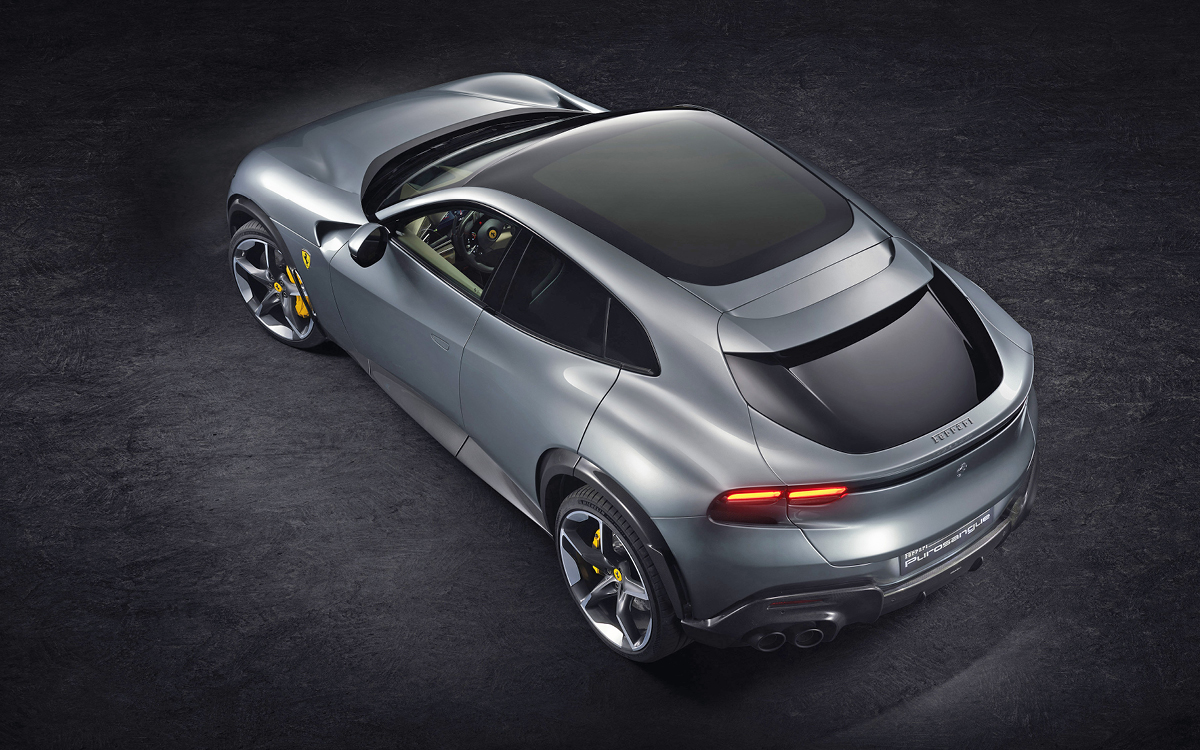 Heavy Hitter
Ferrari builds the Purosangue from aluminum, carbon fiber and high-strength steel, including a standard carbon fiber roof. An optional full-length electrochromic glass roof which lets you adjust the level of sunlight coming through.
The company claims a 4,482-pound curb weight with unspecified "lightweight content" (but likely including the standard carbon fiber roof). We'll have to see what the Purosangue really weighs when it arrives. For comparison, the Lamborghini Urus weighs 5,300 pounds, and the Aston Martin DBX is right around 5,000. Both are V8-powered.
Expect the Purosangue to be Ferrari's most luxurious model. Just look at the photos and imagine the option list. Standard safety tech includes Adaptive Cruise Control, Automatic Emergency Brake System, Blind Spot Detection, Rear Cross Traffic Alert, Driver Drowsiness and Attention Alert, and more.
If you get bored of listening to the big V12, there's a standard Burmester 3D audio system to blow your mind or sooth your spirit. Massaging front seats are optional.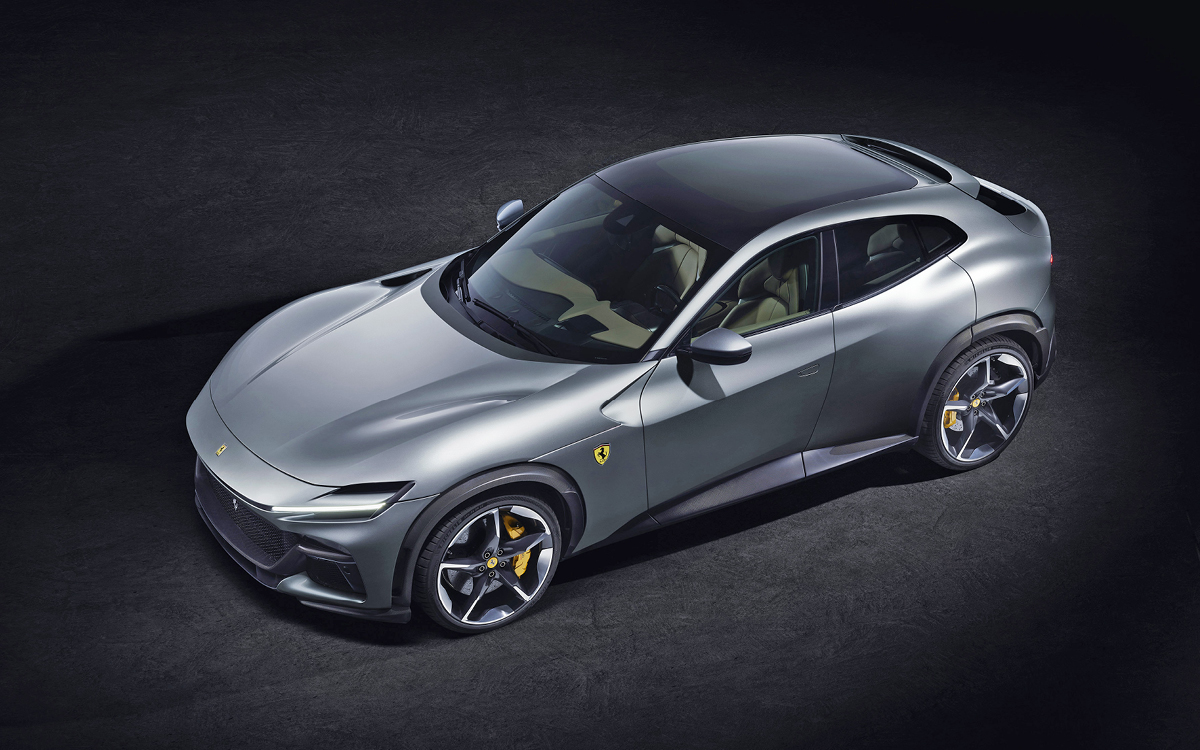 They Did It Their Way
Guessing the Purosangue will be a strong seller for Maranello is a bit like predicting more fires in California or ice melt in Greenland. The company says it wants to limit Purosangue sales to 20 percent of its total volume but does not say if that total is the 11,155 cars sold in 2021 or a projected, future higher figure; we'd guess the latter.
Ferrari has not announced Purosangue's price yet. Will there be V8 or hybrid versions? Don't bet against them coming down the road. Thank Enzo's ghost that the Purosangue is not an SUV. This is a new wave Ferrari, which the company rightly calls a car. If anyone has a problem with that, tell 'em to talk to the V12.